We recently went on a sectional hunt. Maybe this post would have been more entertaining if we channeled National Geographic and sprung for an Australian voice over artist to say things like "they wait in the brush, as the giant wildebeast sectional approaches" or "slowly and stealthily, the panthers Petersiks stalk their prey." Oh well. The point is that we searched high and low for a new sectional. We didn't just look around these here parts (now I'm getting all southern on you). We took a road trip all the way up to DC (2 hours north) to drop in on the Mitchell Gold + Bob Williams store along with a huuuge Room & Board showroom (four levels and 3,600 square feet of furniture = heaven, at least if you're me). Sadly the trip ended with us falling in love with a few gorgeous things that we couldn't afford, namely this ginormous and oh so comfy sectional in a rich charcoal gray fabric: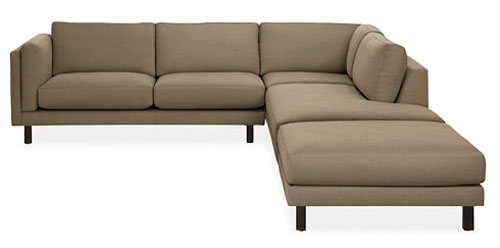 But the ginormous and oh so scary price tag of $4,496 (before our "custom fabric choice" plus tax and delivery) scared me more than the scene where the mom dies in Bambi (and while we're on that, isn't that a little violent for a kids movie?).
We know that when it comes to a sectional, we definitely want something comfy that will last while holding up to all sorts of insane kid-antics (growing up we used to shoot our sofa at point-blank range with everything from nerf balls to rubber bands, and that's only the beginning of the torture that thing endured). And we know that a high price tag from one of the two amazingly reputable companies mentioned above would surely factor in things like quality construction and premium materials. But after a lot of debate, we decided that with a pooch and a baby (who definitely both give our current slipcovered sofa what can best be described as a workout) something swanky and un-slipcovered (even in a dark color) might not be the best match for our family at this point in our lives. Especially with such a high cost attached. See, we want this house to be all about living. With an emphasis on large casual family gatherings. We don't want to live in fear that a nephew of ours might pierce/stain/otherwise maim the 5K sofa every time we have people over. And we definitely don't want to beat ourselves up every time the dog gets past us with muddy paws or the baby shows us her previously swallowed green beans after a rigorous dance interlude with daddy.
So off we went to two local sofa retailers (we're very satisfied with our white slipcovered Rowe sofa and our green Rowe sleeper sofa, which were both purchased locally from a store called Sofa Designs). We figured we'd probably end up with a Rowe sectional that we'd love for years to come, and fell in love with this one in particular called the Townsend:

But the price tag (over $3,200 without tax and delivery) definitely caught us by surprise, especially given that our other two Rowe sofas were under 1K. I guess we expected to pay around 2K or even 2.5K (since a sectional is kind of like two sofas put together). But over 3 times the price still felt pretty high. And it left us wondering if a $3,200 sectional (also without removable slipcovers) would feel any less precious and "untouchable" than a 5K one. For cheap-os like us, that's still a huge chunk of change.
And you guys know that we had been considering this Ikea sectional as well (seen here in this mood board of yore)…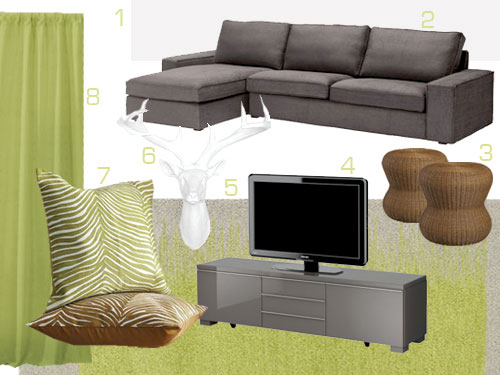 …so that was on the table when we made another pilgrimage to Ikea just to sit on things and check them out in person. Which is when we discovered that the sectional that we had been eyeing seemed a bit too small for our giant 25′ x 15′ room (and the last thing we wanted to do was buy a cheaper sectional to save money that ended up being wrong, which would still be a colossal waste of funds). But then we saw Karl – er, the Karlstad: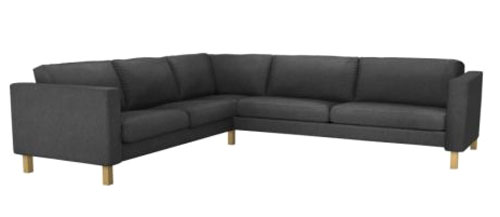 Pardon this picture of Karl, since the one we'd get would also have a chaise added on to create a big U-shaped place to flop down and watch TV, play games, hang out, etc (it would be shaped exactly like the Townsend by Rowe that we pictured above). And we'd do a little leg-sprucing since those raw birch ones don't really do it for us. But anyway, Karl was everything that the other Ikea sectional wasn't. He was large and in charge- the perfect oversized dimensions for our oversized room (and supersized family- when we get together for something casual there are at least 16 people in one place). Plus Karl is 100% slipcovered (which means nothing is nearly as scary since the cushions and even the arms and base can be laundered – or even replaced for a few hundred bucks if we want to switch colors down the line). It's also funny how similar he is to the 5K Room & Board version that we loved.
And the price for this giant sectional plus add-on chaise lounge (which will create a huge family-friendly hangout zone in our cavernous living room) was just… wait for it… $1,248. Basically just a few hundred dollars more than we spent on our white Rowe sofa, but it's three times the size. Literally. We had to tape off the outline of the sectional on the floor just to make sure it would fit. And once the tape went down on the floor we started getting excited. It would be giant and perfect for our huge family. And best of all- not too precious! Bring on the ice pops and fruit punch.
But we were still nervous that it would look bedraggled in a year or two, or might not hold up to the whole "dog + baby = mess" equation. So we did a good amount of googling around for reviews and write ups. We were thrilled to find that pretty much everyone had great things to say about Karl (although a few people didn't like the sleeper version of him, since it was hard to operate, but that's not an issue because that's not the one we'd get). And then it happened, we remembered that Anna over at Door Sixteen actually purchased a Karlstad sofa after her pups had ruined her fancy Room & Board one (read all about that here).
It was all the affirmation that we needed to hear. Anna's sofa is holding up really well over two years later, and she says she is very happy with her choice. Plus knowing that she's a gal of style who lives with real-life wear and tear (thanks to her dogs) was the last "sign" we needed to pull the trigger.
So we went for it and put in our order a couple of weeks ago. We just hadn't bothered to mention it since Ikea's delivery schedule doesn't have it arriving until Feb 4th (update: it might arrive a bit sooner than that- woot!). We'll definitely share photos as soon as Big Karl (yes that's a Cougartown reference) gets here. Oh and we got it in the same "sivik dark gray" fabric as Anna (we looked at all the potential swatches at Ikea in person and it felt nice and durable – and not too nubby, so Burger's claws won't be able to dig in and create little loops). So excited. Anyway, that ends the big sectional hunt. Australian announcer, take us out:
The antelopes dash into the jungle, grateful to have survived the harrowing lion attack (aka: The Petersiks happy dance into the living room, grateful to have survived the harrowing sectional hunt).
Fade to black.
Psst- Want an update on Karl now that we've had him for over a year? Here ya go.