Right before we installed the hardwood floors upstairs, we mentioned how we sprayed all of the blue trim and doors upstairs here…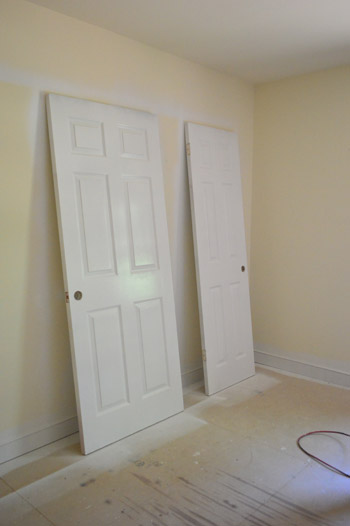 … but they're now naked when it comes to knobs.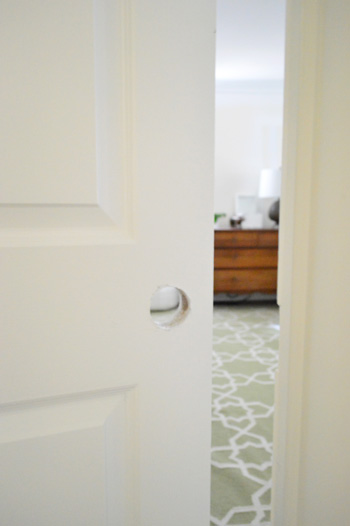 We're no strangers to ORBing things like we did here, but a lot of the doors here were rusted and pitted and some were even jammed/didn't turn/didn't lock.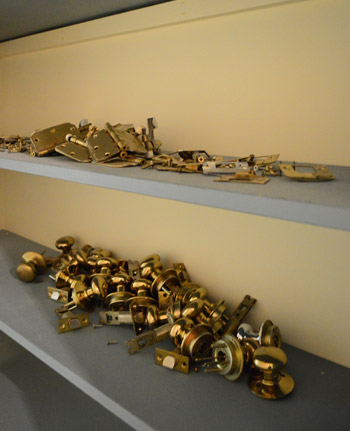 So in this case, it really makes sense for us to replace them with something befitting of our freshly painted six panel doors. On one hand, it was a bummer to have to shell out loot for new knobs, but on the other hand the doors are in awesome shape and look like new with glossy white paint on them- so it's a lot easier on the budget to just get new knobs (and hinges, which Home Depot sells in bulk "contractor packs") than to replace all of the doors themselves.
I think we were aiming for two things when it came to our knob hunt: something classic (to work with our house's style) and something special (we thought it was a fun opportunity to choose something you don't see every day). So here are a few of the knobs that we courted, so to speak: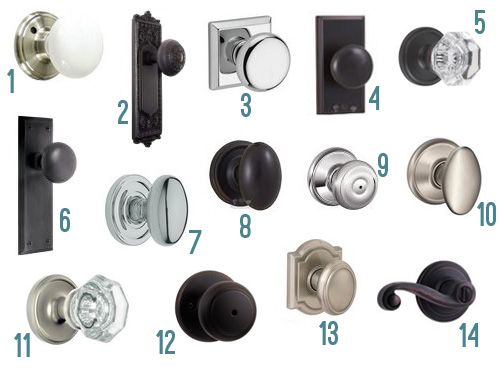 This $56 white porcelain knob with a pewter stem
This dark-toned $108 antique-ish knob
This $73 chrome knob with a square plate
This $35 oil-rubbed bronze knob with a rectangular plate behind it
This $90 oil rubbed bronze & crystal one
This $109 plated knob
This $105 egg-knob in polished chrome
This $28 oblong ORBed one
This $24 chrome knob
This blinged out $97 crystal and satin nickel one
This $16 classic oil-rubbed bronze knob
This interestingly shaped $43 satin-nickel knob
This dark-toned $30 lever knob
It definitely wasn't an easy decision – we honestly thought almost any of them would work nicely – but in the end it came down to what we were drawn to most, and our budget of course (some of the pricier ones would have been 1K worth of knobs just for the upstairs!). We've been in love with the idea of rich mocha hardwood floors, white trim and doors, and dark knobs for a while – just because that classic high contrast look seems so perfect for this house. So that helped us eliminate a few. And when we came across inspiring photos like this one and this one, it was pretty clear to us that we loved the look of a rectangular plate behind the knob – just for the added interest that it brought.
In the end, we chose these $35 guys (#4 above) for the four bedrooms and these $24 ones for the two bathrooms (they're similar to #12 but without a hole in the middle and in the same finish as the other knobs since they're the same maker, so we thought that was worth it). Then we got the cheaper closet versions of those for the closets (many of which could be dummy knobs like this).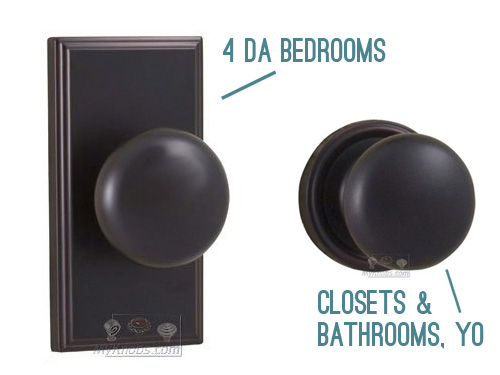 Oh and before checking out I googled around for a coupon code that took 10% off of our order and gave us free shipping. So that saved us some cash.
We hope the new knobs will add up to an entire upstairs floor with a fresh-yet-classic feeling. We already have the dark hinges up, so we're just waiting on our doorknobs…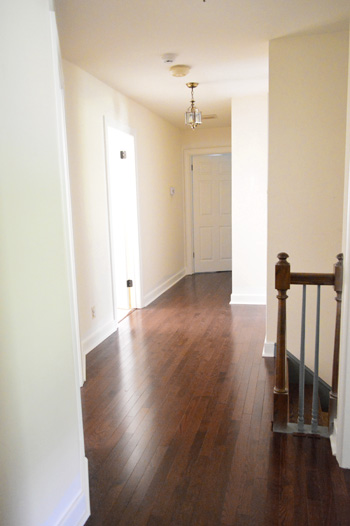 It's crazy to think a few short weeks ago the upstairs hallway looked like this.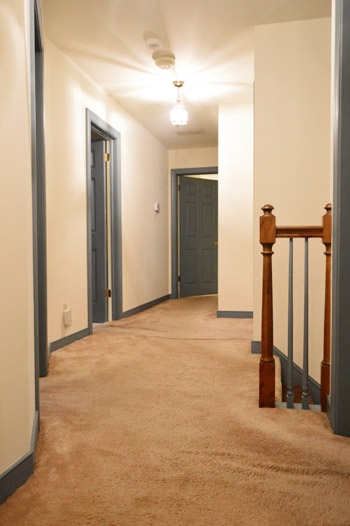 As much as I thought the old carpet and blue trim were burned into my mind, they're like a distant memory now that we're all moved in. It's funny how quickly your brain adjusts when you update things. Maybe that explains my love of before pictures. They save the starting point forever so you can always look back and say "dude, remember that?!"
*Update: none of the links in this post are affiliate links (got a question about it, so I thought I'd add a little note for ya).

Update – Wanna know where we got something in our house or what paint colors we used? Just click on this button: