Even though a household-wide cold got our 2014 off to a rocky (well, sneezy) start this week. We still managed to get our lower cabinets stained darker as planned. PS: Anyone remember this song? I had the whole album and kinda loved it.
The change isn't as dramatic as last week's upper cabinet painting post, but as you can see below – we did achieve our goals of making them a slightly darker and less orange color while reducing (but not eliminating) the wood grain. The process took us about five days total, thanks to one day of prepping, one day of staining, one day of sanding and restaining, a full day of drying, and then a day of reassembly (hanging doors, adding new knobs, etc).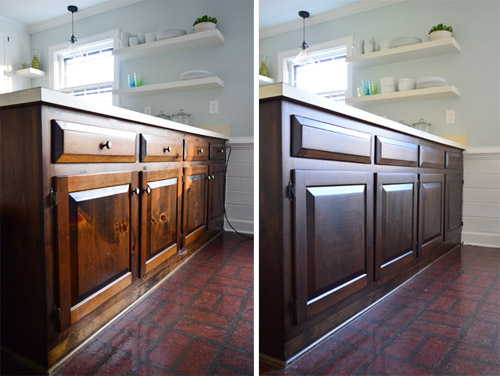 You'll also notice that the knobs are missing on the outside of that peninsula. We decided to remove them since the backside of the peninsula isn't super functional – it just gives us secondary access to some of the cabinets that also have doors on the other side, which is always where we've accessed them from. So we thought it'd look cleaner / less busy without them, without really losing any functionality (you can still pull them open by just pulling on the lip with your finger).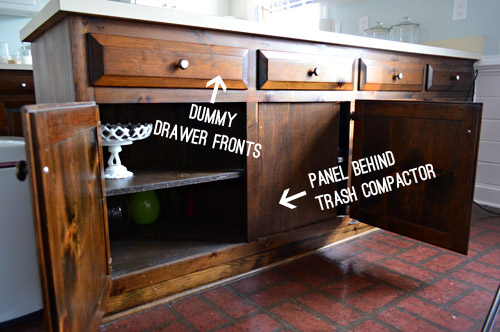 So before staining anything Sherry wood puttied the holes, let them dry, sanded, and repeated. We always like two coats of wood putty on big holes like this to account for any shrinking or dips (after the first one and the first round of sanding it's rarely ready for the next step, so going into it expecting two coats is a nice check-yourself-before-you-wreck-yourself step).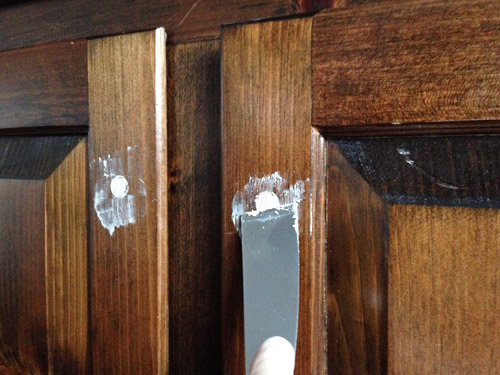 If you're staining it's best to use wood putty that matches the tone of your wood, but we made this lighter stuff work just by dabbing a little more stain on the puttied parts with each coat of stain.
The stain that we used was Minwax PolyShades in a color we've never tried: Tudor (in a satin finish). We used PolyShades in the Espresso color upstairs on our bathroom vanity back in November and really liked how it worked out for us, so we decided to go with the same brand for the lower cabinets, except in a slightly warmer/less dark shade (we were inspired by kitchens with wooden lowers and light painted uppers like this and this). We bought two quarts ($13 each), but only ended up needing one for two coats, so we got to return the extra one.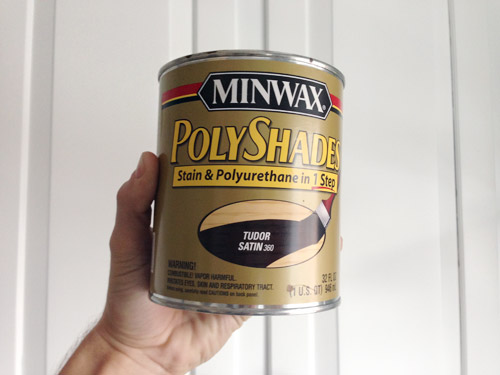 The first step listed on the can is to sand everything lightly to rough up the surface and remove any gloss. Sherry actually wiped everything down with some warm soapy water first, since kitchen cabinets can collect lots of grease and dirt over the years. Then we removed all the doors and laid them out on cardboard in the garage so we could sand them, along with the frames and the drawers in the kitchen (our drawer fronts can't be unscrewed, so they stayed in the kitchen propped up on the counters like the other ones we painted last week).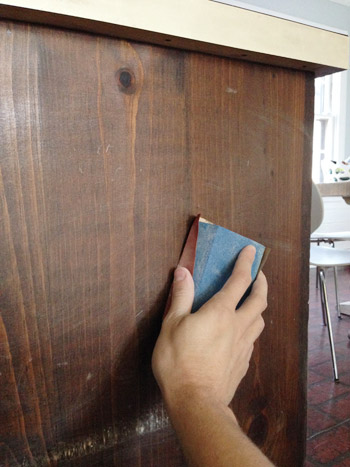 After sanding and wiping off all of the sanding dust, Sherry rubbed everything down with liquid deglosser (just to make sure it was clean and ready) and once that dried it was staining time. As the first coat went on it was… well, underwhelming. PolyShades is supposed to poly and shade, right? It looked like we were just giving it a glossier finish. Note: the drawer fronts that you see here are fake, so they couldn't be removed and had to be stained in place.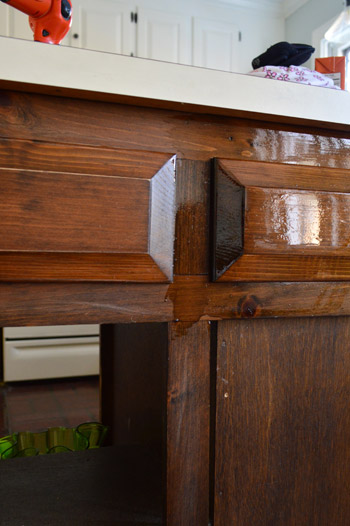 But having already started we decided to see the first coat through and then adjust from there if needed. Maybe it would dry darker? The first coat on the doors (which we laid out in the garage) was a bit more encouraging…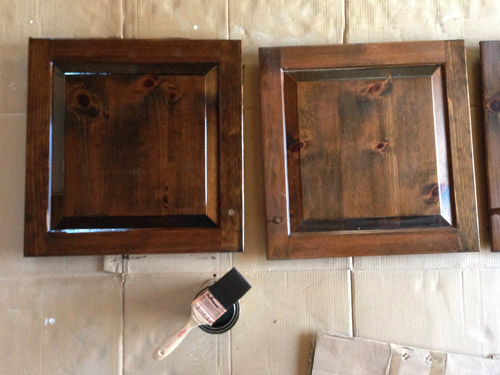 The PolyShades stuff is pretty straightforward, but we do find it a little challenging to keep it from looking drippy or streaky, so we came up with a pretty simple method of dragging the brush along everything after it's applied to smooth it out. I filmed this quick video of myself putting one coat on a door so you could see it in action:
In case you can't watch the video, here's the gist:
The stain looks pretty thick which you first brush it on – which is enticing if you're going for a darker color, but resist the urge to leave it thick because it's so watery that thick coverage is an invitation for drips to come live at your house.
Focus first on covering the area that you're working on. Don't worry too much about brush marks at first.
Once you've got the whole area covered, go back over the whole surface with long, even strokes. This will thin everything out and make your brush lines more even. Although do as I show in the video (not in the pics below – oops) and brush in the direction of the wood grain. This will help any lingering brush lines blend with the wood grain better.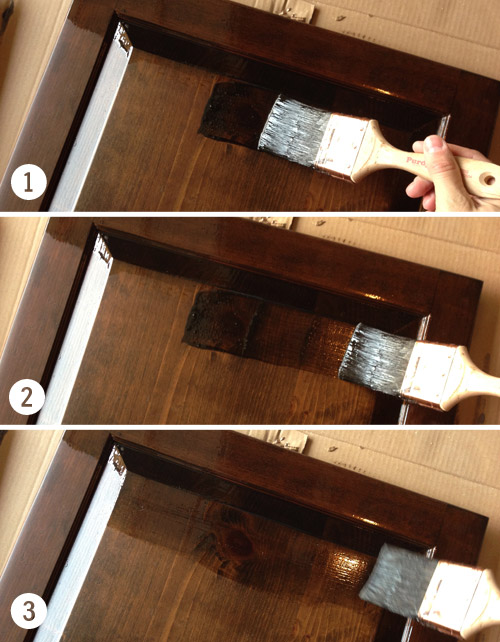 The first coat did seem to dry substantially darker than it looked when it was wet. It still wasn't as dark as we wanted, but it showed enough promise that we ditched our plans to buy a darker color for the second coat. We wanted to give Tudor a chance with that second coat and then if it still wasn't what we were looking for we'd go with something else as a third coat, but we had a feeling it would be a "slow build" to the right color after the second coat was applied (and allowed to dry, since it does darken during that process as well). Oh and between coats you're supposed to rub the existing coat with some very fine steel wood (000 grade), which doesn't visibly damage the finish, it just roughs it up enough for the second coat to hold nice and firmly. Sherry did the frames and sides and drawers inside and I tackled the doors in the garage.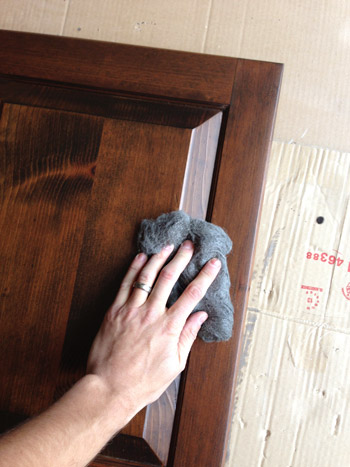 Oh and just for anyone who wonders how these coats "build" – here's a shot that demonstrates how the various coats looked going on and as they dried. You can see how we were definitely making progress, and how the "wet look" wasn't a good predictor of how it'd dry.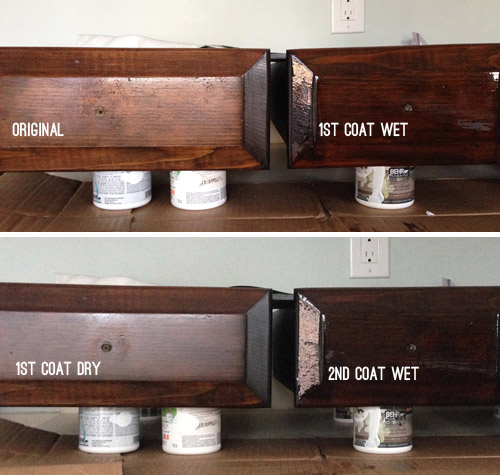 And here's a side-by-side of two doors once all was said and done, er, dried. It was exactly what we were hoping for: still warm and woodsy in tone, but less brassy/orange than the color we started with. We really liked that there was still some visible wood grain (our Espresso vanity upstairs doesn't really have much of that, but we wanted to see some in the kitchen).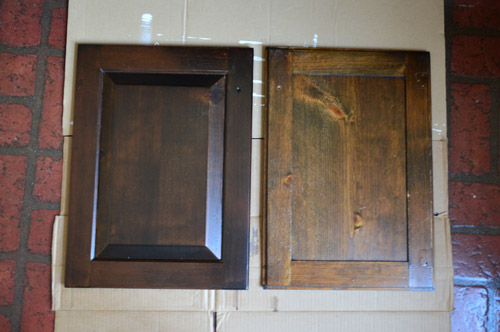 And here's the full room once everything was reattached, including the new hardware (the same $2 octagon knobs from Target that we used on those uppers) and the same ORB-ed original hinges (you can read more on how we did that here).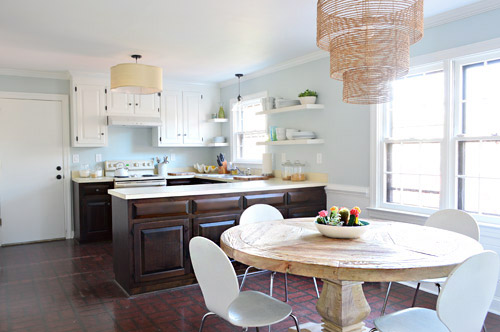 As a reminder, this is where we were last week with those redder and more knotty lowers.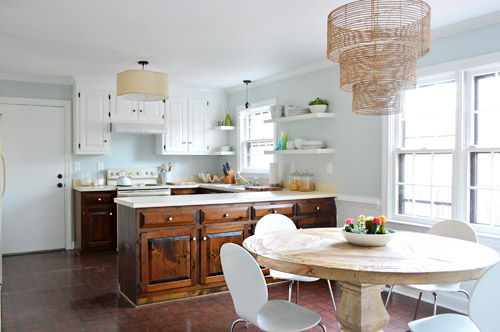 Now the main things holding this kitchen back are the counters and the floors (though camera angles like the one below do a good job of minimizing the floor issue, ha!). We've been debating if/how to tackle those for the past few months, and are now leaning towards a few inexpensive fixes to round out Phase 1. We're never going to turn this into our dream kitchen with little band-aids, but we're already amazed by how far the room has come, and if it's anything like our first kitchen's interim makeover, it'll end up being a lot more pleasant to hang out in for the year(s) that we save up for Phase 2.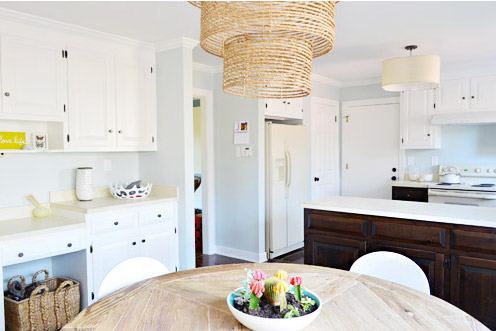 We're pretty convinced about making over the existing counter tops with the concrete finish that people like Jenny and Kara have blogged about (especially since so many of you commented last week with tips about which sealers to use and specific methods that you've been really happy with). As for the floors, we're still torn. Sherry leans towards peel-and-stick, like we did for our first kitchen's Phase 1 update (which was pre-blog, but nice and easy/inexpensive). I lean more towards painting, since it means less to demo when it comes time for the real floor, but we both worry about the durability of paint since it's somewhat scratch-prone (more on that here).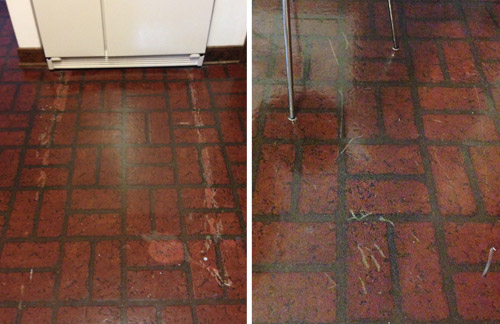 Hey, but for now let's just celebrate that our lower cabinets have been a bit more modernized. And we no longer have white eyeball knobs looking at us anymore. Although the stare-down wasn't as bad as our last kitchen. Plus, we're finally the owners of tuxedo cabinets (white uppers, dark lowers), which we've admired for years. I'm pretty sure these counters and that stove weren't in our dreams, but we're also debating appliance spray paint for the stove and perhaps some chalkboard paint for the fridge (we want to do a bit more research first though, since we plan to craigslist them in Phase 2, and we don't want to do anything to devalue them).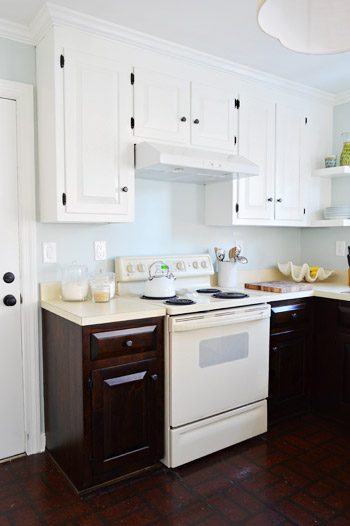 Also, we all seem to be mostly over our colds. 2014 is finally looking up!
How did your first weekend of the new year treat you? Did you dive into any projects you had been holding off on until the post-holiday season? Are you still eating leftovers and humming Christmas songs?
Update – Wanna know where we got something in our house or what paint colors we used? Just click on this button: