Updated January 2022
We weren't happy with the color of our existing kitchen cabinets – too orange and dated looking! – so we wanted to give them a quick makeover for a darker, more contemporary look. We decided to stain them to maintain the wood grain appearance, but we worried that would require us to sand off all of the old finish. Yuck! Luckily, we knew of a product that would let us skip that messy and tiring step while still giving us the end results we wanted.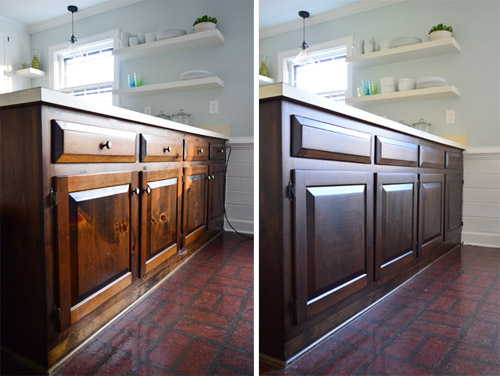 You can see our results above, and read below for how we got there!
What Stain Product Did You Use?
We used Minwax Polyshades for this project, which is similar to a gel stain. Unlike traditional wood stains, which have to soak into the wood to work, a PolyShades coat or gel stain product sits on top of the existing stain, much like a paint application would. Like paint, you need to take a bit more care when applying PolyShades to avoid drips or brushstrokes – but we'll cover that in more detail below (even on video)!
These products come in lots of colors, but we chose one called Tudor in a satin finish. We had previously used a darker PolyShades color on our bathroom vanity (Espresso) but wanted something slightly lighter in the kitchen. Keep in mind that your final color will be impacted by the color you are staining over, so you may want to test a few colors in an inconspicuous spot (like the back of a door) before starting. And you should always go darker – so from light to medium, or medium to dark.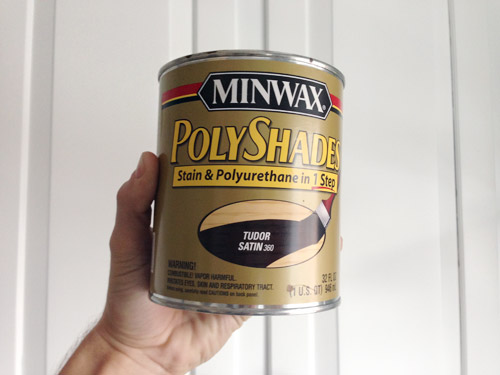 These products are also oil-based, which means you can skip the usual last step of sealing the stained surface with a coat of polyurethane sealer (like you have to do with water-based stains).
Can You Stain Your Cabinets Darker Without Sanding?
While yes, you can avoid completely sanding and stripping an old stain finish off of your kitchen cabinets, you will need to do some light sanding as part of this project. So be wary of any tutorials that suggest otherwise. But don't fret – this is the type of sanding you can easily do by hand with a simple sanding block or sheet of sandpaper. Lightly roughing up the surface will help your new stain adhere for longer-lasting results.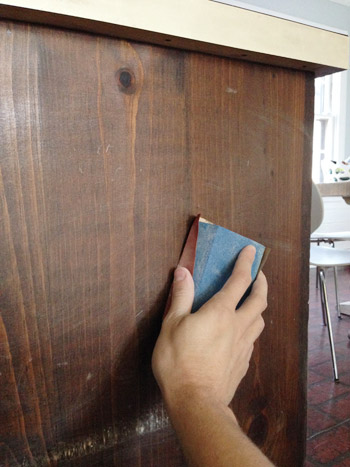 What Materials Do You Need?
The best part of this project is probably what you DON'T need. You don't need any polyurethane sealers or varnish. You also don't need any chemical strippers, power sanders, or other heavy-duty products to get your already stained cabinets down to their raw wood. Still, you will want to have these supplies on hand:
You will also need a space – like a garage or maybe a basement – to lay out your cabinet doors while staining and drying.
How Long Does It Take To Stain Your Cabinets Darker?
The process is very straightforward as DIY projects go (if you can paint a room, you can do this) but it does take a bit of time, mainly due to the drying process. Ours took about five days total, but yours may vary depending on the size of your kitchen or the amount of cabinetry you're staining (we were only doing our lowers).
Prep day
First staining day
Second staining day
Drying & curing
Reassembly
Step 1: Remove Cabinet Doors & Hardware
Before beginning, you'll want use your screwdriver to remove your door, drawers, and any hardware (knobs, pulls, hinges, etc) so you'll have unobstructed surfaces to apply stain too. You also want to spread out your doors and drawers apart from the cabinet frames so that those two surfaces don't accidentally come in contact during the process (which could make things stick together).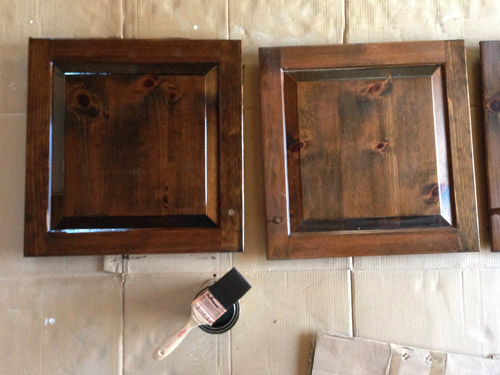 We propped all of our doors up on old paint sample cans, but you could also use a set of painter tripods if you're fancier than us.
Step 2: Patch Any Hardware Holes
If you are changing any hardware (like using a different pull size or hinge style) you'll want to fill any useless hardware holes now. We chose to eliminate all of the knobs on the backside of our kitchen peninsula for a cleaner look. The drawers were just dummies anyways (they pulled out on the other side) and doors were just secondary/less used access points to the front cabinets.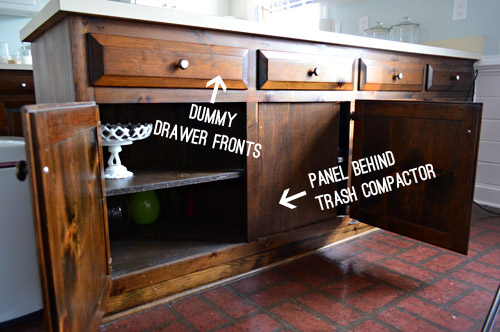 So Sherry wood puttied the holes, let them dry, sanded, and repeated. We always like two coats of wood putty on big holes like this to account for any shrinking or dips. In retrospect, we should've used a darker wood filler that was closer to the original cabinet color.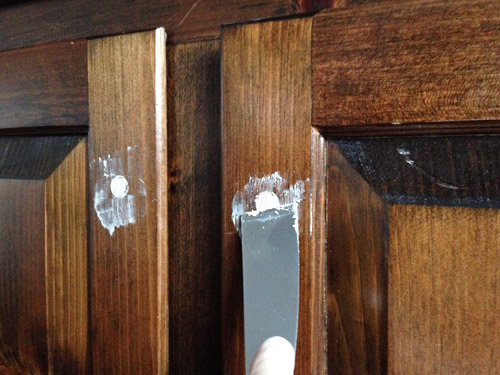 This lighter wood filler is what we had on hand and we made it work by dabbing a little more stain on the puttied parts with each coat of PolyShades.
Step 3: Give Your Cabinets A Light Sand
To prepare for staining, you'll want to sand everything – drawer, doors, and frames – lightly with a high grit sanding block. Again, you're not trying to remove the old stain. You just want to rough up the surface slightly so that the new stain can adhere.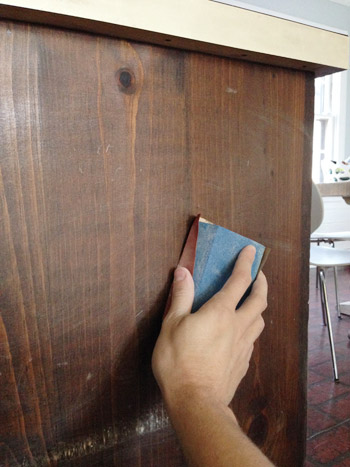 After sanding, be sure to wipe everything down with a damp rag or paper towel to remove any sanding dust or dirt. Also, if you have any spots that are coated with grease or grime, you may need to use a spray degreaser to make sure the surface is fully clean. We wiped everything down with a liquid deglosser just to be safe before beginning.
Step 4: Apply Your First Coat of Stain
PolyShades is best applied with a paintbrush and you'll want to systematically do your frames, drawer fronts, and both sides of any cabinet doors. We actually chose to not stain the backs of our cabinet doors (shhh!) but if you do, be sure to not flip them over until your stain is fully dry.
Also, don't be alarmed if your first coat doesn't look much darker going on. It will dry darker and you can always do additional coats until it's dark enough for you. We ultimately did two coats.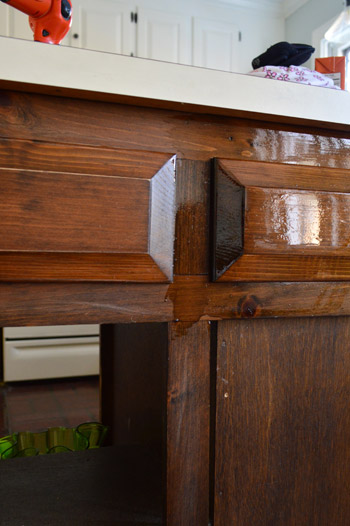 Note: These are dummy drawer fronts that are screwed in place, which is why we didn't remove them.
Tip: Applying PolyShades For A Smooth Finish
We had learned from our first project using PolyShades that applying it is pretty straightforward, but it can be a little challenging to keep it from looking drippy or streaky. We came up with a simple method of dragging the brush along everything after it's applied to smooth it out. I filmed this quick video of myself putting one coat on a door so you could see it in action:
Note: You can also view this video on YouTube
In case you can't watch the video, here's the gist:
The stain goes on pretty thick, which is exciting if you're going for a darker color. Resist the urge to leave it thick because that excess stain will create drips.
Don't worry too much about brush marks at first. Focus first on covering the area that you're working on.
Once you've got the whole area covered, go back over the whole surface with long, even strokes. This will thin everything out and make your brush lines more even.
Although do as I show in the video (not in the pics below – oops) and brush in the direction of the wood grain. This will help any lingering brush lines blend with the wood grain better.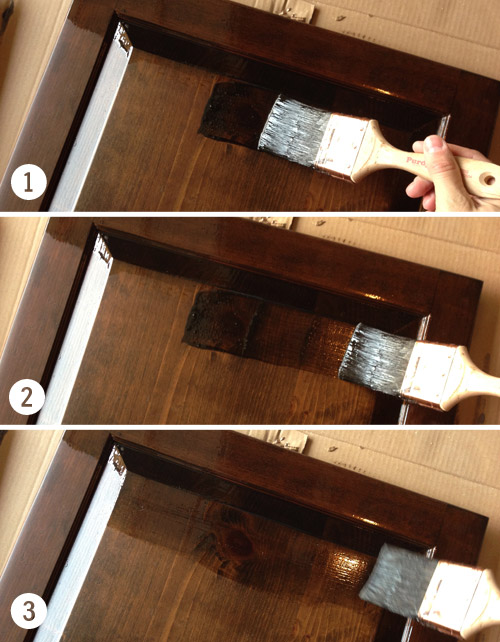 Step 5: Let Dry, Buff, & Recoat
After our first coat fully dried (we gave it 24 hours) it was substantially darker than it looked when wet – phew! If you're happy with the color, you can be done here. We wanted our slightly darker so we chose to apply a second coat of PolyShades.
Before beginning the second coat, we followed the manufacturer's instructions and buffed the first coat with some very fine steel wood (000 grade). This doesn't visibly damage the finish, it just roughs it up enough for the second coat to hold nice and firmly.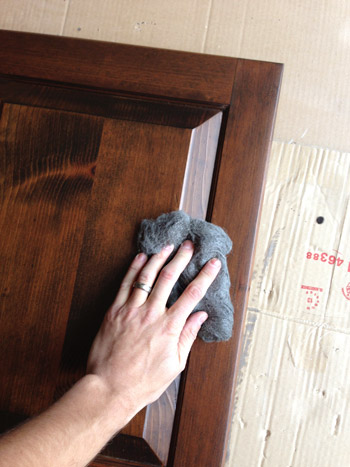 You can see below how these coats "build" and gradually get darker. Also, you can tell how the "wet look" wasn't a good predictor of how it'd dry.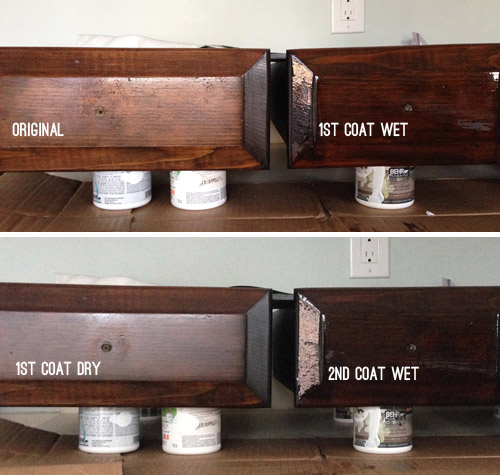 Step 6: Let Second Coat Dry
The next day, as our second coat was almost fully dry, we could finally see the results of our efforts (thanks to not staining the backs of the cabinet doors!). You can see in the side-by-side below that we definitely achieved the darker and more contemporary, less orange and dated look we were hoping for. And we loved that you could still the wood grain coming through!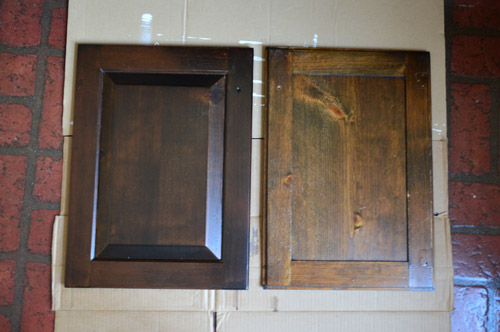 Again, this is the part with a traditional stain you would need to seal your wood cabinets with varnish or polyurethane. But since PolyShades is an oil-based stain and poly in one, you can skip it!
Step 7: Reassemble Your Kitchen
With everything done, you can reattach your drawers, doors, and hardware. If you're installing new hardware, we've got a fully tutorial on how to easily (and quickly!) make new holes for cabinet knobs and pulls. For us, we just used the existing holes and added darker knobs that almost disappeared against the dark stain. So here's our final look!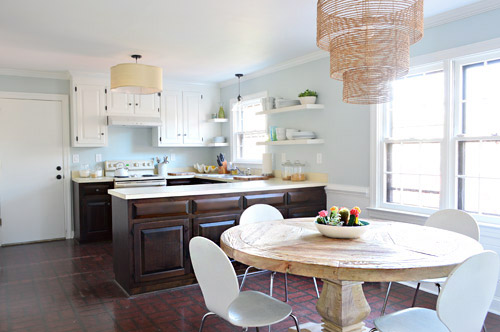 As a reminder, this is where we were last week with those redder and more knotty lowers. Although, this is after we had painted the upper cabinets white.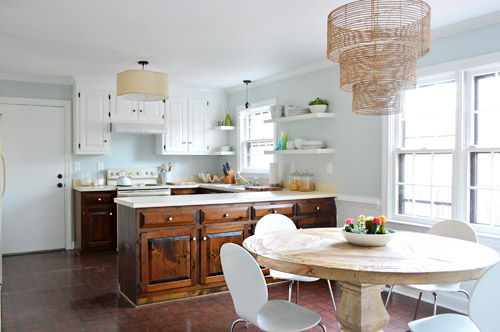 And it's a far cry from where we started when we bought the house!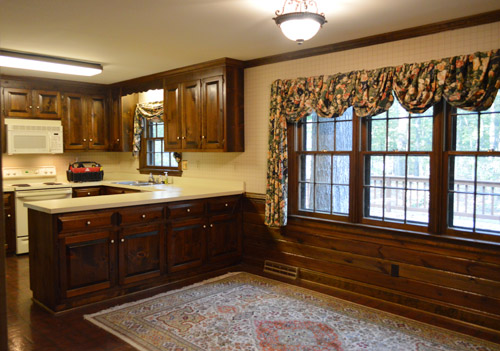 UPDATE: Since originally completing this project in 2014 we soon updated the laminate countertops by applying a faux concrete finish to them using Ardex.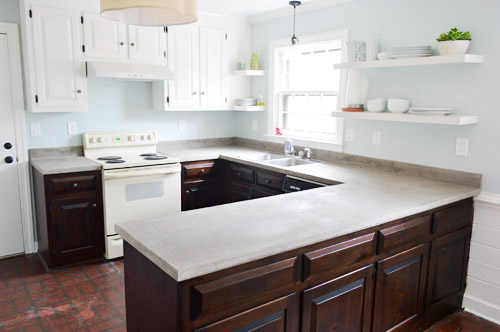 And two years later, we fully remodeled this kitchen with a completely new layout. But the old cabinets held up great for two years while we waited to begin the remodel. You can read all about that in these posts: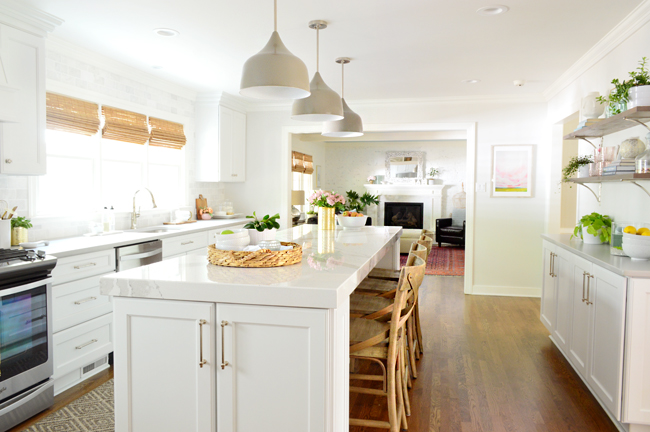 *This post contains affiliate links*
PS: Wanna know where we got something in our house or what paint colors we used? Just click on this button: