Well, our new washer and dryer have arrived! And we promised to share how the installation went, what we did with the floors under them, and how we like them so far (that's where things really get interesting). We realized a few days ago that we've had a whole bunch of different laundry situations. In our first house we had front loaders with a counter…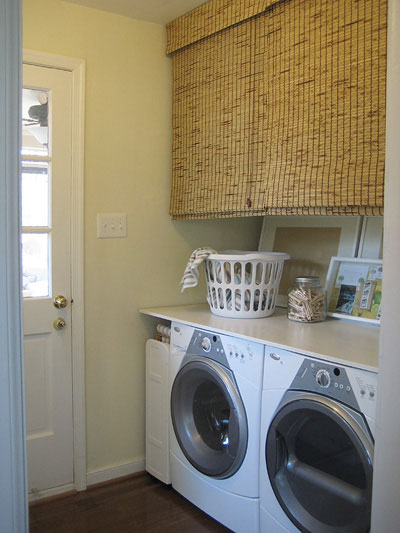 In our second house we had stacked front loaders with cubbies next to them…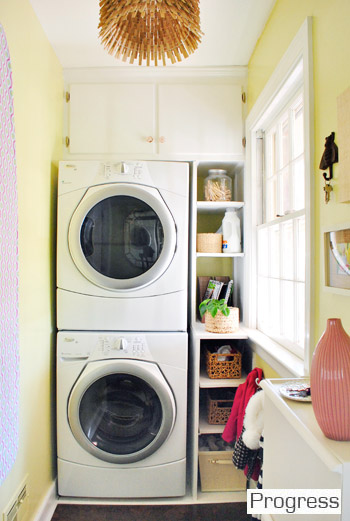 … and in this house we've had top loaders with cabinetry above them. Here are the new guys sitting pretty (although not quite as pretty as the others since we haven't tackled the rest of this nook yet).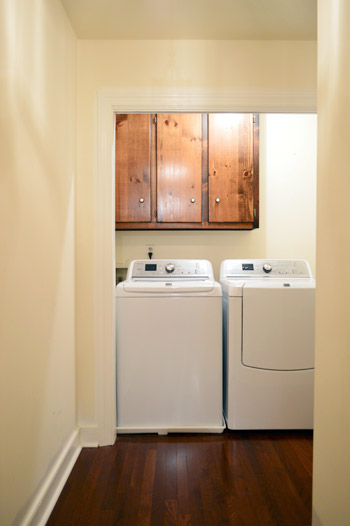 Honestly, each of these setups have had pros and cons:
We loved having a counter over our first house's front loaders, but it usually ended up cluttered with stuff (it became sort of a dump-this-here-until-we-deal-with-it-later zone). And this setup required the most bending, which wasn't that bad at the time, but now that we've had top loaders a while, we definitely can appreciate less of that.
Our stacked loaders were nice because we had cubbies for storing everything we needed, which didn't tend to get cluttered like the counter (there just wasn't space to drop grocery bags, returns, and other random items there). There was still a fair amount of bending and lifting when it came to doing laundry, but again – at the time it was just fine, and we really only realized how nice top loaders were once we moved here.
The obvious con to top loaders is that there's no place for a counter, which we did really like having, but we still have the top of the dryer to work with (we can put the laundry basket there for example – or lay things out to air dry). The cabinets might be our favorite storage solution (as compared to open cubbies or pull-up blinds) just because everything is tucked out of view but still really easy-access.
*Note: We got some questions on Friday's post about why we don't bring our appliances with us when we move. It seems to be one of those regional things. Here people tend to leave them, but it's not like you leave nice ones without getting anything in return for them – it's just factored into the listing price here (a seller can command a higher asking price by saying "there are new top of the line appliances" which obviously add a lot of appeal/value).
But now onto our new washer and dryer! When it came to delivery, the guys were really nice, although I did realize about half-way through it that I needed to lay down a dropcloth to protect the runner, even though they wore those nice little shoe-booties (the runner was getting dripped on by the old appliances as they came down – but it was thankfully nothing I couldn't just wipe down to remove). With the booties/dropcloth combo it looks like a slip-n-slide situation (I begged them to take off their booties because I was afraid they'd fall) but thankfully they went slow and steady and all was fine. Turns out I'm just a worry wart.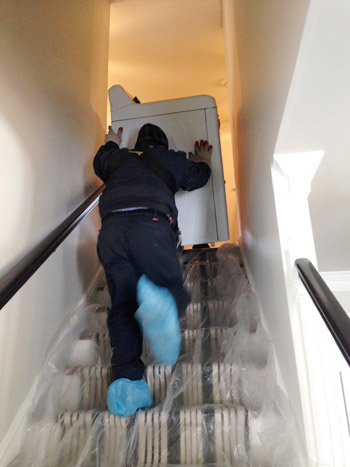 You might remember that we couldn't wait to get the old appliances up and out of there so we could finally replace the old pan under the washer and remove the remaining carpet scraps that were sitting under the dryer.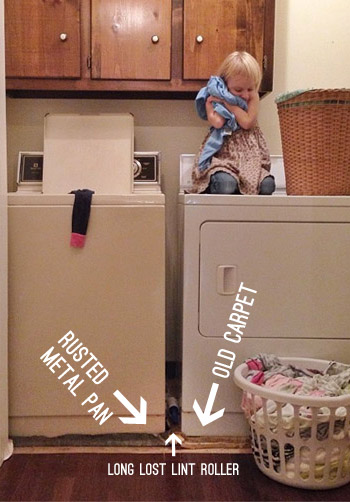 We decided that laying down some thick 3/4″ plywood (which is the same depth as our hardwoods) would be a nice way to give that particle-board subflooring a more finished look – especially since we could stain it to match the floors so well (we used one coat of Dark Walnut followed by three coats of SafeCoat Acrylacq to seal them). We actually added plywood under our last washer and dryer (more on that here) since we heard it was easier on them to have reinforced flooring (something about them lasting longer) so we're hoping it gives these a leg-up.
As soon as the guys carried our old appliances downstairs we ran up into the laundry nook for a quick floor presto-change-o, which we did in a blind panic because we knew it would only take them a few minutes to get the old ones downstairs and the new ones upstairs. First we had to remove the old carpeting, which was more secure than we expected (John actually had to scrape up the staples in a mad-dash after we yanked up the carpet and underlayment). Look at him go: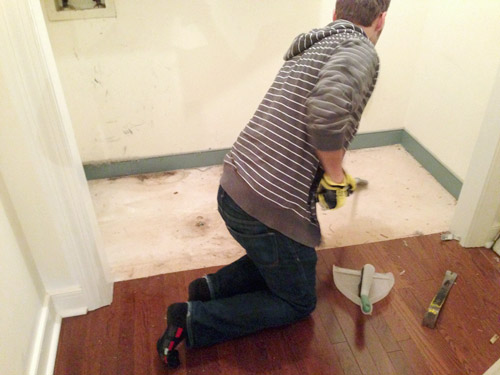 Then we had to get the boards down. Here's the first one going in. We had pre-measured them and stained/sealed them beforehand so they were all ready to slide into place when the appliances came up.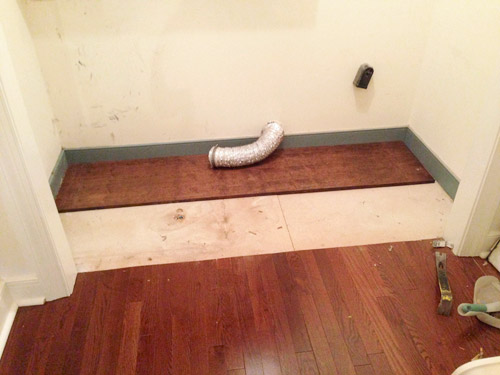 The second one went right in after the first, but there's still a small gap that we have to fill where the molding jutted out too far for us to get a flush result. We hope it'll look nice and complete once we slide that missing piece in (we're just going to cut one more slice of plywood and stain it to match). Wish we had time to prime and paint that blue trim hiding in the nook while the old washers were out, but it might have to wait for a rainy day…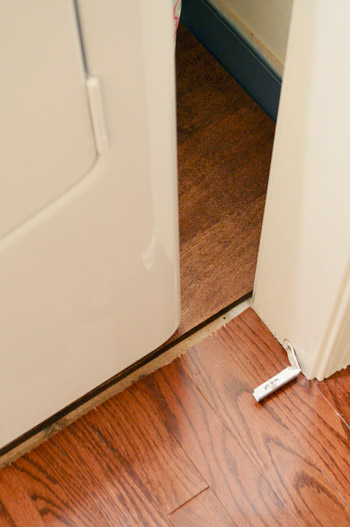 When you step a little further back, you can hardly tell it's not the same hardwood flooring running under those appliances (we didn't photoshop the crack out of this pic, it's just barely noticeable from this distance). And we're really happy with how well the color matches. We also plan to add some nice white folding doors (there were some blue ones hanging there originally) so that's another reason we thought the subtle flooring change should work really well.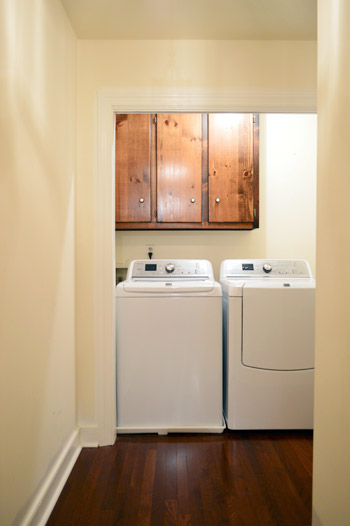 As for leak protection, since these guys are on the second floor (and we REALLY REALLY don't want them to cause damage to anything below them, we were sure to place the washer in a plastic water-catching basin and also upgraded to those nicer reinforced steel water lines instead of the plastic ones.
The crazy thing is that during installation there was actually a small leak where it was attached to our water line, but we caught it while the installer was still here, and he ducked back there and fixed it by tightening things a little. The lesson? Check those lines!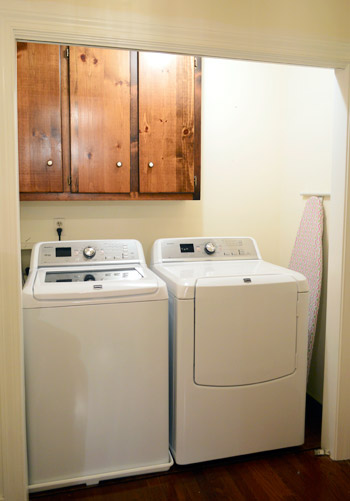 So now onto the fun stuff: how we like our new washer and dryer! Well, we LOVE the dryer so far. It has been quieter, has a much larger capacity, doesn't shrink things nearly as much as our older one did (that one practically "burned" things and this one has a heat sensor so it doesn't over-dry). I also love the charming little chime sound it makes when it's done (which can still be silenced, but it's so much better than the loud buzz that our old one made).
We also really like the digital setup of the washer and the dryer. It's easy to see things, like how long each cycle still has left.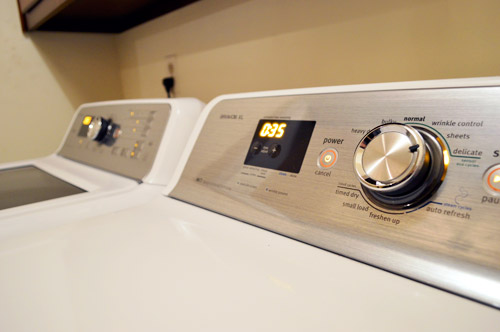 The washer's capacity is also really awesome. It fits a lot more than any of our previous models (especially the old one we were replacing).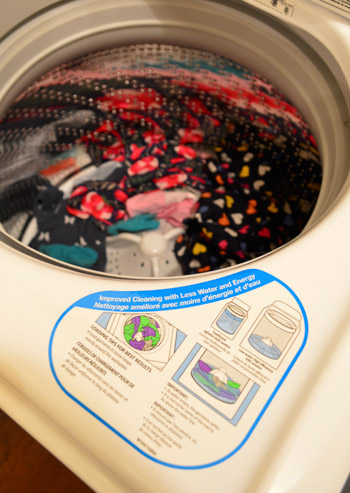 And now for the womp-womp. Remember how I worried that bad things happen in threes? Well, our new washer is broken. I'll pause for effect, as I quietly weep into my dirty laundry pile. The installation just included starting it to make sure there were no leaks when it filled up, but they didn't stay to watch it run a full cycle (which is completely understandable… that would be close to an hour of washer-watching time).
So imagine our surprise when we ran our first real load of laundry well after they had pulled out of our driveway and heard a crazy-loud grinding sound during the wash cycle (whenever the agitator is moving, there's this jarring metal-against-metal sound). You can hear it all the way from downstairs with the TV or radio blaring.
I woefully called Home Depot to tell them we already had a problem and they told us to call Maytag, who told us they could get a tech out in seven days. Ack! A full week without a working washer after buying a new one and expecting it to run without issue? I sweetly asked if they could get that service call moved up a bit since we were expecting a working machine upon delivery (our laundry had built-up a bunch already, so the prospect of another seven days of waiting stunk) and they said we could call Home Depot and see if they could do anything. I explained that I called them first, but would try one more time.
Well, when HD heard it was going to be a week until Maytag could make a service call (which might not even fix things, it might just diagnose that I needed a new machine, which then had to be ordered) – I could feel them trying to work something out for me, which I really appreciated. They had mercy on my sweet laundry-missing soul and agreed to take back the first one and deliver a new one on Thursday.
I'm really happy with Home Depot's customer service (I'm sure it's a lot easier for them to just say "call Maytag, it's a mechanical issue that they're supposed to handle) and I have to be honest that I wish Maytag had been able to come out for a service call within 48 hours or so, which is what I expected when my brain reached that "oh snap, our brand new washer is broken" moment.
So that's where we are. Still sleepless in Seattle washerless in Richmond, but we love our dryer and the new flooring under it. And here's hoping that by Thursday I'll be whistling while I work that new washer. I've never looked forward to doing laundry this much in my life! Have you guys had any unexpected delivery or new-appliance issues? We're happier than ever that ours have a one-year warranty given this little curve-ball, but we hope this third house snafu means we have all of our bad luck out of the way for a while…
*************************************
Sidenote: We'd love to see you guys this weekend at the Richmond Home & Garden Show! We're speaking at 2pm on Saturday and Sunday (with a book signing following Saturday's talk). You can get half-price tickets online right here. Oh and they gave us the shock of our life when we were driving down the highway and saw our giant faces on a billboard.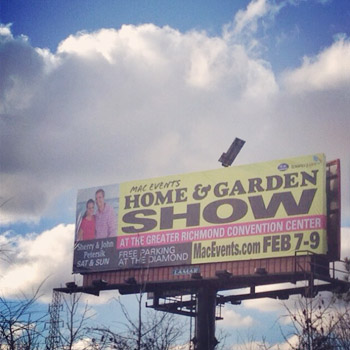 Seriously, we screamed so loud it probably scared other drivers. It's exciting, unbelievable, and terrifying to see your own mug that big.