Step right up to the wall 'o fun! Sounds like a carnival ride, right? Don't worry, there will be no clowns or motion sickness. It all started when we moved Clara's crib out of her room, and shifted the dresser that used to be on this wall to the former crib wall (more on that here). Which left the wall to the right of the bed completely bare. So we decided to bring in a lot more fun to that blank space, now that there was room for it. Clara already has some baskets of toys and books along with a play-table where she loves to build castles and draw, but things like her play kitchen, refrigerator, and food cart were all relegated to other rooms for lack of space before the crib got the boot.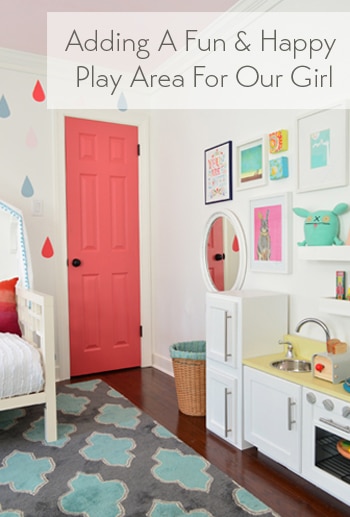 Yeehaw! Amiright?
At first, it wasn't looking very exciting. Check out all of that bare white wall going on.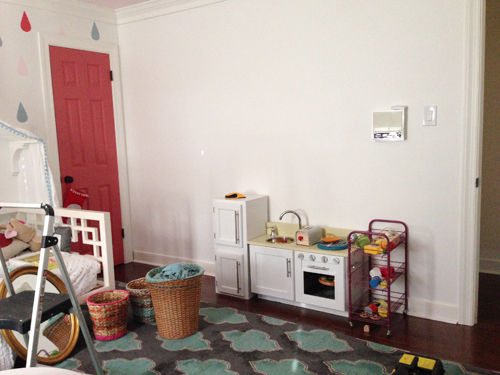 And here's where I show you my chaos and say "welcome to the first ten minutes of any project." It almost always looks like this. There was a lot of fun and colorful art leftover from her nursery and her playroom in the last house that I couldn't wait to hang up on that blank white wall. So I just started laying things down on the bed (Clara helped me pick her favorites) and we ended up with this gorgeous progress shot.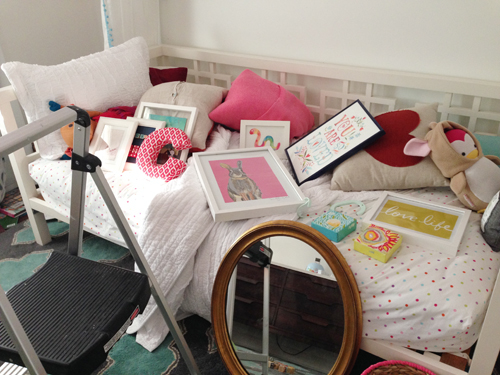 She also really wanted a mirror at her height, which was a request that John and I couldn't wait to fulfill. It was a lot like her "I want a clock" request (the blue cuckoo clock that I made her is still her favorite thing in the entire room) and we knew she'd really appreciate if we hooked her up with a place to study her funny faces and show her dolls the latest hairstyles that she was giving them instead of having to trek into our room and use our big leaning mirror in there.
This mirror is actually the one that we removed from our half bathroom back in July, although the brassy finish wasn't exactly complementing the silver hardware on her play kitchen and refrigerator, so I thought I could spruce it up for Clara with some fresh paint and a fun little pattern. First I laid it down on a big piece of cardboard at the kitchen table and wiped it down with liquid deglosser, just to get it paint-ready.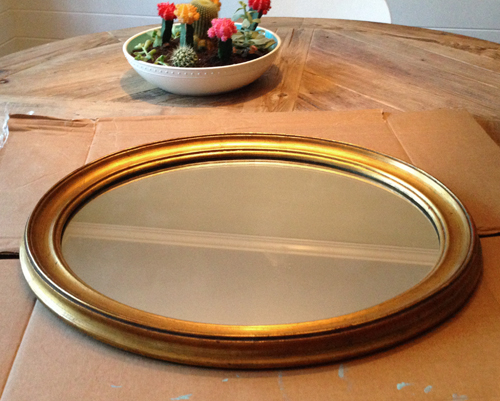 Then I used leftover white paint (Simply White in semi-gloss) that we use on all of our trim and doors, just to give it a clean base coat. You'll notice that I got a little paint on the mirror pane itself, but that's easy enough to remove (more on that in a second). So the most important thing is just to get a nice even coat. That includes that crack where the mirror meets the frame. Then just let that dry and give it at least one more coat if it needs it for the coverage. Mine just needed two coats and it was good to go.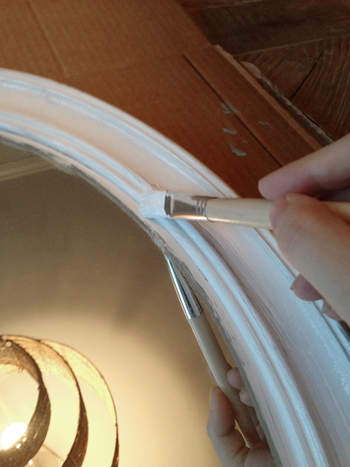 As for how to remove any paint that gets on the surface of the mirror, I'm a big fan of just scraping it off with a straight razor. And for curved shapes like this, an exacto knife can actually be really easy to slide along the mirror's surface to peel off any paint that's on there, just like this: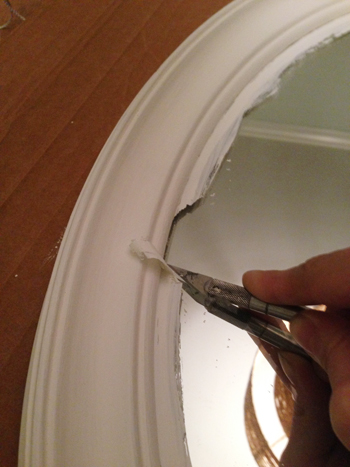 Now for the fun part. I had some metallic silver paint among my little tubes of acrylic colors, and I thought it could be fun to add some pattern to the mirror with it. So I just squeezed out a blob of it on the cardboard…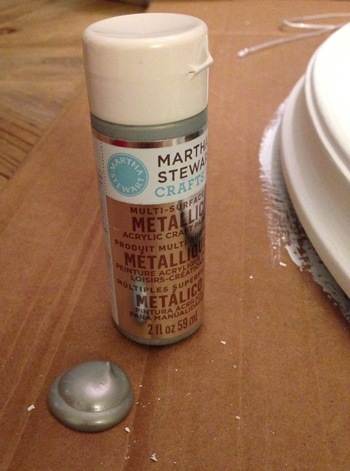 … and used a small flat craft brush to make little arrow-like shapes all the way around the mirror. I just spaced them by eye, and I liked the almost heart-like effect of them. I also didn't mind the imperfect "painted by hand" look, so I resisted the urge to go back over anything and smooth it out or futz with it.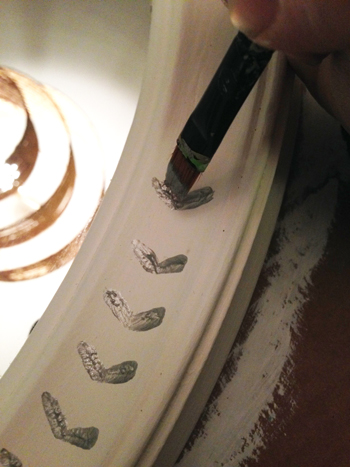 Once it dried, I hung it back up, and voila! Clara was ENAMORED that we fulfilled her mirror request, and we both love that it adds some pattern and interest to the wall while bouncing around more light (and allowing me to watch Clara even if she's behind me, which further convinces her that I have eyes in the back of my head).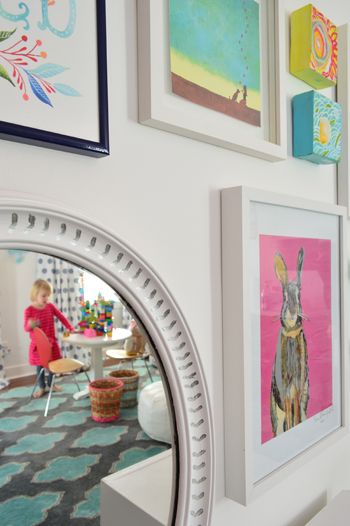 Bonus points for being able to spy on Burger too…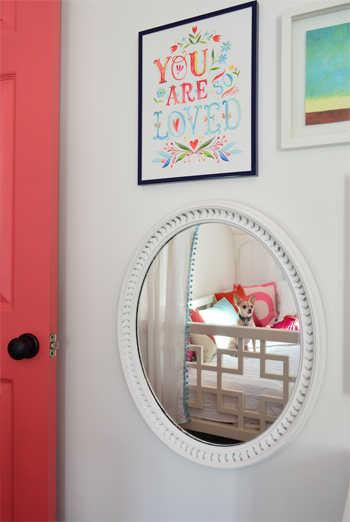 Here's a panned out shot of the wall. I also hung the shelves that John built for her very first nursery along with her favorite art picks and her new mirror. All of the frames were light enough to be held up with a regular old picture nail into the drywall (no anchors) and the shelves got some extra long screws and anchors, just to be sure they could hold some weight. The mirror also got an anchor and a screw since it's on the heavier side, along with two 3M heavy duty velcro strips at the bottom (so it's even more secure and can't hop off the wall on anyone).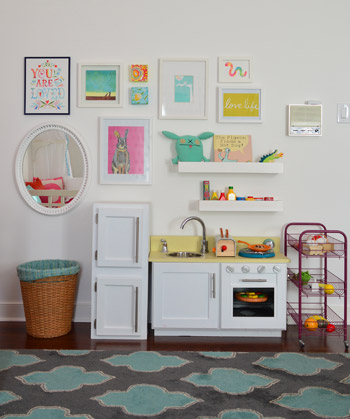 We love that the shelves can come in handy for kitchen items, books, toys, etc. And now between using those to store and display things, playing with her kitchen/fridge/food cart, looking at her favorite art, and enjoying her reflection in the mirror, well – there's a lot to do on that little wall of hers.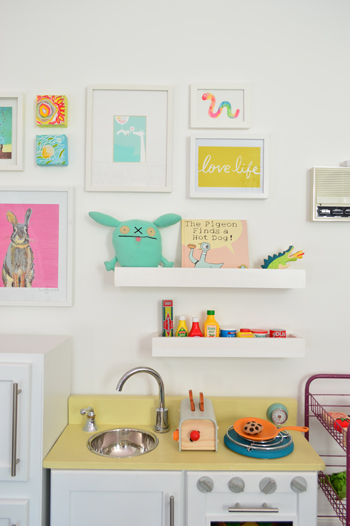 And it looks pretty darn cute with her pink door and wall full of raindrops too. Here's a shot of her getting in on the fun, just to show you the scale of things. She can easily reach that top shelf and see herself in the mirror (with a little headroom for when she grows a bit more).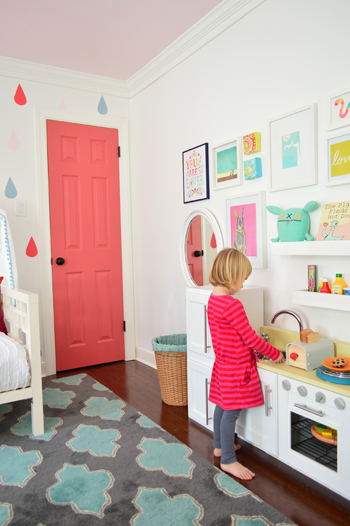 Now that there are no longer bare walls everywhere, the room is suddenly feeling a lot more finished, although I'm sure it'll continue to evolve as she grows. Just kidding Clara, no more growing is allowed! Plus I still have some pretty lofty goals for her big walk-in closet (that thing is destined to be a hidden playhouse within her room – she actually picked this room for that closet).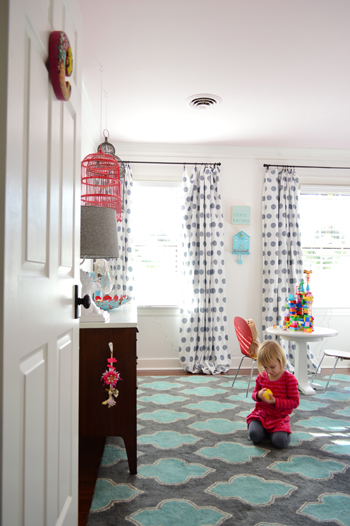 Oh and with seven days to spare, we're officially working on Clara's Christmas present (it's a tradition of ours to hand-make something for her, like this, this, and this). Looks like it's going to be down to the wire again… which seems to be an annual tradition for us as well. Are you guys doing any last-minute holiday shopping/building/decorating? How about adding little pockets of fun to a kids room? Or finally hanging art that you've been meaning to get to for, oh, half a year now?
Psst- A few folks have told us about an unsavory ad for League of Angels on our sidebar and an annoying pop up for Aveeno, both of which aren't authorized, so we're working on blocking 'em. Please let us know if you ever see anything inappropriate (or any pop-up whatsoever) since they're never cool with us, and we'd love a screen grab and the url/site that it links to so we can get them blocked. Sorry for the trouble!