It's been way too long since our last Save It post (like this one, this one, this one, this one, this one, and this one to name a few), so the other night I was thinking about a few things that we just don't buy, and how going without those things probably adds up to saving a decent amount of cash-money.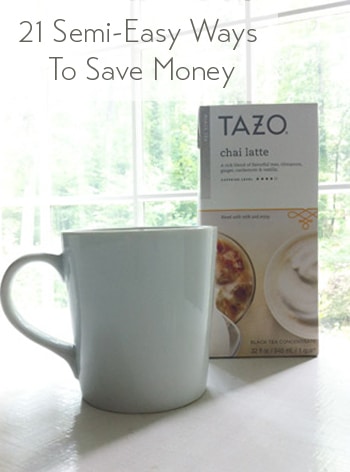 And it doesn't feel particularly martyr-ish of us – it's normal and easy after years of living this way. So it feels less like "going without" and more like "streamlining and simplifying." We've mentioned a few of these things over the years, but I realized there were others that I never really thought about (or blogged about) so here's a big ol' brain dump of all the things that we typically skip.
Meat three or four nights a week: Some nights we just opt for spaghetti, bean burritos, vegetable stir fry, homemade pizza, nachos, sweet potatoes and salad, etc.
Fabric softener: We use vinegar sometimes, but most times it's just nothing. We don't notice a difference!
Dusting spray: We both grew up with Pledge, but now we just use microfiber cloths and water.
Regular dry cleaning: All of our clothes are machine or hand washable so we only do one trip per year for a few coats/blazers instead of monthly trips.
Dog grooming: Burger's short haired, so we just bathe him at home and cut his nails ourselves and we're good.
Newspaper: We get our news online (almost every newspaper has an online format now) and on the radio (NPR).
Bottled water: We have a water filter and use Klean Kanteens that we refill ourselves.
Starbucks: In the past year or so I've become a chai lover – and it's $3.99 to make seven cups from this grocery store box, as opposed to that price for one cup at Starbucks. So I save that for special occasions and make a cup at home every morning instead.
Bag-checking fees: Even when we've flown with a dog or a kid, we've actually never paid to check a single bag (we're nerds for the challenge of packing light).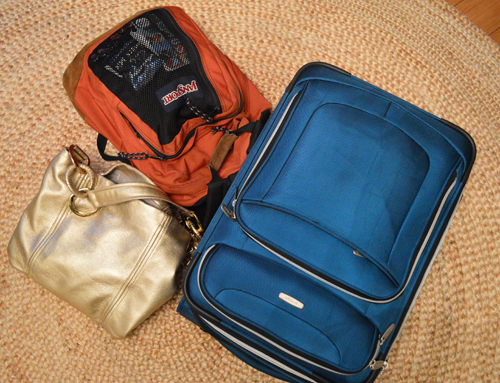 Gel, hairspray, mousse, or serum: I haven't bought that stuff since college. I'm just a wash and wear girl – plus I tend to break out a lot from hair stuff, so this is for vanity as well as saving money.
Lipstick: It's not my bag baby, so I use what's in this makeup tote and nothing more (not buying 20 shades of eye shadow definitely keeps money in my pocket too).
Creams and self tanners: I'm pale and totally cool with it – plus my mom looks awesome for her age and doesn't use any fancy potions or creams, so I'm hoping to follow in her glamorous grandma footsteps.
Perfume: I like the smell of my shampoo (John doesn't wear cologne either).
Haircuts & colors: Maybe once every two years I get a $35 cut, but other than that I just trim it myself. And of course cutting John's hair saves us money too.
Regular manicures and pedicures: I go about once a year with a friend (and usually hit up Starbucks while I'm splurging) but other than that I do my own toes at home and usually leave my fingers bare.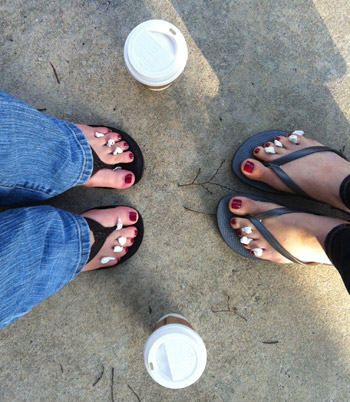 Gym membership for me: It's just not my thing, but John loves his.
Alcohol: John has just never been a drinker and I might drink a bottle of wine a year at home (although most years it's a gift from some sweet house guest) so it's not a monthly expense for us.
Disposable diapers: More on that here.
Diaper bag: I never got one, just used a purse and kept extra stuff in the car.
Incandescent bulbs: Using CFLs and LEDs in the bulk of our fixtures adds up to a lot of money saved. We'd love to eventually go all LED in our house, but it's not exactly a cheap switch, so we're trying to chip away at different rooms over time.
A second car: This one definitely doesn't works for everyone, but since I've been freelancing from home for the past seven years it's no big deal to have one car (and it saves us the cost of a car, the gas, the maintenance, and the insurance).
Best of all, saving in some areas allows us to more easily afford other things that are more important to our family, like project materials, organic produce, cable TV, and ceramic animals. Guess it's all one big balancing act right? I'd love to hear your "skip it" list! And this is a no judgement zone. You might LOVE to get your hair dyed but can resist giant dangly earrings when I can't (I may or may not have over a dozen of those in my night table).
Psst- You can peruse over 30 money-saving posts of yore here.