Dude, things just got real in the foyer.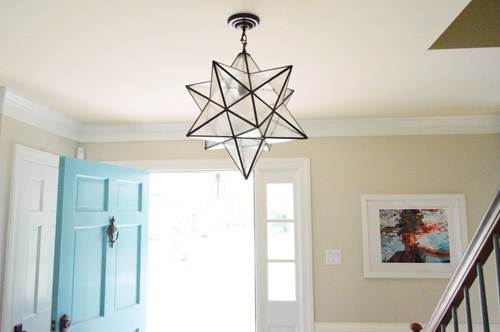 We found this light at the local lighting outlet here in Richmond called The Decorating Outlet for $135 (down from $455 at Shades of Light, just because it had been returned). I had always pictured something big and architectural in there – most likely in an oil-rubbed bronze finish because there are a bunch of ORB doorknobs going on in the foyer and I thought it would look nice. Thankfully John was game too since the guy's down with geometry and shapes and stuff. UPDATE: Here's an incredibly similar moravian star pendant on Amazon since the Shades of Light version is currently out of stock.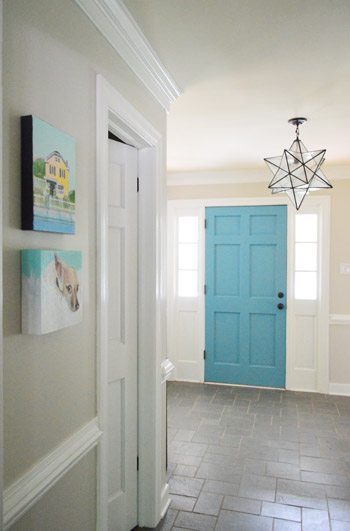 Boom. The foyer is now my favorite room ever in the history of rooms. I want to sleep in there and eat in there and braid its hair and tell it all of my secrets.
In keeping it real news, it took us forever to hang. Like the longest it has ever taken two adults to hang a single light fixture. Someone call the Guinness Book Of World Records, for real.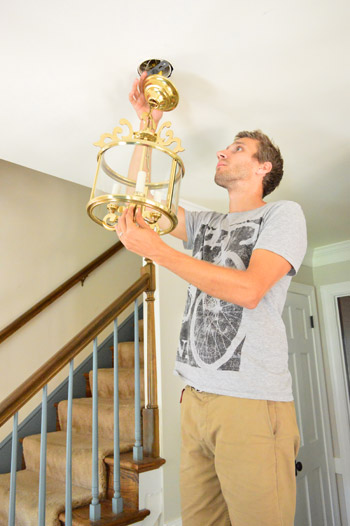 That's the only shot I got of the process (snapped one minute into things, before this turned into the longest lighting installation known to man) but picture both of us on different ladders next to each other trading off on holding the weight of the light and messing with wires. The hanging hang-up (har-har) had to do with being sure to hang it high enough for my tall hubby to have clearance under it, while still being sure the canopy would thread (if we made it too short, the canopy had nothing to catch on, and if we made it too long, John would graze his head on it). Ten hours later – ok, that's a slight exaggeration – we're high fiving under it while holding one arm up with the other one because they were so tired.
I also hung some art and a mirror (the mirror's heavy so it got 2″ anchors and screws while the art just got a few nails each). This mirror used to hang in our guest room at the last house (from Joss & Main a while back).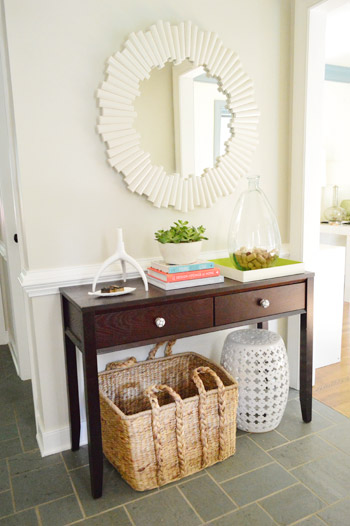 Gotta love when a detail shot reminds you to go dust the mirror.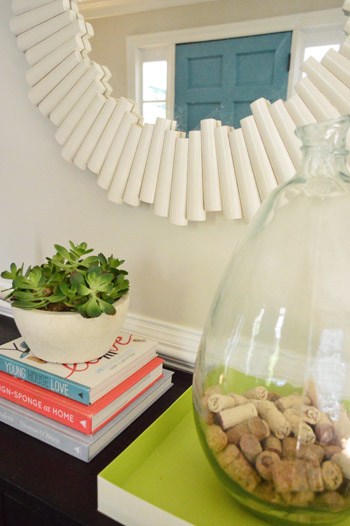 I hung an Ikea Ribba frame with some linen-ish fabric and a favorite instagram picture next to the coat closet door.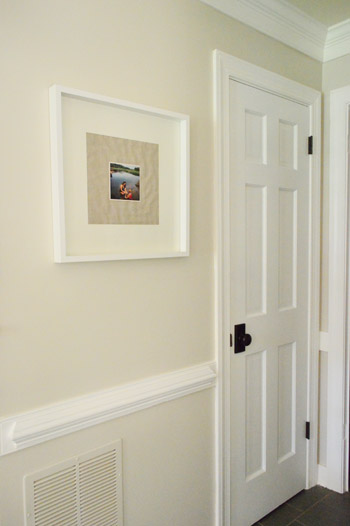 Eight of these were over the sofa in our last house, so I let John pick the one he liked best for the foyer. Turns out it's me in a bathing suit. Men.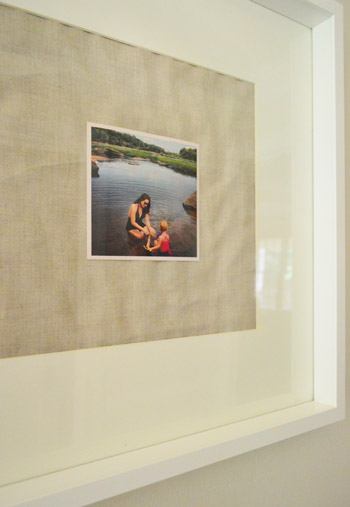 I also hung our favorite swimmer girl next to the door (that's a print we bought for our last house's kitchen).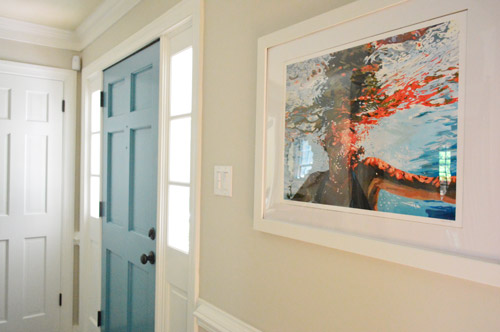 We also have two favorite paintings by our friend Lesli (one of Burger and one of John's Granny's house) that we hung next to the bathroom door.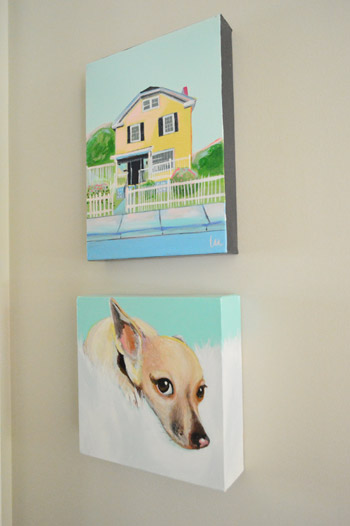 And with that, the foyer makes every other room in our house look a whole lot worse by comparison (why do pretty rooms do that to the other ones nearby?!). But we can't even stay mad. Oh foyer, thank you for making me see stars. Literally. You are the Hershey's bar to my s'more. I can hardly remember when you looked like this…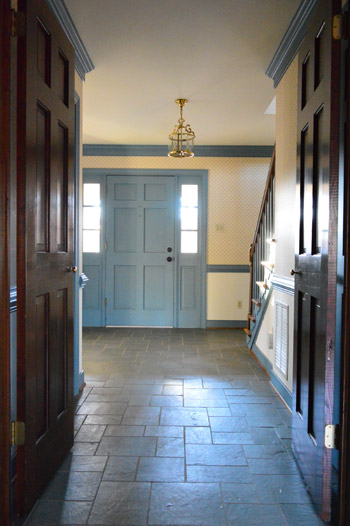 Love you. Mean it.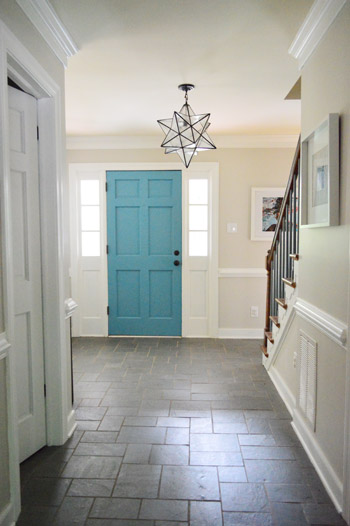 UPDATE: We've finally transitioned our entire house to LED lights (they save tons of energy & money, and they're a lazy person's best friend because you never have to change them). For anyone wondering, these are our favorite interior LEDs. Their glow is warm & natural (not weird/blue like some of the others we've tried) and they use around 90% less energy.
* This post contains affiliate links