We're soaking up a white Christmas over here! Nope, we didn't wake up to any snow on the lawn, but there was a dusting of white elsewhere on the premises…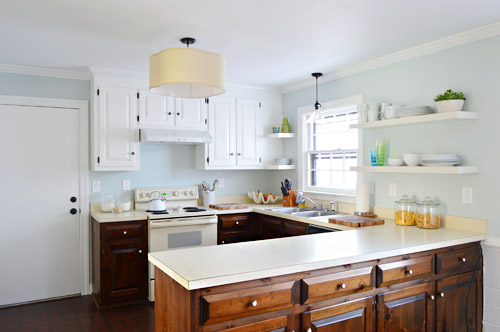 We used last week to sand, prime, and paint all of our upper kitchen cabinets and – shocker – we ended up going with white. So yeah, it's a little bit different from our original plan to paint them a light gray-tan on top… and a little more like what we did in our last kitchen – but just for those uppers. We have a completely different plan in store for the lowers – and it actually involves wood stain and no paint at all – so maybe as we move into 2014 we're getting progressively less predictable? Or more woodsy? We also have some ideas for those countertops which we've never done before (either a refinishing/paint technique or a concrete coating one – both of which are budget friendly, so they should be great for Phase 1).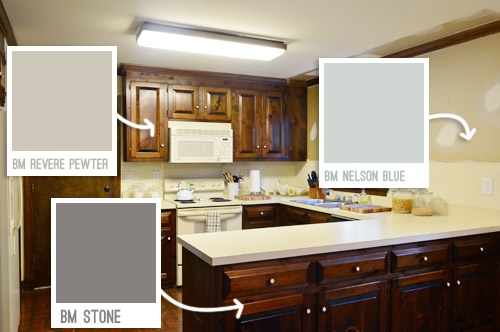 The tides shifted from Revere Pewter to Simply White for those upper cabinets around the time that we installed the range hood and put up the floating shelves. While we liked the idea of the white shelves & hood contrasting with putty colored upper cabinets, we started to worry that also having the darker lower cabinets might just be too much going on (white and putty on top with a third darker color for cabinetry on the bottom).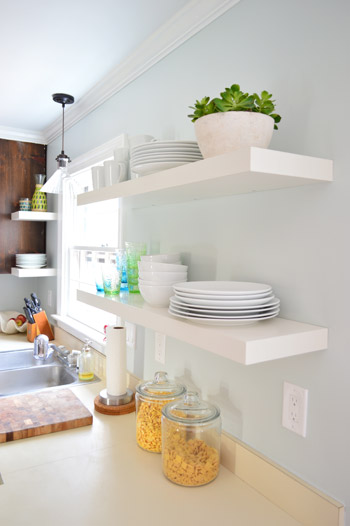 But the main thing we couldn't wrap our heads around was a way to make crown situations like this one make sense with colored upper cabinetry. Usually crown matches the color of the cabinet, but wouldn't it be weird to paint just a section of this crown to match the cabinets since there's no indent where the cabinets end (it's just one long piece along that entire area)? We already didn't like the look of the mismatched cabinet and crown that we had going on, so continuing that theme with a new color on those uppers just didn't seem like the right way for us to go.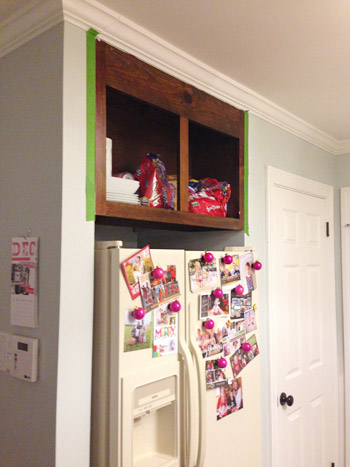 So we went with white. As much as we wanted to do something new, we never like to do something different just for the sake of being different. And at least this way we can still stick with our plan to do the lower cabinets in a deep tone for that "tuxedo" look that we've always loved but never had the guts to try.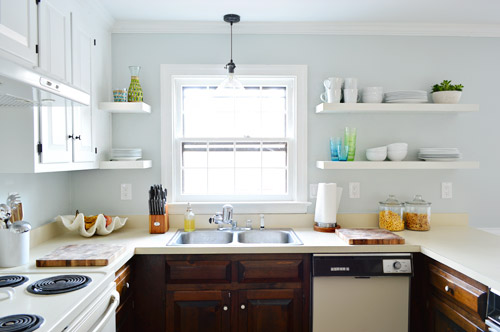 Now that we got through the why of what we did, let's get a little into the how. Clocking in at nearly 2,000 words, this post is hardly short, but is gonna be quick and dirty compared to the picture-and-video-tastic tutorial that we did last time around since we used the same technique. So we'll just share some broad details here, and you can reference that post for the nitty gritty. First up we removed the cabinet doors and gave every surface a light sanding, just to get rid of any glossiness and rough things up for better paint adhesion. Sherry used a hand sander on the doors in the garage with 150 grit paper, and I used an 150 grit sanding block on the frames inside.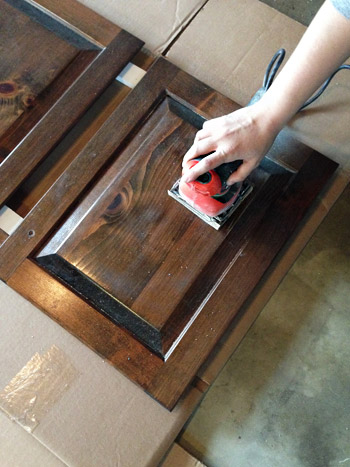 Next we wiped everything down with a liquid deglosser. This is a low-VOC brand called Next that we had leftover from last time (originally found at Home Depot, although we hear it's not there anymore). It's an optional step, but we figure it never hurts to prepare the surface – especially when it just takes a bit of wiping. Plus after you sand it's a nice way to get the sawdust off.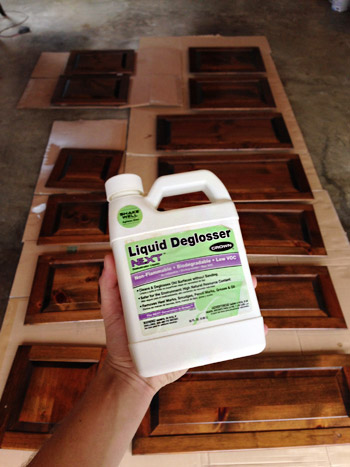 We then taped off the walls and other obstacles around the cabinets (like our newly installed hood) with painters tape to protect them and to make each of our sure-to-be-many coats go on as fast as possible.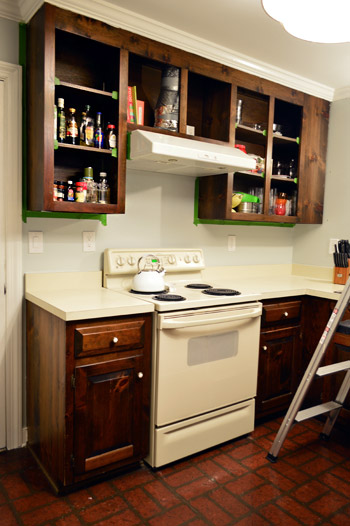 With everything taped, we primed the frames with a brush and a small foam roller. We used a Kilz Premium primer because it's stain-blocking but still no-VOC. This picture is after two coats of primer. Sherry's the cutter-inner of the family, so she did the brushwork with a short handled 2″ angled brush, and I did the foam rollering, following right behind her around the room so I could roll over the edges that she brushed for the smoothest finish.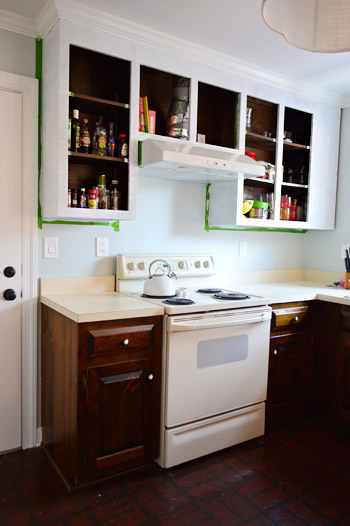 We considered using our paint sprayer for those interior frames, but ultimately decided to do the indoor stuff by hand. The amount of taping and drop-clothing that would've been required to protect the kitchen (and the three adjoining rooms) from paint over-spray just didn't seem worth it – especially when weighing the need for a functional kitchen (and not subjecting a pregnant lady and three year old to the fine paint mist that seems to linger afterwards).
But we did use the paint sprayer outside to prime and paint our cabinet doors. And by outside, I mean the garage (since we had quite a bit of rain last week that ruined any chances we had of spraying outdoors). I set up a little station where I could coat one door at a time and then lay them out to dry.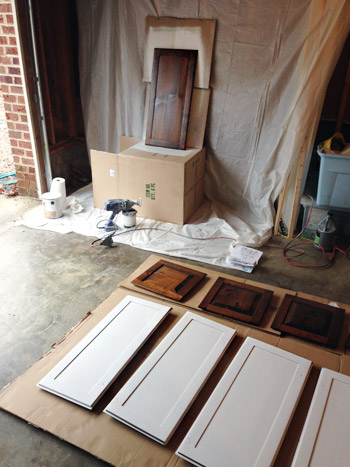 For anyone out there thinking about using a sprayer on doors during cabinet painting, it's a great way to get a nice smooth coat with less effort than doing the whole thing by hand. But you'll probably want to get your bearings by practicing on a few other things first (you might not want your first spray job to be cabinets since it can take a little while to master the whole not-too-thick-and-drippy thing).
Back to the spraying process. After 24 hours of drying time, I flipped them over and did the other side. The actual spraying was pretty fast, but the waiting for the thick coverage to dry (and cleaning the sprayer in between daily coats) didn't make it the breeziest process in the world. Although it certainly required less time than all the coats the frames inside took.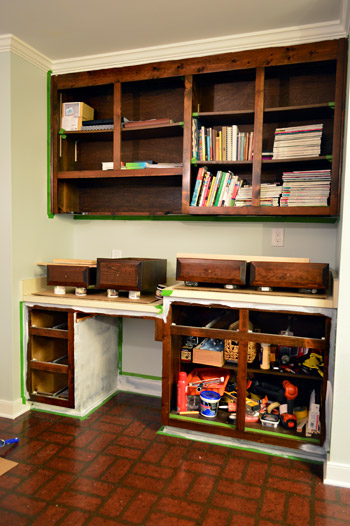 This is the desk area, where we also opted to paint the lowers. Both Sherry and I felt like this was all one unit (like a hutch in the eat-in area) unlike the peninsula-ed part of the kitchen, which we thought would look awesome with those dark lower cabinets. So over here we also painted the six drawer fronts by hand – since they didn't detach from the drawers themselves. A lot of this cabinetry was surprisingly non-removable, for example the shelves inside don't pop out (you'd literally need to demo out the frames to remove them). The picture below is after one coat of primer.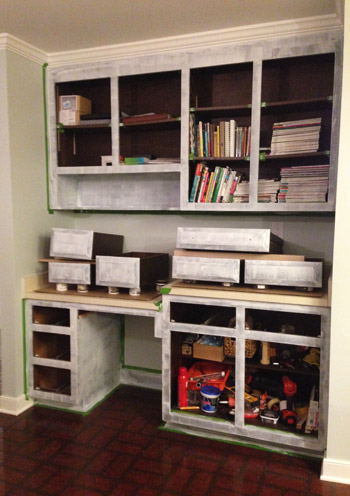 Note: much like our last kitchen, we opted to paint both sides of the doors, but to leave the inside of the cabinets unpainted (we think the contrast of wood inside + painted doors can actually be a nice combo when it's done cleanly).
We opted to do two coats of primer based on what we learned when we painted the trim in this room. But you can see here that even that was still pretty spotty. You can also see where we used small pieces of painters tape to block paint from getting on the shelves for a nice clean look.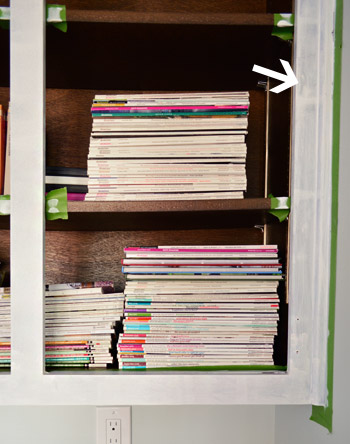 In the end, it took 2 coats of primer and 3 coats of paint in the areas that we did by hand (we used Benjamin Moore Advance in Simply White, which we love for the durability, the fact that it's made for cabinets, the low-VOC non-oil formula, and the fact that it's self leveling). Just for comparison, the doors that I sprayed in the garage only took one coat of primer on each side, and one coat of paint on each one (the coverage is a lot thicker, and you go through more paint, but it leaves you with a nice factory-like finish if you're careful to avoid drips).
In short: spraying (even with that "cleaning the sprayer between coats" factor) is definitely faster – but I'm still not convinced it would've been a good choice for the frames since the entire room would have needed to be taped off for the entire process and a fine mist of paint and primer would have lingered in the air for a while.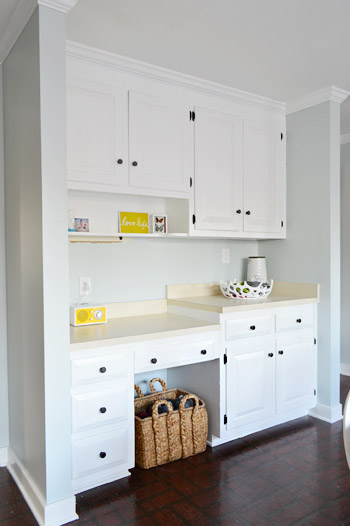 All told this was a week-long update for us, which can roughly be summarized like this – day 1: sanding, deglossing, primer coat #1, day 2: primer coat #2, day 3: paint coat #1, day 4: paint coat #2, day 5: paint coat #3, day 6: another full day of drying, day 7: re-hanging doors and adding the new hardware).
We also updated the hinges and the hardware. The hinges were a worn brass color, so we went oil-brubbed bronze with them since we liked the idea of doing contrasting hardware this time around (we've done brushed nickel in our past two kitchens). To help the paint job hold up on the hinges, we sprayed them with some "clean metal primer" first too, since we've heard such good things about this particular product (we've seen others use it specifically on moving parts like hinges, with luck – so we'll keep you posted about how it wears).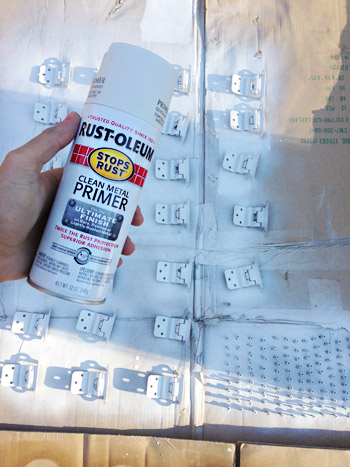 The ORB went on nice and smoothly when that coat of primer dried, and so far the hinges look great and have worked well (there's no gumminess or grinding/peeling) so for about $11 it was well worth the update so far. Ultimately we'd like to have hidden hinges, but it's not easy or cheap with these cabinets (these doors are half-sunk, and they don't sell off-the-shelf hidden hinges for those type of doors) so we'll save that dream for Phase 2.
We weren't crazy about the shape and detail on the original brass and white knobs, so instead of spraying those we picked up a few boxes of the same Target octagon knobs that we used in our master bathroom, since they come in at under $2 each.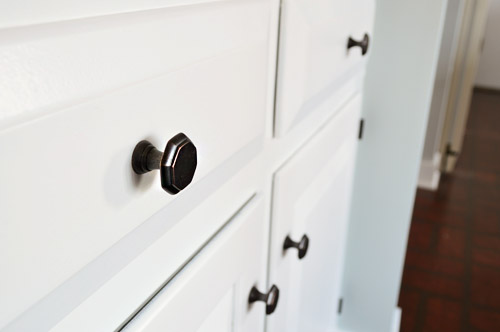 We like how high contrast they are against the white, which seems to be something we're gravitating towards lately (think stair runner, our stenciled bathroom floor & dark vanity, etc).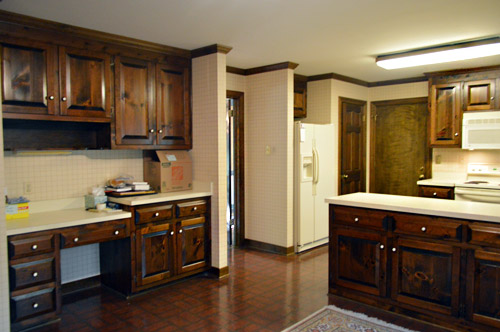 Ahhhhh, this feels a lot more like home. Just ignore the faux brick floor, those old counters, and those off-white appliances – we'll get there eventually.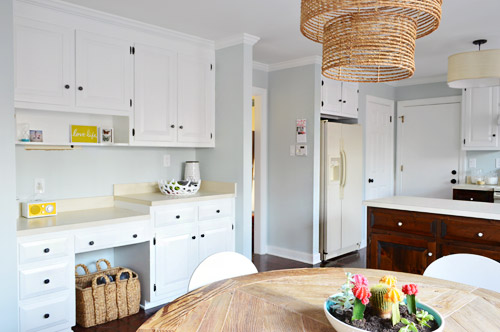 I think the before and afters from this POV really show the difference. This is what the sink area looked like on inspection day…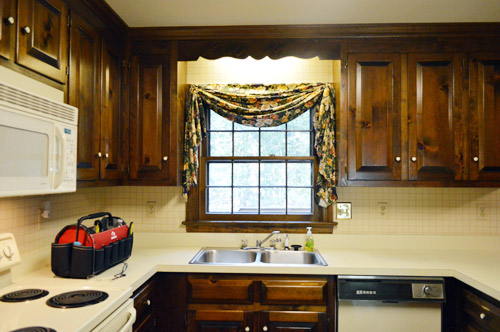 And here's the same angle now.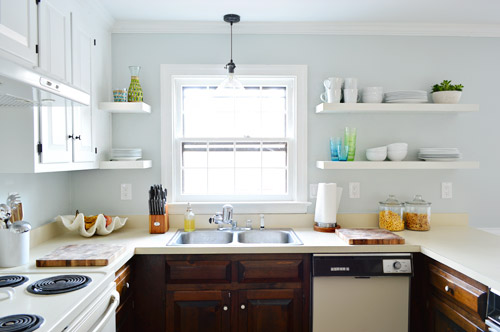 We're gonna tackle those lower cabinets this week – which is a place we're again veering off course from the original plan. You'll remember we said we liked the idea of a deep stone colored paint on them here, but then near the top of this post we mentioned stain. Now that the uppers are painted, we actually like how the wood tone is playing off of them, so we're feeling less paint-y and more stain-y. Ah yes – THE PLOT THICKENS!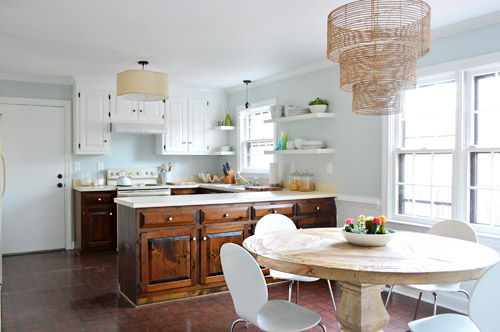 And just for fun, here's one more throwback shot of our kitchen before we moved in. It's pretty amazing what a series of affordable updates – like stripping wallpaper, removing a few cabinets, hanging shelves, and priming and painting the cabinets – can do.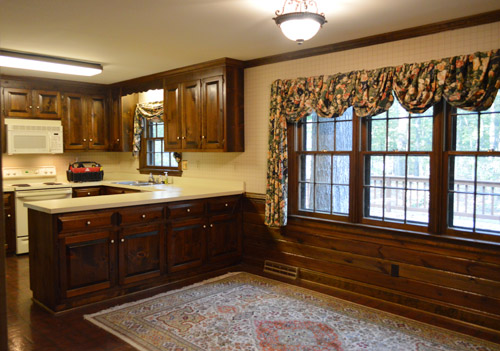 Did anybody else tackle some big-ish projects over Christmas week? Or are you just gonna make us jealous and say you spent the week stuffing your face with cookies and watching Elf on repeat?
Psst- Sherry's over on Young House Life chatting about New Kids On The Block and teacher gifts.