Maybe we should change the name of our site to WCL, because guess who found four awesome vintage wire chairs for the kitchen for $15 a pop? This girl (*points to self with thumbs, notices there's peanut butter on one thumb, and licks it off while beaming at pretty new chairs*)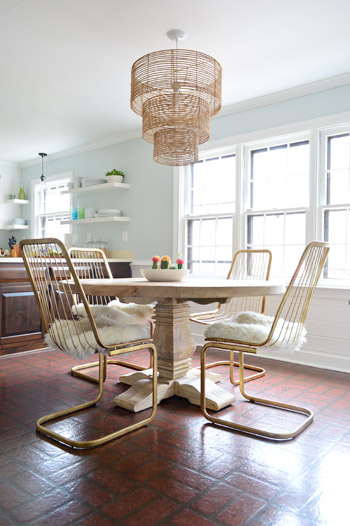 Allow me to paint you a picture of chair-finding glory. We're walking into our favorite local thrift store (Love of Jesus on Midlothian for any thrift-lovin' locals). We pop in there a few times a month just to see what's up, and 9 times out of 10 we leave empty handed, so it's not like we're always finding amazing things, but on this occasion we saw these guys from across the room. Angels sang. Little hearts floated around them. And I broke into a run to claim them before anyone else could snatch them up right in front of me as I cried "nooooooo, stoooop, waiiiiiitttt, whyyyy??" in slow motion.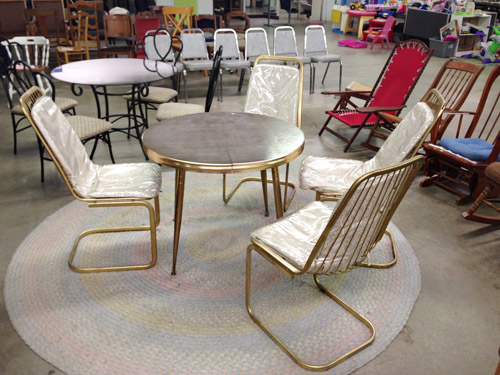 Admittedly, the limp plastic-wrapped covers weren't doing them any favors, but we knew that with pretty seat cushions like these, those nice clean lines would be an awesome complement to our chunky wooden table.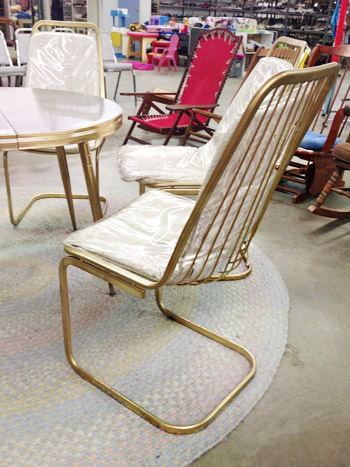 We've been aiming for a nice mix of rustic/modern when it comes to our eating area, but of course the old white chairs (from my NYC days 8+ years ago) were a little too small and spindly with our big chunky table. But we were happy to use them as placeholders until we found something taller and a bit more weighty.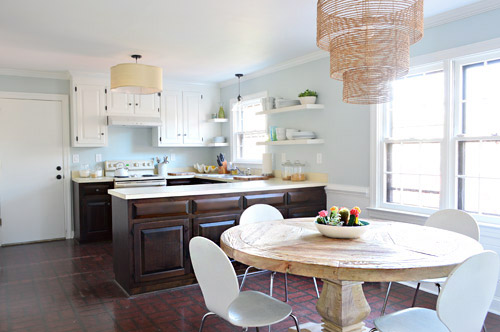 The funny thing is that I've admired this photo of Jenifer Altman's dining room, which has nearly identical chairs, just in a silver finish. I wish I could add the picture right here, but we don't have her permission to post it on our site, so just click this link to see it. So nice, right? I love those spotted cushions too! Anyway, so now the old white chairs are chilling in the office. Since they're versatile and good to have on hand for parties/extra dinner guests, I'm sure we'll find some permanent spot for them someday.
We can't believe the new chairs were $15 each, marked down from $25… which actually means they sat there a while and got overlooked (the thrift store lowers prices every week or two if folks don't grab something). So how funny is it that I ran towards them fearing that someone would snake them out right from under my nose when they had been sitting there for a week or two with no takers and even had time to be marked down? And thanks to their low thrift store price, I won't feel too bad getting some nice-ish (and super durable and food-friendly) fabric for the cushions I want to make.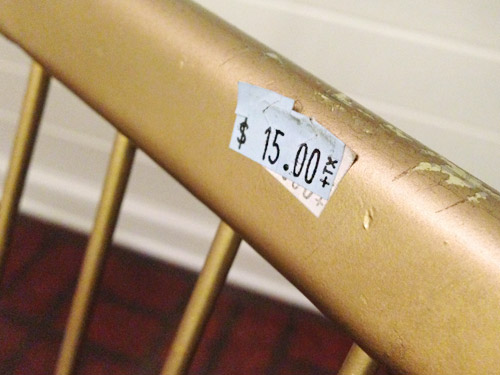 But how did we get four big wire chairs home with only one small Altima on hand? Geometry, my friends. Somehow we got all four of them in the car with three of us in there too (one chair was in the trunk, two could be nested in the front passenger seat, and one was in the back to the right of Clara's carseat while I sat back there to her left).
Once home, we dragged them all into the kitchen to see how they looked. It was LOVE, folks. We're so glad they're higher (it felt like the table needed something with some added height) and they tie in nicely with the rope chandelier thanks to their vertical lines (which play off the horizontal ones in the light kinda nicely, don't you think?).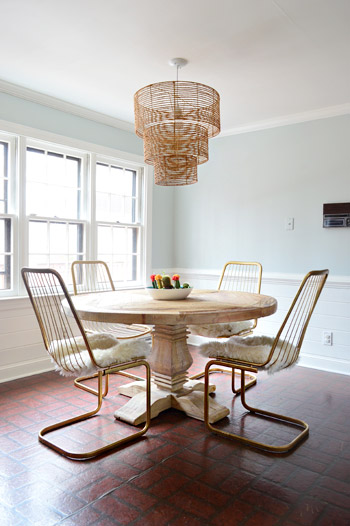 When it comes to their gold paint-job, we're not sure if they'll stay that way (if so, they at least need some touching up) – but a few other choices we've debated are something deep to tie into the stained lower cabinets (oil-rubbed bronze? charcoal? dark chocolate?) or something crisp (like white or even a soft mint color).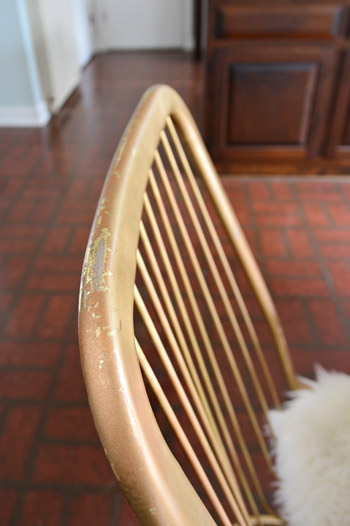 We've decided just to live with them until we're 100% sure that we want to change them (and 100% sure about what color we'd prefer). Should be fun to see where we end up. Any color suggestions?
And as for the cushion thing, I'd love to eventually make leather or vinyl cushions for them like Dana's, but until then we've had luck with a folded faux sheepskin on each one. I know that sounds crazy (hello food trap?!) but since they're awesomely machine washable and so easily removed (they're just folded and tossed onto each chair) I've had luck just shaking out any Clara-crumbs (and vacuuming the floor where they land with the hand-vac) without even having to wash them yet. I wouldn't use them for the long haul, but for now they work better than I thought.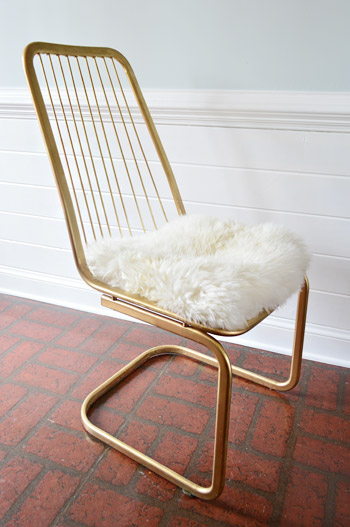 As for the comfort factor, I'm not one of those looks-before-function ladies who would compromise on that when it comes to our eat-in kitchen. We spend TONS of time at this table, especially since we don't have a peninsula with stools or anything, so virtually all of our eating is done in these chairs. Thankfully with our makeshift cushions on the bottom, they've been nice and comfy for the last week or so that we've test driven them.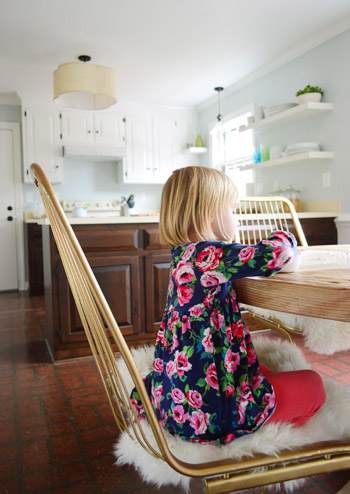 They're sort of reclined by nature so you don't tend to lean back in them very much, but if you do it's not uncomfortable – it's sort of like leaning back in any spindle backed dining chair (like this) or a wooden rocking chair (like this). And if you add a pensive face, a la Clara, you'll look like you're thinking about something really deep. Like the meaning of life. Or how much you love marshmallows.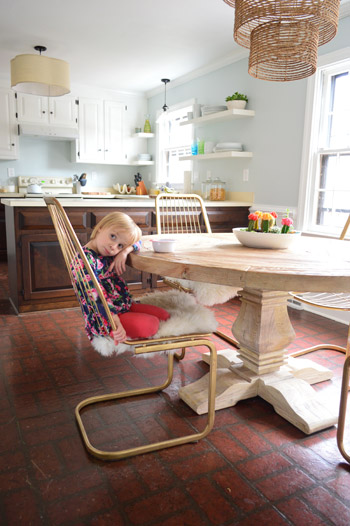 So that's the new kitchen view. Which beats the heck outta this one from about a month into living here.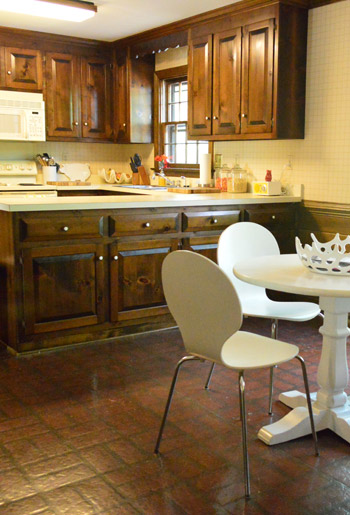 Is anyone else trolling thrift stores for anything in particular? What are you searching for (or finding) lately?