Alternate title: spending a junkload of money on lights, but feeling pretty good about it.
You guys know we've been excited to replace the light fixtures in our kitchen, and, well, the time is now. Decisions have been made. Light fixtures have been bought. And dreams have come true. We're planning to keep all three of the new lights after our big Phase 2 renovation, so instead of skimping on placeholders we opted to go all-in on three things that we really love – and that we'll hopefully remain in love with for the long haul. We'd like for all three of the new lights to relate to each other and "play nice" but actually don't want any of them to match, since they all serve different functions. Each of these three areas call for a different solution, so…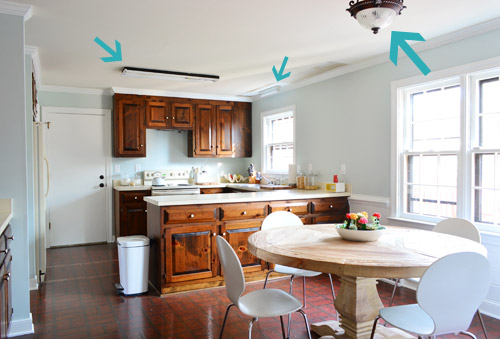 over the sink we knew we'd like a glass pendant in place of that mini fluorescent (won't block the view, will gleam when sun shines in, etc)
for the larger and boxier fluorescent in the middle of the cooking area we knew we wanted a semi-flush mounted shade (the old fixture's half-assembled here, since we popped off the cover to be sure the wiring was centered – but you can see the full wood-boxed glory here)
for the area over the table… well, we've had our sights set on a certain rope chandelier for a while now
Yes, we had been pining for this large 24 x 24″ rope chandelier for months (how sweet will that look over our weathered wood kitchen table?). So after a lot of hemming and hawing, we just pulled the trigger and shelled out the most we've ever spent on a light in the name of love and this forever home of ours.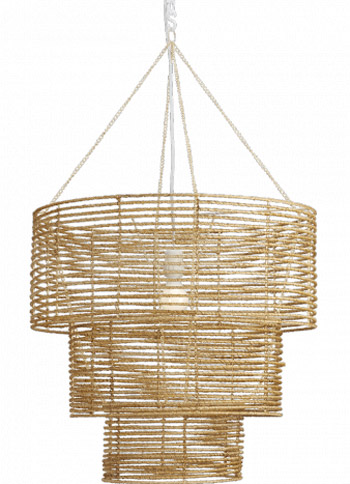 We originally saw it for $460 here, and then found it for $391 here, and then when it popped up on Joss & Main for $360 with free shipping… well, we figured $100 off was as good as it got. So we clicked "order" and felt pretty excited about going for something we've wanted for so long. I hope we're 101 and still eating omelettes under this thing.
As for over the sink, we thought any glass pendant with oil-rubbed bronze hardware would be awesome – and would easily pair with our attention-grabbing chandelier (we didn't want anything too busy or colorful over the sink fighting for attention), so one trip to Home Depot turned up our winner: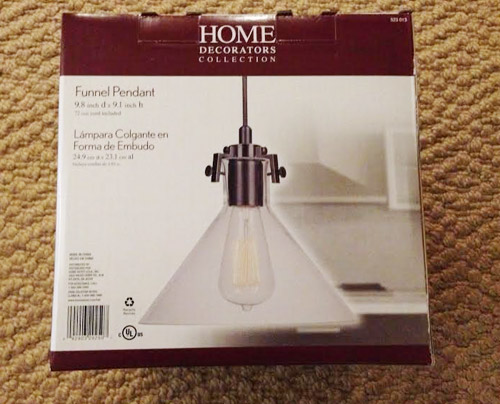 He was $69 (not sure why it's only available in silver and $79 online, but they had a "dark bronze" one in our store for $69) and we think it's just the right amount of dapper but not too demanding.
Then it was down to choosing our semi-flush mount shade, which was by far the biggest challenge. In other words, if this post were a movie, the music montage would start here and you'd see us running into small shops, big box stores, typing away on our laptops, trolling craigslist, etc. There weren't too many options that were big enough (remember we're replacing a giant boxy fluorescent light, so a tiny boob lamp won't do), and although we considered adding can lights, our kitchen is actually nice and bright – it has four windows to the outside world, which is 100% more than our last two kitchens (they both had a single window over the sink that looked into a sunroom). So we liked the idea of a shade to keep things cozy and casual. Here's what all that searching turned up: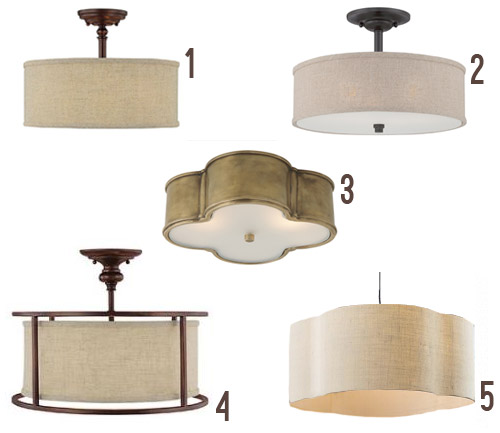 This 15″ natural shade for $99 (John and I cut a 15″ sheet of paper out and held it up to the ceiling, which immediately looked too tiny… so we kept looking)
This 17″ shade for $155 from Overstock (this one was a little bigger, but still not as large as we'd like)
This awesome quatrefoil flush mount one from Circa lighting (it's $693, so yeah… just for inspiration)
This nice 17″ caged shade for $239 (it wasn't any bigger than the second shade, but we did like the hardware around it)
This bigger 24″ burlap quatrefoil-shaped shade for $130 at a local lighting outlet (the same one with brown trim goes for nearly double that at Shades of Light)
Wanna guess which guy we went with?
Words, words, words.
More words.
These words are just here so you can guess and don't see the next visual.
More words.
Even more words.
Wiggedy words and verbs.
I probably gave it away with my descriptions anyway.
Yup, I definitely did.
Poker face Petersik, they call me.
And the winning combo is: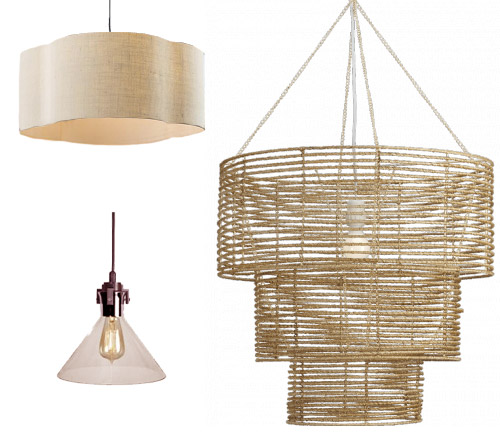 Except of course the scale is all off. The shade is actually 24″ wide, as is the big rope chandelier for over the table, but the chandelier hangs down a lot more, so it gets to be the star while the quatrefoil pendant will hopefully add some warmth and interest while balancing the other side of the room (and the glass pendant over the sink will add a nice soft glow by the window). Here's a shot of it in the store where we saw it. Ours is the one on top of the stack since we thought the color would tie into the rope chandelier nicely.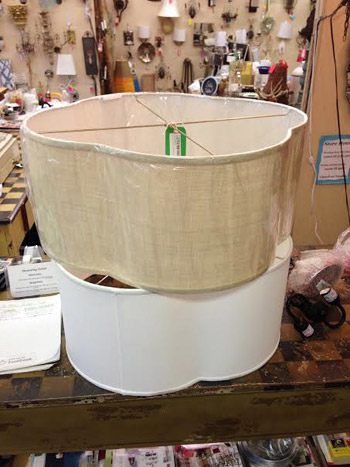 Oh man, I hope they look good when they're actually hanging up. Just have some ceiling patching and painting to do, along with a little electrical tweaking, and it's GO TIME, BABY.
Psst- A few folks were asking on Instagram for some specific info about how we introduced Burger to Clara, and how we tried to make the whole transition from living with a dog to living with a dog and a baby as smooth as possible for all parties involved – so we're over on Young House Life chatting about that today.