(You'll get the meaning of that post title in a minute)
Exciting news, guys – we finally found something to take the spot of our too-small pedestal table in the eat-in part of our kitchen.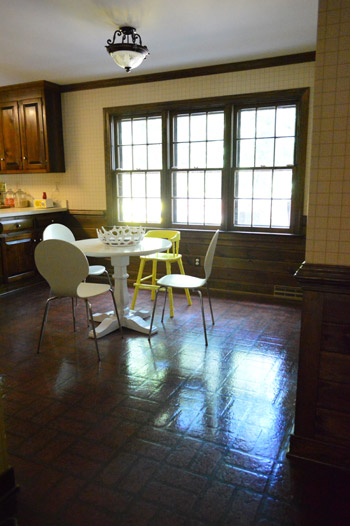 And we're happy to report that it's a lot more proportionate – and functional! – for the space. Now we can seat six or even eight people in a pinch, which has already proven to be useful with our big families (and my spread-out-all-the-tear-sheets propensities). Of course we're still on the hunt for dining chairs so these are just for the meantime, but man, it's such an upgrade to have room for adult sized plates again.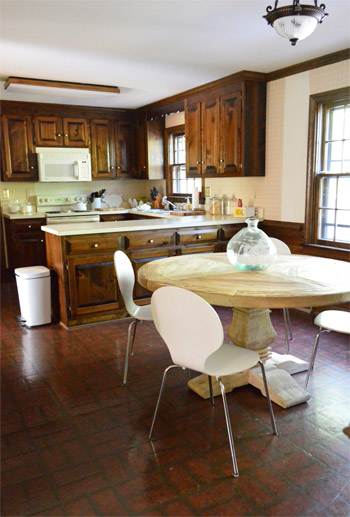 Just try not to stare too hard at pretty much anything except for the table. So ignore the faux-brick vinyl flooring, all that wood everywhere, and that graph-tastic wallpaper (I've already stripped about half of the room– so I owe you a post about that). Let's just say that when we're done with this kitchen, the table should make a lot more sense "in context." In fact, here's a similar table in a pretty BHG kitchen. Nice, right?
And you'll never guess where this baby is originally from. I'll give you a hint. It rhymes with Festoration Blardware.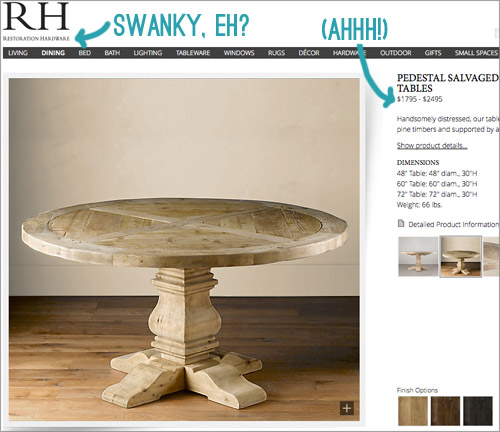 But we didn't pay $1795 – $2495 for ours. It actually turned up at one of our favorite local shops called The Decorating Outlet (which is the outlet for Shades of Light). It's where a lot of returned merchandise or used-once-for-a-catalog-shoot items end up – so it's an awesome place to score a deal (we bought the pendants in our last house's kitchen and our old bedroom rug that now lives in Clara's room there). Turns out this 60″ table hails from Restoration Hardware (where it's sold for $2095) and it was just used a few times in some catalog shots before it sat in a storage room for a while and eventually ended up at the outlet… priced at a cool $650 (a 70% markdown!).
The top is awesomely weathered and the whole thing is made of reclaimed wood (so no two are ever alike). As a mom I like that Clara and the bun can beat on this table until the cows come home and all of those dents will be filed under "character." See, when I was growing up we had a shiny lacquered table and it was waaaay too precious (there was a certain especially intense spirographing incident where I scratched it and never lived to hear the end of it).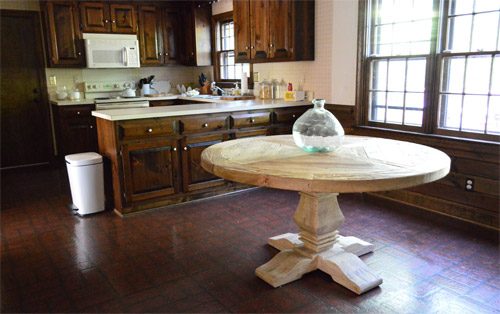 It's nice to know that now I can spirigraph my little heart out without fear of marring some perfectly smooth surface. And really, isn't that the definition of happiness?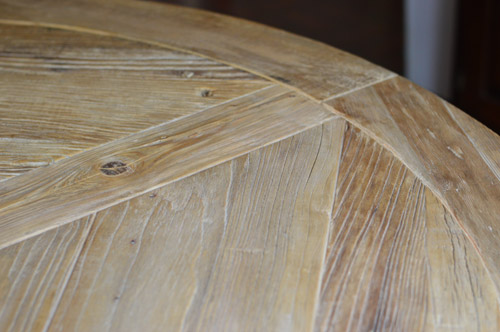 The fact that it's such a well-made, solid piece makes us so happy (it's crazy heavy! there's nothing hollow or veneered about it). I'm hoping it will be one of those hand-down-to-your-kids pieces that outlives me and John. Who knows, maybe in 2113 our great great grandkids will be spirographing the days away on it. Sigh. Update: We've had a few questions about where our dining table from our previous house is, and the answer is that it's in the dining room. The reason we didn't contemplate bringing that into the eat-in kitchen area is because it's around a foot wider (70?) and has larger chairs, so it works better in there and would be too cramped for the kitchen.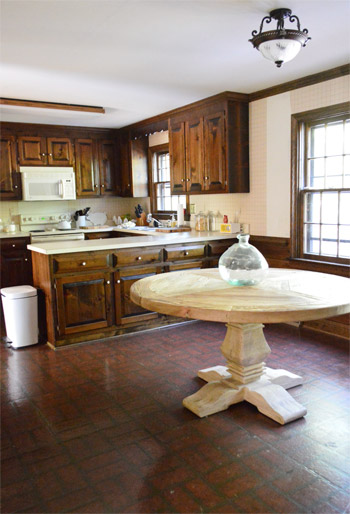 So that marks the second piece of furniture we've purchased since moving in around four months ago (which seems to be our pattern since we moved into our second house and bought our sectional and our dining table within a few months). Between our new West Elm dresser and this score of a table, so far we've spent $750 less than we did on those two initial purchases for our last house – but since our sunroom makeover is going to come in a bit higher than our patio project (which was the first big DIY undertaking that we tackled four months into that house) we're most likely going to be on exactly the same track with the ol' bank balance. Isn't it funny how these things seem to have a pattern?
All mathy comparisons aside, we're psyched to have two well-made furniture additions in our new house – especially since slowly acquiring more quality pieces was our goal here (we'll always love thrift stores and Ikea along with building stuff, but we hope to have a nice mix of things in this forever home of ours). Now if only we could get the chairs for this table right on the first try. If our former dining room chair debacle is any indication, it might be a long road…
But at least our table is pretty. Even with our shinnnny fake brick floors. Just focus on this still life with lemon. Don't look down.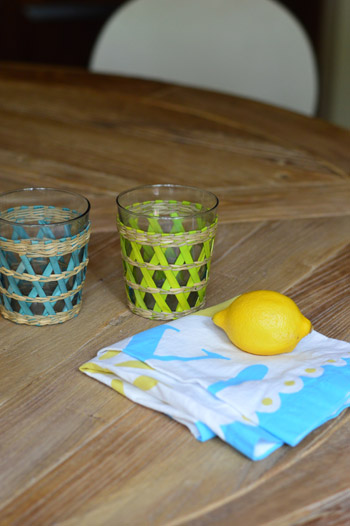 Anyone else buying furniture? Or saving up for something solid and beat-up-able?