Q: You're putting time and energy into this "temporary" job for your bathroom (not to mention some money), so why not just go ahead and do the full gut job? I know you guys watch money really well, but isn't this not the most cost-effective in the long-run? :) – Karen
A: This is a great question, and we thought it would be fun to elaborate on the subject. Because it's safe to say that we love saving a buck, but we also like showing an old house some love and making it feel like home, so here's our take. First of all, I think a lot of people think like Karen does – in fact we had that same exact instinct when we moved into our first house. It was so tempting to just to freeze a room until we had the budget to completely redo it.
But we slowly learned that sometimes a small "sweat investment" in the form of a few upgrades to tide you over for a year or two until you can save up the loot to fully redo a room (and really think it through) is completely worth the Phase 1 effort and the small amount of money you might sink into that interim upgrade. And sometimes doing a few small things to improve a space before diving into a bigger redo can actually save you money because they give you a chance to (inexpensively!) figure out what you like and what you don't like as you go. It can definitely cost you more if you don't discover those things until the middle of a big gut job when time is money and the stakes are a lot higher.
Let's take our current bathroom makeover, where we're aiming to spend around $100-200 on a Phase 1 makeover.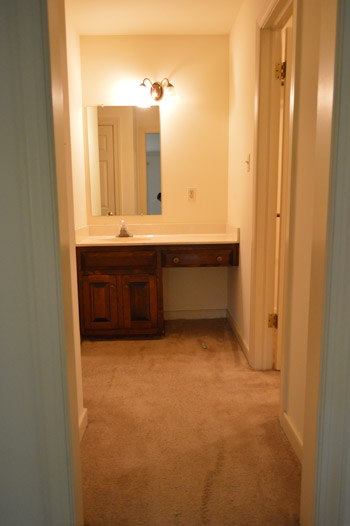 We got to the point where we just couldn't live with the old carpet in there for another day, so to us, showing the room some interim love just made a lot more sense than living with things that made us groan for a few more years. Especially since inexpensive updates like a few cans of paint and a new mirror (which can always be used in another room down the line) can easily make it a lot more pleasant in there. Note: this is just a photoshopped rendering of our plans, but next week we hope to have the floors stenciled!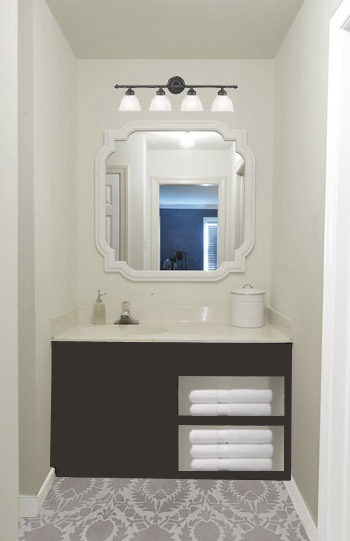 Why not just get to gutting things right away? Well, we learned all the way back in our first house (even before we started blogging) that doing a full renovation when you only live somewhere a few months means you might not have time to think everything through. For example, it took us over a year of living with our first kitchen to realize that if we closed off a door we'd gain 70% more counter space. Had we rushed into a renovation, we never would have come up with that plan – so we'd have new counters and cabinets – but the same cramped layout that we started with.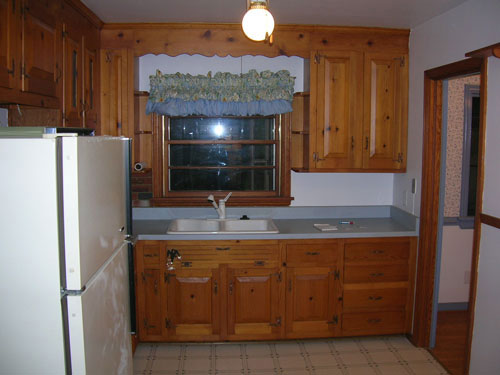 Soon after moving in we did a Phase 1 makeover while we saved up for a more major reno down the line. Just some paint on the cabinets and peel and stick tile on the floors (along with updating a few appliances that we reused when we fully redid the room). Let me just tell you, it was so worth enjoying a somewhat updated kitchen for that time (during which we got married in the backyard and had 75 of our friends and family over). Sure, we spent a weekend painting the cabinets, another weekend updating the floor, and dug into our savings for about $150 just for Phase 1 (that's a guess at the total cost for the primer, paint, and the peel & stick tile) but the "return" on that money & time investment was that for over a year we got to walk into a room that felt fresher, cleaner, and more like us, instead of feeling stuck or frozen in the before shot for over a year.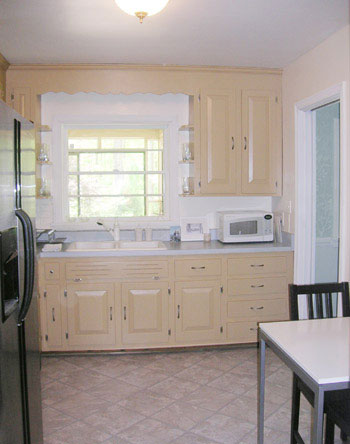 When we had finally saved up the money – and had fully thought it through – we got to renovate that kitchen and ended up loving the outcome. It was completely worth the small time/effort up front for a Phase 1 update while we saved our pennies, and the fact that we ended up with a completely redone space that we adored (with a lot more function than anything we could have slapped together right away after moving in) definitely confirmed that this phase-by-phase, over-time method just seems to work for us.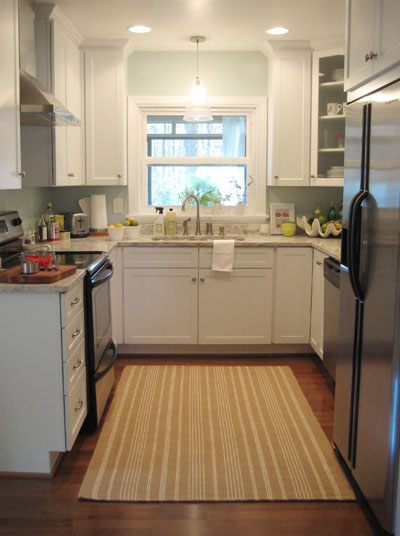 The same thing happened in our full bathroom at that first house of ours. We started with this carpeted and crocheted space…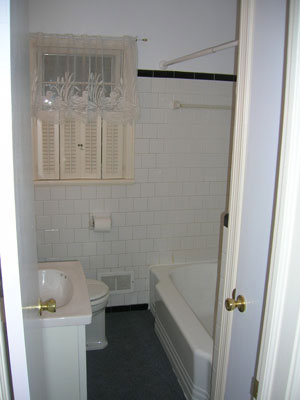 … and we did some simple updates like pulling up the carpeting, re-caulking things, adding some paint, and bringing in some sweet art, new lighting, and accessories to tide us over for a few years.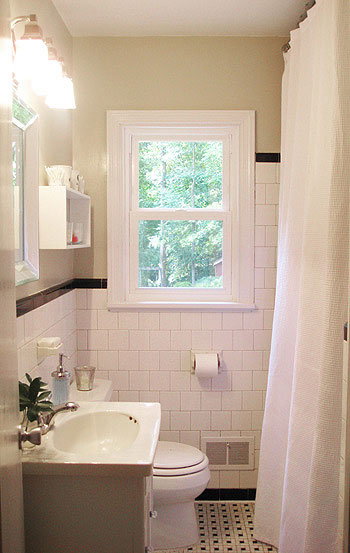 But up close both the floor and wall tile was cracked and damaged, so although we loved it, we sadly couldn't salvage it.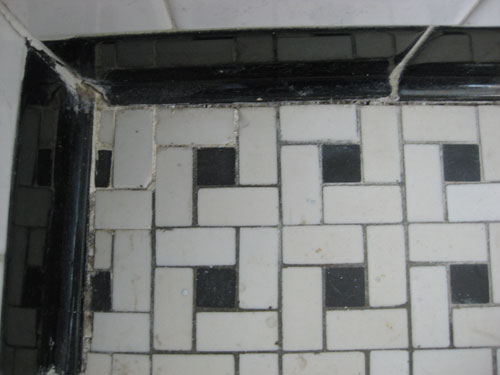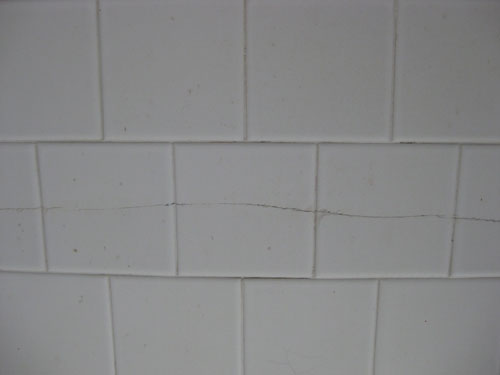 So when we finally had the money and time to tackle a full gut-job a few years later, we were excited to dive in. And thanks to spending a lot of time planning every step, we only spent around $1800 on a full bathroom renovation, including rebuilding this room from the studs (new walls, new trim) along with a new marble tile floor, new fixtures, a tub/shower that we tiled to the ceiling, a new custom vanity, etc.
But it was certainly nice not to spend years living with this carpeted bathroom with a duck curtain, and do that Phase 1 update – even though we couldn't fly out of the gate with a full renovation immediately.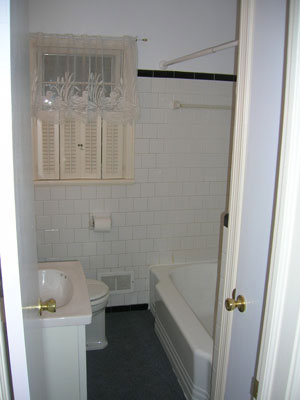 So this method has been serving us well for a while now (holy cow, over seven years!) and we expect that nearly every room of our current house will have a multi-phase progression since we're planning to be in this house for a nice long time. We don't want to rush into anything without fully thinking it through and we'd like to save up for things that we truly will love for the long haul. But that doesn't mean we have to live with old carpeting and wallpaper – and that we can't toss up a little paint up, hang some art, update some light fixtures or faucets, and generally make the place feel fresher and more like us as we plan those larger scale undertakings and squirrel away some money.
In fact I think moving forward and experimenting within a certain space (not just in your head or while staring at a picture in a magazine) is a really helpful step when it comes to getting it right down the road with your major renovation. This was our first attempt at our first house's bathroom. Scary, eh? But it turns out we had to paint the windowsill black and toss up a blue pashmina to learn that it was NOT what we liked (I thought it would be "so Domino magazine" and it was so… bad).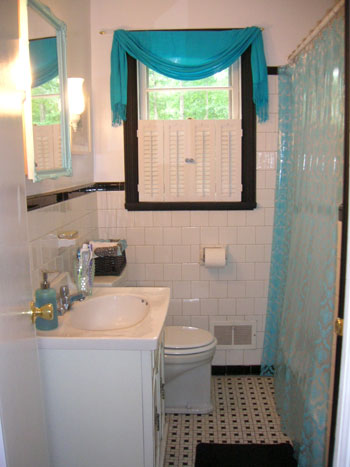 So we course corrected as we went, and ended up with a room that we could really enjoy in the interim, which then led to a brand new bathroom that we loved even more down the road. I guess one way to look at it would be that those small updates over time are like stairs. They build to a better result, and they bridge the gap between your before to your after. Without Phase 1 in here, we might never have arrived at that "love it" Phase 2 result, which might now have led us to a "love it even more!" Phase 3 outcome. So expecting to freeze at "before" and then skip right to "after" might not happen for everyone. But for us, that step-by-step approach over time just seems to get us from point A to point C without as much stress as attempting to skip right from what we hate to what we love in one fell swoop.
And sometimes it's amazing to see how a few updates like paint, art, a window treatment, and a few accessories can bring an old room back from the brink without a major makeover down the line. Yes, in some cases a Phase 1 update can help you see that you don't need to gut something at all (hello, money savings!) – and realizing that you can actually work with what you have can be the equivalent of finding a thousand dollar bill in your couch cushion. Take our $51 guest bathroom mini makeover, for example. We had pretty much planned to work with this tile from the start (it was in great shape and we thought the vintage yellow tone was charming) so we hoped this bathroom just needed a few cosmetic fixes… but others who came over couldn't see how it would ever work without bringing in the sledgehammer.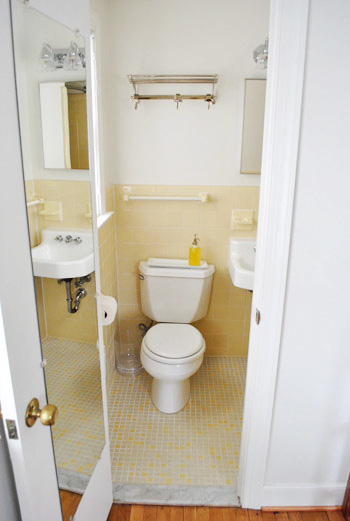 All we did was paint, add a window treatment, hang some art, and remove some bad elements (like the mirror that reflected every guest's full body while they sat on the toilet) but when the decorating dust cleared, even my mom was saying "you've made a believer out of me."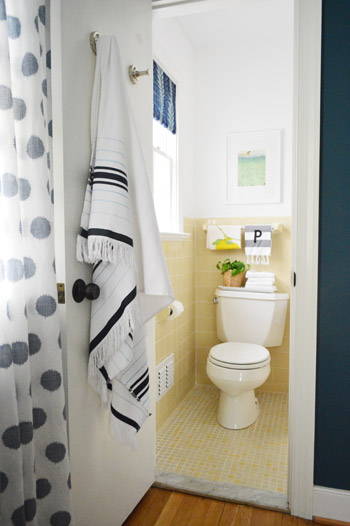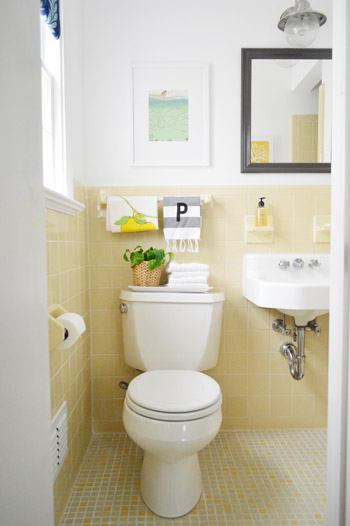 So you might think a room needs a full gut job, but experimenting with some affordable for-now fixes might just prove otherwise and save you a whole lot of money and effort down the line. And the only way to find that out sometimes is by diving into Phase 1. So if you wait and skip right to Gut Job, you might never know how charming a room can be with just a few wallet-saving fixes. Our hall bathroom was a slightly more involved update than our guest room (we framed out the mirror and added a built-in shelf), but the tile was still in great shape, so we got to work with almost everything that was there already. Note: pardon the yellow cast on this picture, it was move-in day and I was rushing around shooting in the wrong mode.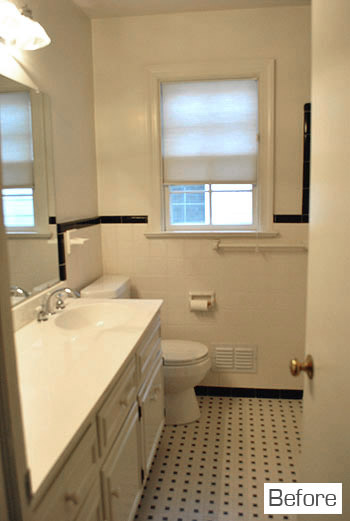 After spending just $168, we had a completely fresh looking room.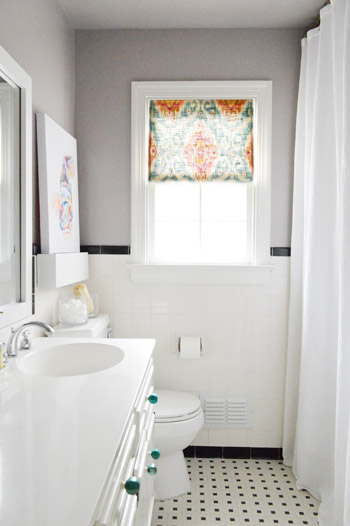 The cool thing about this method is that if Phase 1 does the trick, you're done! And you're probably thanking your lucky stars you didn't go straight to full-reno mode. And if Phase 1 only serves to "tide you over" instead of majorly saving you from a bigger renovation, it's still a win because you get to smile more as you save up and percolate on Phase 2 plans down the line. Plus going through the thought process of Phase 1 can better help you pinpoint what you still don't love about a room (the layout, damaged tile, missing counter space, etc) and you get this bonus "learning experience" before jumping into any major construction down the road.
What about you guys. How do you balance your desire for a space that feels fresh and homey without blowing a bunch of cash you don't quite have? I'm sure it's different for everyone, so I'd love to hear what works for you. Do you do the ol' freeze thing and just try not to think about all the things that bug you? Or do you sprinkle in some inexpensive updates along the way? Don't get me wrong, we still have a bunch of rooms that we've been ignoring for months (can't do 'em all at once!) but I like to think that those "we just can't take this anymore" moments are what help us decide what needs a Phase 1 intervention most of all, and then we can dive right into that with some gusto.
Update – Wanna know where we got something in our house or what paint colors we used? Just click on this button: