This house was love at first sight for us… even if the sight of it might have been a little unnerving (think blue trim, wallpaper everywhere, lumpy carpets, and a leaky roof). We had dreamed of getting into this sweet kid-friendly neighborhood – always hoping a house that needed lots of work would come up for sale, since we couldn't afford any of the already-renovated ones. After seven years, one finally did! So here she blows. We're not finished yet, but we're inching closer every day. Note: We created this Shop Our House page to help you hunt down any furniture/accessories that you see in our house, along with our paint colors.
The Front
This is what it looked like when we first laid eyes on it.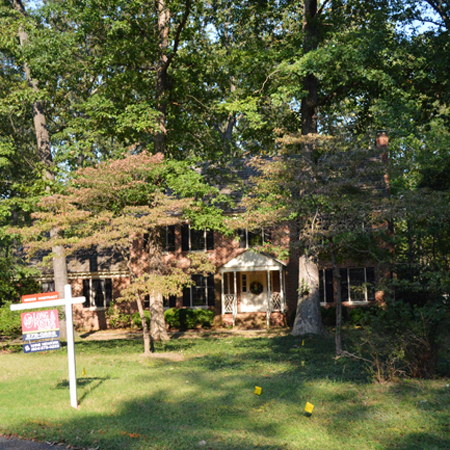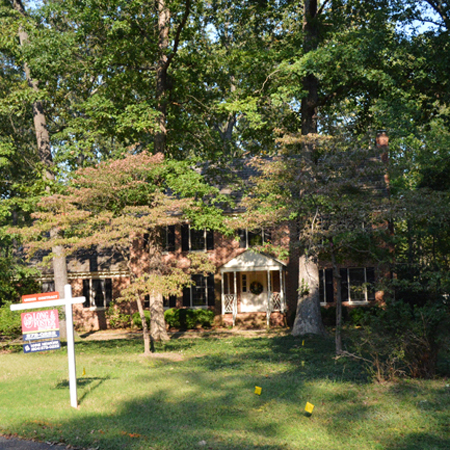 And here it is more recently, after getting some dangerous trees removed, replacing the leaking roof,  getting the yard leveled and reseeding it, so that's coming along slowly.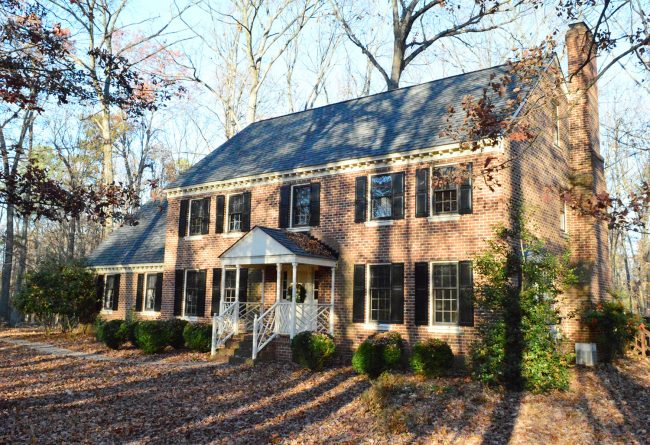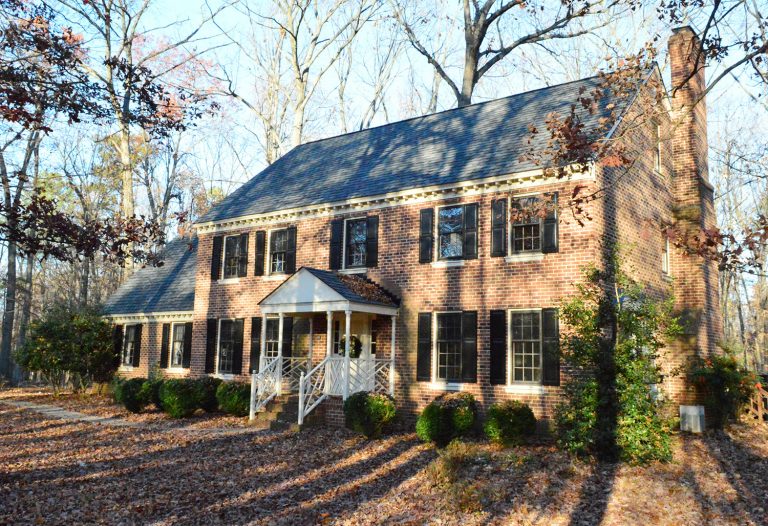 Oh yeah, and then we painted our brick with breathable masonry paint and it was the most insane transformation ever (and here's another post about some more exterior changes we made after we painted the brick).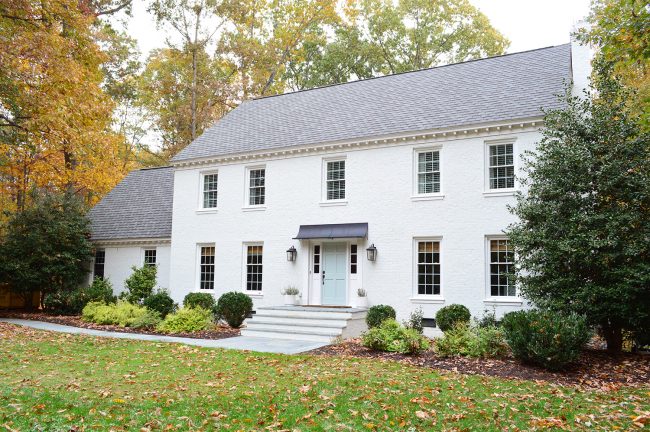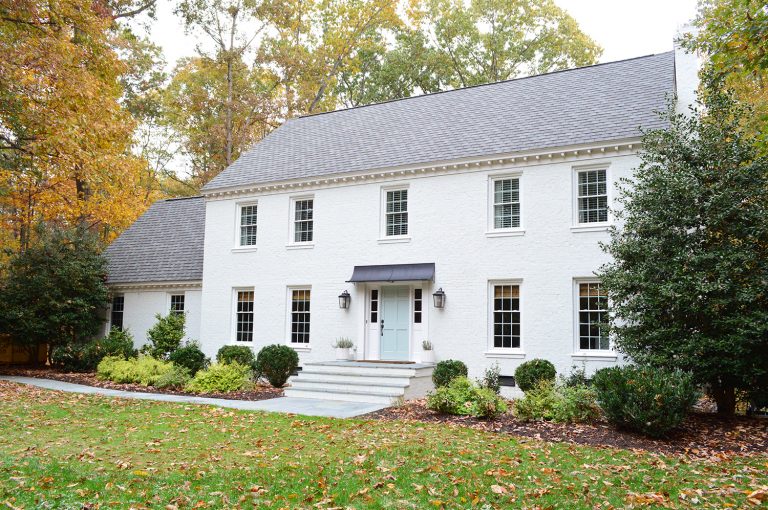 And here it is from a little further back. We've come a long way out here, and it has been a ton of fun to watch it evolve.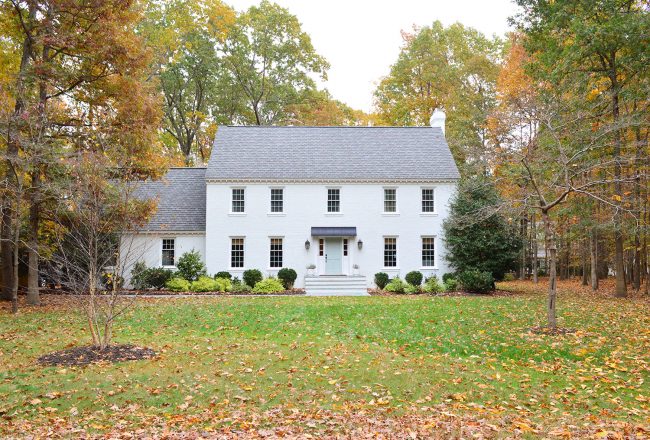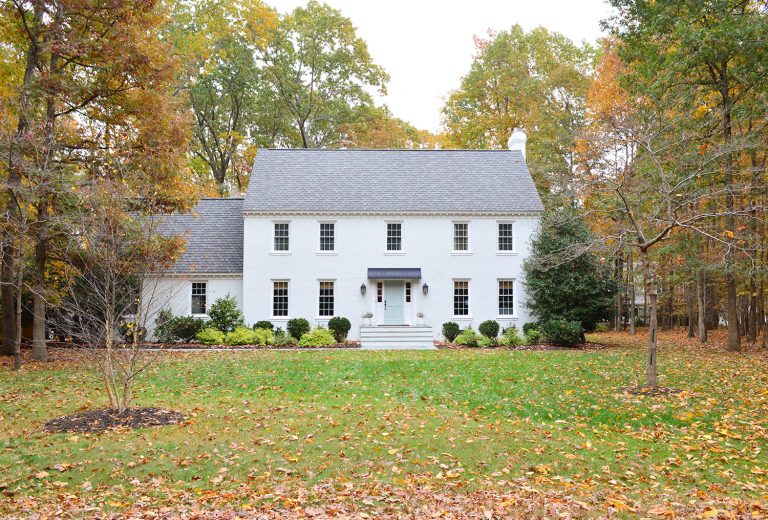 The Front Porch
When we bought our house it had a giant out-of-scale portico that stuck out like a beak on the house, and totally blocked the view of that second story window from the ground.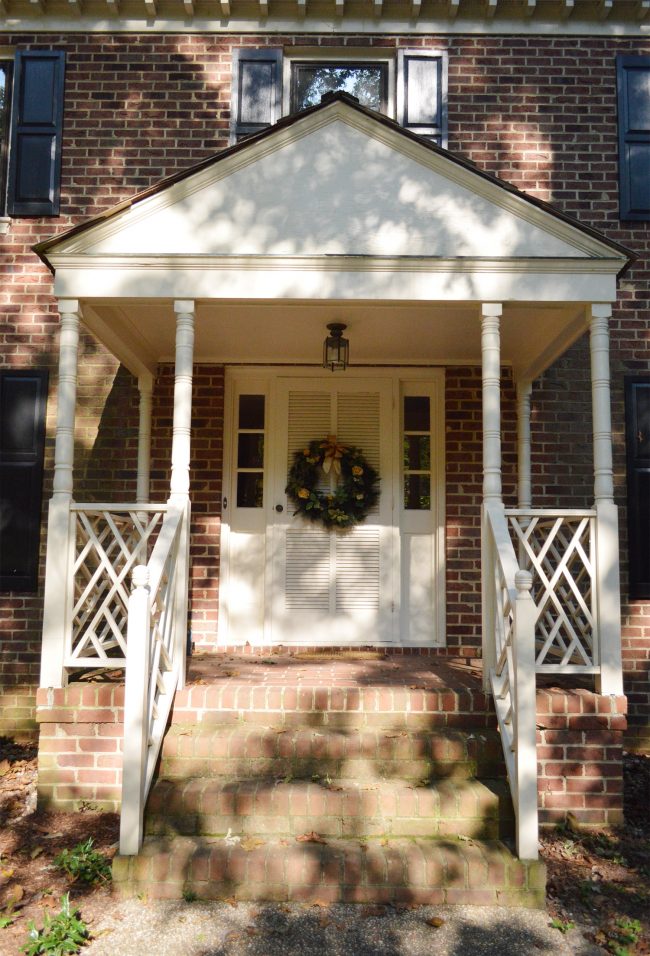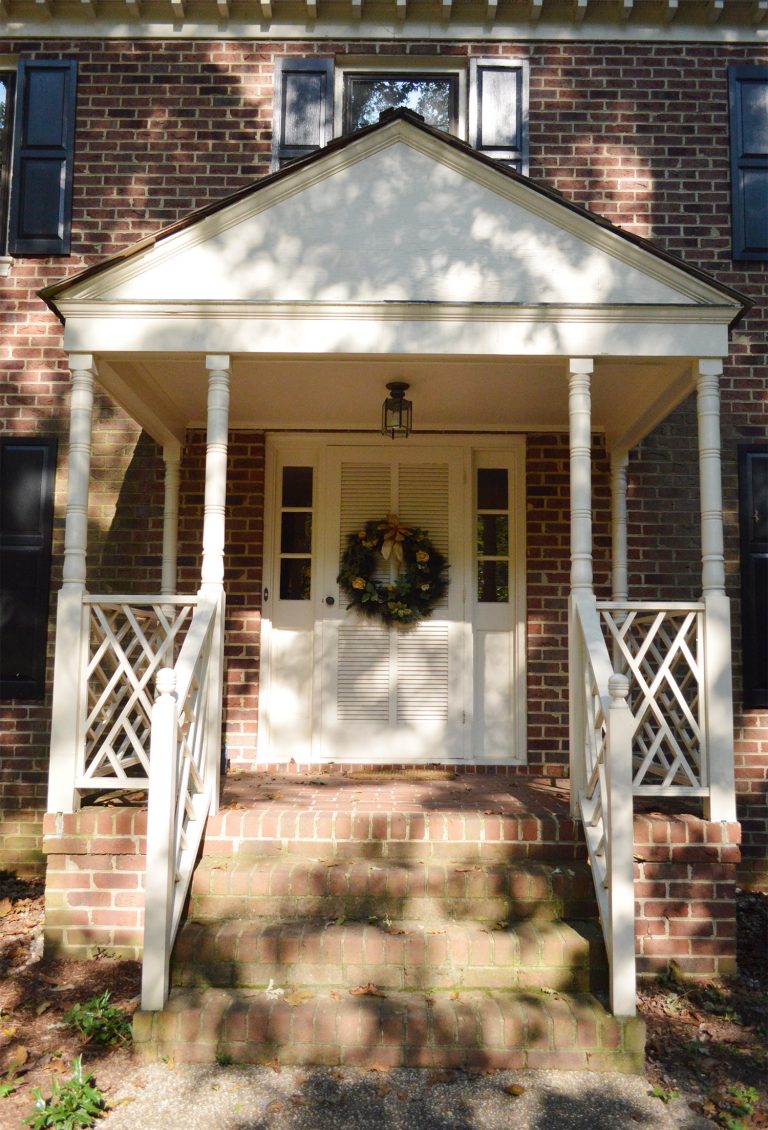 But during our big house-painting adventure we removed it and made a nice simple doorframe with extra large crown molding, and added a nice big lantern on either side of the door (you can read about that crazy day here). We also DIYed those copper plant pots – more on that here.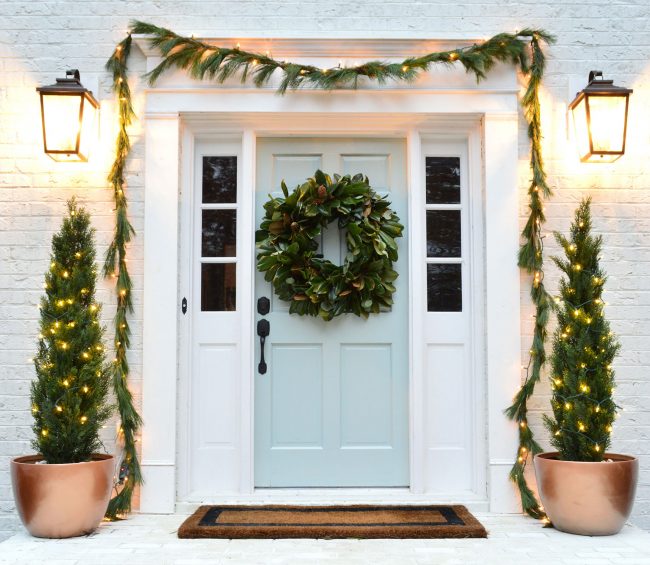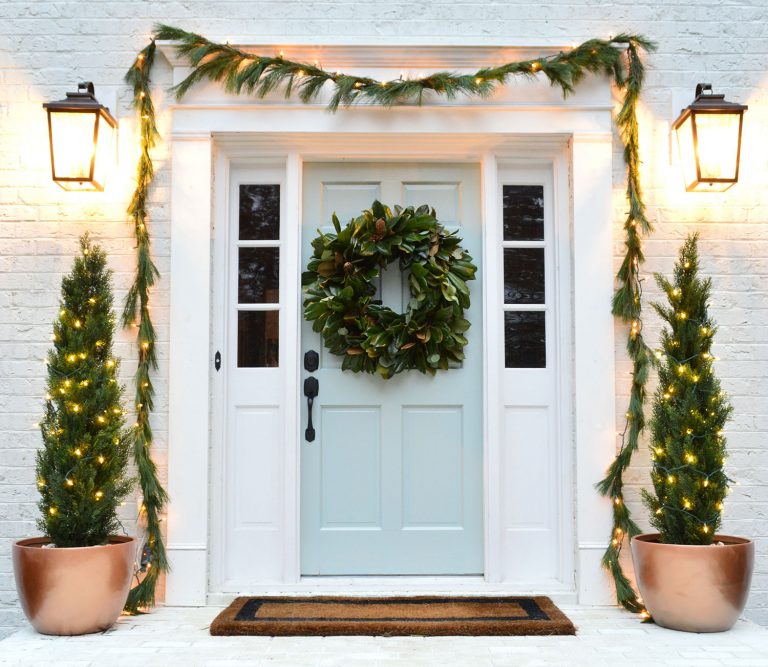 We later added a metal awning and topped the landing and steps with bluestone along with adding a path. More on all of that here.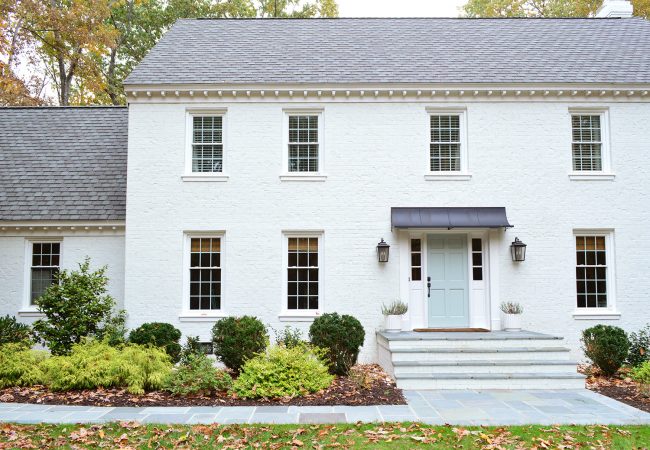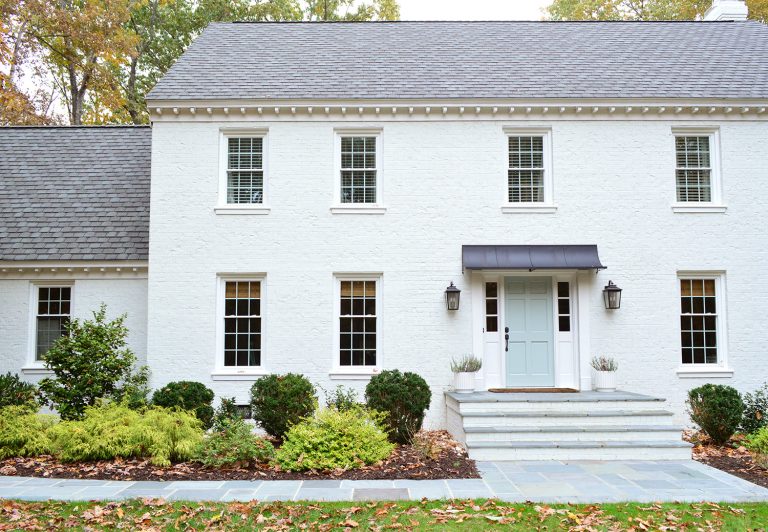 The Foyer
Here's the foyer as it looked on move-in day.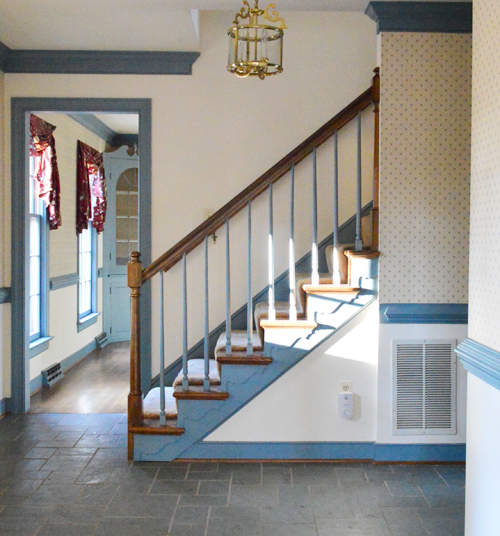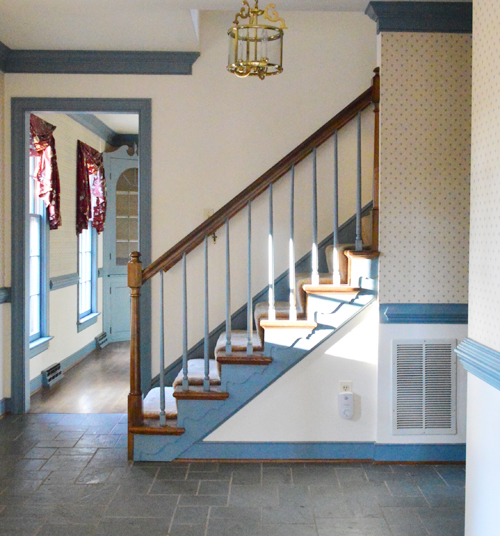 And here it is after we removed those dark heavy doors to the kitchen, stripped the wallpaper, painted the blue trim white, and gave the walls a fresh coat of paint (along with adding a brighter door color). We also hung a new light fixture, invested in some art we love, redid the stairs, and painted the ceiling,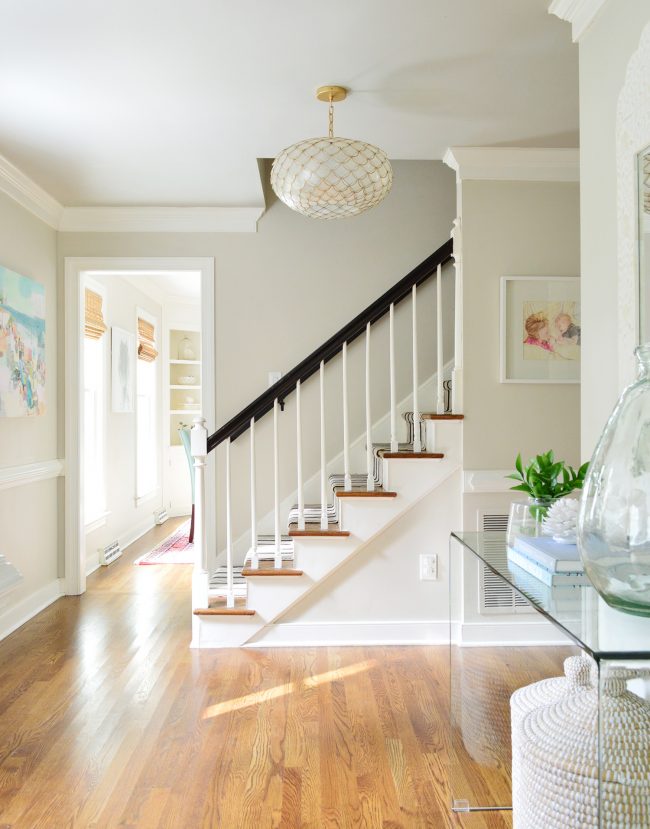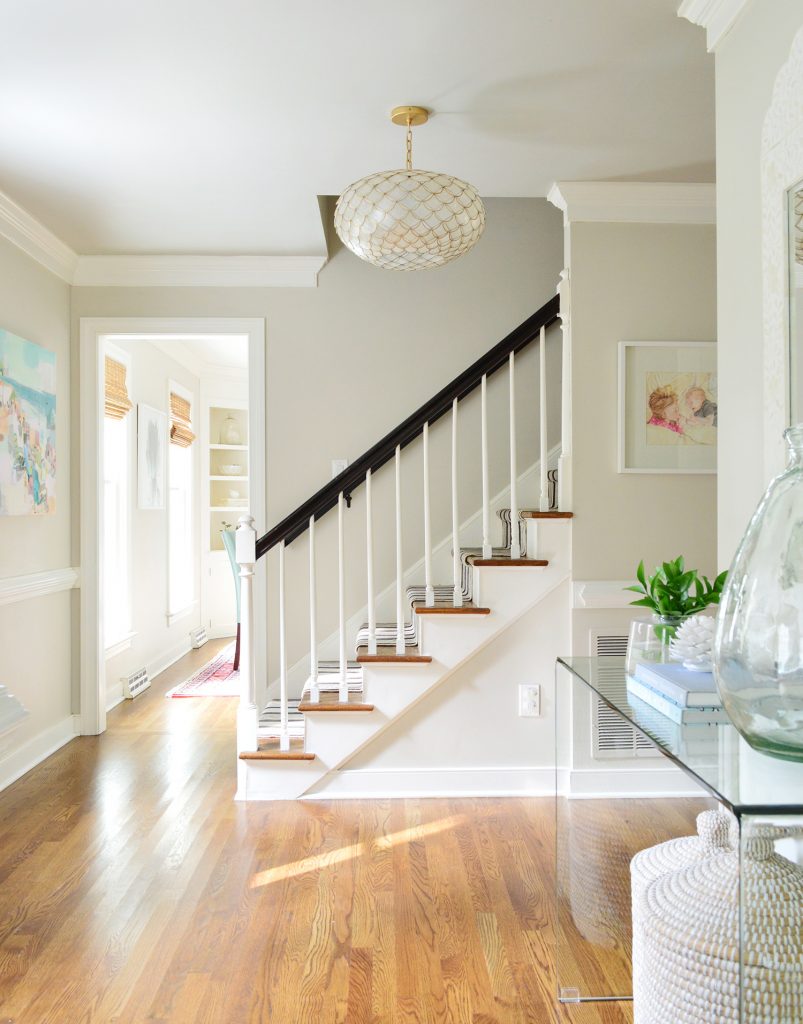 The Stairs
Speaking of the stairs, they started out with blue trim and balusters as well as an old beat up stair runner. We love them so much more after a little overhaul (new trim paint, spindle paint, stain for the railings, and installing a new runner made such a difference (here's the runner we bought and how we did it).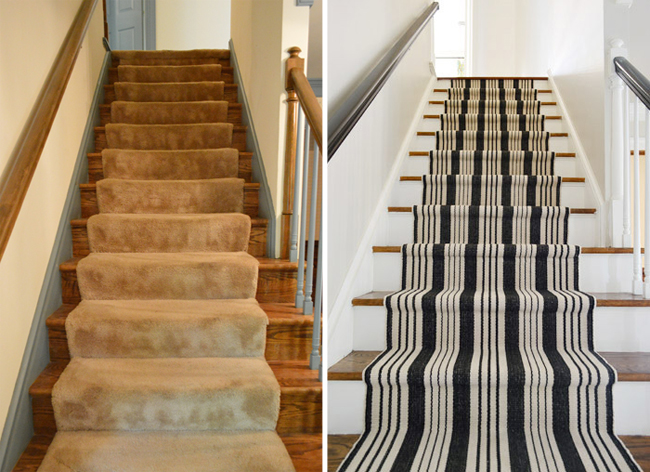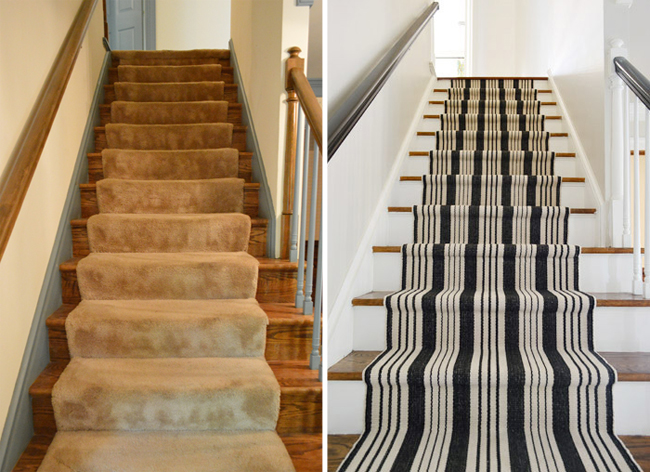 The Half Bathroom
Here's the half bathroom before.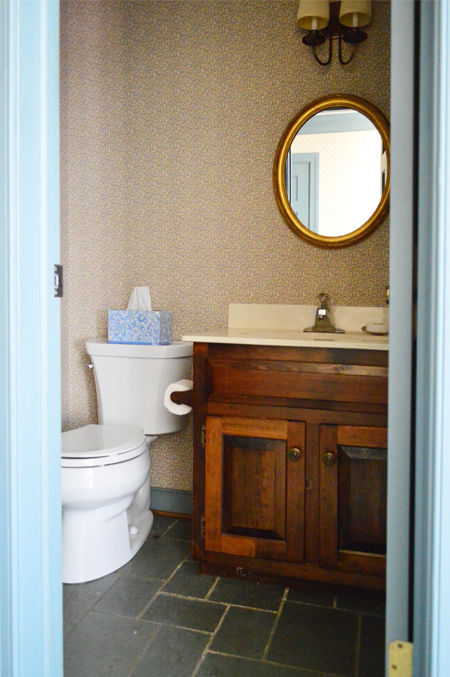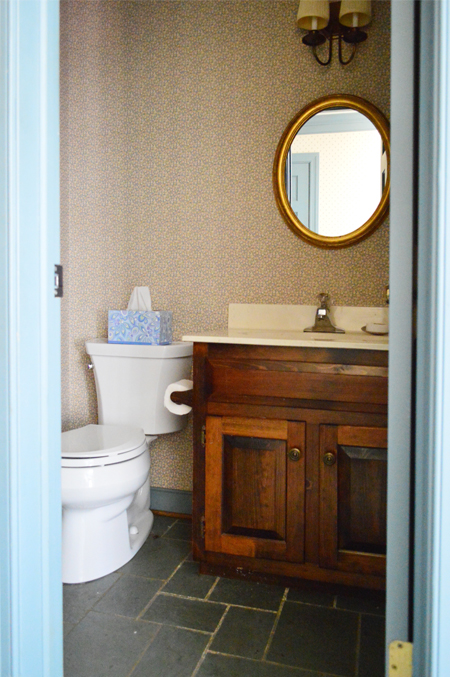 And here it is after we finished updating it. First we did an easy and affordable Phase 1 makeover to hold us over a few years before the real deal (we removed the old wallpaper, painted the trim & walls, painted the vanity, etc). A few years later we tackled our deeper makeover, which involved switching out the sink/mirror/toilet as well as repainting the walls and adding a glazed finish, which is all detailed in our second book, Lovable Livable Home.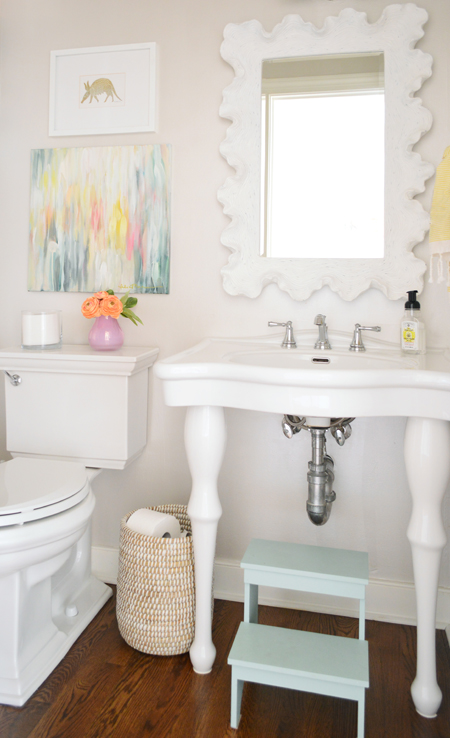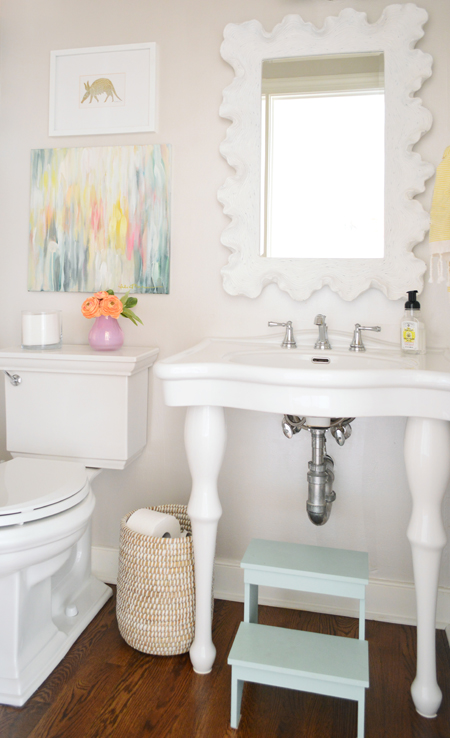 The Dining Room
The dining room was full of more wallpaper and blue trim when we moved in.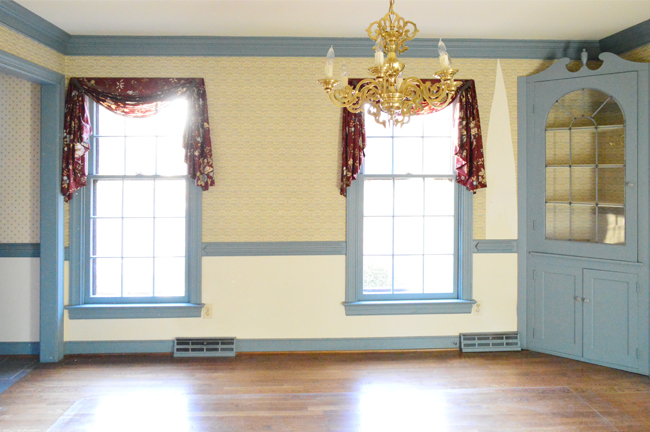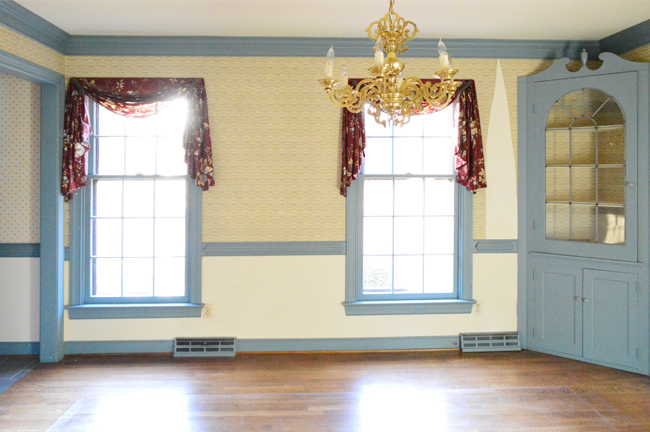 After over a year, all we had done was plop down our furniture and remove the wallpaper, but we knew that some paint, furnishings, accessories (and some work on those corner built-ins) would add up to a room that's a lot more peaceful & functional. We even added some colorful chairs, some nice textured blinds, and splurged on a new rug and chandelier that totally make the space. You can find all the makeover details (and more shopping info) in our second book.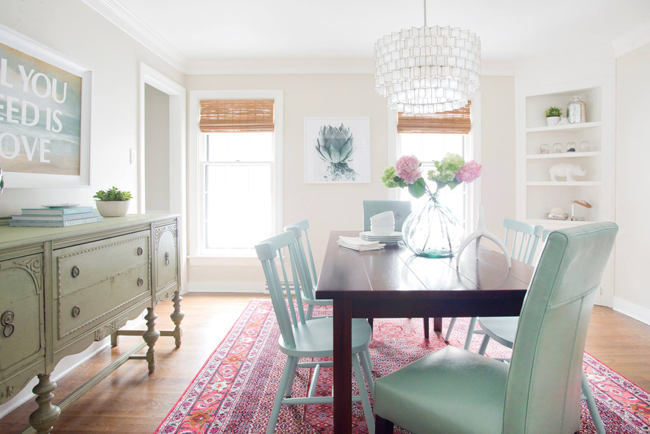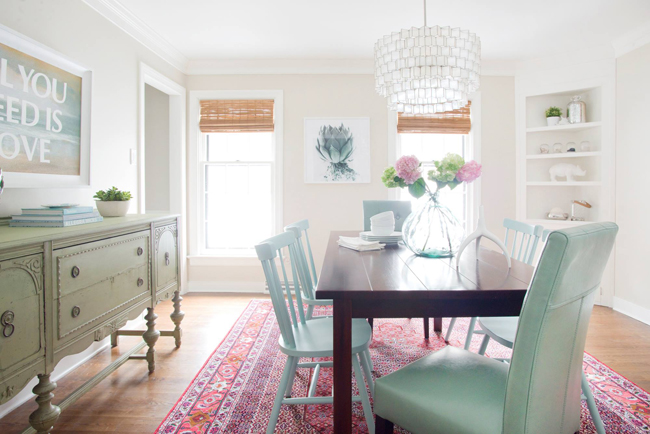 The Living Room
Here's our salmon pink living room as it looked when we got the house.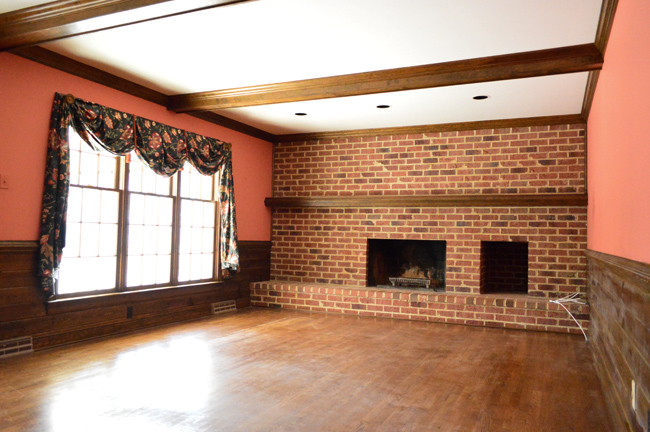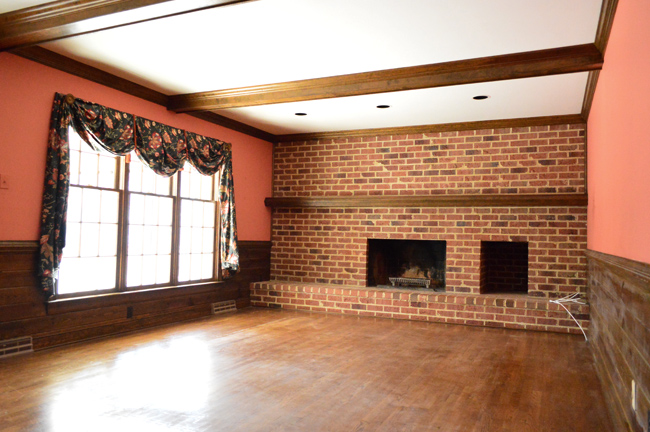 We blogged about painting the walls and whitewashing the brick and later ended up painting all the dark trim & paneling to lighten things up even more. Next we painted the ceiling light blue and added a colorful rug to work with our neutral gray sofa. Some textured pillows, cane-backed chairs, window blinds, and a tripod lamp added interest, and we gleefully tackled a complete fireplace/mantel overhaul. You can get all the makeover details (and more shopping info) in our second book. Oh and when we couldn't find a coffee table we loved, we made one.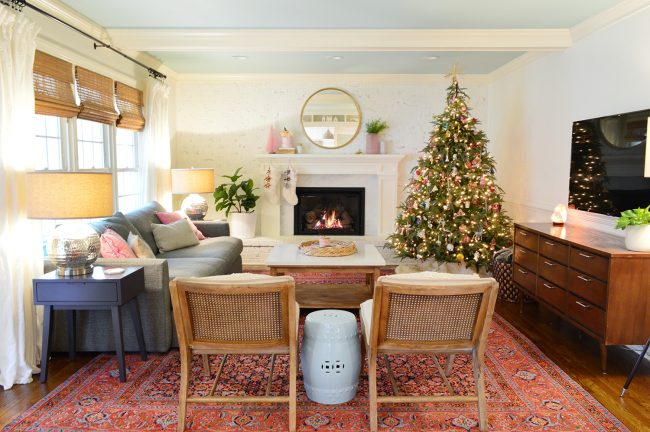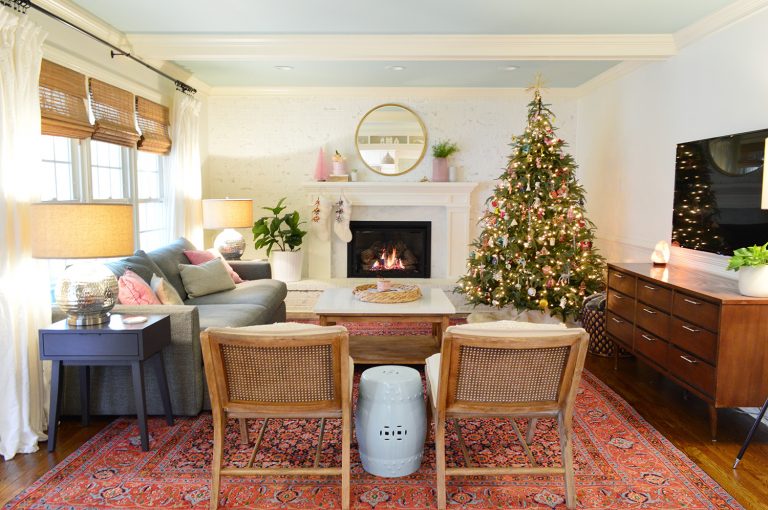 The Office
The office is a room that gets great light and we loved the bay window from first sight.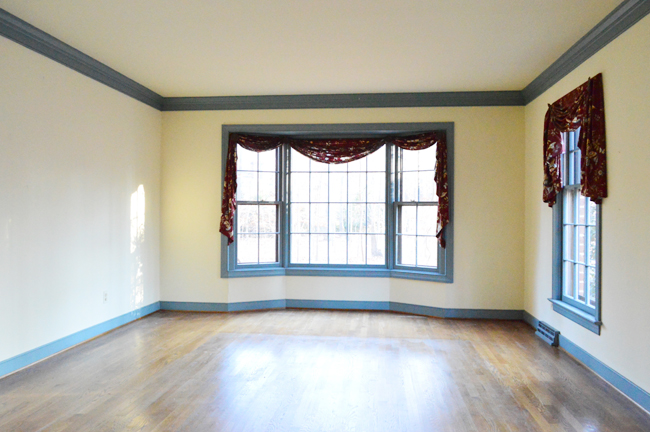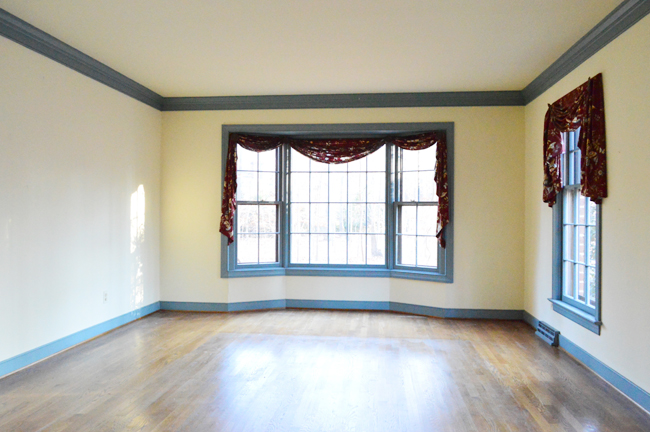 Here's how it looks after cleaning/sealing the original hardwoods, painting all of that blue trim, adding a secondhand desk, and adding some bookcases for storage (so we could tuck our parsons desk between them). We also added a floor outlet under the floating desk and layered in some woven blinds, white curtains, a wood bench, a metallic rug, and super comfy tufted rolling chairs.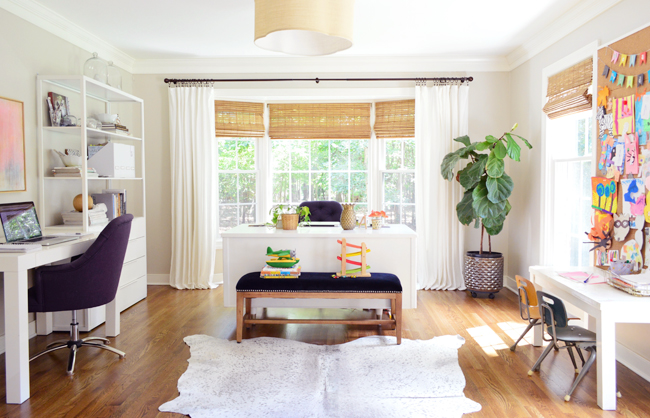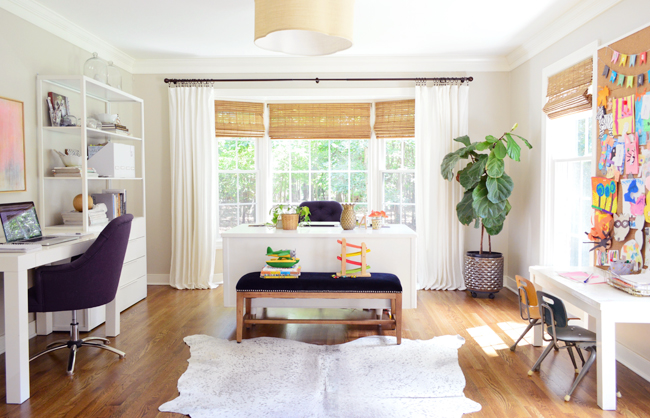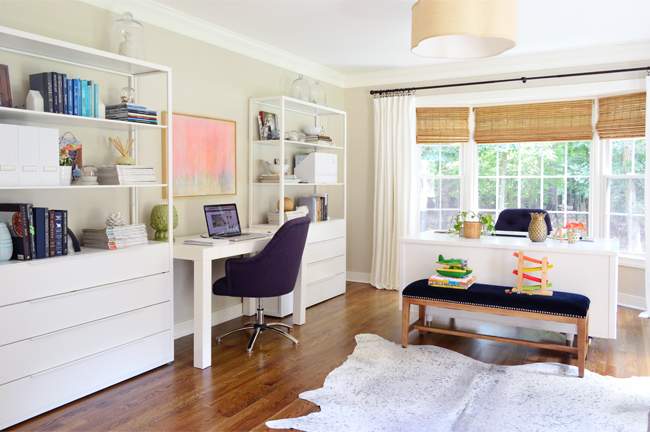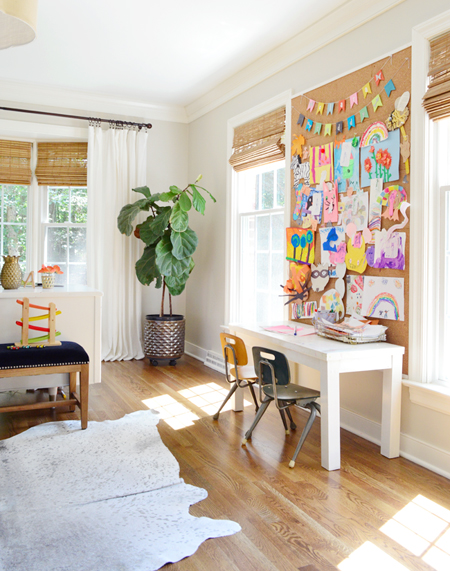 The Kitchen
The kitchen was a really dark room with wood everywhere (on the cabinets, the walls, and even around the fluorescent light on the ceiling!).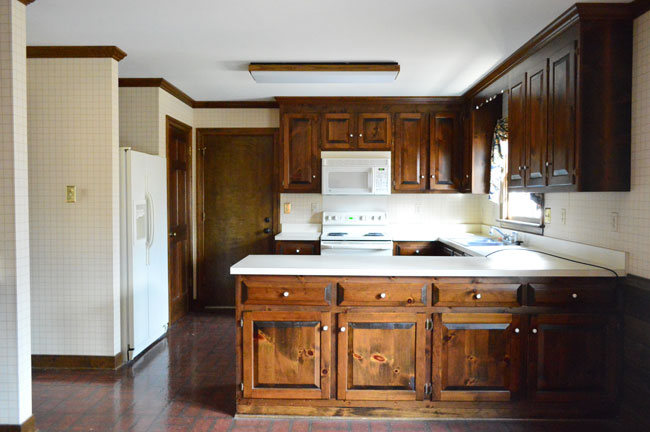 We like to live in a house for at least a year or two before doing any major kitchen or bathroom gut-jobs (so we don't rush into choices we'll later regret), but after a few years of small updates and living with what we had, we were pretty excited to tackle our biggest renovation to date. You can read all about how we planned the layout and added a hidden mudroom, demoed and rebuilt the space, and chose all of the materials and finishes for the room.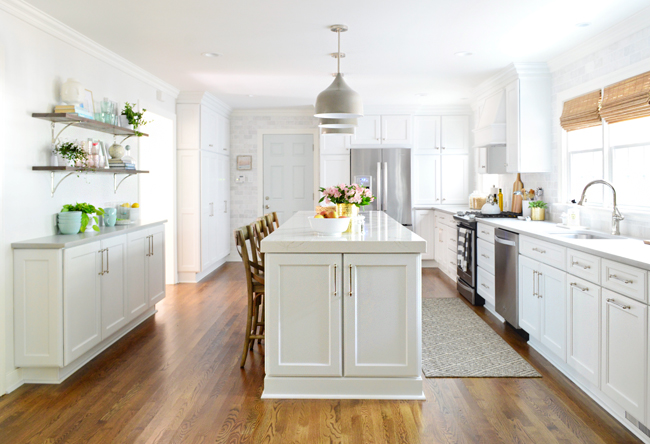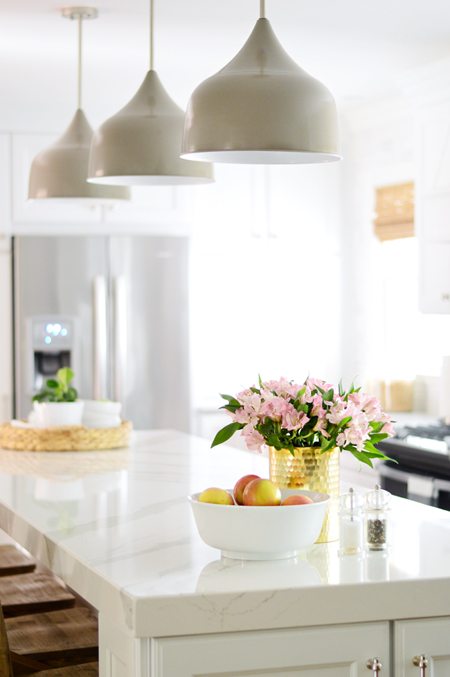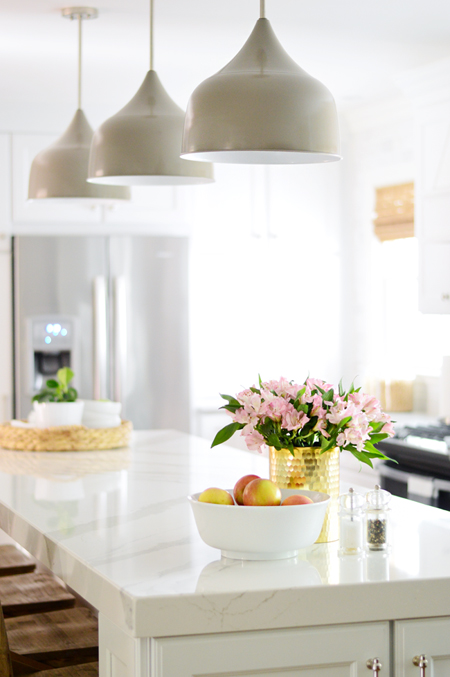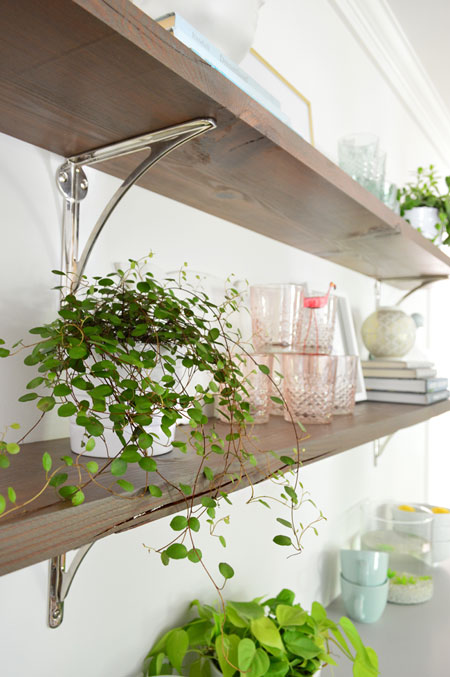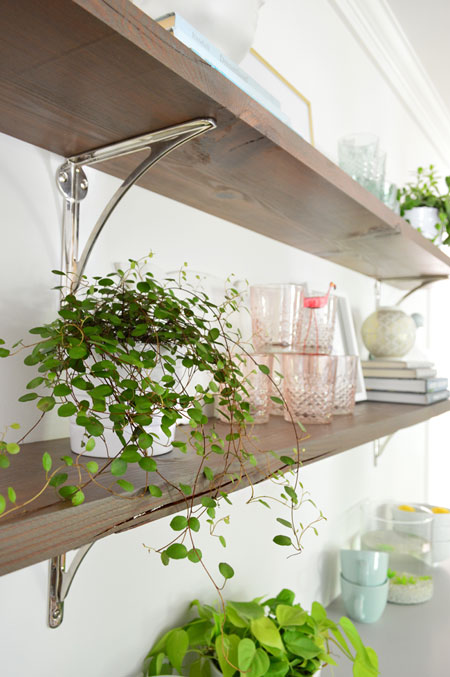 Kitchen Into Living Room
And here's the old view of what you saw when you stepped in the door from the garage.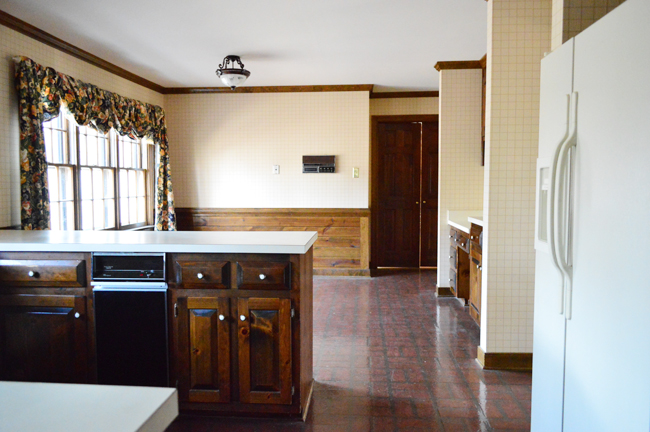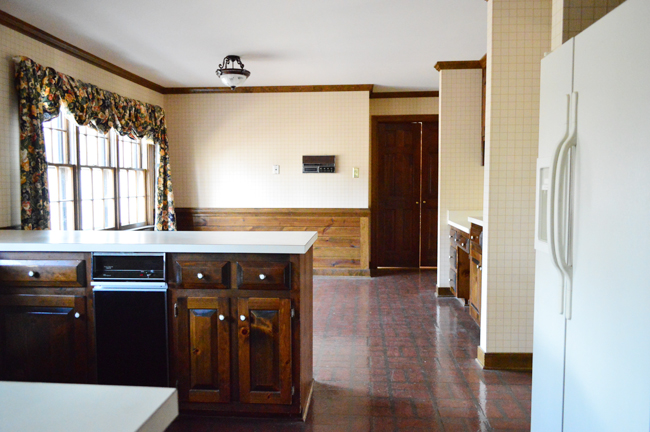 These days it's looking a little different, thanks to knocking down that wall and completely rearranging the kitchen layout: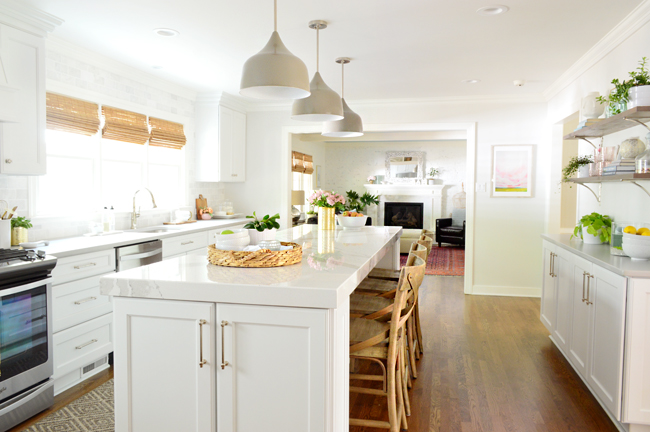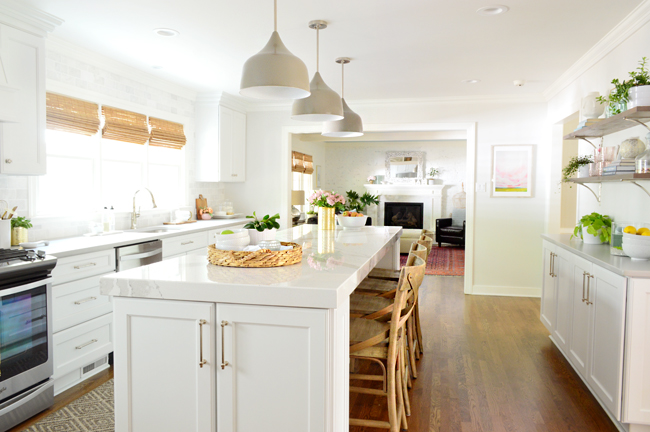 Living Room Into Kitchen
That view used to look like this (couldn't even really see the kitchen):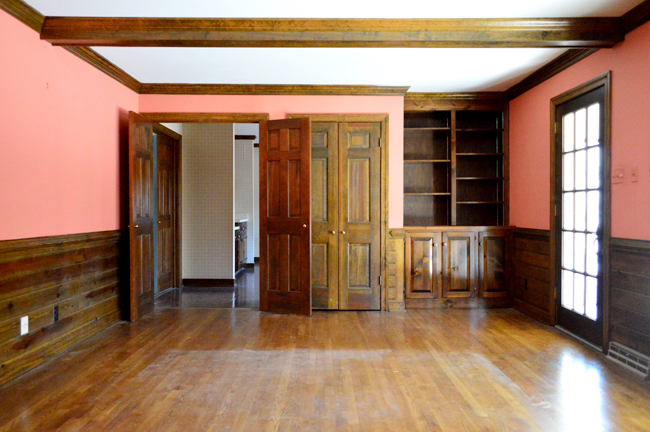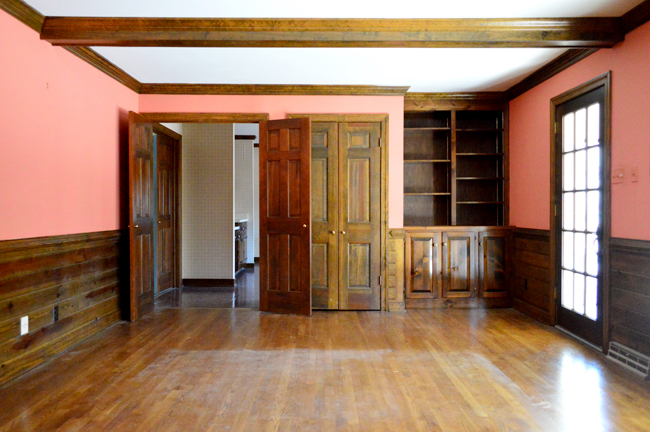 And now it's nice and open. We especially love that we could add balanced looking built-ins for all of our books (with extra storage below).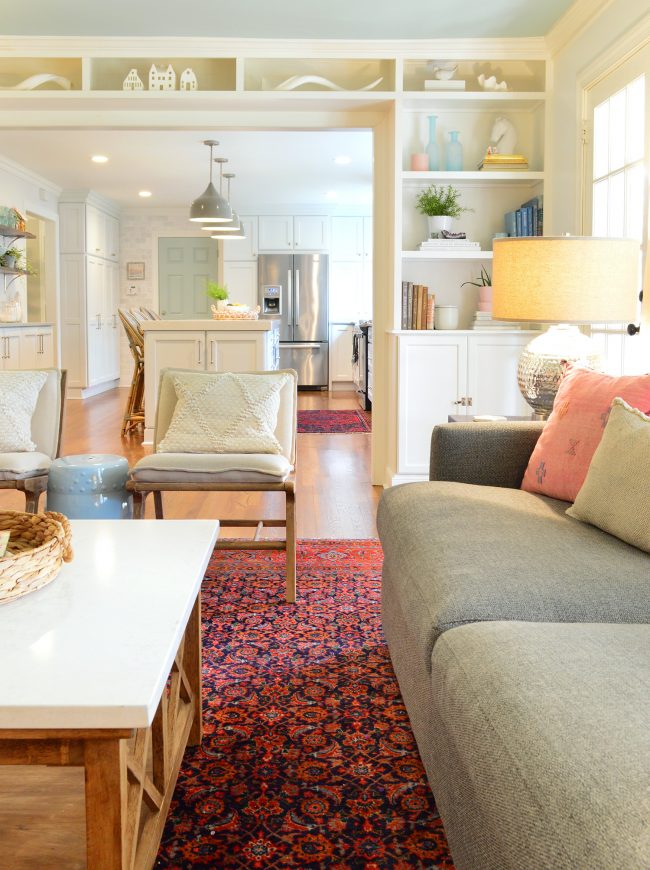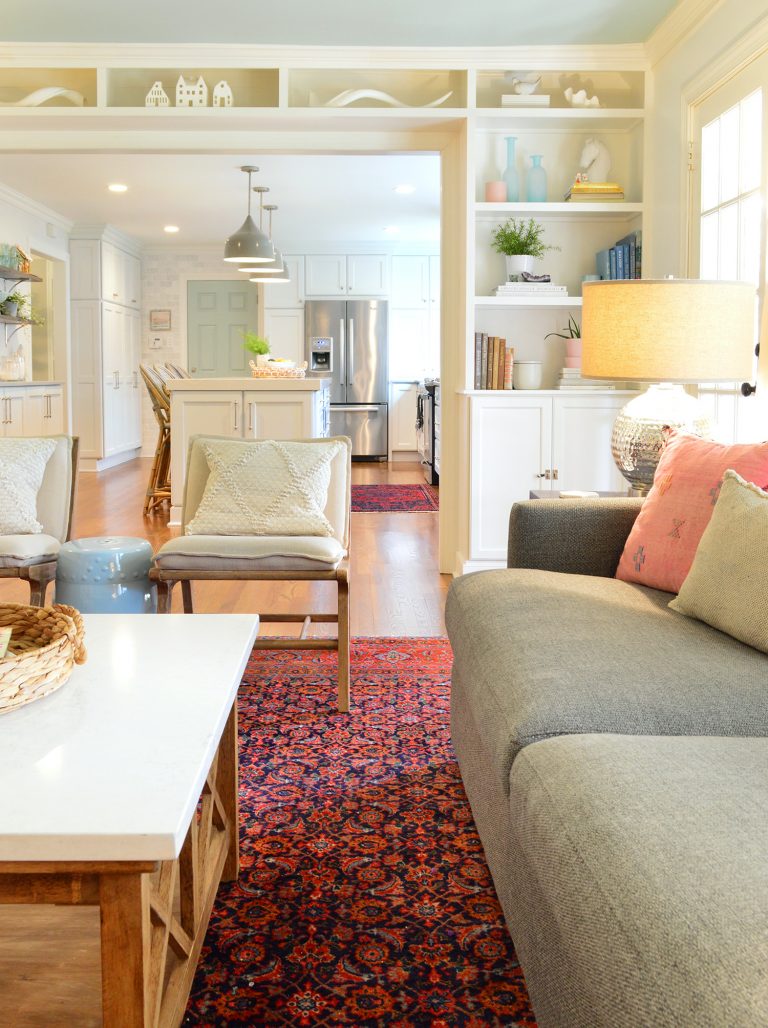 Check out the video below for a full tour of the downstairs:
The Master Bedroom
All of the rooms upstairs had old stained and threadbare carpet, and this room had some pinkish-cream trim going on too… so it's safe to say that the master wasn't feeling very masterful.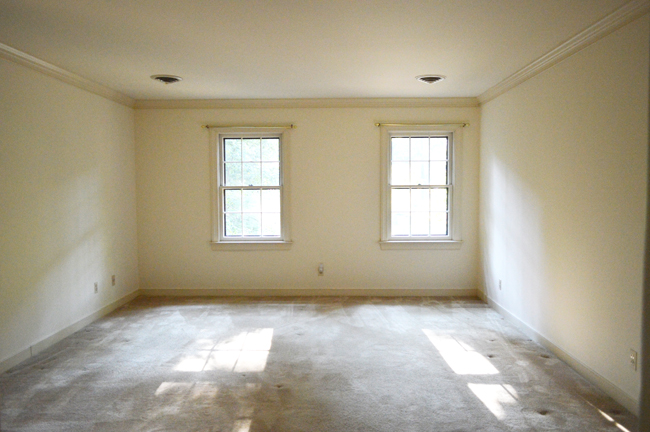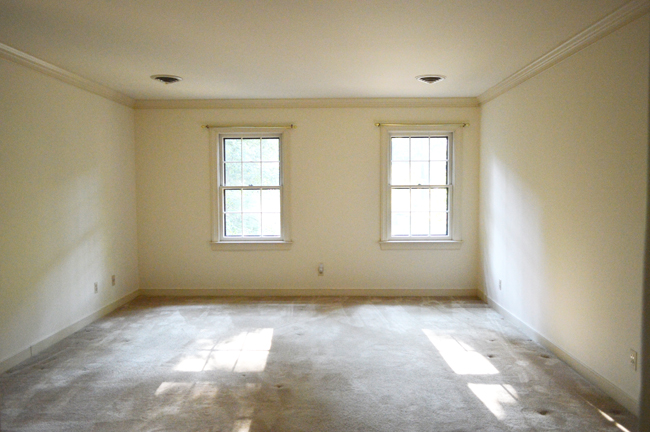 So far we've painted the cream trim/doors white and replaced the old carpeting with hardwoods that we laid right before we moved in and painted the walls (you can find all of our house's paint color details here). Then we hung some curtains, brought in a bench for the foot of the bed, hung a frame gallery over the bed, added a chandelier & switched the bed, and got a new rug.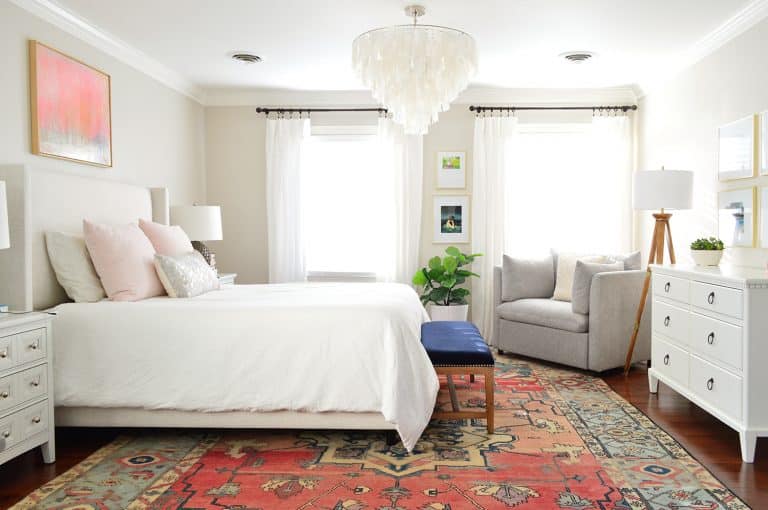 The Master Sink Nook
Beyond having a bathroom with a tub/shower/sink/toilet, there's an additional sink in a nook that's off of our bedroom. Here's a before shot: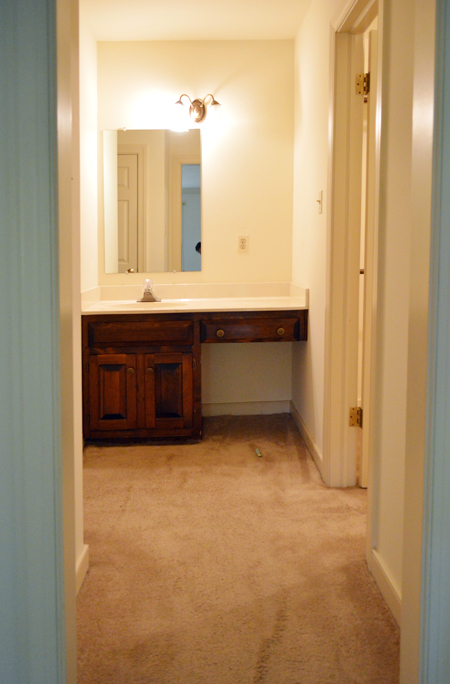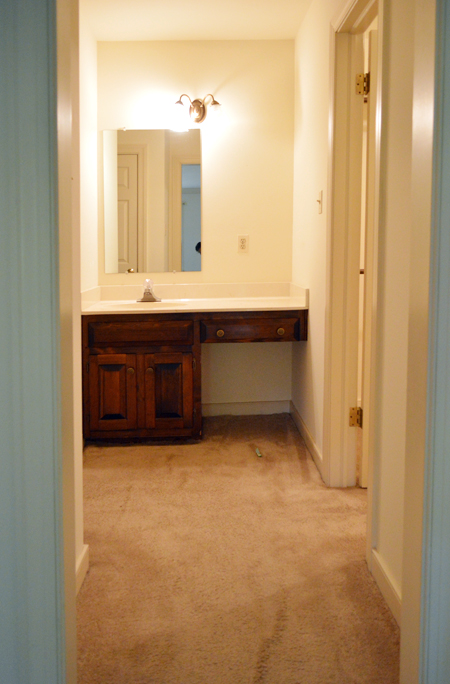 So far we've ripped up some old carpeting along with painting the walls and trim, hanging a nice big window-ish mirror, stenciling the floor, and updating the vanity by adding shelves and new hardware along with refinishing it.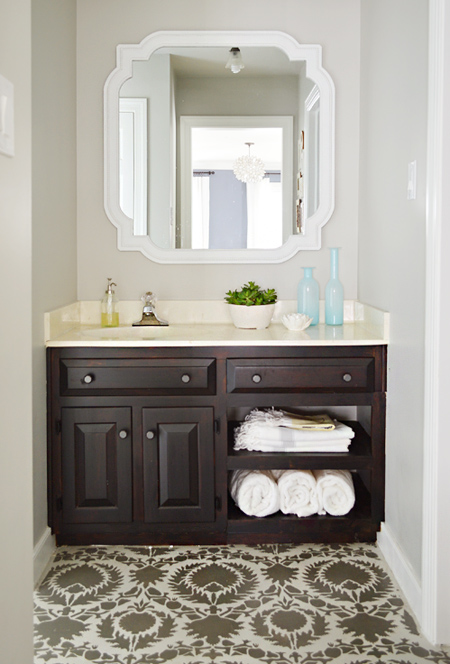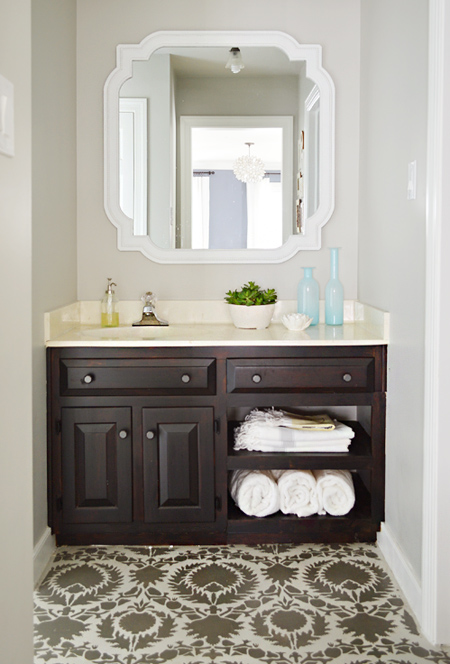 The Master Bathroom
Things in the master bathroom looked like this when we moved in: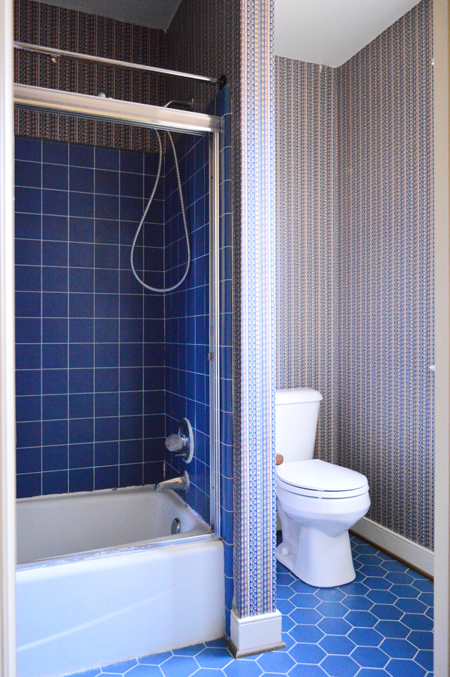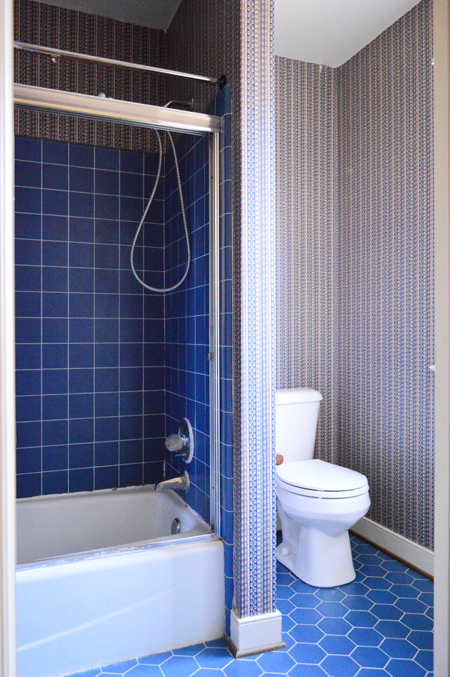 So far we've removed the glass shower doors, hung a curtain nice and high, removed the wallpaper, and prepped/painted the walls along with adding a border of molding for a pop of color on top. Eventually we'd love to combine the choppy sink nook and master bathroom to make one spacious room with a nice large double sink (instead of having a wall that divides one small sink from the other).
Upstairs Hallway
Our upstairs hallway is one of the most unrecognizable areas of the house, so here's the before: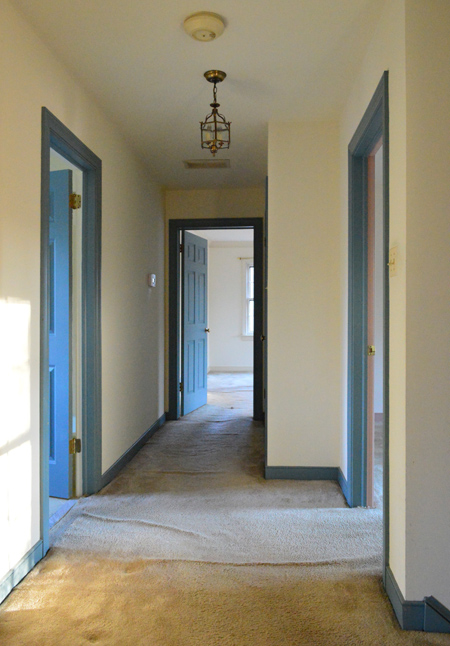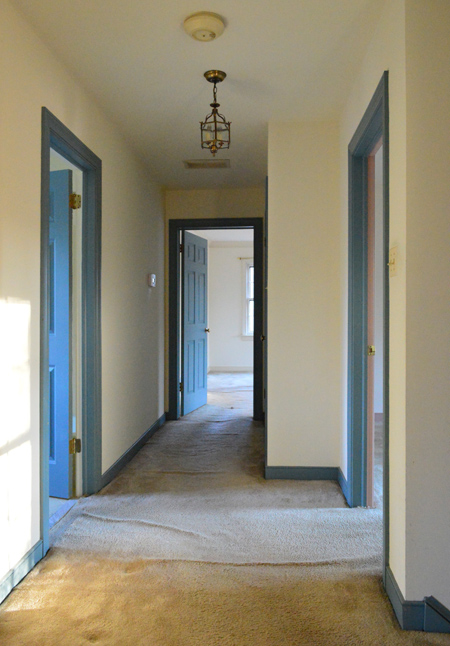 This is what it looks like after tearing up the old carpet, painting all the blue trim and doors, laying new hardwood floors, painting the walls, getting new light fixtures, new door knobs, and adding some wainscoting to give it a little more interest.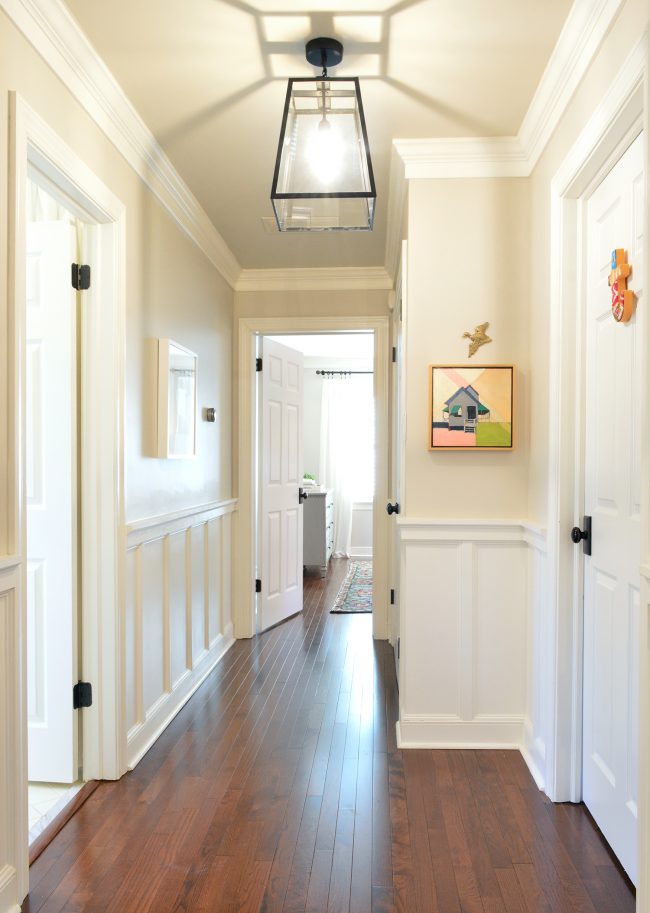 Upstairs Hallway (The Other Way)
The other direction of the hall is even more of a change since it used to be "the dark side" (there wasn't any natural light on that end – it just terminated with a laundry closet at the end of the hall).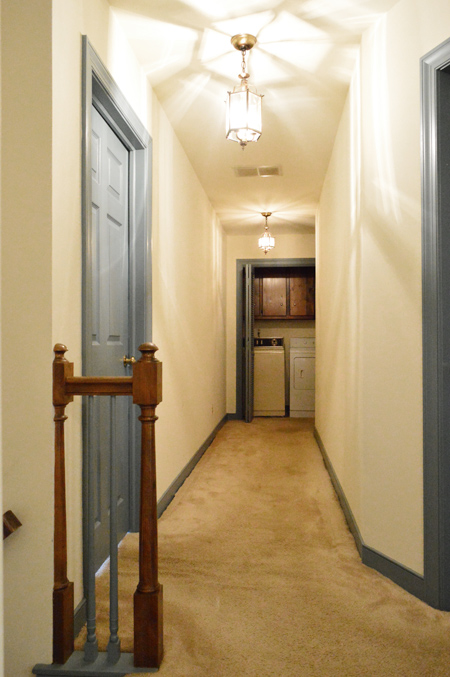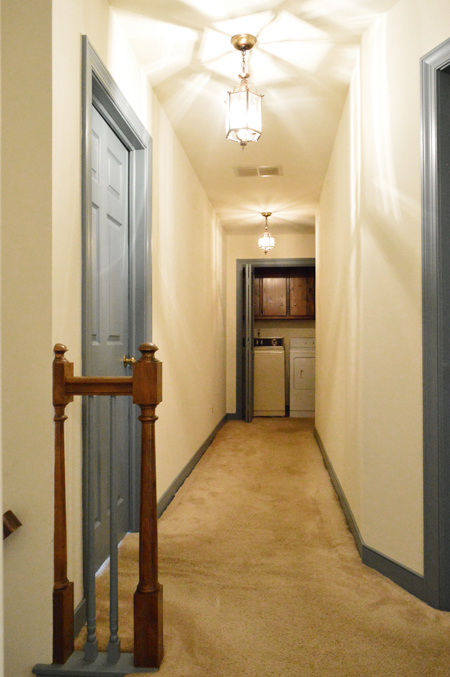 In our biggest floor-plan-changing move to date, we took some pretty amazing inspiration from a reader named Lesley, and managed to gain a full fledged laundry room instead of just a closet. Plus we now get light (glorious light!) in that end of the hallway thanks to a new glass door that we added. It leads to a formerly unfinished storage room that was accessed by a side door, so after moving the doorway, we converted it into a bonus room.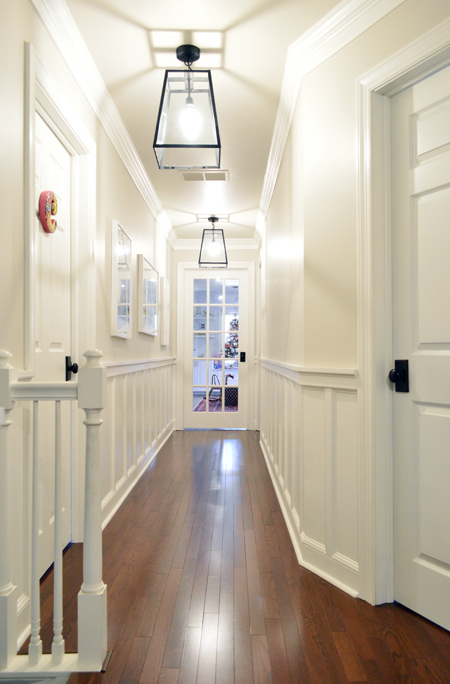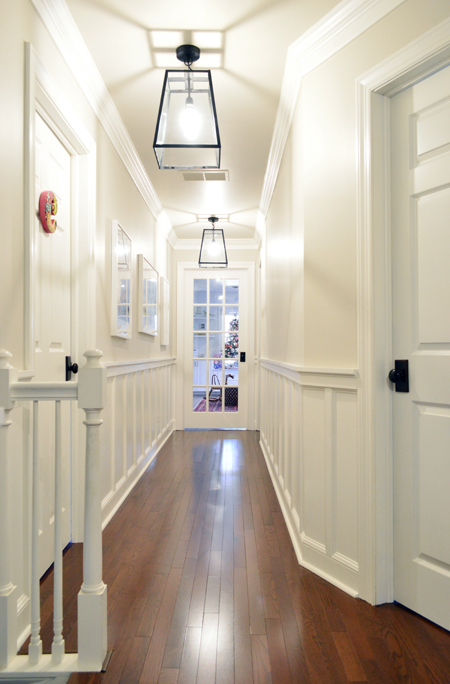 Our Daughter's Room
This bedroom had old carpeting and more of that blue trim going on when we moved in.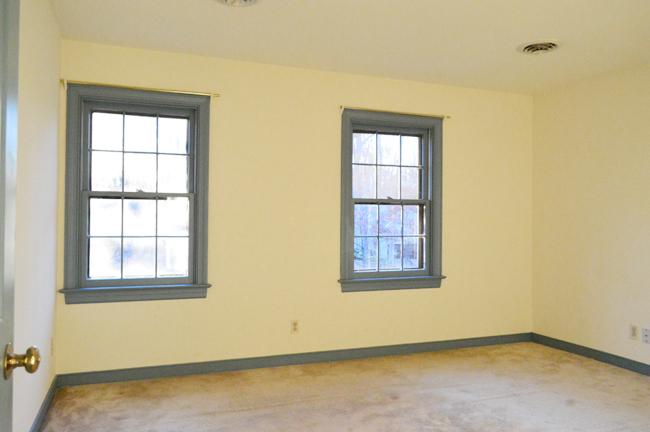 Here's the room now that we painted all the blue trim, laid new hardwoods, and hung some curtains. We also painted the walls/ceiling and added crown molding. Then we painted a playful pink closet door and later updated the space with a new rug, a storage piece we built, and new side tables and a secondhand headboard that's 100 years old.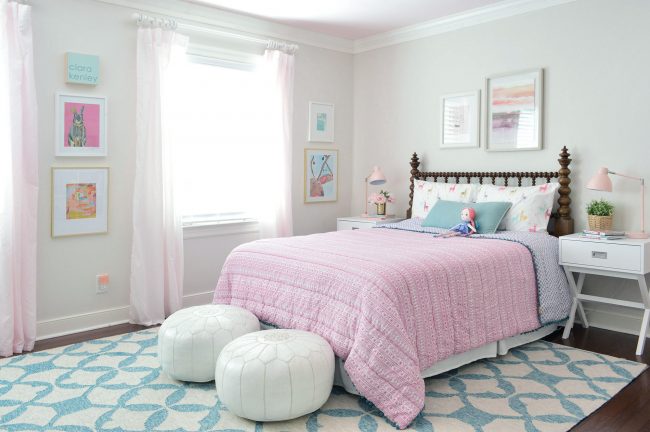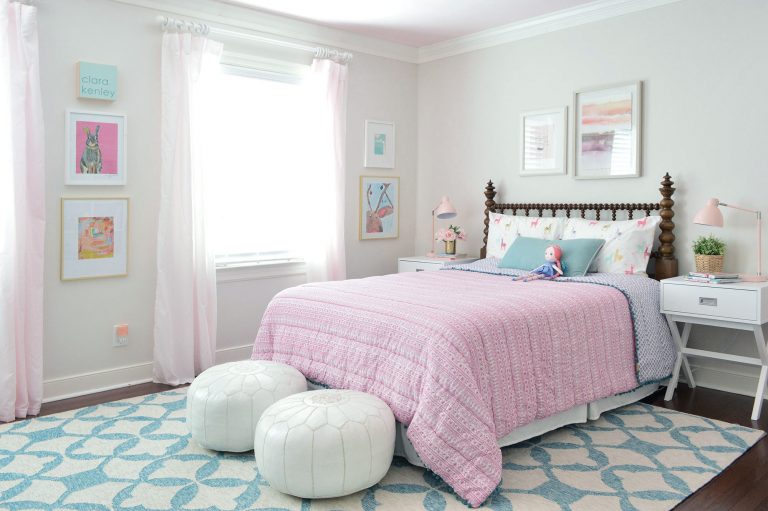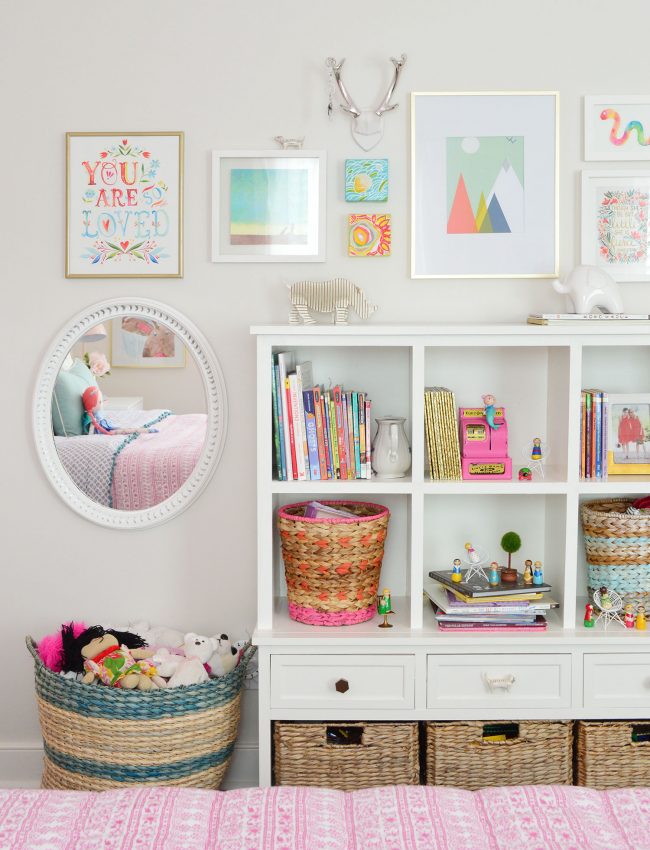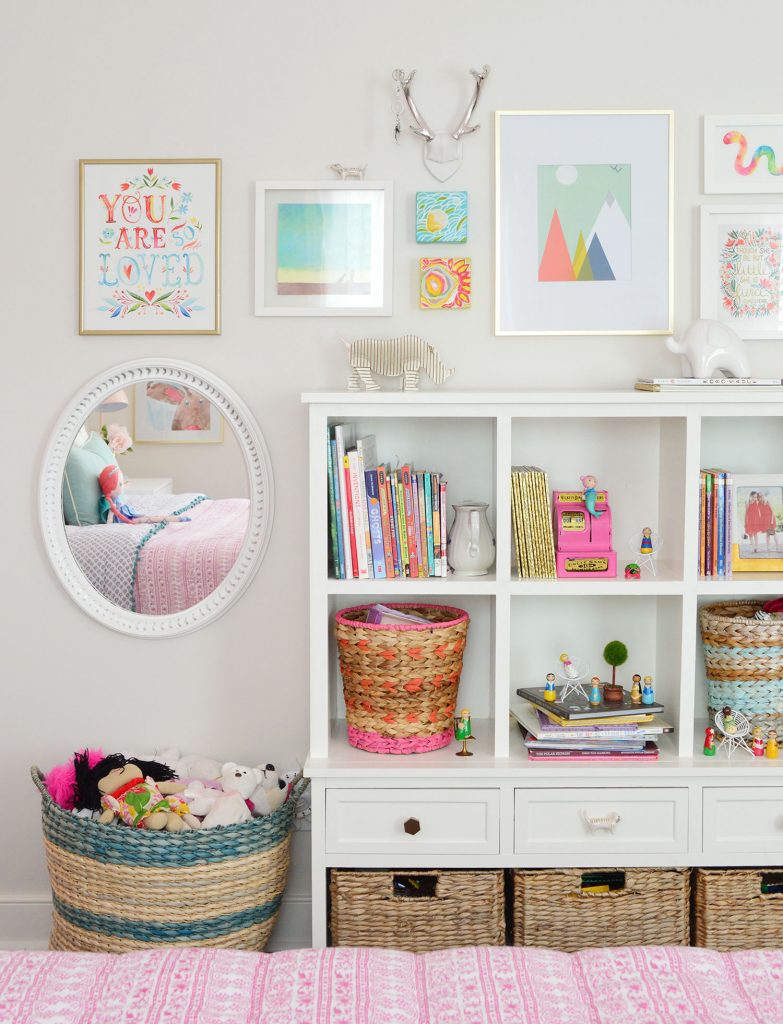 Plus we added a special vintage-inspired dresser that we designed from our Wayfair collection with a pretty pink inlay mirror over it. All the feels, guys. All the feels.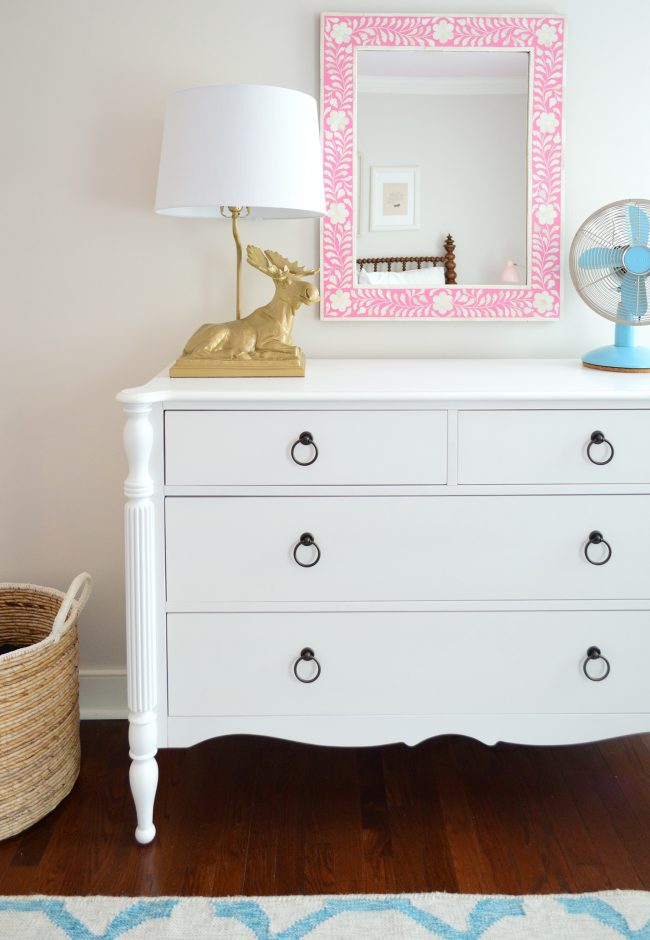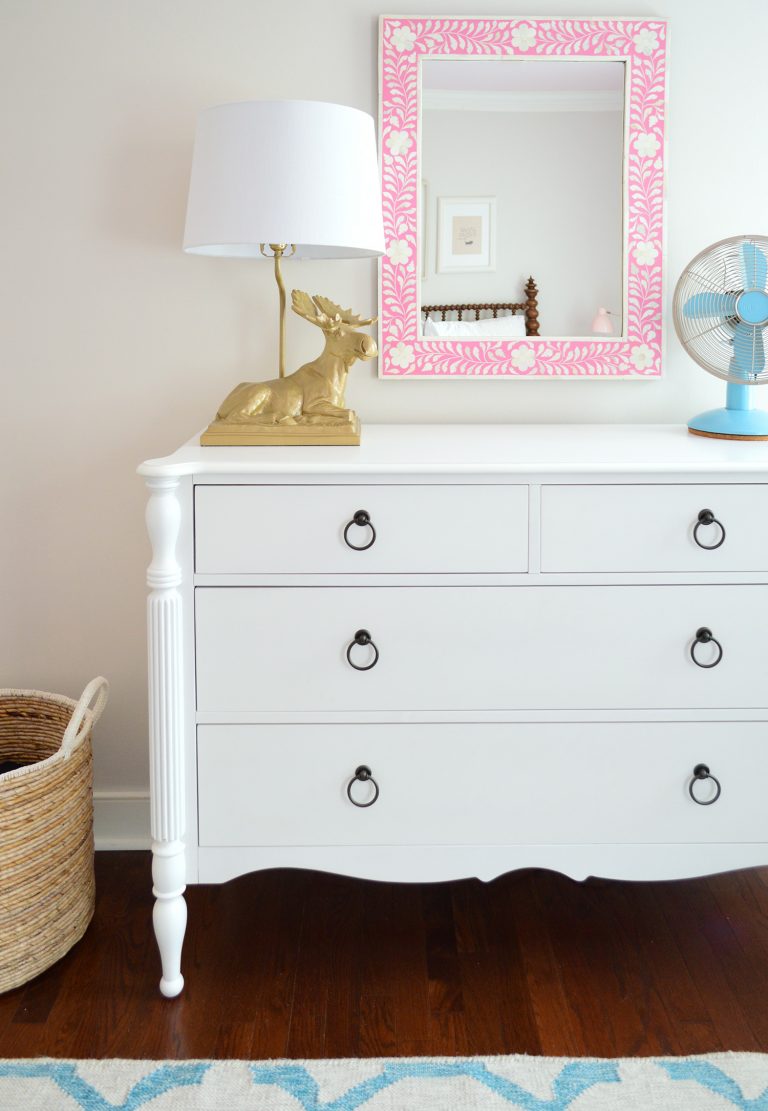 Our Daughter's Closet
This pitched-roofed closet always felt like it had the potential to be a little hideaway within her room.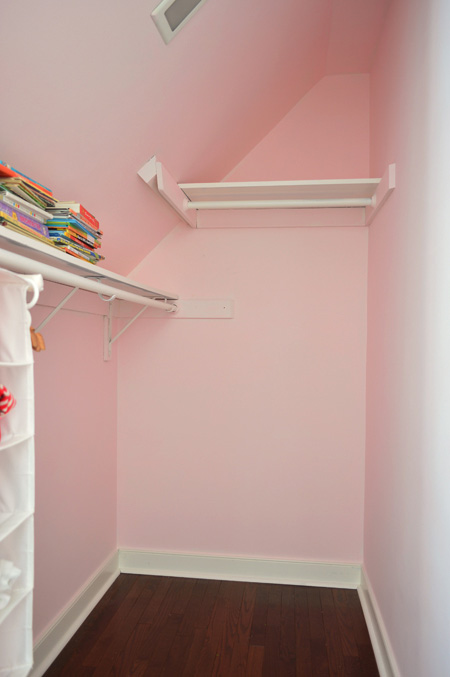 First we ripped up the old carpeted floor, laid hardwoods, and painted the walls the same soft pink as the ceiling of her bedroom. Then we brought in her dollhouse to create a little play area in the back, and upholstered that back wall with fabric. It was such a fun and easy project, and it's one of her favorite spots in the house.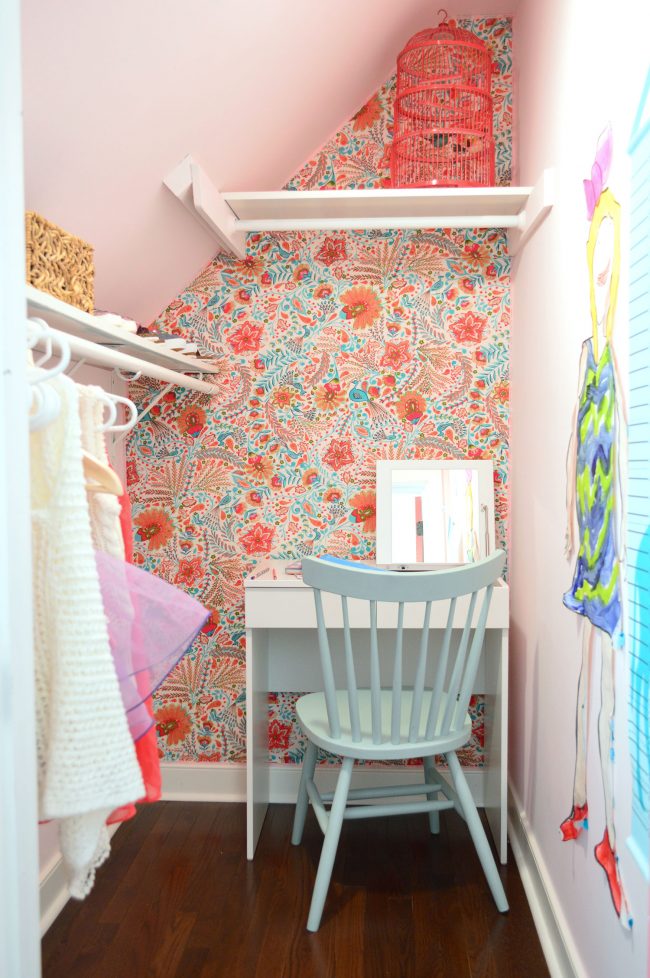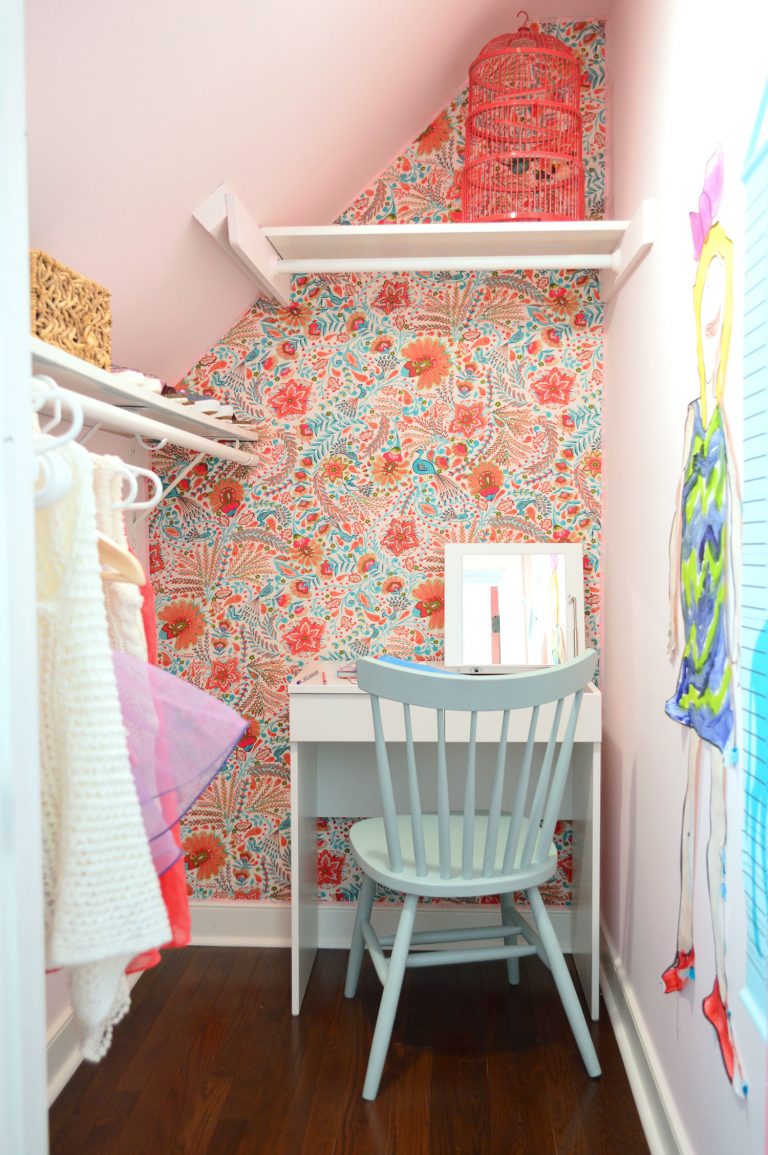 Our Son's Room
This room started out with more old carpet and mauve trim and doors.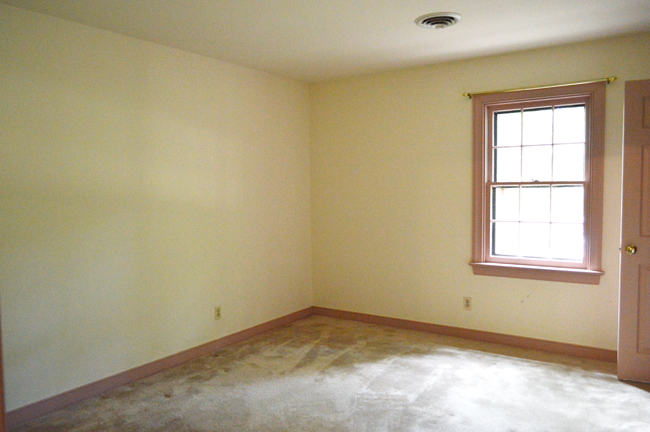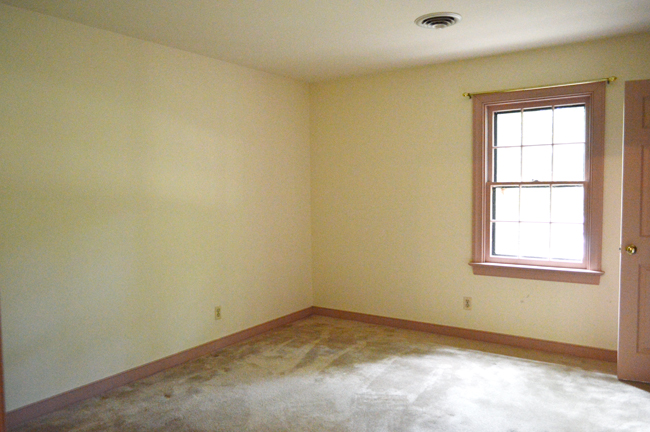 Here it is now that we painted all the pink trim, laid new hardwood floors, got a rug, added built-ins, hung extra thick crown molding, filled up the built-ins, added a cabinet for open storage & diaper changes, painted the closet door and hung art, and updated the room after he outgrew his crib.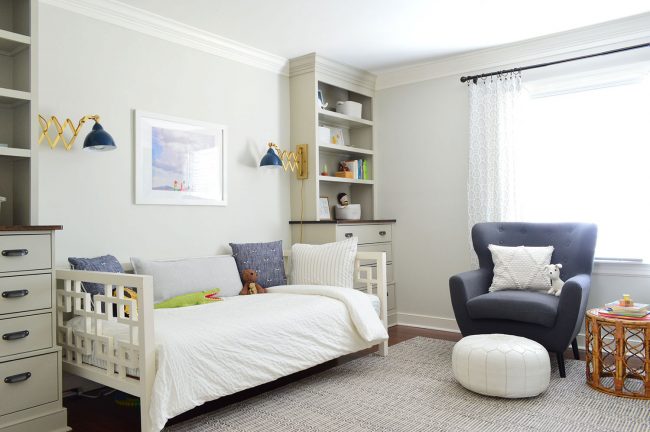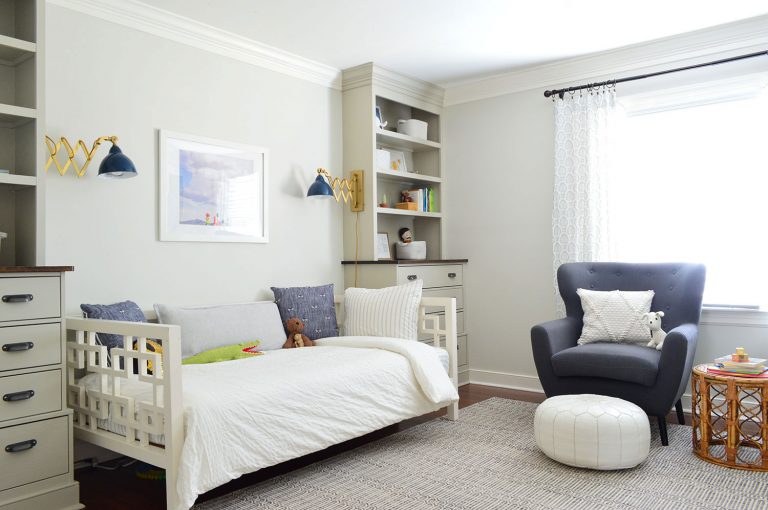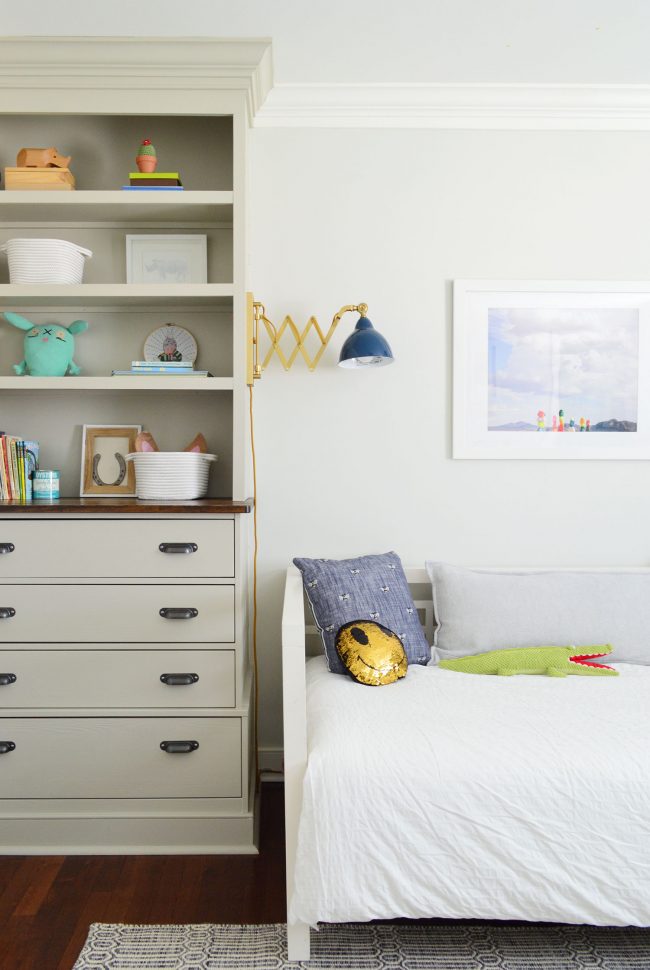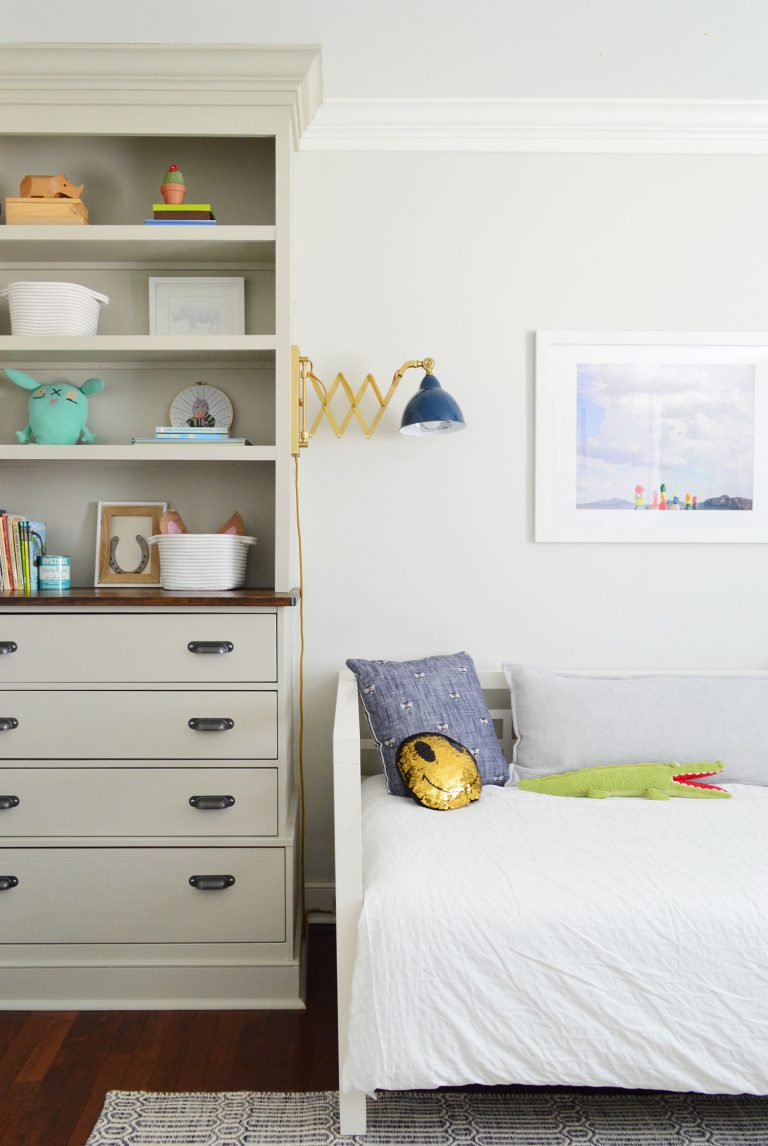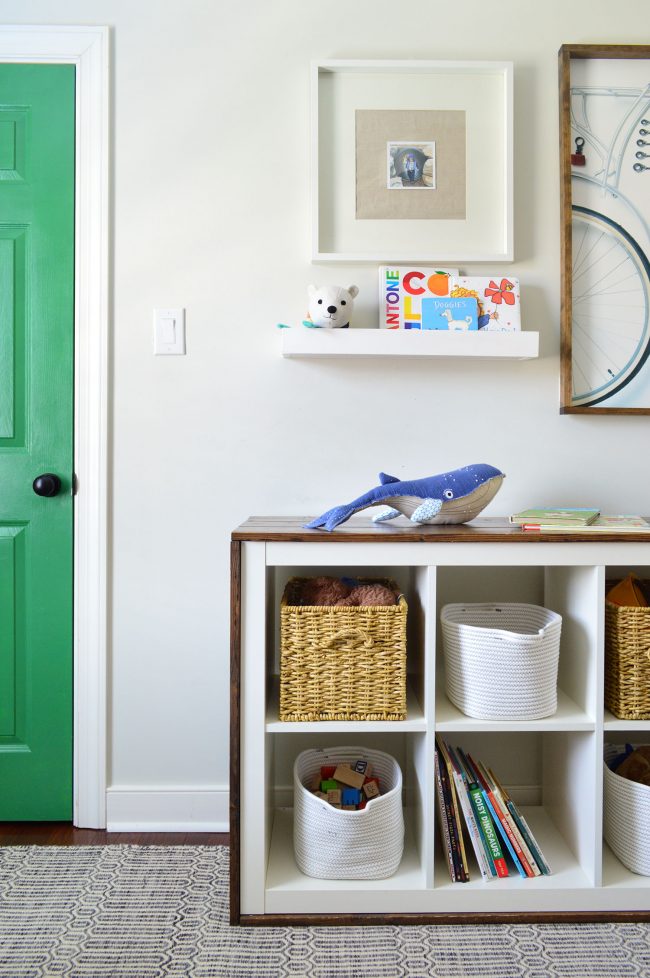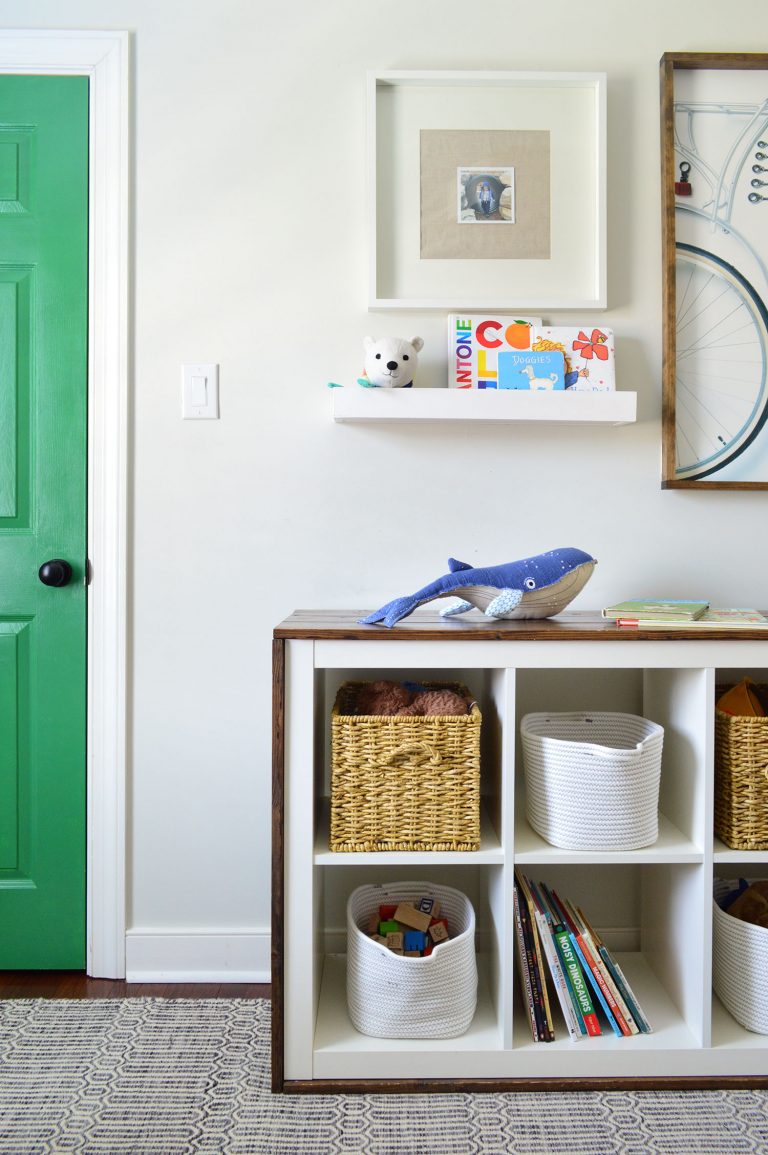 The Guest Bedroom / Craft Room
This was another room with dingy cream trim and old carpeting like our master bedroom.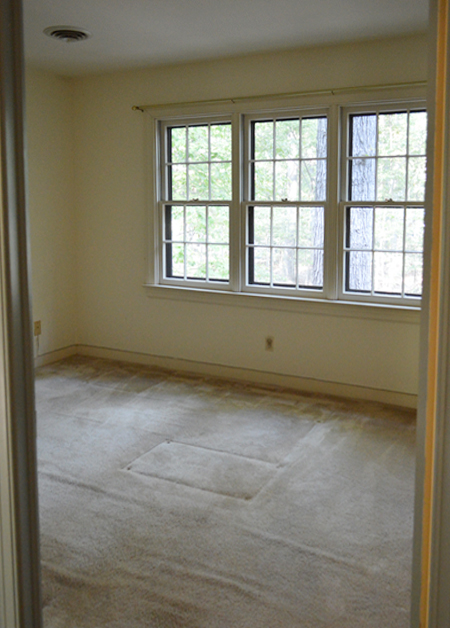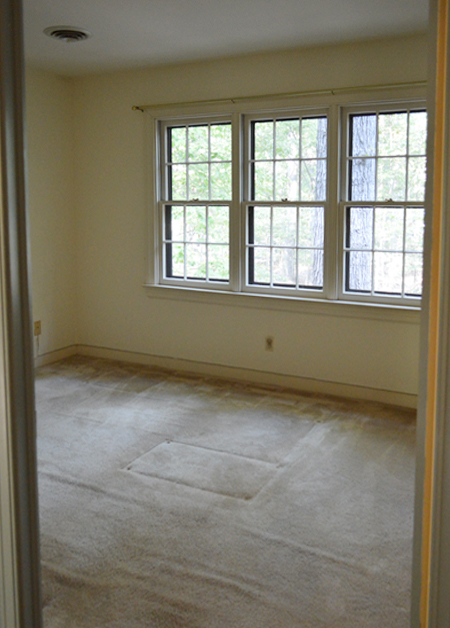 Once again we painted all the trim, laid new hardwoods. A little while later we dove back in and added crown molding, hung some swing arm sconces and a new mirror over the bed, upgraded the headboard, got new curtains, and some new pillow shams. We also created a craft/sewing area on the other side of the room so that space is used more often. You can get all the makeover details (and more shopping info) in our second book.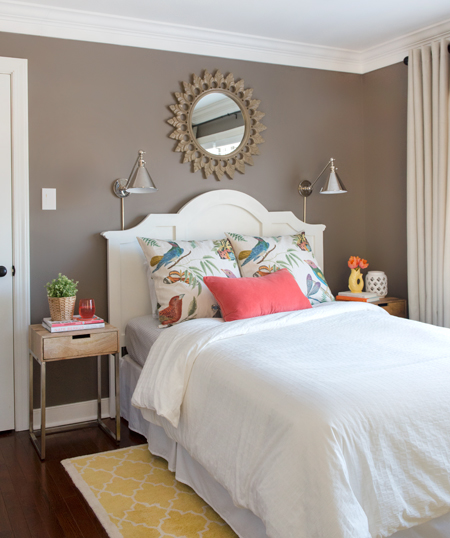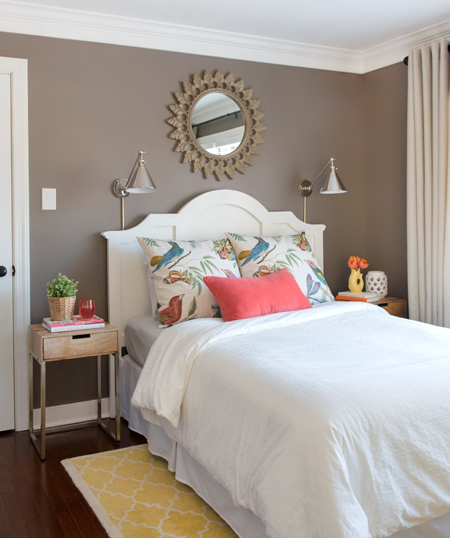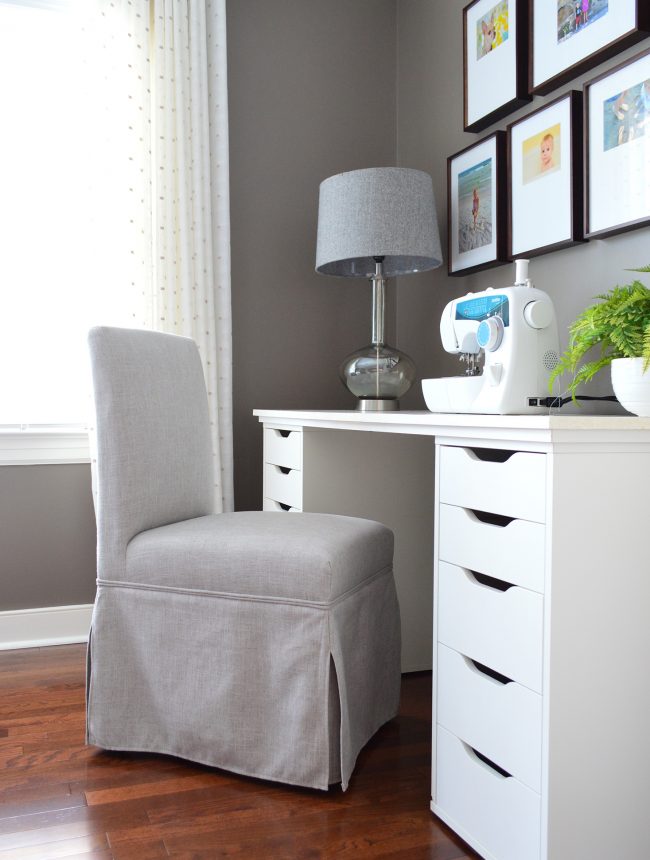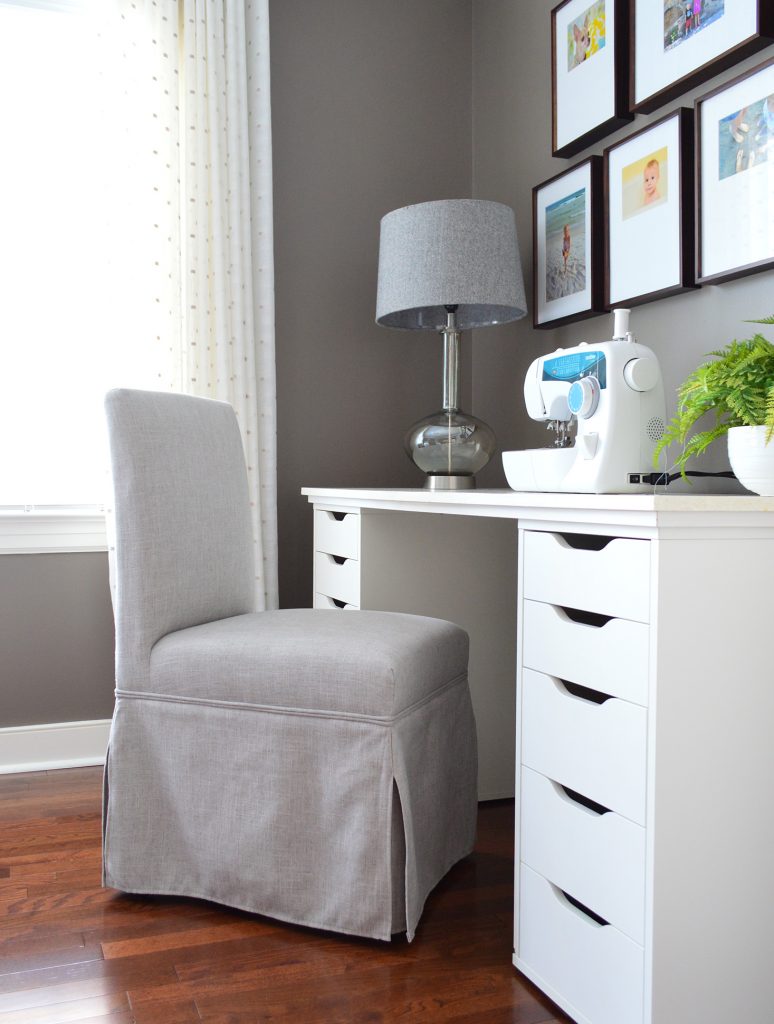 The Hall Bathroom
The hall bathroom upstairs boasts two shell shaped sinks (we have five of those total in this house), along with some old damaged floor and shower tile.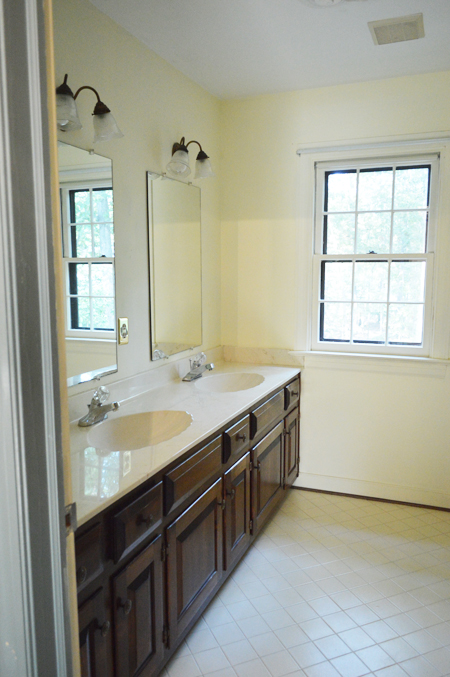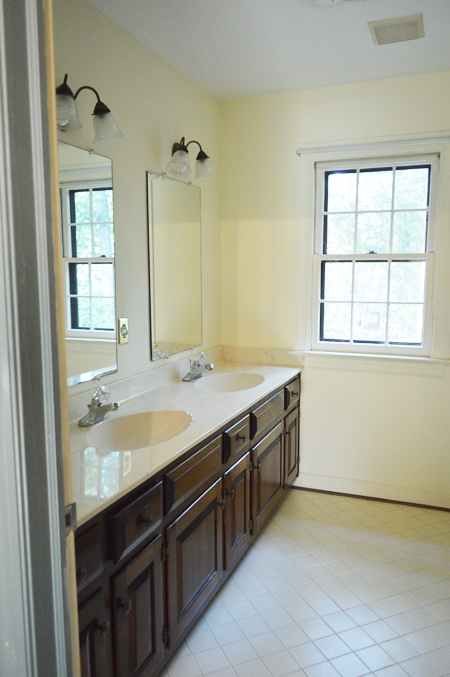 First we added some white faux wood blinds for privacy and some new mirrors and we hung the shower curtain nice and high, and added a fresh coat of paint to the walls and existing cabinets. We'd love to fully renovate this bathroom someday (a new counter with nicer faucets would be so nice), but in the meantime small coups like a fluffy white shower rug, new cabinet hardware, and some colorful art and accessories cheer things up.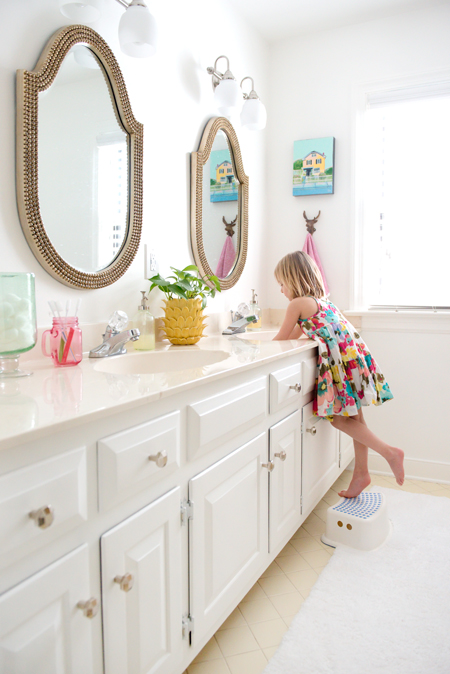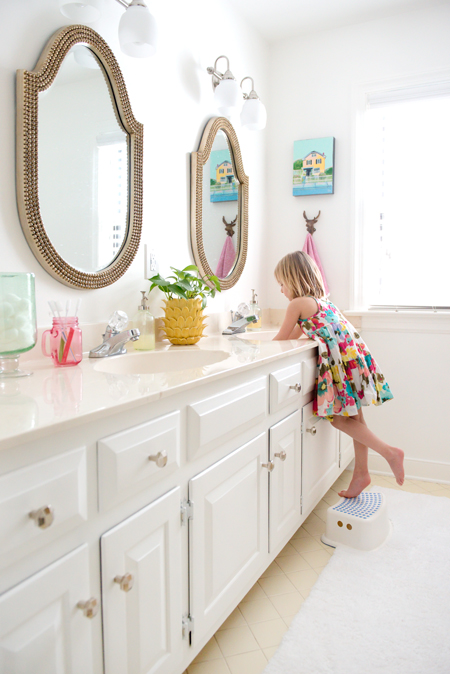 Laundry Nook
This is the laundry nook at the end of the hall as it looked when we bought the house.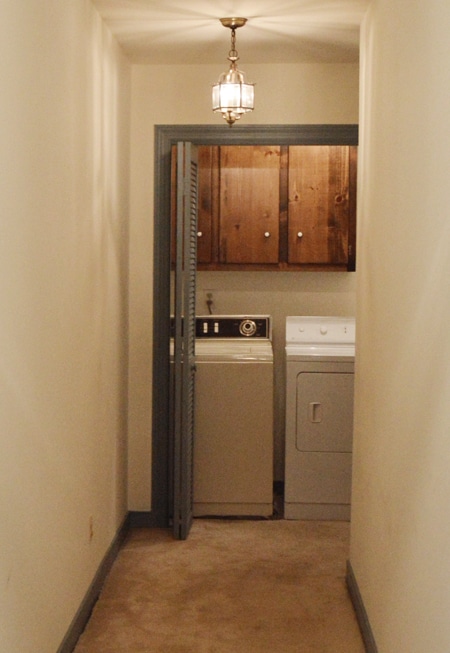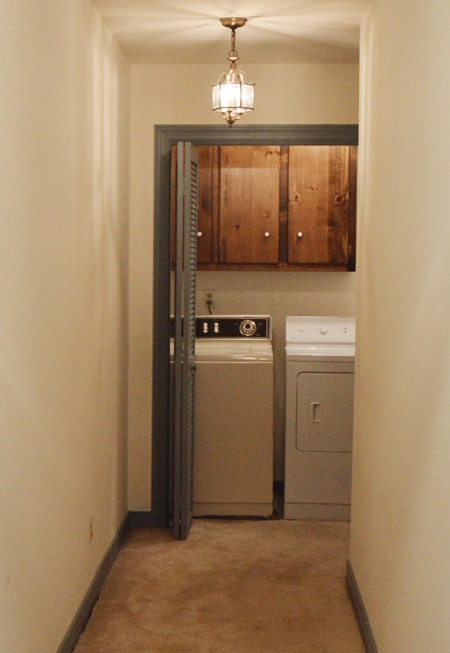 … but that part of our house looks like this now, since we shifted the laundry area to the right (behind that closed door you see below) to give it more space and create a bona-fide room. This also allowed us to transform the unfinished storage space above our garage into an awesome family bonus room, which you access through this pretty glass door that we added. But we'll get to that room in a minute.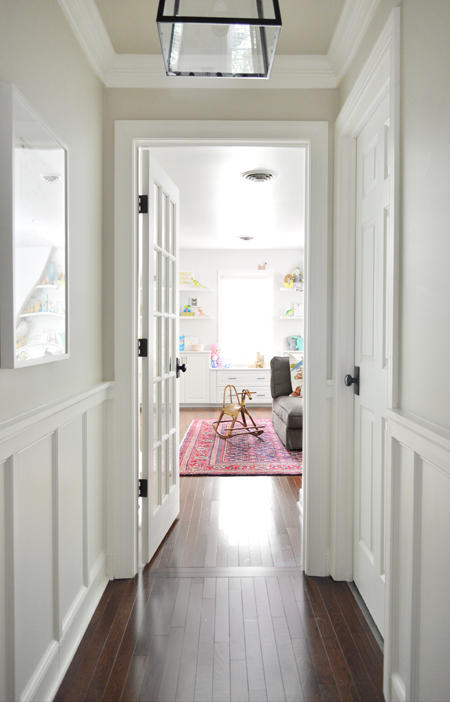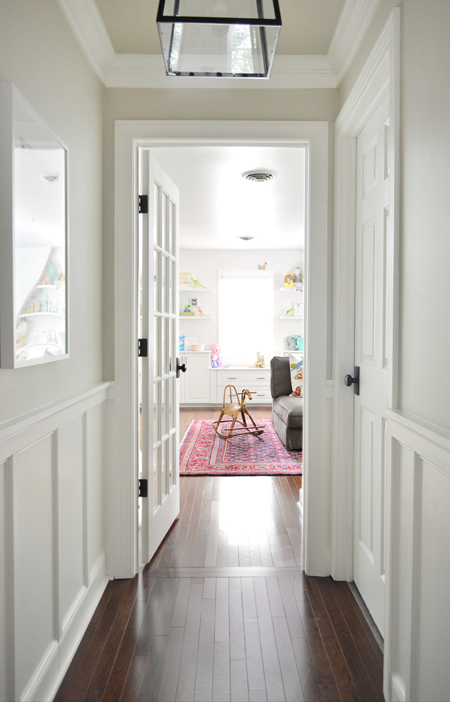 Back to our laundry room. Before we shifted anything it was a small closet at the end of the hall.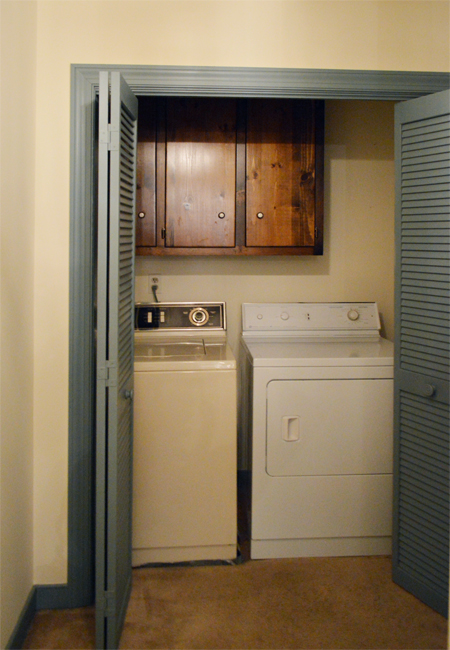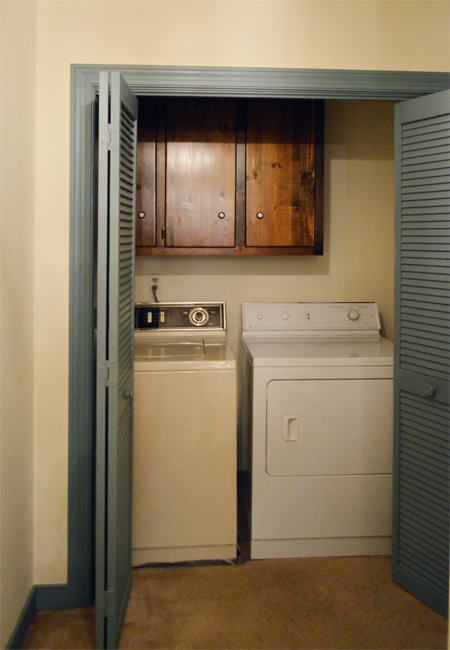 Then we got new appliances and decided to reconfigured the entire layout. Here's a post full of laundry room finishing touches & details, and this one links to most of the previous steps of the project (some of our favorite touches are the backsplash tile, the mint green trash can and bin, the laundry sorter, the drying rack, and the wooden pants hanger that we used to hang art).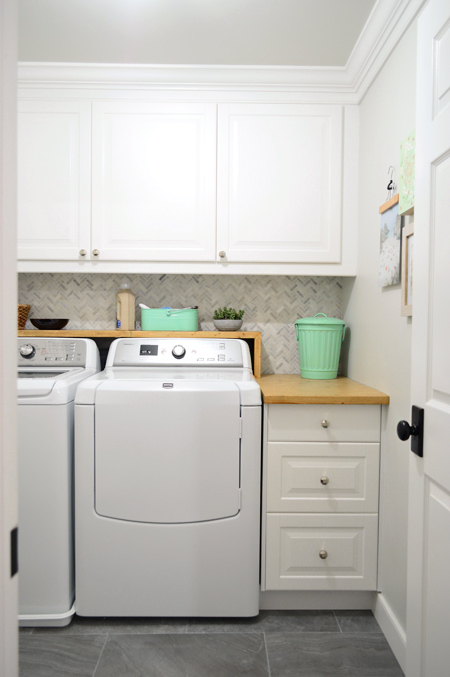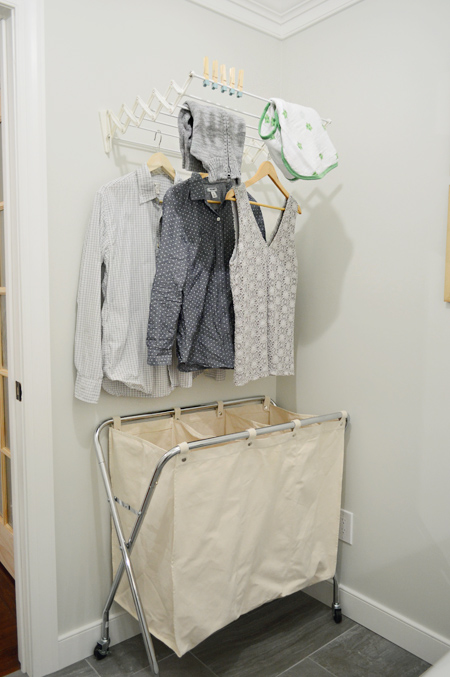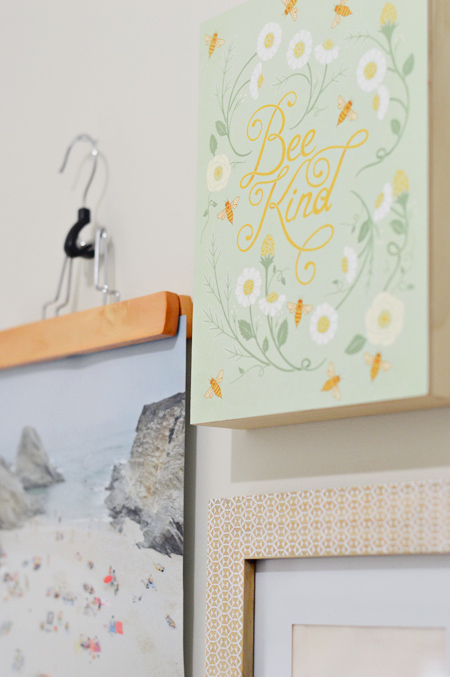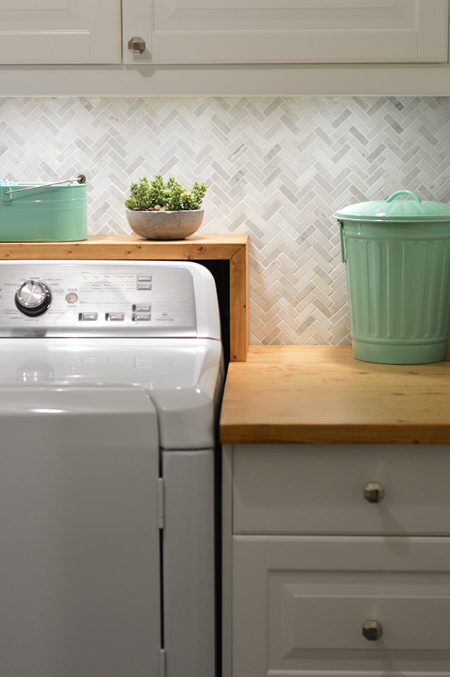 Bonus Room
This was the bare unfinished storage space that we started with, which lacked obvious necessities like insulation, drywall, and flooring (the door used to be here in the back corner of the room).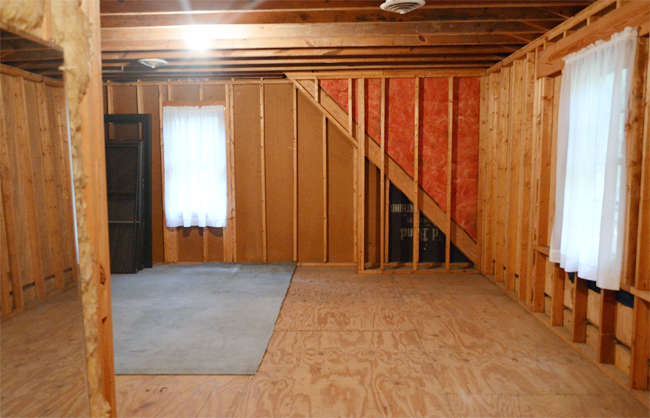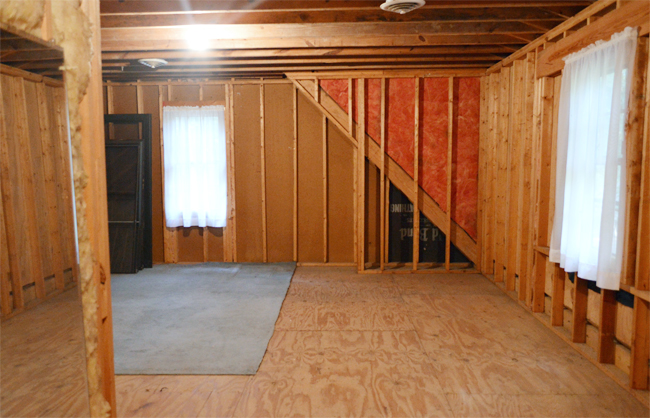 When we moved our laundry room, we got much easier access to this room from the end of our upstairs hallway (you can read more about how we finished this room here with walls, hardwoods, and a much bigger window). We've loved gaining 360 square feet of livable space, and extra function with some built-ins & shelving in the nook, and a wire-free TV wall across the room. Things like a patterned rug, sofa cushions, butterflies on the wall, a tent for the kids, and crisp neutral curtains also made a huge difference. Here's a post with all of the other decorating details about the space.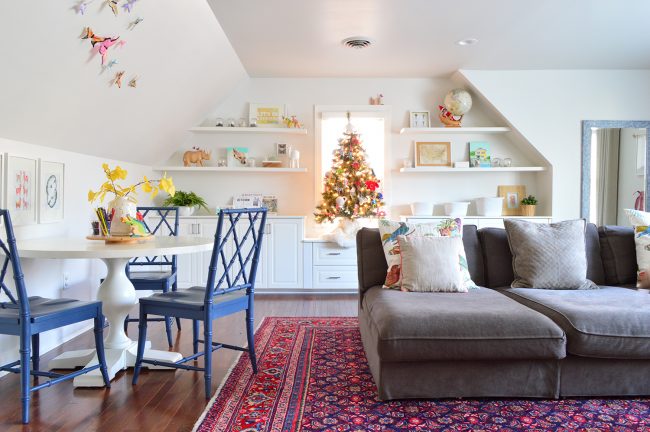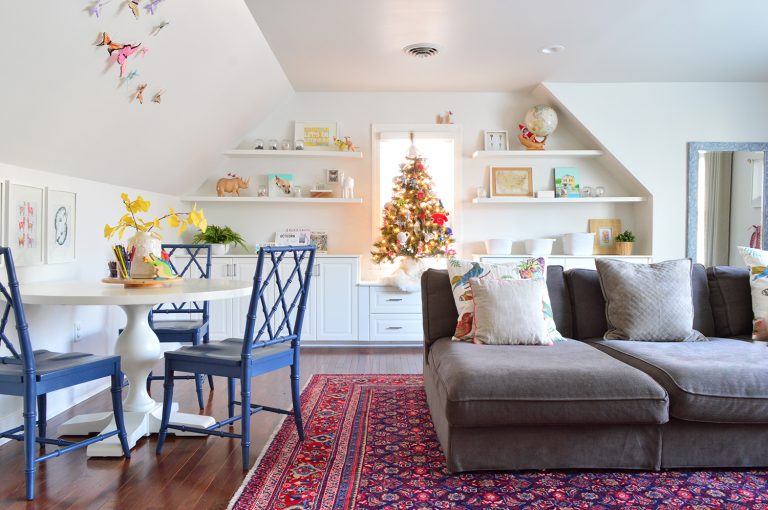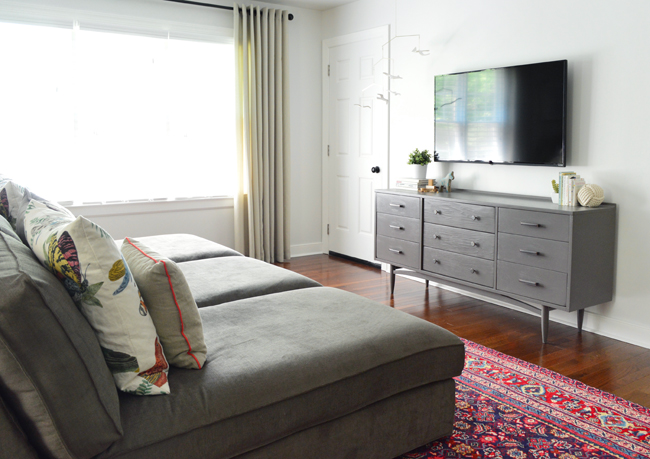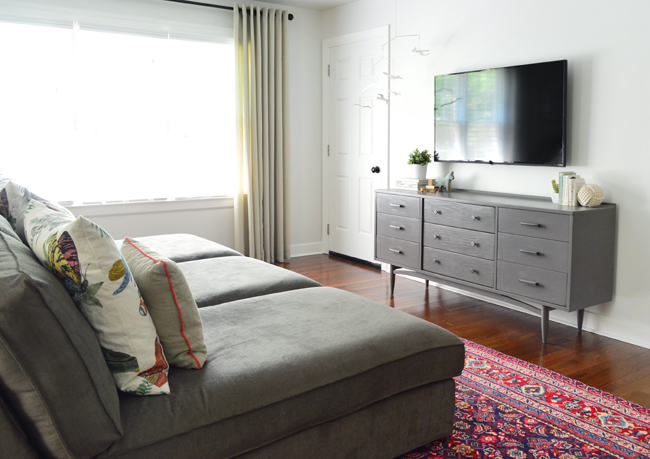 And if you want to see a tour of the upstairs, watch the video below:
The Veranda (said ironically with a fancy accent)
This area started out as a fishbowl-feeling sunroom full of old carpet. Nearly every sliding door was broken, so it sealed us off from the deck, and the glass doors were constantly fogging up to obscure the view.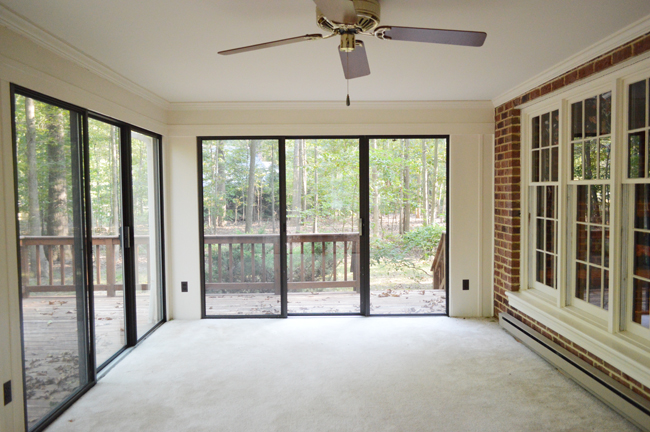 We realized that opening it up to the deck would add a lot more function for our family (now there's a shaded area with easy flow to the rest of the outdoor space), so we ripped up the old carpet and removed the old broken doors. We also raised the ceiling as well as installing a blue beadboard ceiling, hanging two fans, and laying some outdoor-friendly tile. We also got/made some outdoor furniture and hung some outdoor sconces for evening ambiance.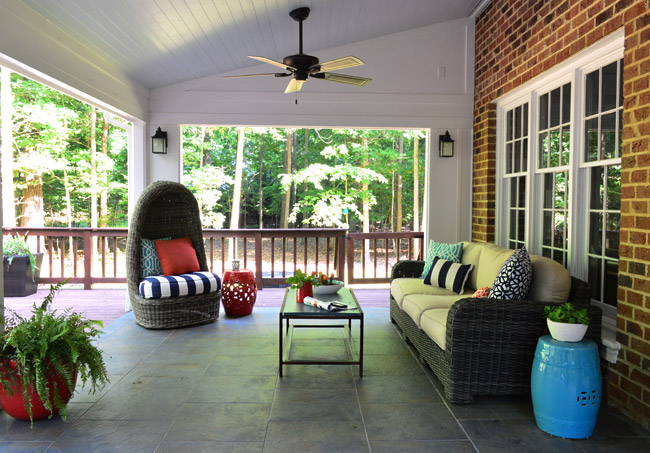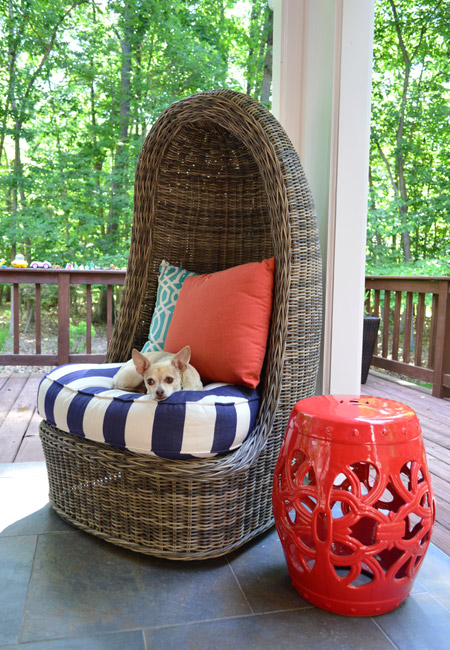 The Back Of The House
The back of the house was pretty brown looking thanks to the rotting roof and the cream trim & siding.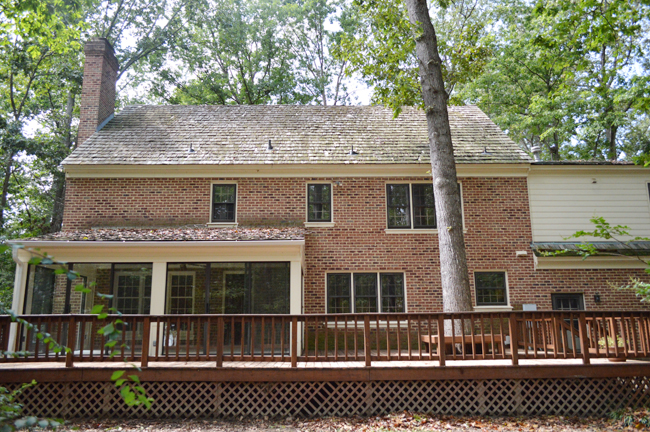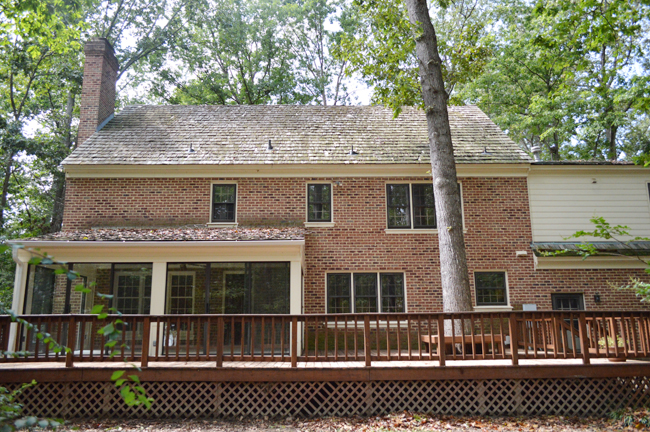 We love the new darker roof, white trim, and putty colored siding for making the house feel more dimensional and balanced. But the biggest changes for sure were ripping off the old rotting deck, and painting the house white, glorious white.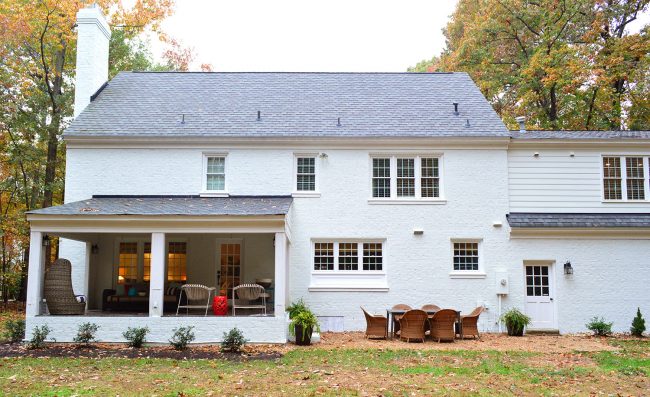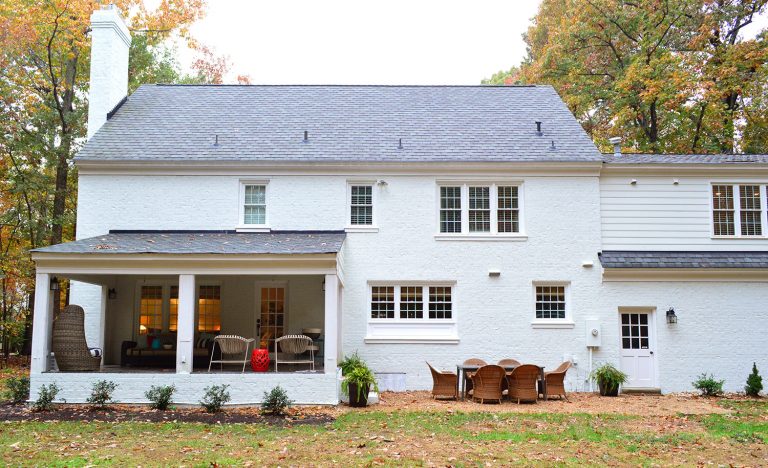 The Backyard
The backyard was a little lacking in grass when we moved in, so we knew we'd have some leveling and seeding to do.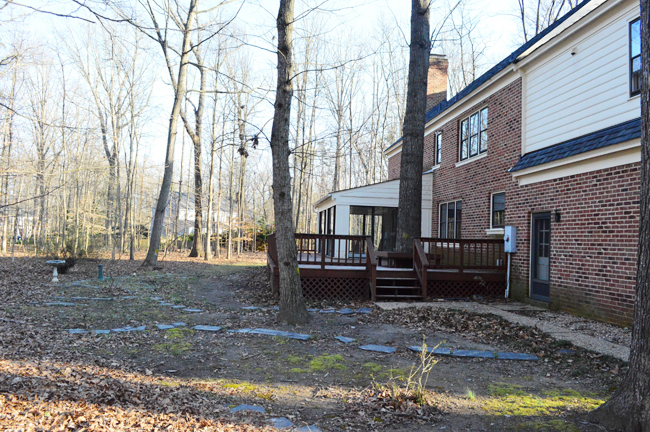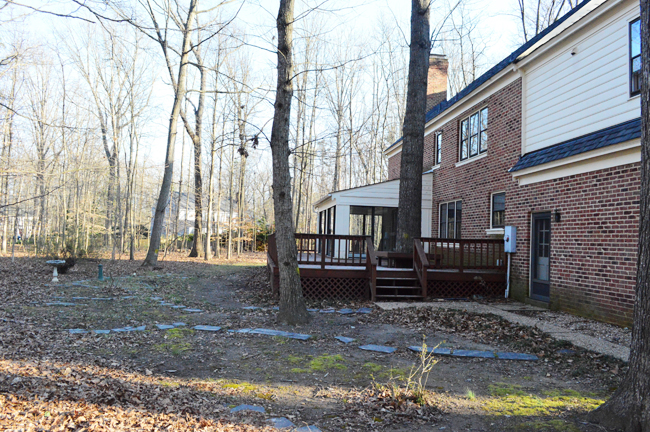 So we leveled the yard and seeded some grass. Eventually we'd love to redo that old cracked walkway and reseed the grass so it comes in nice and thick. And we'd also love to add a bluestone patio and path in the place of the pea-gravel one we tossed down for now (to avoid a mud pit). More on that here.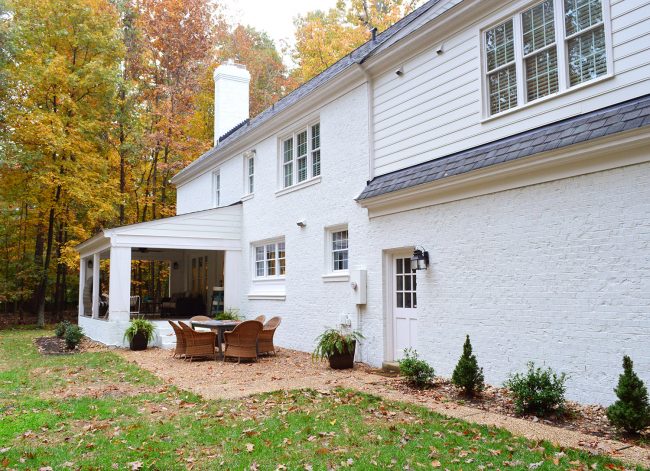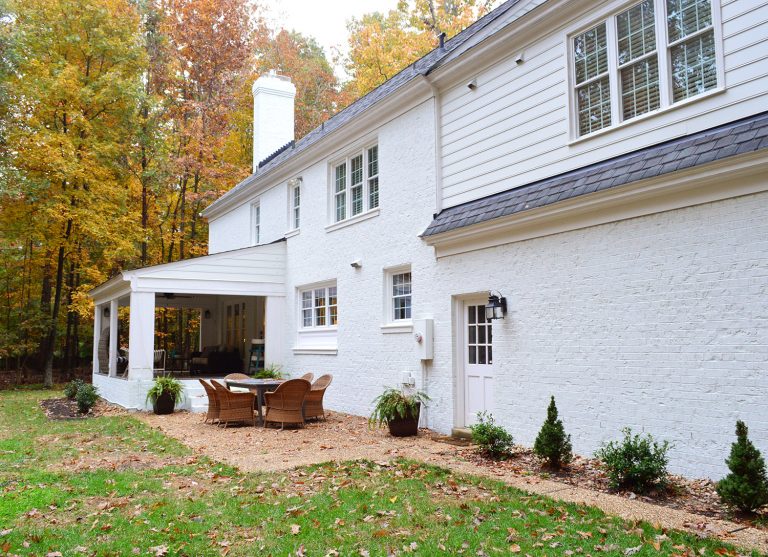 The Shed
What started out as a corner of the backyard where we felt the most exposed to our backyard neighbors (especially when all the trees drop their leaves in the winter)…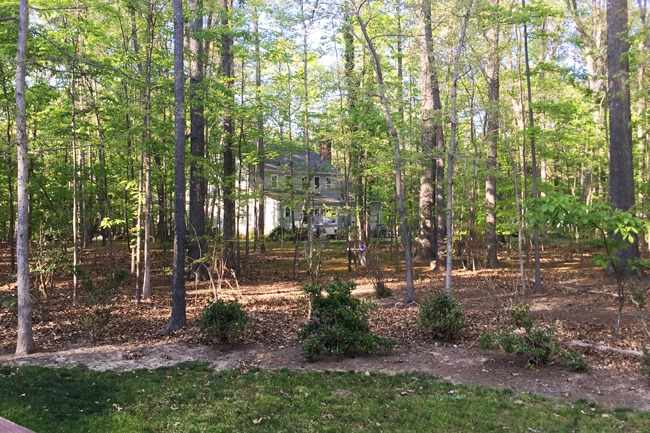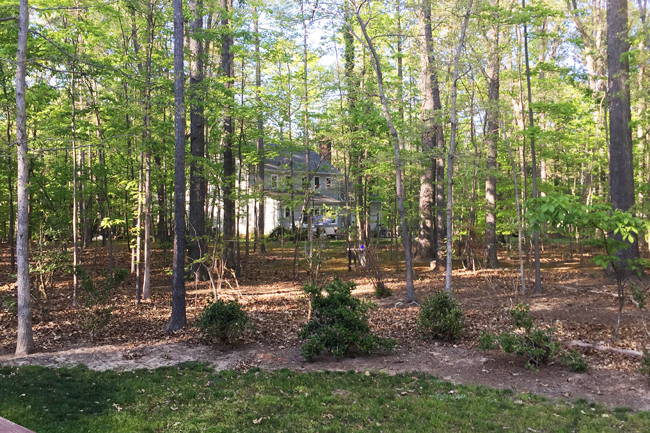 … now houses our shed, which not only looks pretty darn cute and provides some great privacy, it also contains all of our tools, so we can work in there without coating everything in the garage with sawdust like we used to. You can read all about our shed selection process here (it also covers how we built that step, added sconces, and picked lighting for the inside). And then when we painted the house white, we made the shed match, so here's the post about that (along with adding new lights and window boxes).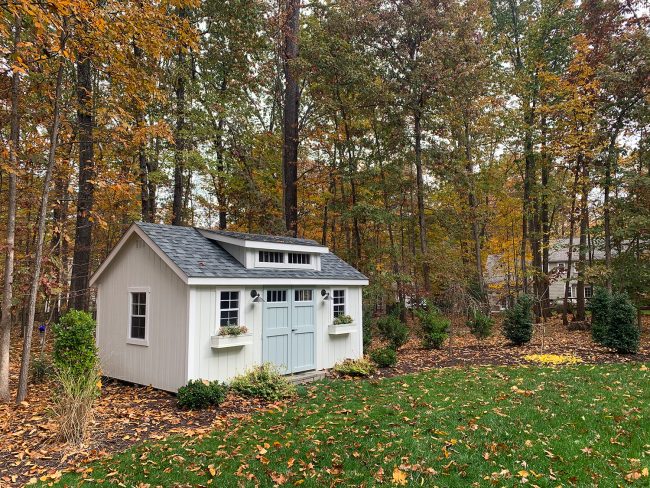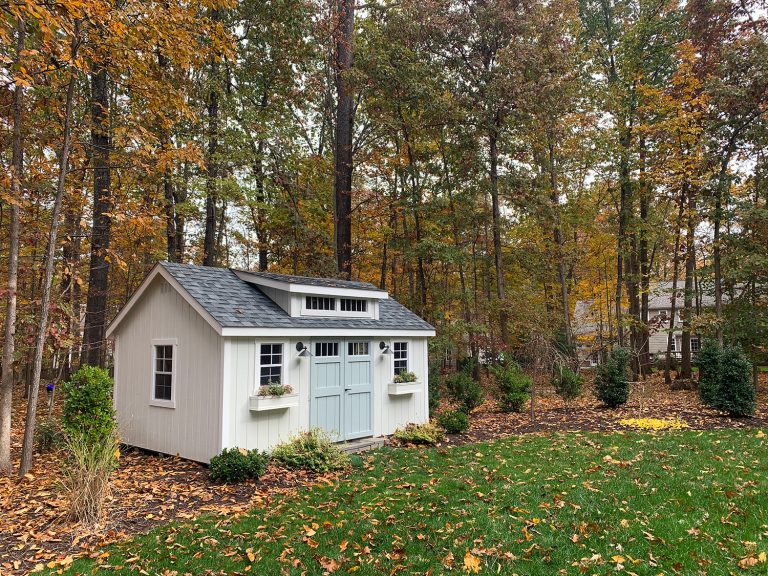 So yes, there's still lots to do, but thankfully we've learned that we're hopelessly in love with the act of upgrading a house, so the journey is even more exciting than the destination (more on that here). We've also learned just to take things one day/project/victory at a time to avoid getting too overwhelmed. And seriously, is there anything more fun than crossing things off of a giant list? (NO. The answer is NO).
Psst- Wanna know where we got something in our house or what paint colors we used? Just click on this button: 


*This page contains affiliate links