Who's ready for the coming of age tale of a girl room, just finding its own way in this big beautiful world? Growing, changing, and living life without regrets and a whole lot of heart (*cue the romantic comedy music*). I think Reese Witherspoon should play the room.
Some recent updates to our daughter's room made us realize that this space has undergone quite the evolution since we moved in three years ago. And much like we took you through the evolution of our last house's master bedroom, we thought it would be fun to do that in here. We're big subscribers to the whole "if at first you don't succeed, try try again… and again, and again" concept when it comes to cracking that how-do-we-want-this-room-to-look-and-function puzzle. And the added element of a space that's evolving to fit the changing needs of a then 3-year-old to a now 6-year-old is pretty fun to look back on.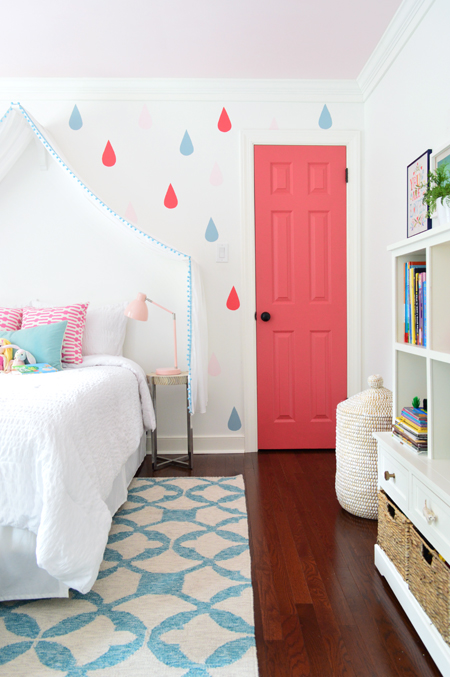 So let's go back in time for a bit, shall we? Here's what the room looked like when we bought the house, complete with periwinkle blue trim and old wall to wall carpeting.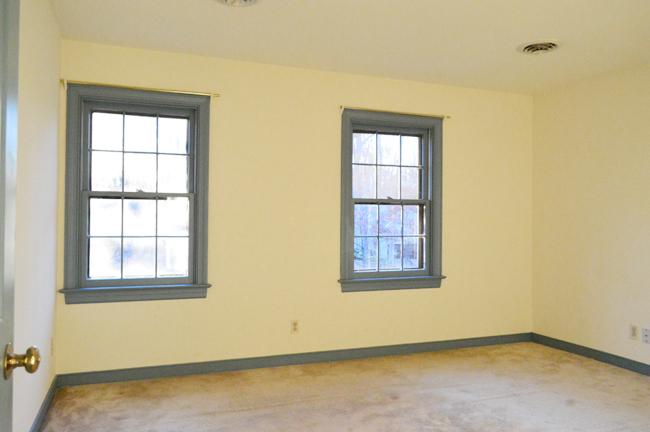 Before we moved in we ripped up the carpet…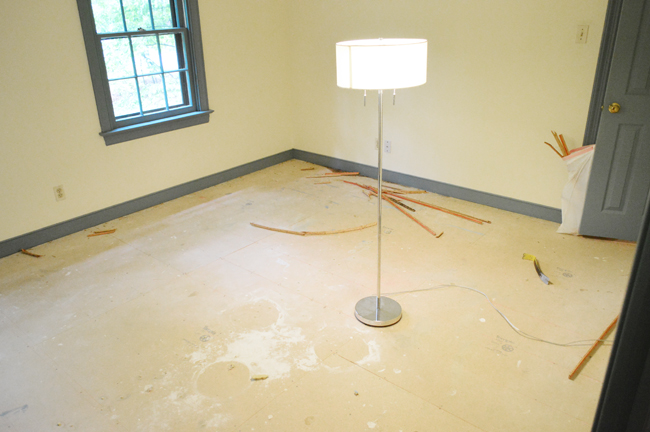 …. sprayed all the baseboards & doors white…
…and installed hardwood floors.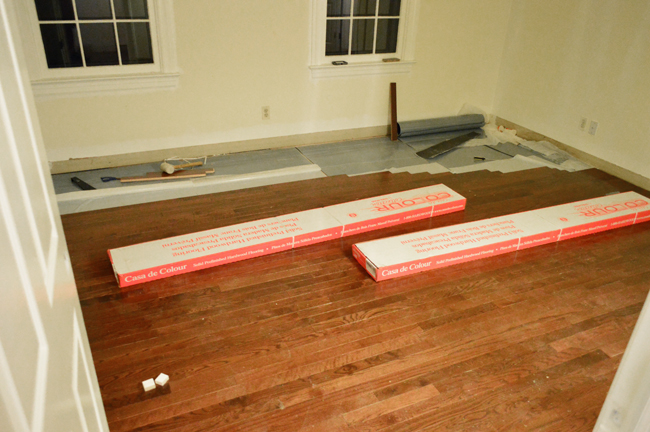 On the day we moved in, we basically just dropped in all of our existing furniture and it stayed like this for a little while (check out that paint overspray from the doors on the walls).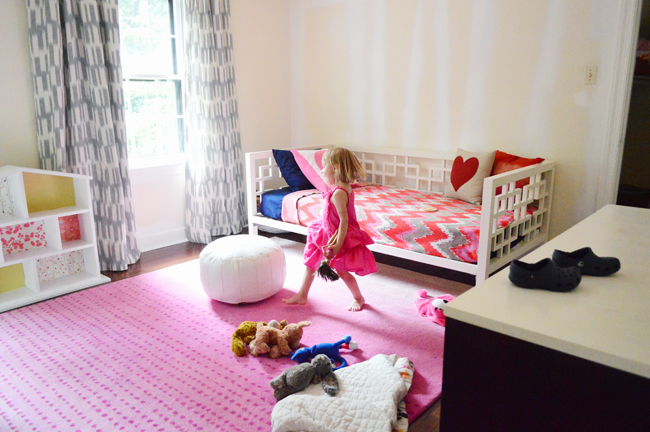 Eventually, we painted the room white with a soft pink ceiling and made a few other quick swaps (the afternoon sun was so bright in here it bounced off the rug and the whole room glowed hot pink, so we brought in a blue rug we had on hand instead). We also tried some other patterned curtains we already owned, just to give them a whirl in here.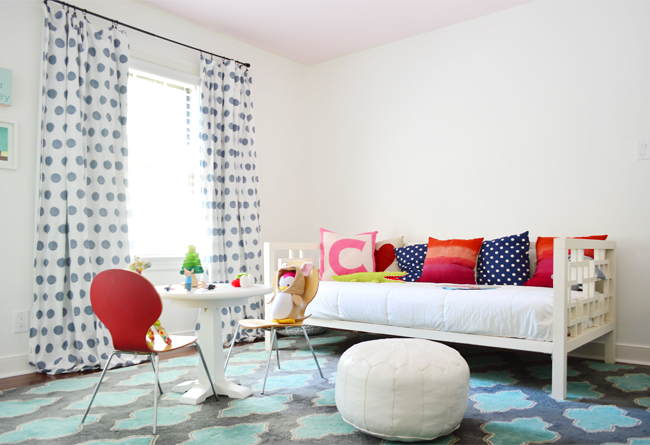 Next, we added a simple little fabric canopy over her daybed using store-bought brackets and fabric with blue pom-pom fringe sewn along one side (tutorial here).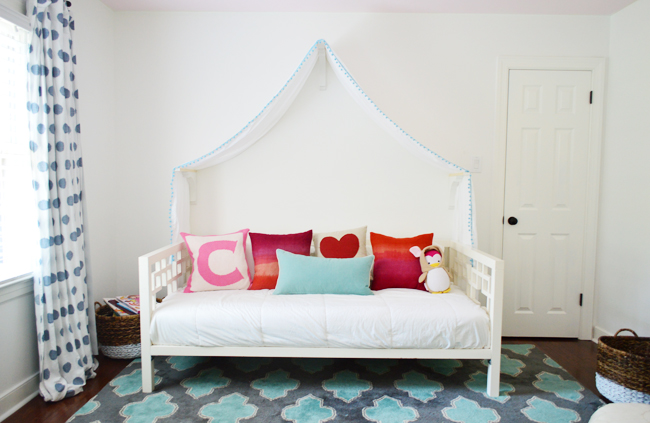 Then came the crown molding that we installed (here's how we made it extra beefy), along with a bold pink closet door and some colorful raindrops on the wall, just for fun (here's the full rundown on how we did that with paint colors, steps, etc).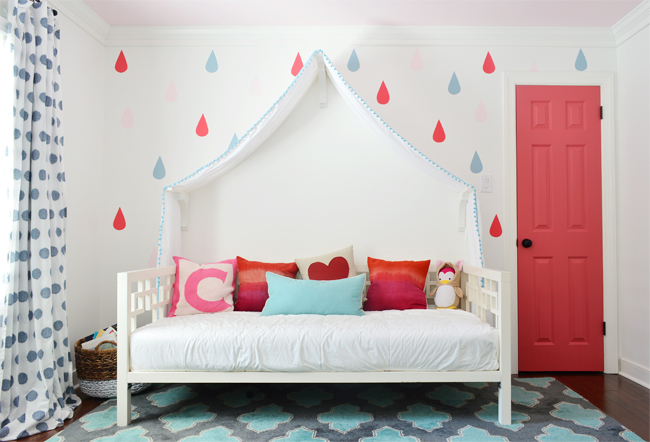 Then came a third rug since the navy/teal one always felt a smidge too large. This new one – which we originally used in our living room – was a great replacement after we found a big turkish rug for down there. The lighter color on the floor inspired the breezier curtains that I dyed pink (more on that in a bit). So for the last 18 months or so it had looked like this (this photo was taken for our second book, Lovable Livable Home):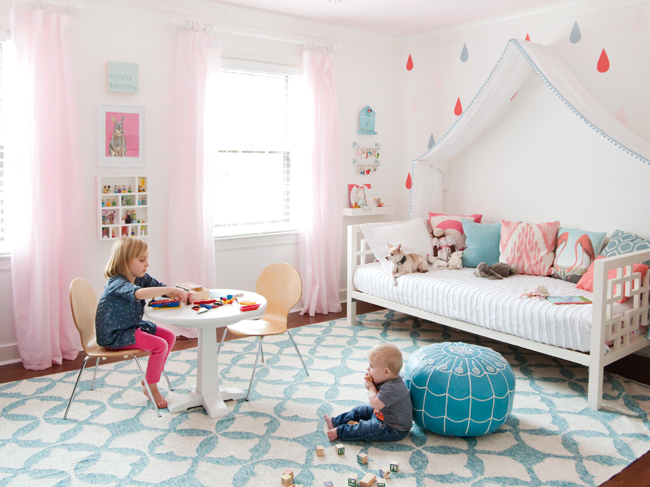 Now let's turn our attention to the other side of the room. It initially looked like this, since she still slept in a crib for the first several months that we lived here. We expected her to make the transition to a bed long before our move (we had a daybed set up and waiting for her in our last house), but she surprised us all by happily sleeping in a crib until she was three and a half!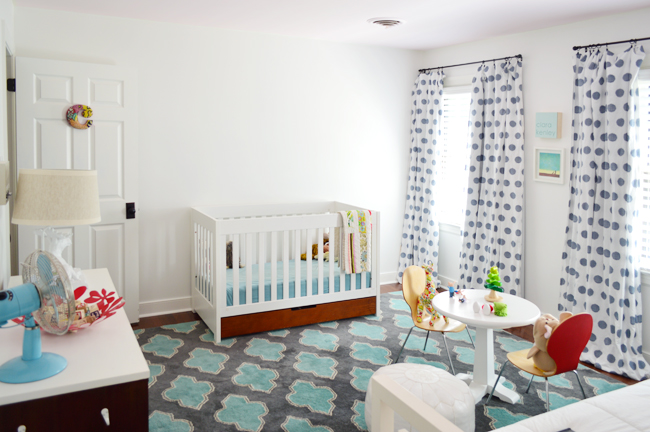 Once the crib was no longer needed we moved her dresser over there, which was a piece of furniture that we refinished to act as a changing table for her original nursery in our first house. It has served her well for all 6 years of her life and transitioned pretty seamlessly. We hope it's still going strong when she's a teen (three cheers for old furniture that's built to last).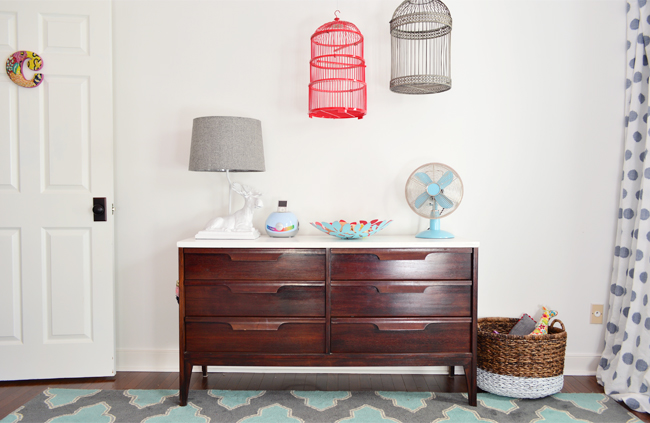 It also probably bears mentioning that this wall served as a demonstration surface for a stenciling project that we detailed in our second book. We loved how it turned out, but it didn't exactly go with the raindrops on the opposite wall, so we let Clara decide which wall she wanted to keep (she voted raindrops, so the stencils got painted over).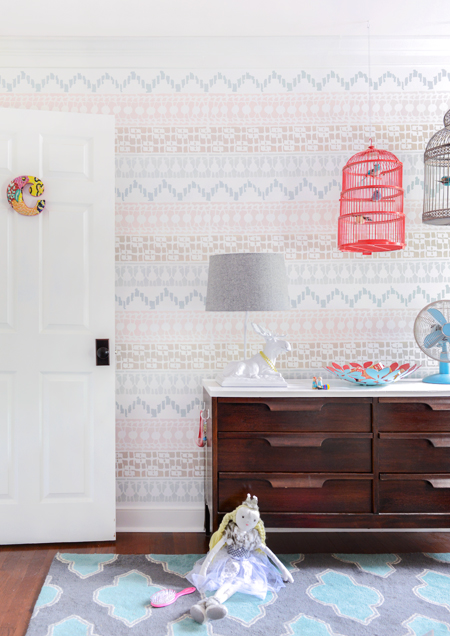 These days it's looking a bit more like this. The dresser's still there, but with the new rug and a little lampshade update (I painted an old white one we had with a soft watercolor technique – just completely wetting the fabric with a paint brush first and lightly brushing some light blue fabric paint on it). We also added a fun pink mirror that Clara and I were both too enamored with to pass over.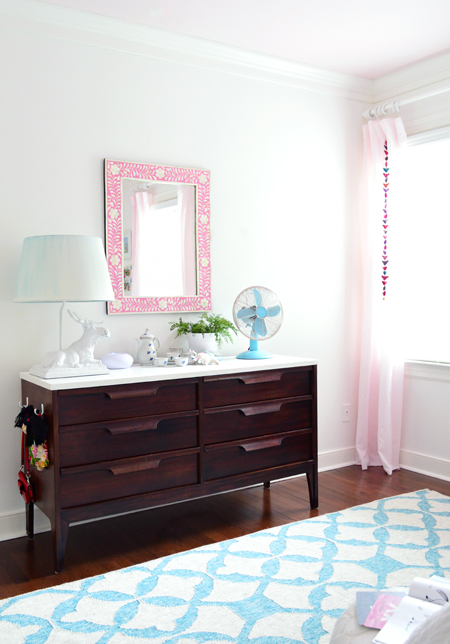 And here's a look at the evolution of this wall, as seen from the doorway. Starting with the crib…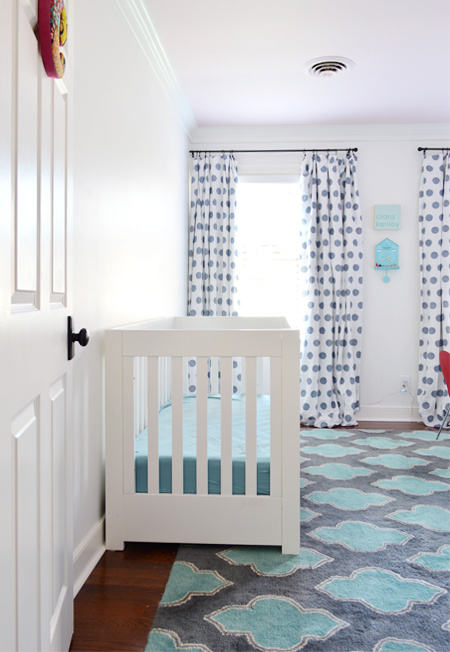 …to the dresser…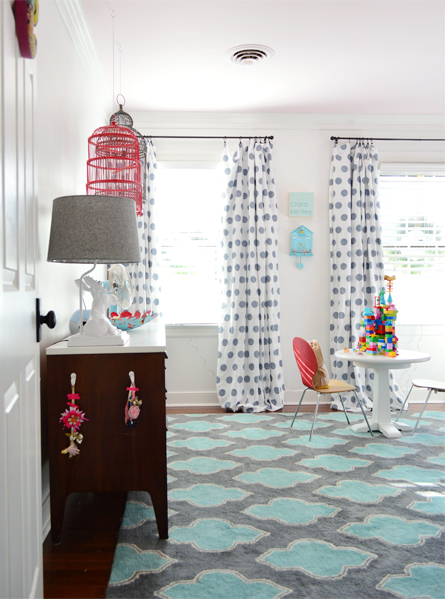 …and now, a couple of years later, with all of our tweakity-tweak-tweaks. (Sidenote: how cute is that doll bunk bed we made this past Christmas? It's hilarious to see different things get tucked in each night, like trucks, drawings, and paper towel tubes with faces drawn on them.)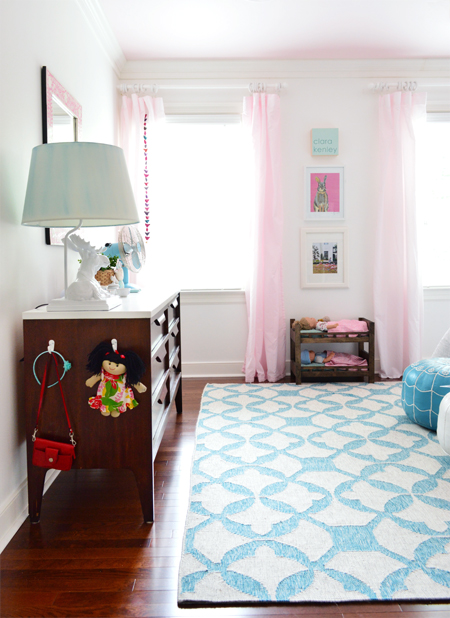 The other main wall is the one next to the door, which also underwent its own old gradual transformation. Once the dresser moved to the wall where the crib was, it became home to her play kitchen and fridge…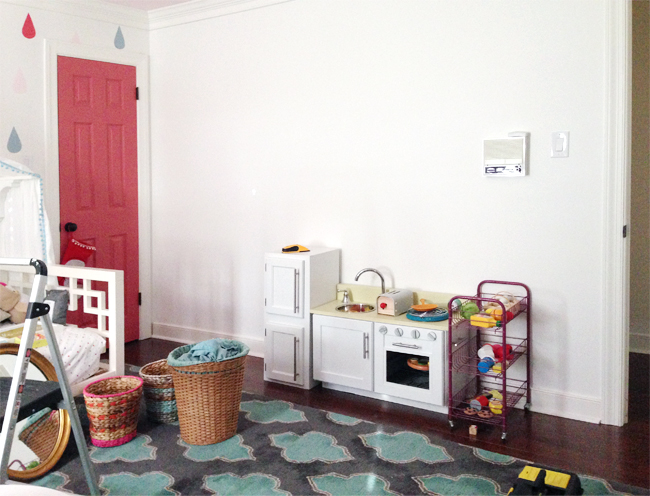 … which eventually got an upgrade with art, shelves, and a mirror.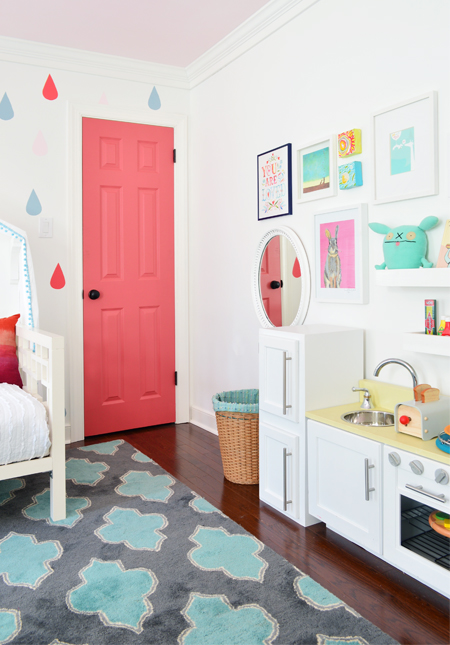 As her need for book/toy storage grew, we used a mudroom bench and constructed a grid of cubbies on top (another project featured in our second book). The drawers store dolls and doll clothes, the baskets are filled with Legos, and the open storage up top is for books and other random play things.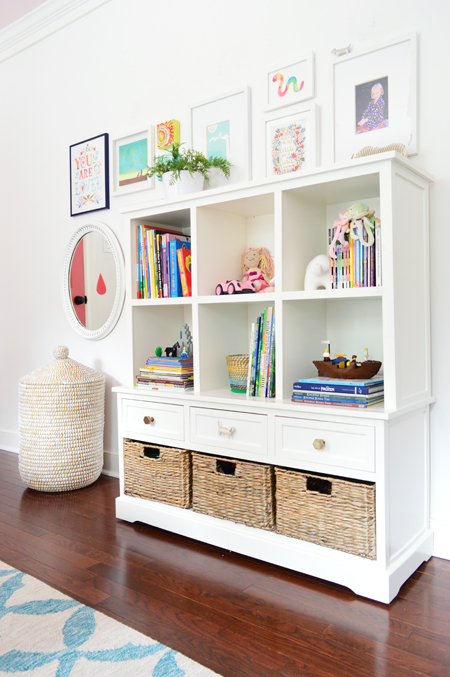 And finally, the latest change has been the transition to a full sized bed, which was actually initiated by our girl herself. If we're being honest, we were a little resistant to the whole bed swapping idea (funny how chronic room-tweakers like us can fear change sometimes). We dive deeper into the reasons we came around to it AND the design lesson it helped us learn in this week's podcast episode (#5: The Rug Crime We Didn't Realize We Were Committing), which you can listen to on iTunes, Google Play, or Stitcher. And if you need help getting started with podcasts (they're easy and free!), this post will walk you through it.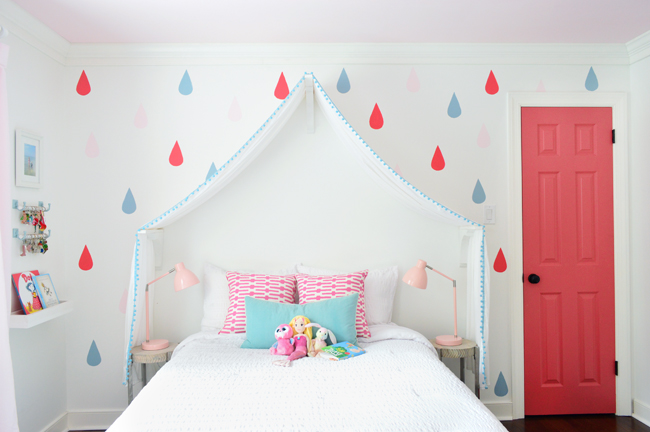 We also added some new side tables and pink touch lamps, both snagged on a 20 minute run through Target in hopes of surprising her with the new set-up before she returned home from school one day last month. She loves tapping them on every morning and off at bedtime with a flick of the wrist.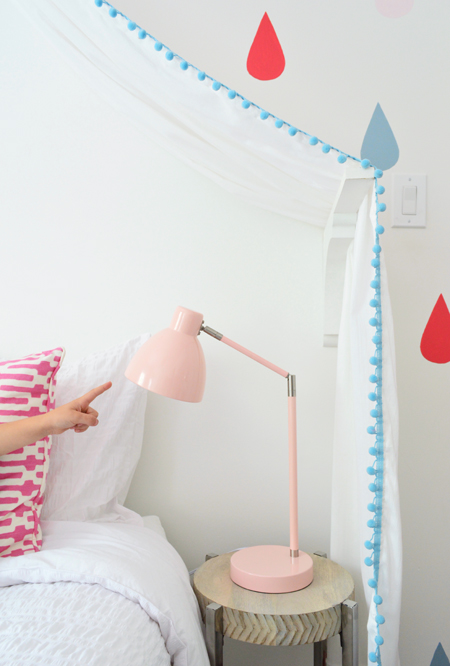 Oh and back to the curtains. They were just simple white Ikea curtains that I dyed a soft pink color by filling the tub with water and adding only half of the powder in one packet of Petal Pink RIT dye, and putting all four panels in there to soak for around 5 minutes. Just using half a packet along with so much water for all four panels made it a light whisper pink tone, which looks really nice with the pink ceiling and the white walls. Not too bold, but still cute and playful – especially with a little $6.99 strand of birds that we hung on one side. We also bought some chunky white wood curtain rods (from Home Depot or Lowe's – can't remember) because the dark bronze rods we had in there before were feeling heavy.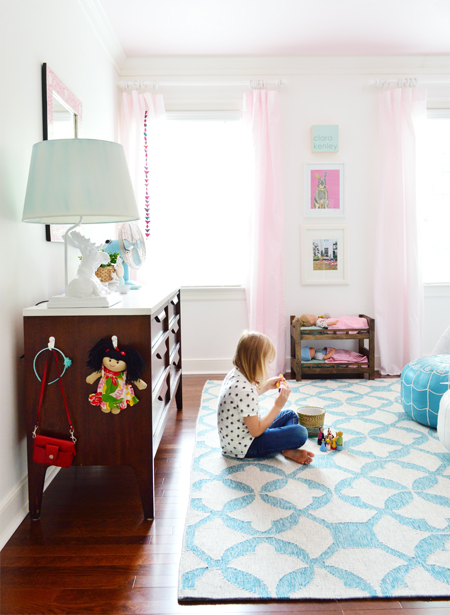 We put the white pouf and the blue pouf that seem to migrate around our house at the foot of the bed to help Teddy & Burger hop up for snuggle time (you can see them in the pic above). And for anyone looking for other items in the room, here's the pink bunny print on the wall (seen above) and similar pillows, curtains, and bedding.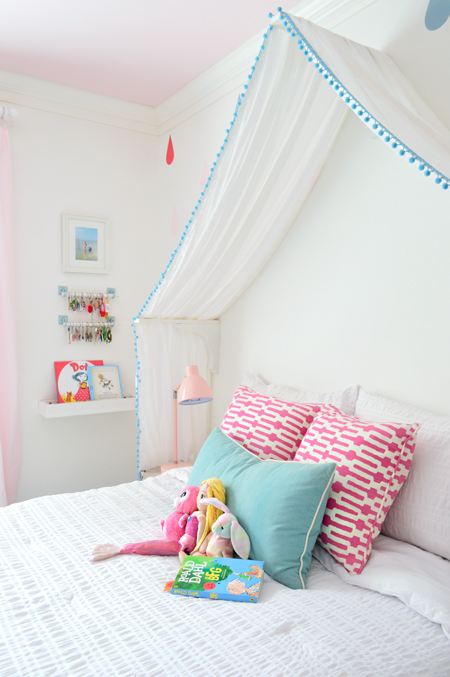 That basket you see in the photo below (next to the bookcase) is the hamper, snagged from HomeGoods a while back.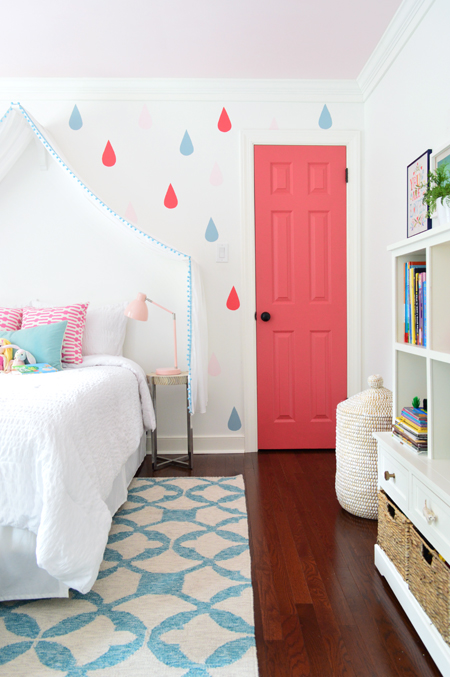 As for the art, we have loved filling that wall up with colorful prints and fun quotes. Here's the You Are So Loved print by the amazing Katie Daisy. And here's that awesome Dorothy print that we bought through Society6 (it was done by a friend of ours, who made it out of sequins!). There's also a super cute print that's just out of frame that says "Though She Be But Little She Is Fierce" that we bought on Etsy.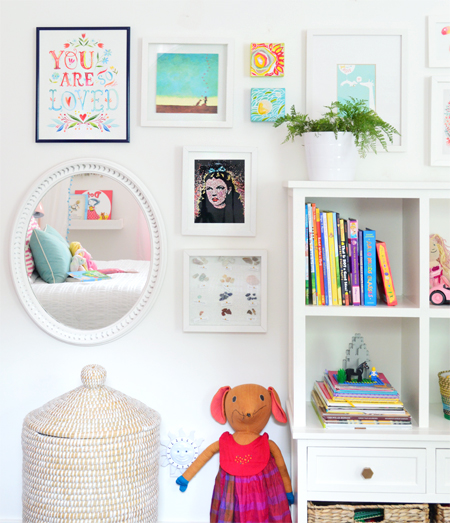 Oh and see that sun thing plugged into the wall next to her hamper, above? That's the most genius thing ever that glows blue (like a moon) when it's time to sleep, but glows yellow (like a sun) at a pre-programmed time each morning, which we've taught her is the signal that it's okay to get up and play in her room. We bought ours on Amazon a few years ago and can't find it there anymore, but here's something similar.
So that's the coming of age tale of a little girl's bedroom. Pretty sure it'll keep on changing as she grows. I'd love to add a little vanity and a mirror to the back of her closet someday when she outgrows her dollhouse (*sob*).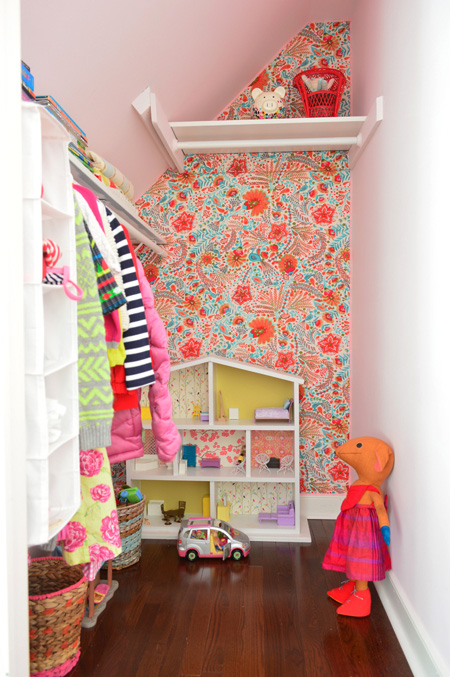 And I'm already eying that big wall behind the bed and thinking that a headboard would be a nice little addition (bad photoshop below to demonstrate).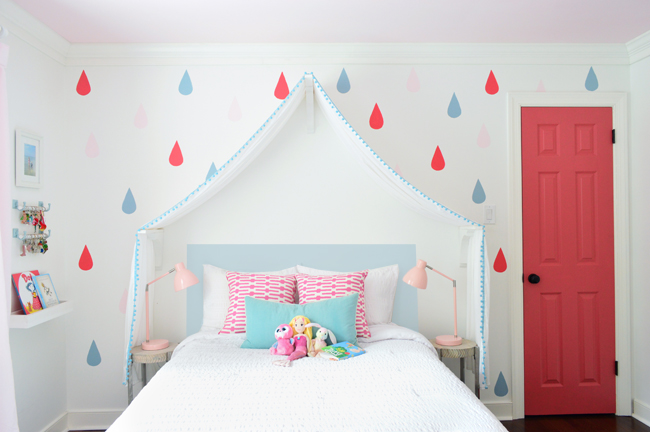 Psst- If you're looking for paint color info or where we got something in our house, this page is full of all the details for you, including links to some of the exact items we've purchased.
*This page contains affiliate links