The bookcases in the nursery have officially been filled with board books, toys, stuffed animals, framed prints, and a few other random bobs and bits that I hope our little man will love feasting his eyes (and mouth?) upon. You know, in the case of those gummy blocks in the bottom right corner of this shot that Clara loved chomping on. Of course we still have a bunch of bigger toys, puzzles, and games that will probably get stored in baskets or some sort of cubby system in another area of the room, but it's nice to have some fun kid stuff on the bookcases that's easy to grab and gaze at.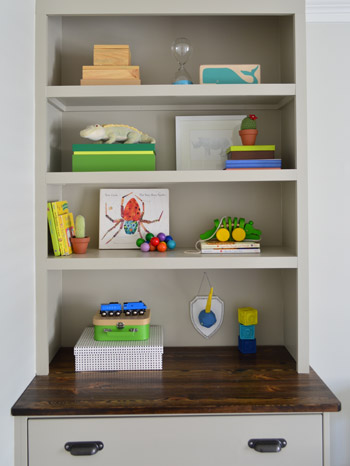 This is the built-in to the left of the crib, which Clara helped me fill by offering up all of her baby books to "my baby" as she sweetly calls her brother on the way. She is well past the board book phase, so I was especially grateful that she wanted to hand them down as opposed to suddenly wanting to hoard them even though she doesn't read them anymore. She even brought in a few of her stuffed animals that she thought he'd like (two gators and a monkey).
Obviously these shelves will evolve as he grows and we get more items just for him that are based on his interests, but I did grab a few boxes from Target, like the three-tone green one below. Just to store things like crayons, blocks, and other small-scale games that feel more organized when they're corralled.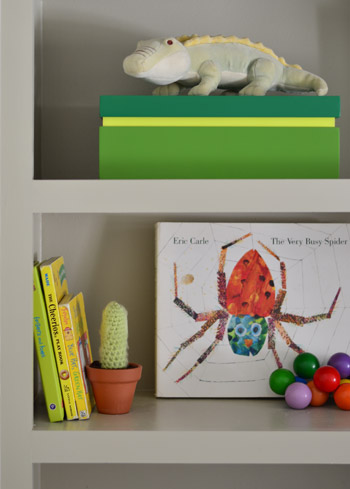 That crocheted cactus above makes me smile. Isn't he cute? We bought three of them a while back at a holiday craft fair here in Richmond and I was so excited to break them out as some can't-kill-it-if-I-try greenery for his room.
Here's the bookcase to the right of the crib: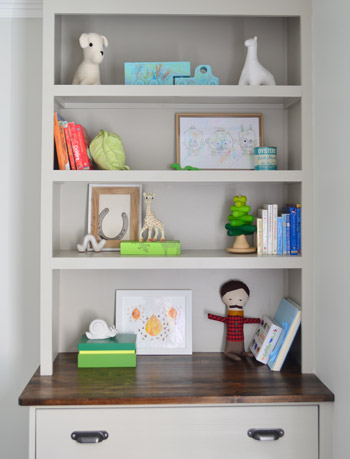 That three-toned tree was one of Clara's favorite stacking toys when she was younger, so I was thrilled when she said she thought her baby would like it. She also dragged her blue crayon-truck out of a basket and said it was for the baby now (she's more into markers these days, but the gesture was still pretty touching since she colored that herself a few years back).
She also picked out the mustached man-doll for him at a recent craft fair, so I lifted her up so she could do the honors of placing him on the shelf next to a box of flashcards and a cute cloth covered photo album.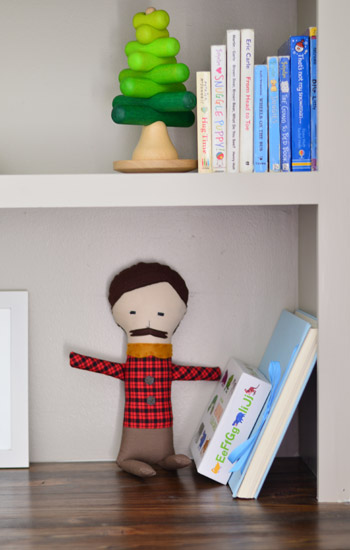 Another one of Clara's "creations" for her brother's space was this robot print that she colored a few years back (it used to hang here in our last house's hallway). We were going through frames in the storage room together and she said "he's going to like this one – can we use this one? I made it just for him." Regardless of the fact that she colored it well before he was conceived, it's the thought that counts, so onto the shelf it went. Along with a random teal oyster can that I found at an antique shop this summer (it feels like a cheeky nod to the whole barnacle nickname that Clara came up with this fall).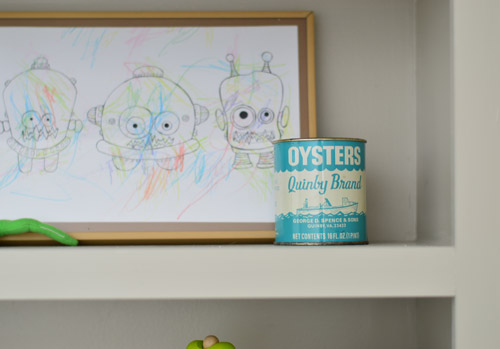 Besides going through old baby items and buying a few new things like those Target boxes, and the mustached man-doll, Clara and I also had fun making a little art project for the bun. Ladies and gentlemen, allow me to introduce Norman The Narwhal. He's FAR from a perfect specimen, but it was the sweetest project to do with Clara and I think I love him more for his handmade wonkiness than anything else. Dude has some serious character going on. So let's file this under "made by a kid with a little help from mom for her baby brother."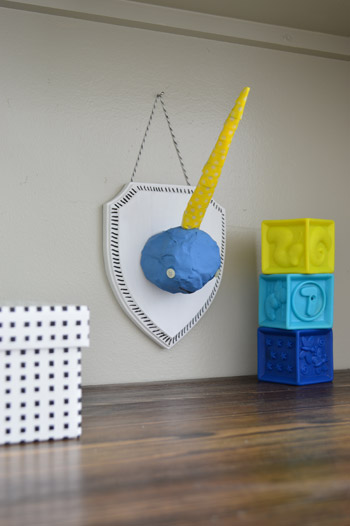 Here was our inspiration (which is nowhere near as wonky, and very charming indeed), and here's how Clara and I had fun subbing in paper mache for a styrofoam ball, made the horn a different way, used buttons for eyes, etc.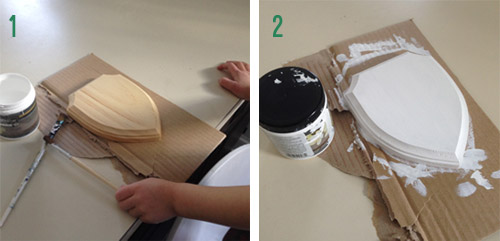 1 & 2. First we picked up a small wooden craft plaque from JoAnn for around $3 with a coupon, and we had fun painting it white together.
3 & 4. Then we made waaaay too much paper mache (seriously, it was a comically large batch) by adding water to flour and stirring until it thickened up. Clara LOVED this part, hence the comically large batch. She kept wanting to add more water and more flour and "stir, stir, stir" things up.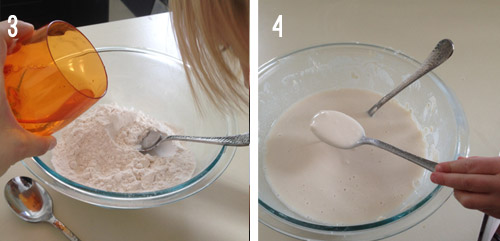 5. Next we used some newspaper to make our narwhal face, which was essentially just sort of a rounded blob of paper squished up and covered with paper mache with a flat back so it could sit against the plaque. We used small strips of newspaper coated with paper mache over our ball of crunched up newsprint to get it as smooth as possible on the surface, but that's sort of a relative term since it's still quite a lumpy little face that he has.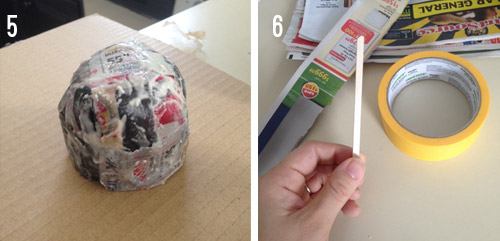 6. We used an old wooden dowel that was about 5″ long to create the horn.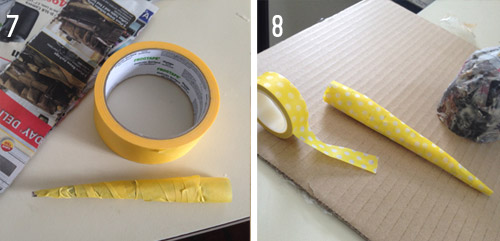 7 & 8. First I just wrapped it with painters tape (using more on one end than the other for that tapered shape). Then I covered that with yellow polka dot washi tape that I had on hand, just because polka dots are cute and our inspiration narwhal had some pattern going on with his horn. We used a coat of matte Mod Podge over the whole thing to keep the tape in place and protect it a bit more (Clara loves Mod Podge and calls it Pod Modge, which makes me think of Padma Lakshmi for some reason).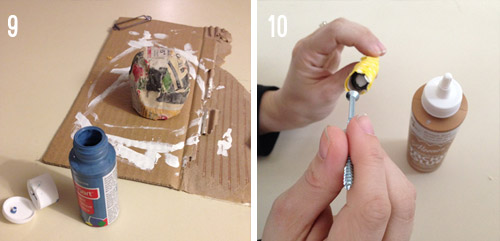 9 & 10. When the paper mache narwhal face was dry, Clara helped me paint it blue with craft paint. I also used Aileen's Tacky Glue to secure a screw to the inside of the dowel of our horn, which we let dry for a nice long time.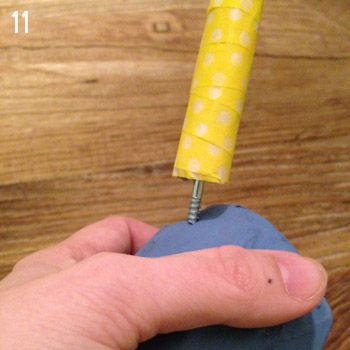 11. Once our narwhal face was dry and the glue for our screw had cured up, we could screw it right in for that horned look. I even made a small pilot hole with our drill to get things started (Clara LOVES anything drill related, so this was a thrilling step for her as well).
Then we searched the house for some small round items to use as eyes, came up with some old pearl colored buttons, and drew a little smiling mouth with a sharpie as well as drawing some little black lines around the frame of the plaque. I did that while Clara watched and counted (she'd get to about 30 and then start over, which was pretty cute). And finally, we just used some black & white twine from the craft closet to create a little hanging device (one small picture nail easily holds this baby up).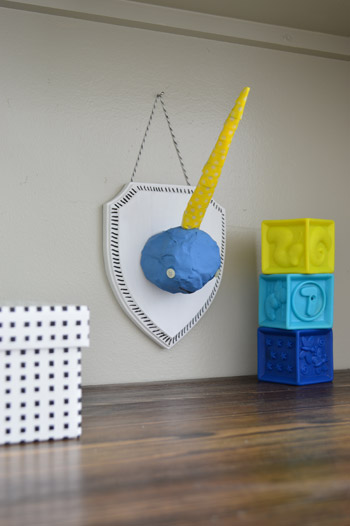 Over the years I've been asked if I think obviously fake creations like these (or a ceramic ram head, or a cardboard deer head) might glorify the act of mounting an actual animal head. I'm sure everyone has different opinions about this (it's such a highly personal thing) but I've thought about it for a while, and I don't believe faux taxidermy makes any sort of pro-real-taxidermy statement. To me, it's just like using faux sheepskins in our house instead of real ones, or how people might buy faux fur coats. Another example would be how animal rights activists like Stella McCartney will design things with faux leather (real leather = against her beliefs, but she'll use the imitation to make a statement that there are great alternatives to the real thing).
Now I'm excited to start in on some other personality-adding details, like a pair of colorful curtains, and a large-scale mobile for over the crib. And of course we have a whole blank wall across from the crib to deal with, where we think we'll add a cubby-type cabinet for toys with a changing table on top and our bike art hanging above it – along with a bold green closet door.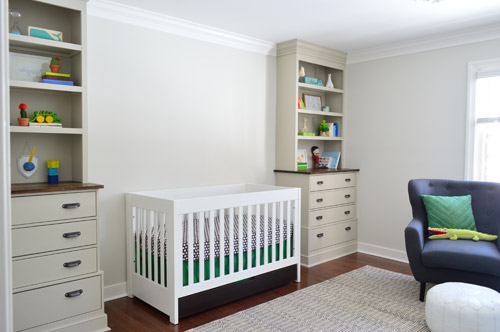 But going back to that "large scale mobile idea," this is just some bad photoshop, but I have an old manzanita branch that I think could be fun with lots of colorful shapes hanging off of it at a ton of different lengths and depths.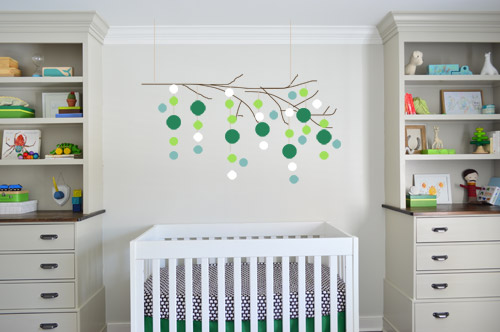 So those are next on the list. What are you guys up to when it comes to bookcase-filling and art-making? Anyone else breaking out the paper mache? Clara kept trying to eat it, which was both comical and surprisingly ok (it is made from flour and water).
Psst- To see our nursery progress from the very beginning, here's the planning and rug-buying post, the dresser-sourcing post, the wall and ceiling painting rundown, the first half of built-in building, the second half of the built-in project, and how we added crown molding and a homemade crib skirt.