When we last shared our hall bathroom adventures, we had removed the old wallpaper and were left with this: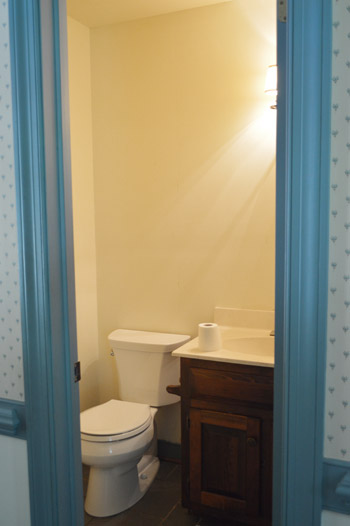 Not only were the yellowed walls crying out for a fresh coat of paint, the mirror had some functional deficiencies. As in, John couldn't see his whole face when he looked into it. Just about anything from the nose up was cut off, so while he could still perform is-there-something-in-my-teeth checks, if he was having a Something About Mary hair moment (uh, but not for that reason) he wouldn't have even known.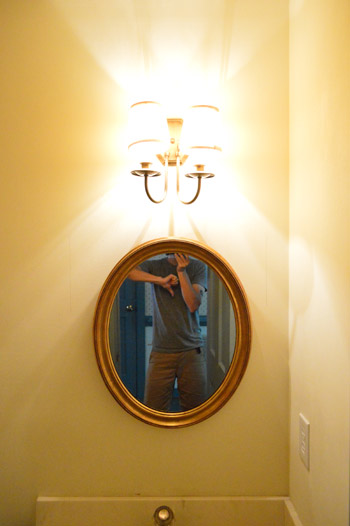 Beyond having a too-small mirror, the other issue was that the light fixture drooped about 8″ from the area that it connected to the wall, so a larger mirror would be hard to cram into that space without bashing into the… legs?… of the fixture.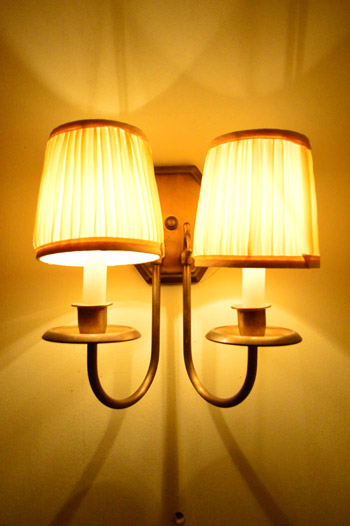 What did we do? We turned our frown upside down. Along with the light fixture. It's definitely not a permanent solution, but that in-the-meantime 180 degree spin freed up a lot more space to hang a larger mirror that we grabbed at HomeGoods. We love the shape of the mirror and aren't sure if we'll paint the distressed silver-ish frame down the line, but for now it's a huge improvement just to see full faces. Look how much more of John you can see when he's standing in the same spot!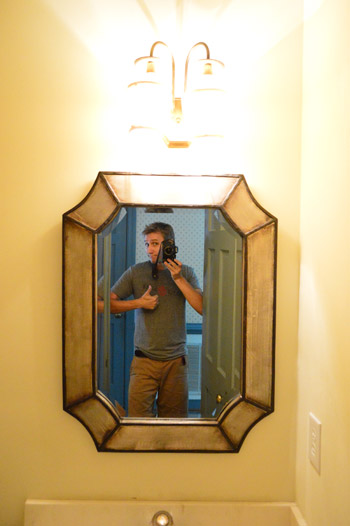 We also made a few other quick updates, like removing this wooden toilet paper dispenser that we plan to replace with a simple oil-rubbed bronze one.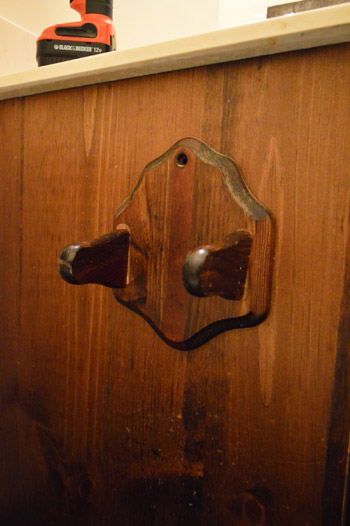 Then it was time to do something about the blue trim that ran around the bottom of the room and the bathroom door frame, so we taped off the slate to protect it.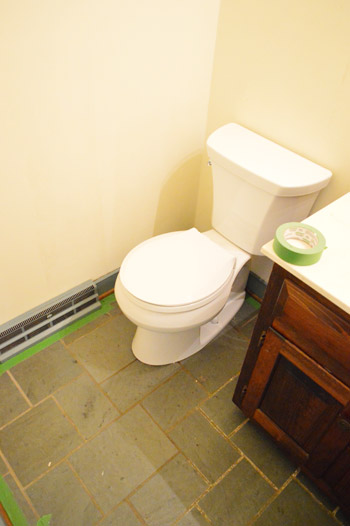 It took four coats (two of primer and two of paint), so this is after about two primer coats I think.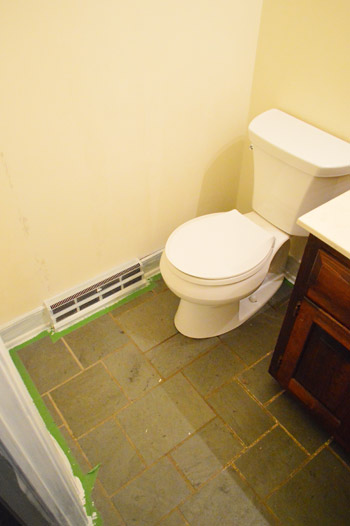 While we were priming and painting, we decided the vanity could use some primer and paint as well. It wasn't great wood (sort of reddish and dulled/scraped in a few areas) and there was an odor issue. As much as I scrubbed it I couldn't shake the scent, but I knew a nice coat of odor-blocking primer + paint would do the trick. I also thought it was a fun opportunity to bring some color into the room with a bright coat of paint on the vanity, paired with clean white walls. Sort of like this.
So on went the primer to the vanity as well as the trim (I did two coats of it on the inside as well, just to squash that smell issue once and for all). This picture is just of the first coat I think though.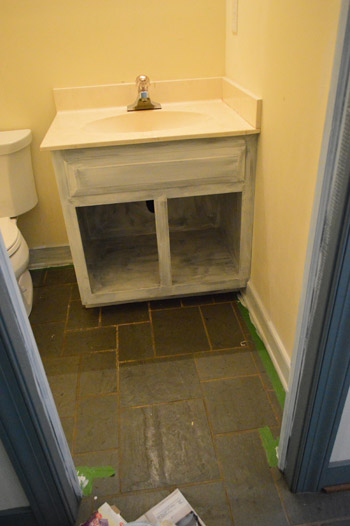 Then it was onto those two coats of paint (this is coat #1). We used Simply White by Benjamin Moore in semi-gloss since we loved how it came out on the trim upstairs that we already painted.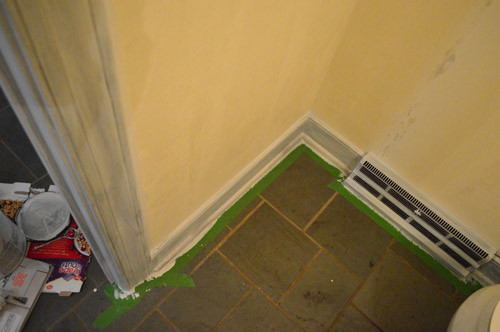 We painted both the walls and the ceiling the same white tone (Simply White in an eggshell finish to allow the trim to look glossy by comparison). I cut in and John rolled.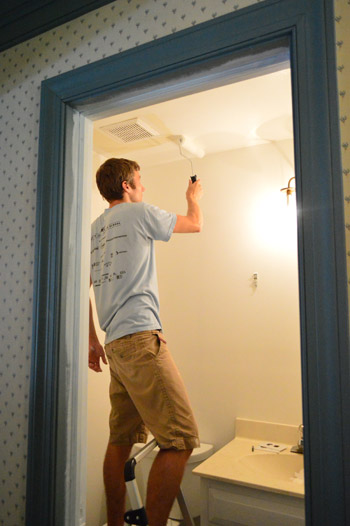 Two coats and a day later, we had this…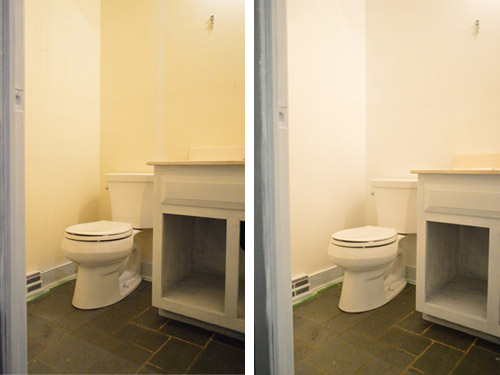 In person it's a nice clean-feeling difference. And although white is certainly more classic than risky, we think it'll be fun to bring in color with art and a brightly colored vanity instead of just defaulting to putting color on the walls.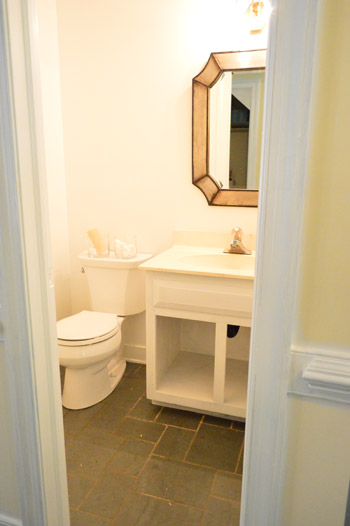 We'd still love to update things like the light and the sink along with possibly doing a more major upgrade down the line (grasscloth wallpaper? tiled accent wall? pedestal sink?). So you could call this first take on the hall bathroom Phase 1, which will just be a combination of a few cheap tweaks to make it more comfortable to live with until we save some money for a more "deep tissue" update later on.
It's definitely a far cry from what we started with a few weeks ago already…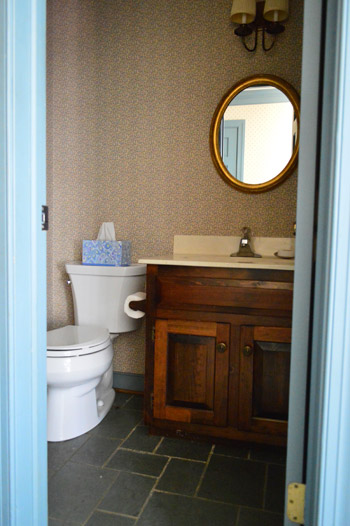 Oh and you'll notice in that second to last picture that we've started stripping some of the wallpaper in the foyer as well as attempting to de-blue all of the trim out there, but it's taking forever (this time we discovered a second layer of wallpaper and of course that crazy trim takes four coats) so we hope to be back with an update on those projects someday. You know, if we're not found hiding under the table muttering "blue trim…. blue trim… it's haunting my dreams… it's eating my soul…"
*****************************
P.S. Last night I quickly snapped this instagram picture on the way back from our evening walk, and it one captures the green undertone in our teal door so it finally looks like real life. Leave it to the ol' cell phone to take a more accurate picture than the fancy camera. #nofilter #instagrambeatsDSLR