The combination of all this nice weather and hosting Clara's party outside have us back on The Outdoor Update Train. Chugga chugga, baby. Just picture me wearing spit-up-stained overalls with a striped hat to shade my mom-to-an-adorable-baby-who-wakes-up-all-night eyes. It's particularly exciting because we worked for a few months last year to renovate the sunroom by ripping up the old carpet, removing the old broken doors, lofting the ceiling, getting some electrical work done, installing a plank ceiling, hanging two fans, and tiling the floor. There's currently a daybed out there (an indoor daybed from West Elm, which has no long-term business being outside) along with an ancient Ikea coffee table. And two of our dining room chairs haven't made it back inside since the birthday party.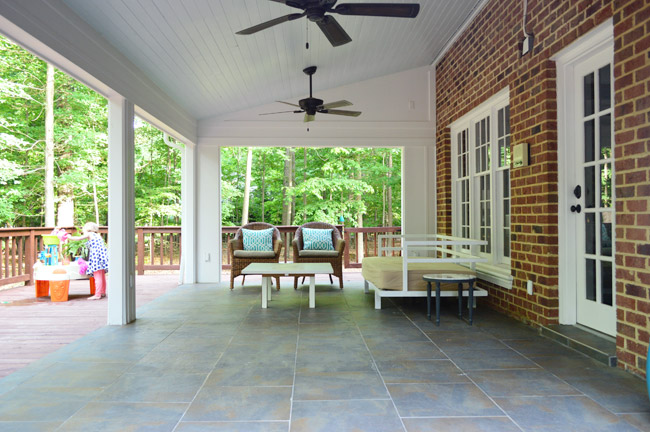 We stole those two chairs, plus four of their brethren from the dining room for extra party seating (they're outdoor chairs from Target) – and seeing the space filled up with all that temporary/borrowed/mismatched furniture really got us craving some more permanent pieces out there. And so the hunt for an outdoor sofa began.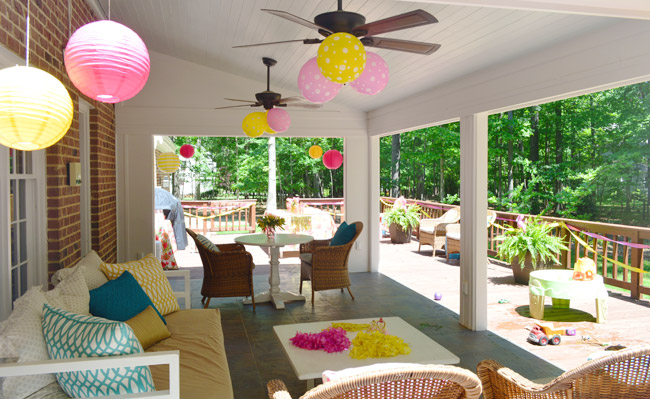 We figured that buying the biggest piece first would help us determine what other items we'll need to fill things out. And since we already have a dining table with an umbrella on the deck, we thought a cushy lounge area in the shade of the sunroom-turned-veranda was in order. We knew we wanted that woven wicker look over something wooden or metal (we both fell hard for the Arhaus furniture at the showhouse, but it was more than we wanted to spend). We also wanted Sunbrella fabric, which we hear is super durable and long-lasting, so here are a few of the things we checked out: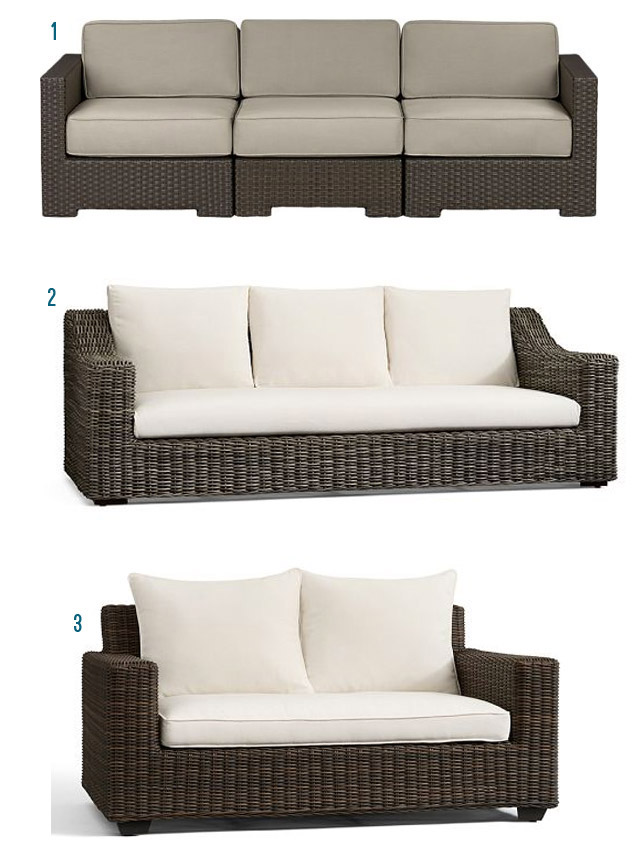 1. We liked the look of this sofa from Crate & Barrel, but we heard from a few friends with similar sofas that two-piece or three-piece bases can drift apart, so we'd rather have a sofa that's all one piece. We did like that it came with Sunbrella fabric, and we appreciated that it was on sale, although it was still $2,222.
2. This Pottery Barn couch looked amazing to us. So luxe and cushy. When we first saw it, it was selling for around $2,000 I think – but it was $399 more to upgrade to Sunbrella fabric – and now it's no longer available. Womp.
3. This is another Pottery Barn option that's still available, but the $1,400 version (pictured above) is more of a loveseat. Our space would need the larger $1,800 option, but neither of them came with Sunbrella fabric, which was an additional upcharge of $300+.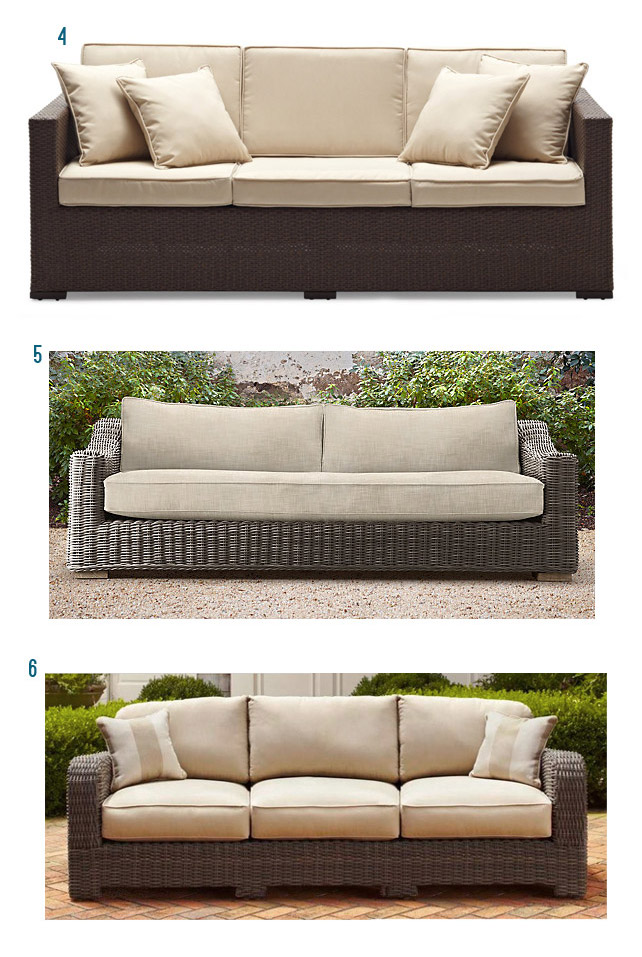 4. We saw this one on Amazon for $489 (so much cheaper than the others!) with a really promising 4.5 star rating. I excitedly read about how much people loved it… but then I discovered the one star reviews from people who had theirs for more than one season. Apparently the wicker fell apart after one summer of use for a number of people. Another womp.
5. We've seen this baby from Restoration Hardware in the showroom and it's gorgeous! But the fact that it's sold without any cushions (it's $1500 for the wicker part and an additional $555 for the Sunbrella cushions) was kind of a bummer.
6. We had also been eying this one from Home Depot since hearing awesome things about the brand (Brown Jordan) having a really well made product. It comes with a 15 year frame warranty, a 5 year fabric warranty, and free white-glove shipping (they carry it wherever you want it and unwrap it/place it for you). We also appreciated the $1,399 price tag and the fact that it comes standard with Sunbrella fabric.
While on our little sofa hunt, we also checked places like Craigslist, Joss & Main, Overstock, Hayneedle, and Wayfair but didn't see anything we liked as much. We really appreciated being able to see as many of our options in person as we could – just to make sure they were comfortable, not too low to the ground, and the fabric wasn't scratchy. In fact, when we stumbled upon a floor model of the Home Depot/Brown Jordan option (technically it was the chair from that set) it pushed us over the edge. It was comfortable and it looked great in person. Boom, this guy was on his way to our house: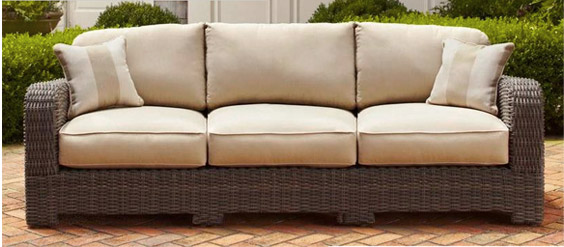 Although the price is nothing to sneeze at, we hope that it'll be a nice long-lasting choice for us, which is the goal with the sunroom (there's no Phase 2 out there). Its arrival should be the kick-start to some other updates that we've meaning to get going on back there, like making a coffee table, installing some sconces for lighting/ambiance, adding an outdoor-friendly table to fill out the other side of the space, and introducing some finishing touches (potted plants, side tables, etc).
Until then, you can find me standing in the driveway holding an adorable baby and waiting for the delivery truck. Really, I need to calm down.