Just when you thought we were all painted out on Monday, I'm back with another painting update. With this bun of ours arriving in five short weeks, it's lighting a "paint all the things!" fire under my rear. I know that being laid up with a c-section will mean staring at all of the not-done things on the ol' to-do list, so humming through a few of them before the little man is here will hopefully put my nesting slash home-making mind at ease. So we set our sights on the upstairs hallway.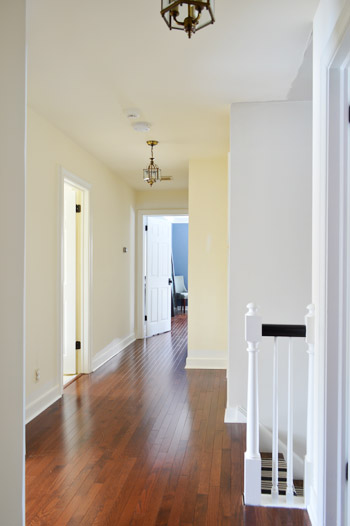 It connects so many rooms (the nursery, our room, the hall bath, Clara's room, the guest room, the laundry, etc) that we thought it would be a nice "bang for our buck" spot in the sense that we walk through it ten million times a day, so we'd notice a nice fresh paint job.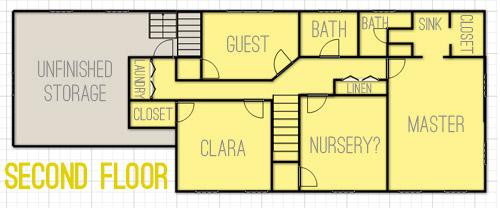 You know, instead of seeing the same over-sprayed edges from painting the trim back in May of last year (has it really been that long?!).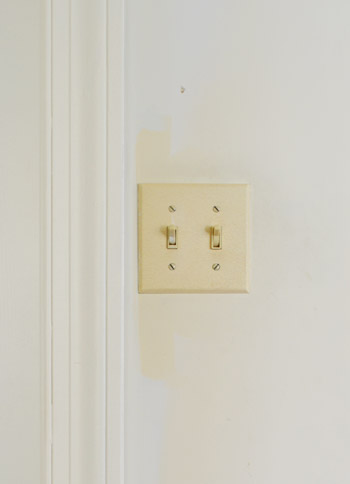 It also connects to the stairwell that we painted back in November, and the foyer that we painted last July. So when we picked that color for the foyer (Edgecomb Gray, which reads more like a soft tan color in our house then an actual gray), we selected it knowing that it would travel up the stairs and eventually grace the hallway up there as well. We like that it's a simple and light neutral, so it won't make the stairs or that interior hallway feel dark, and it allows us to use a bunch of other colors in adjoining rooms without worrying that they'll clash. For example, we have coral, blue, red, and soft pink on the walls (and ceiling) of Clara's room…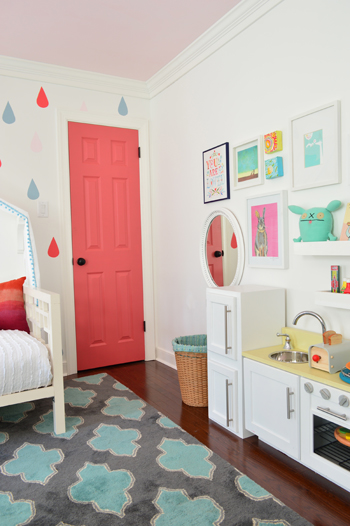 … as well as a deep moody blue in our bedroom.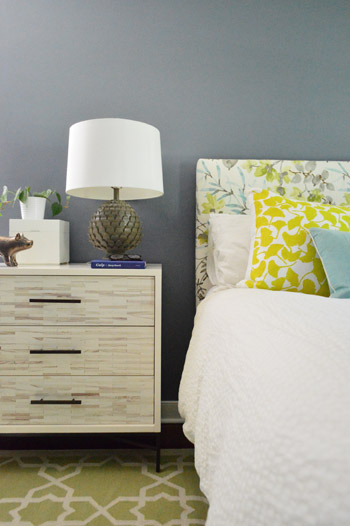 Meanwhile, the walls of the guest room, laundry nook, and hall bathroom up there have yet to be painted… so we also like that the hall color leaves those wide open.
You can actually see where our stairway paint job ended in this pic. Elegant, eh? Look at that line we just randomly painted on the ceiling. That thing cracked me up and irked me all at the same time.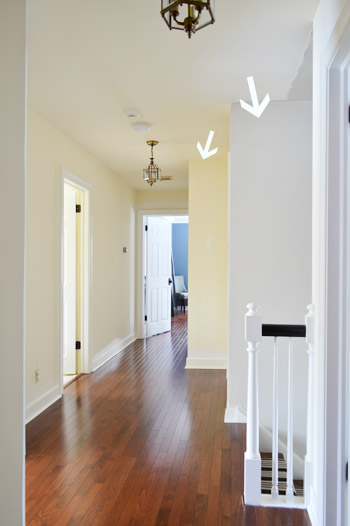 The hallway is sort of like two or three rooms of its own. It's 33 feet from the laundry nook to our bedroom, and there are a whole lotta doorways (eight) and lights (three) to cut in around. I don't usually mind cutting in too much though. It's tedious, but it makes me feel accomplished if that makes sense. As I go I'm all "three doorways down, five to go – turtle power!" I also ponder things like why mashed potatoes and milkshakes have so many calories while things like celery and water have virtually none. Or why there's not one cheat day each year when everyone can magically consume anything they want and not gain any weight. My pregnant mind clearly puts a lot of thought into food.
Clara also got in the action. Not by painting, but by lending positive vibes, singing various Frozen songs, and dancing around with a giant piece of ribbon like a tiny color guard.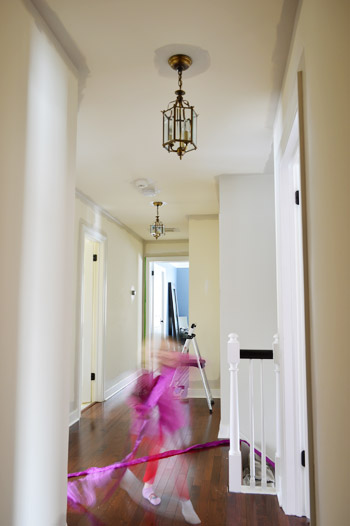 All told, it was around five hours of cutting in across two days (it took two coats) and John swooped in to do the rolling, which also took two coats but went quite a bit faster (maybe three hours total across two days?). I thought of a few painting tips from Chester County painting contractors to share with you guys as I went, so here they are: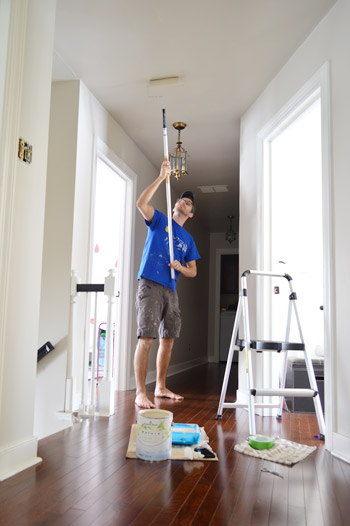 Even if you can reach up and roll the high parts without an extension pole, it's a lot easier on the ol' back if you break one out.
We painted the ceiling the same color as the walls since it's a light color and we wanted that seamless look instead of accenting the ceiling as a separate plane in this case (we also tend to do that in bathrooms).
Try painting with some tunes on to make it go faster (or news radio, or a book on tape, or a tiny dancing preschooler, or some other auditory form of entertainment).
A short handled 2″ angled brush is my favorite cutting in weapon. Seriously, read the comments on this old post of yesteryear to see how many people commented that it changed their life. I promise I'm not exaggerating – it's a huge time saver.
We don't use a dropcloth over hardwoods because seven years of painting have made us pretty neat, and we've found that the occasional floor drip is easy enough to wipe up if it's wet or even pop off with your fingernail if it's dry.
Stop thinking about food. It's weird.
And if you wanna see some of this rolling in action, we made a video of painting our office:
And here's our wahoo-it's-done result: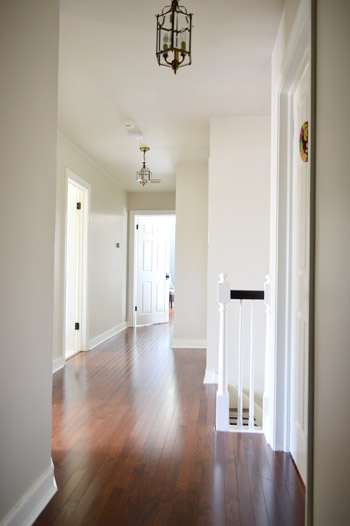 It's a pretty dramatic update from what it looked like back when we bought the house.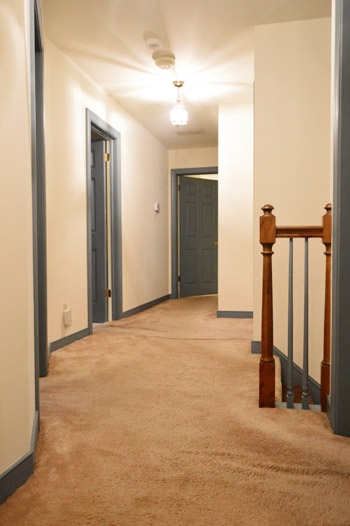 Here's the freshly painted result from the other side (with my back to the bedroom). Ugh, I can't wait to rehang some doors to block our dark little laundry area in the back.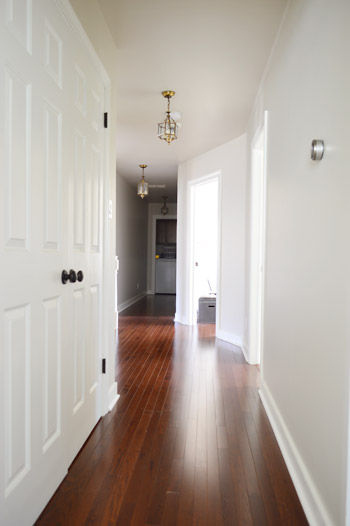 But the view of pretty much everything else is looking a whole lot fresher…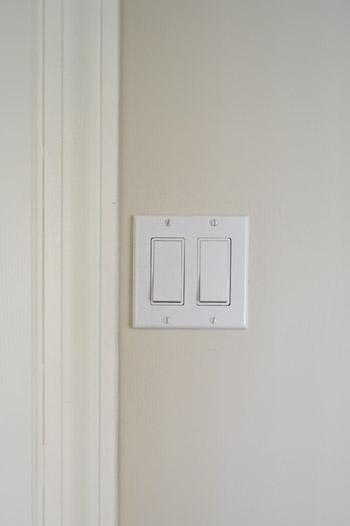 … so we're really glad we knocked it out pre-Barnacle.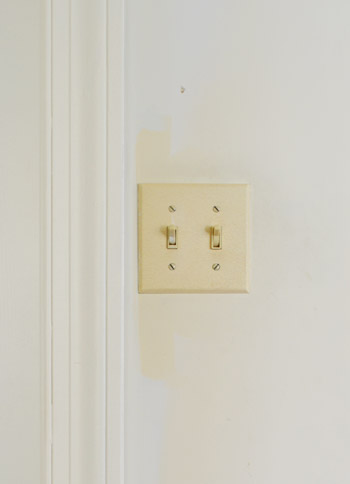 For anyone looking for a tutorial on changing out your outlets, John did a giant infographic about it here. And for here's a how-I-cut-in-without-taping-most-things-off video, from back when we were painting our guest room:
Before I go I thought I'd share all the paint colors we've used in our house to date (along with four that we're thinking about adding). It's fun to compare it to our first whole-house-palette post for this house to see how many are the same, how many are close but not exact, and how many have changed since that was just a bunch of guesses about where we thought we were headed last July.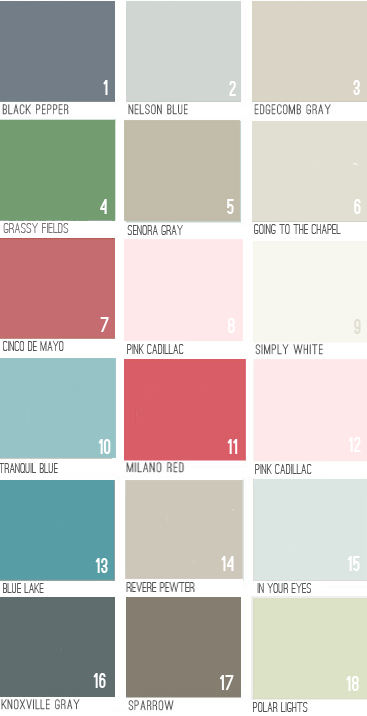 Here's the key to what's what:
Our Bedroom (Black Pepper)
Our Kitchen (Nelson Blue)
Foyer/Hall (Edgecomb Gray)
Possible Nursery Accent Color? (Grassy Fields)
Nursery Built-Ins (Senora Gray)
Nursery Walls (Going To The Chapel)
Clara's Door (Cinco De Mayo)
Clara's Ceiling (Pink Cadillac)
Clara's Walls & Half Bathroom (Simply White)
Clara's Raindrop Color #1 (Tranquil Blue)
Clara's Raindrop Color #2 (Milano Red)
Clara's Raindrop Color #3 (Pink Cadillac)
Front Door (Blue Lake)
Our Closet & Sink Nook (Revere Pewter)
Sunroom Ceiling (In Your Eyes)
Possible Dining Room Color? (Knoxville Gray)
Possible Guest Room Color? (Sparrow)
Possible Office Color? (Polar Lights)
* not pictured: possible colors for the hall bathroom, the laundry nook, and the unfinished storage space since we don't have a clue about those yet
Are any of you guys also on a painting bender? Or just rushing to check other things off before an impending deadline? I gotta say, I slept like a baby after all that edging, and I'm usually an insomniac these days, so it was pretty sweet.