Alternate post title: Paint Me Like One Of Your French Girls. Yes, much like Rose once begged Jack, the dusty blue back of our front door was just begging to be painted (ok, so Rose said "draw me like one of your French girls" but it's close enough).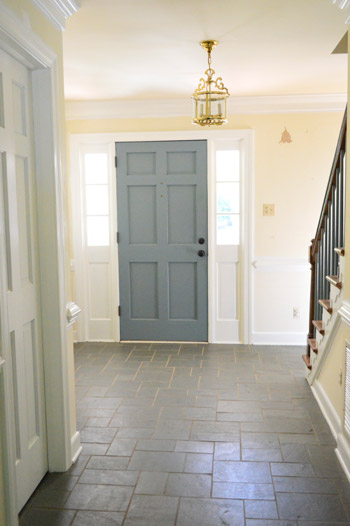 The new paint color of choice? The same happy teal tone that's on the front of it.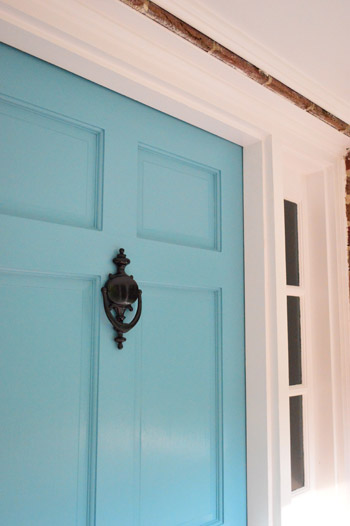 There's no hard and fast rule about carrying the color that's on the front of the door back around to the inside of it (in our last two houses we chose bright colors on the front and plain old white for the back) – but for the first time ever we have sidelights and we want to draw attention to them. So bringing that color into the foyer via the back of the door is a fun way to make that door-and-window-combo into a nice little focal point in an otherwise neutral/classic space. We're going for something like:
You guys get the idea, right? White sidelights + a colored door = true love. And just as you might have guessed, the painting process was extremely romantic. Picture me and the door, just staring into each others eyes – er, panels? At one point there was steam on the sidelights and I slid my hand down it like this.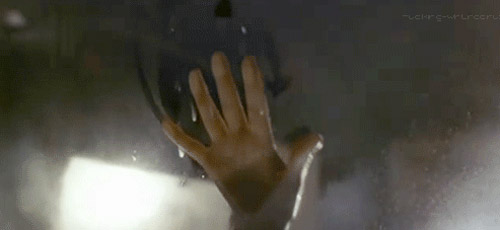 Visit website with painting tips for anyone else who's planning to show their door some love:
If your door is super shiny/glossy (either sealed wood or semi-gloss/high gloss paint) you'll want to use a liquid deglosser to wipe it down before priming and painting, but since our door was chalky and matte to start with, I could skip right to the painting step because we used the same self-priming quart of paint that we used on the front (Benjamin Moore's MooreGlo paint in Blue Lake with a semi-gloss-like finish called Soft Gloss).
Whenever I paint the front or back of exterior doors, my favorite method is to start in the morning so the door can be open (just cracked) all day and has time to dry before you have to close and lock it at night.
I like using an angled brush to paint the entire door – although John loves a foam roller, so it's a different strokes for different folks thing.
I have a certain order that I like for painting doors: first I paint the frames of each raised rectangle, then I paint the inside of each one as you see in the photo below. Then I paint the flat planks around and between them, always going in the direction of that plank (I pull my brush from top to bottom to do the vertical plank down the middle, then I go from left to right to get all of the horizontal slats, and at the very end I drag my brush from top to bottom to do those vertical parts on each side of the door).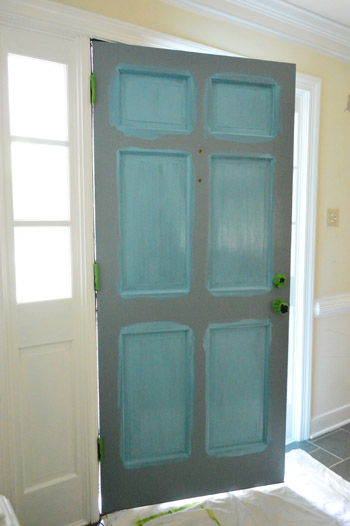 I wait for that to dry about an hour (or two if it's super humid) and then I do the whole thing again, in the same order. Then I just give it the rest of the day to dry and lock it up at night.
I prefer to remove the hardware over taping it off, but Clara was having an off day and I worried it would add more time than I had to spare (I wasn't sure she'd nap for very long) so that's why it's taped off this time, even though we took it off when we painted the front.
When the pheremones cleared paint dried, the back of the door was looking pretty fiiine. Admittedly it looks a little crazy with the yellow walls and the brassy fixture, but we're just getting started in here, so we're holding onto some serious faith that the other dozen to-do list items in here will make more sense of things as we go (remember this old saying?).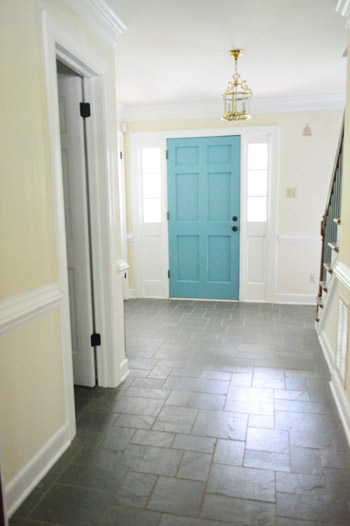 It's definitely a more welcome sight than this before picture though. Ah. We can breathe. And weirdly enough the ceilings feel about a foot taller.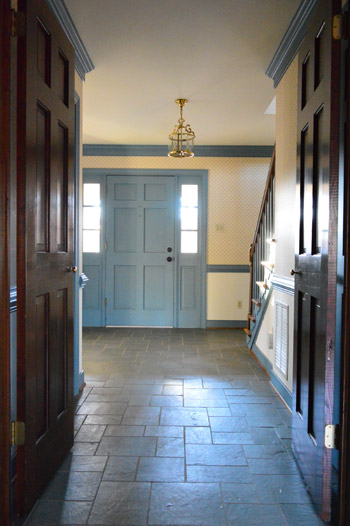 This is my favorite after shot, just because there's a certain man and child that I adore in the background. And those dark doorknobs and hinges aren't half bad either.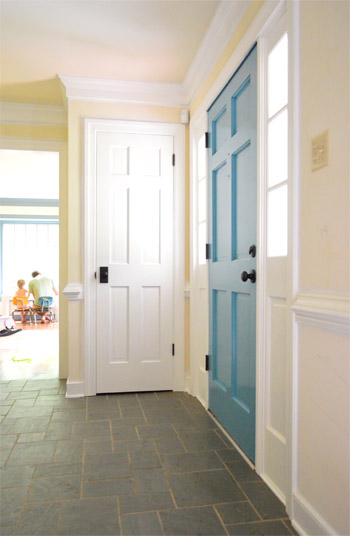 Next up? More painting! We have to pick a color for the walls (we're sifting through swatches as you read this) and still have to finish painting the vanity in the half bathroom as well as – you guessed it! – paint the blue spindles on the stairs. Among about a million other blue-trimmed-and-wallpapered rooms that are on the list. So our fingers might grow around our paint brushes, but they say beauty is pain, right?
As weird as it sounds, the more sweat we pour into this house, the more it feels like love. It's sort of like when you go through a harrowing experience with someone and it brings you closer. All of this painting is pain, but it's bonding us like Jack and Rose.
I'll never let go. I'll never let go…
Psst- Wanna know where we got something in our house? Just click on this button: