For everyone who has been asking for the details on our new coffee table (glimpses of it have made their way into my InstaStories over the last few months – and boy did you guys notice!), I'm finally writing up all the details.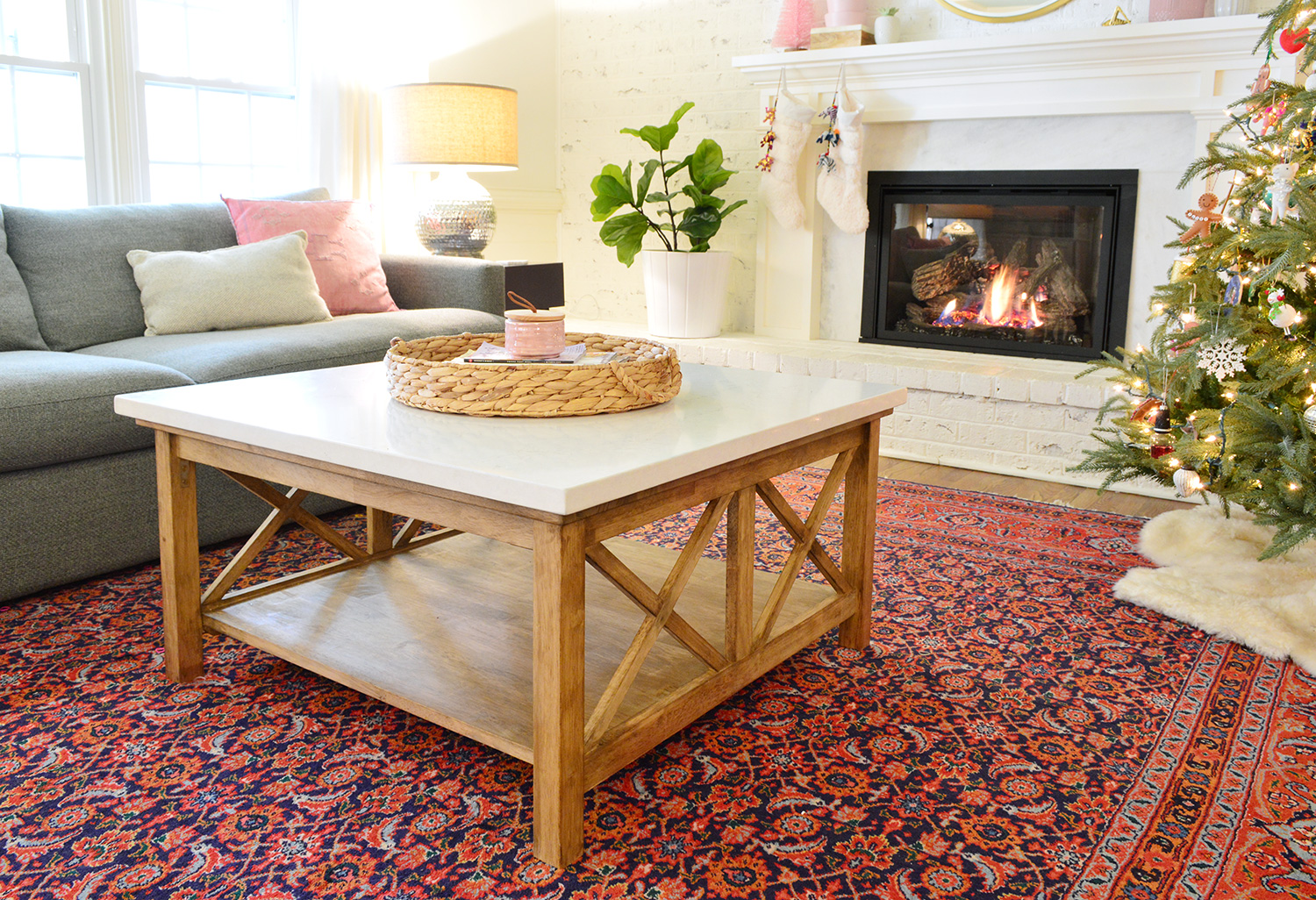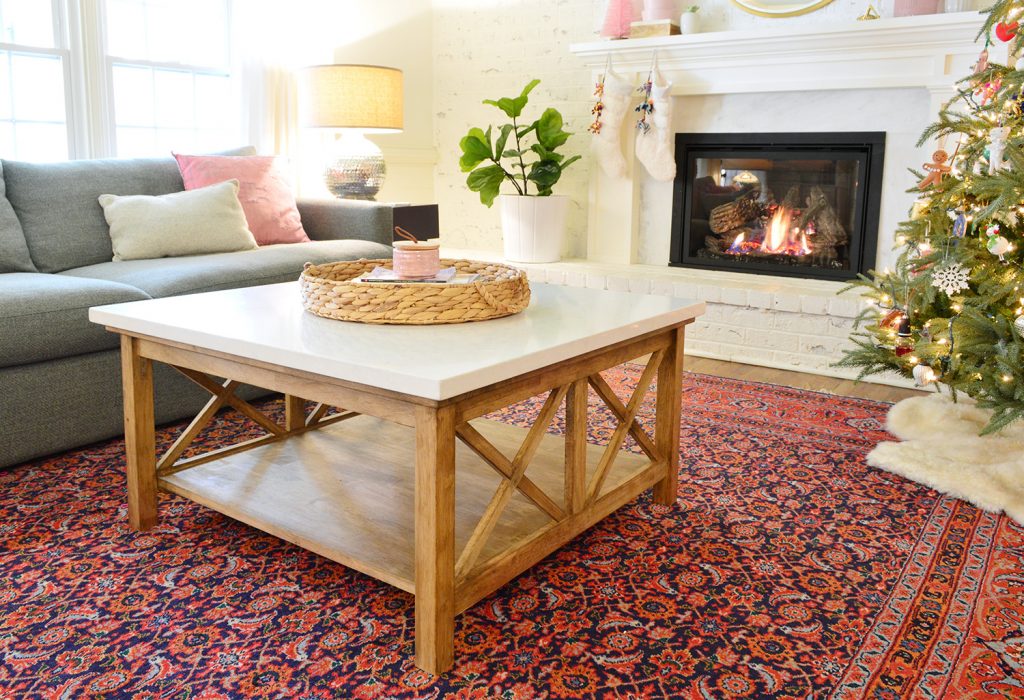 How many words can someone possibly share about the hunt for and the creation of a living room coffee table that checks every one of their oddly specific boxes, you ask? Well, settle in. I shall regale you with a tale of woe and triumph and there's even a random not-sure-it-even-works alien joke worked in there for good measure. Plus I'll show you exactly how to get this exact coffee table if you want to pull this same hack at your house (it is BEGINNER LEVEL EASY).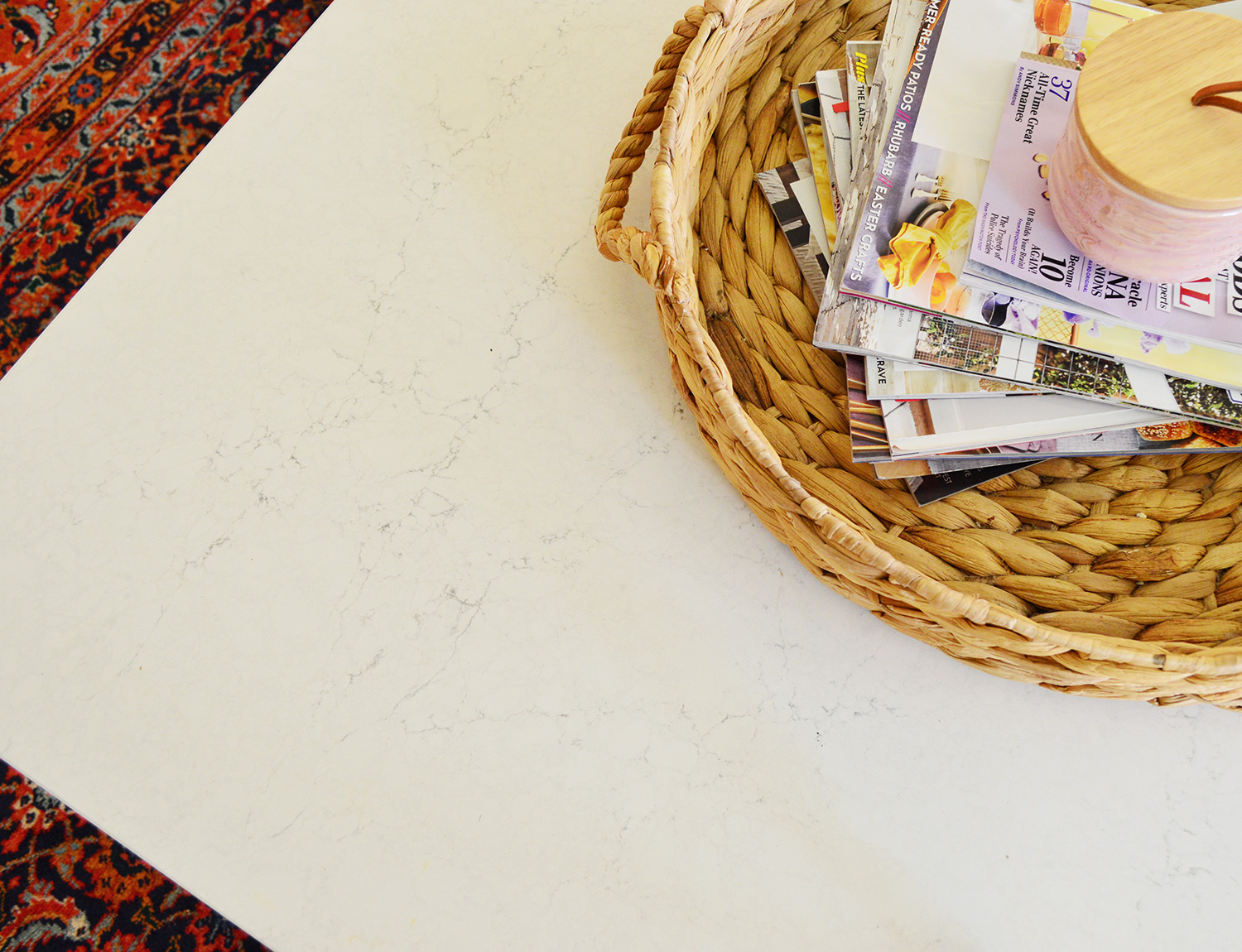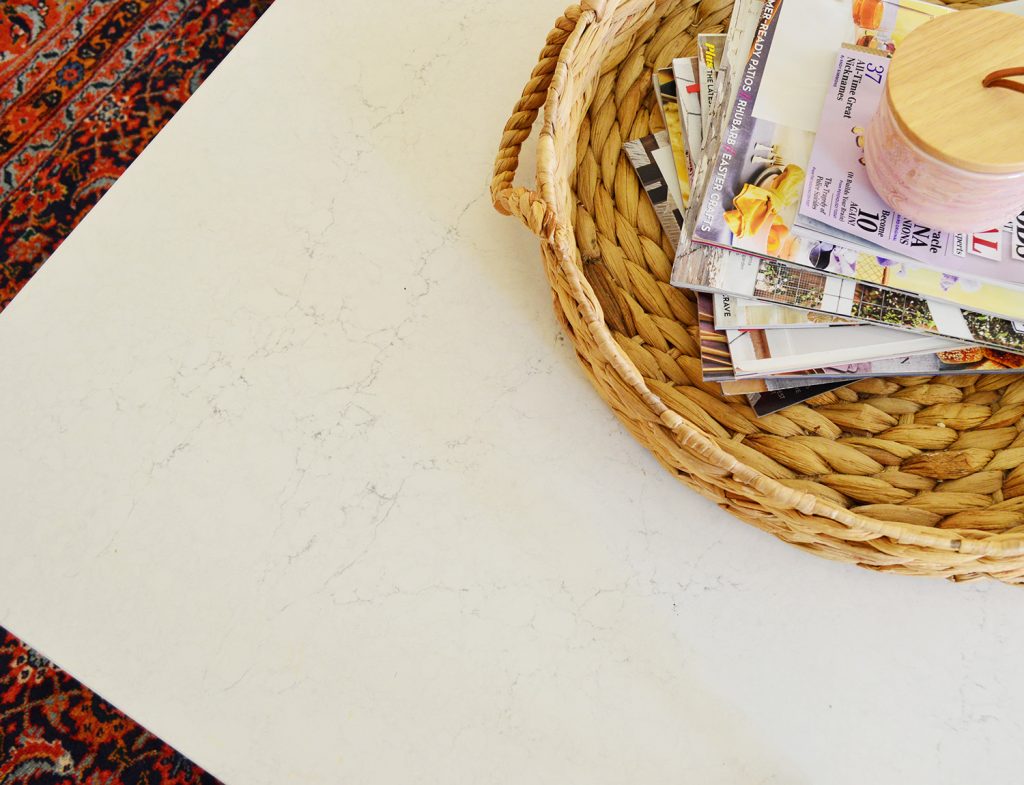 Let's back up for a second. You know how sometimes you dream about an item that doesn't exist and you're like "I like this one thing but wish it had that other top or that other wood finish." Like you want to pull a Frankenstein combo move and merge three things together? That is exactly how my search for a living room coffee table has felt.
For ages we had a huge white padded ottoman and loved it. We literally kept it for like seven glorious years until it died a very slow death by flaking and peeling everywhere (we'd find little peels of it upstairs in our bedroom – it really got around in those final days). This is a picture from two years back: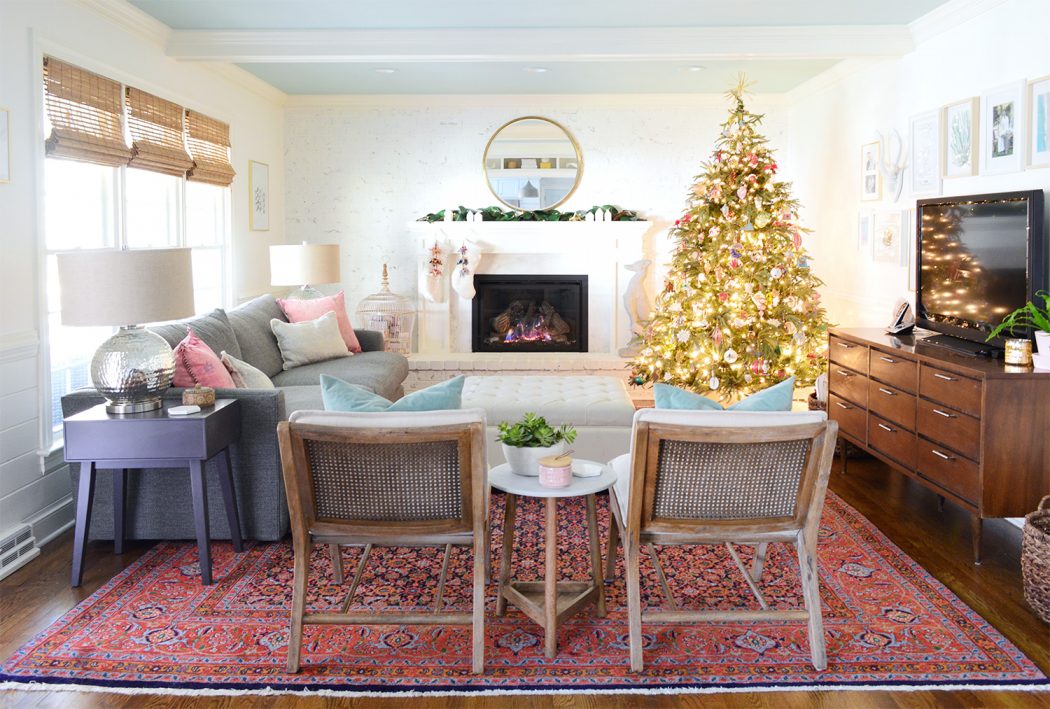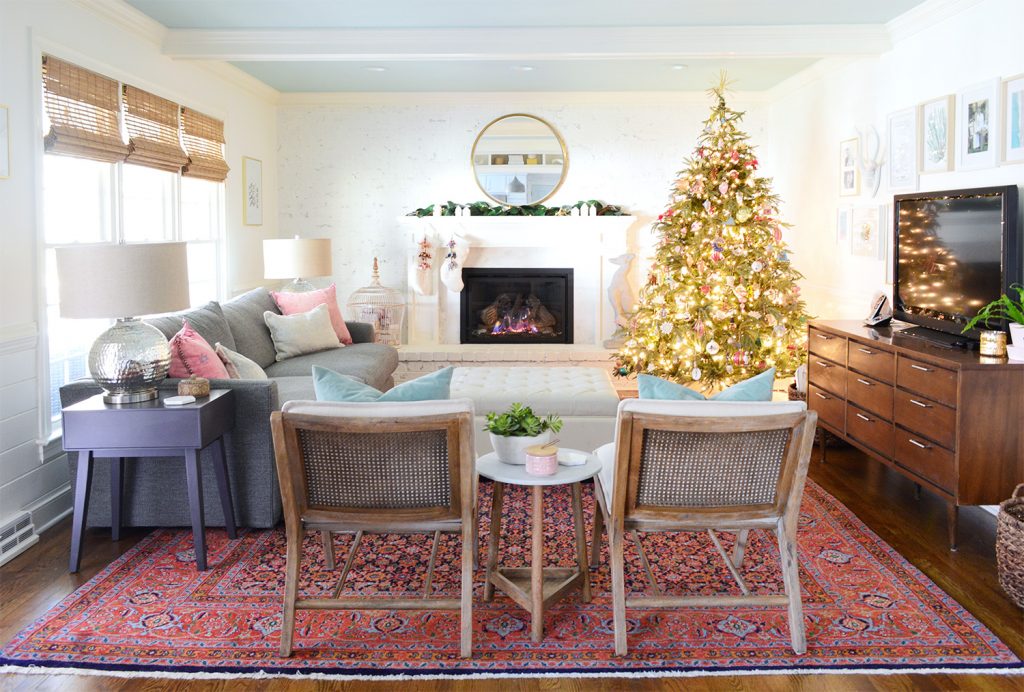 It was perfect for small kids (no hard edges to bump into) and there was storage inside for games and blankets. A big padded ottoman is still my favorite living room tip for any family with smaller kids, but over the last few years we've started to really enjoy coffee tables since the kids are older. We have one at the beach house and it's great for casually doing a puzzle or playing family games. There's just something nice about having a centralized solid surface to you can rest things on and gather around.
And let me tell you, since upgrading from ottoman to coffee table in this living room, we have played SO MANY epic family games (Sequence or Ticket To Ride are near-nightly occurrences) and it's really nice to use a room with a TV for way more than watching TV. Highly recommend it if your kids are old enough that the change would make sense for you.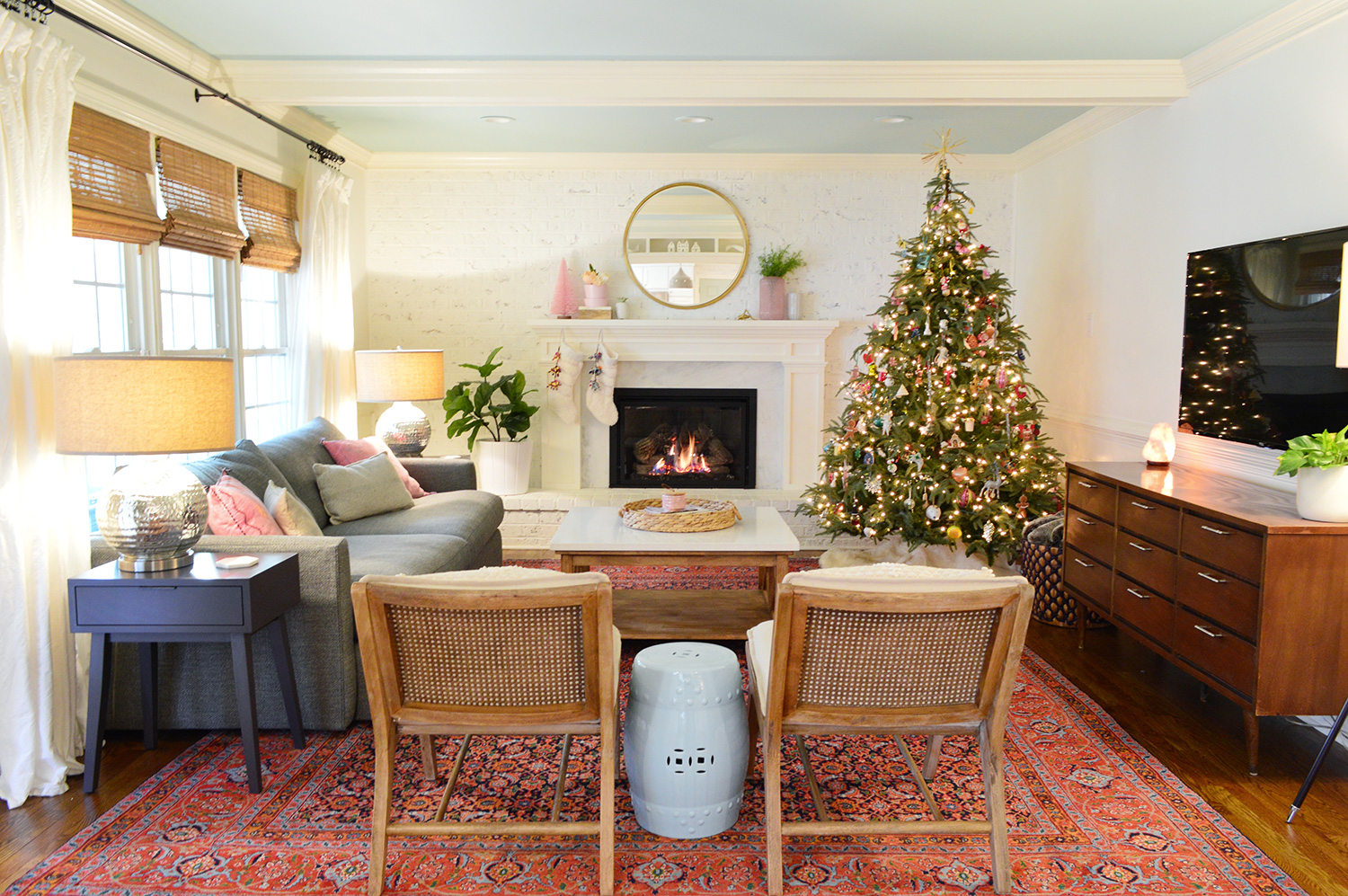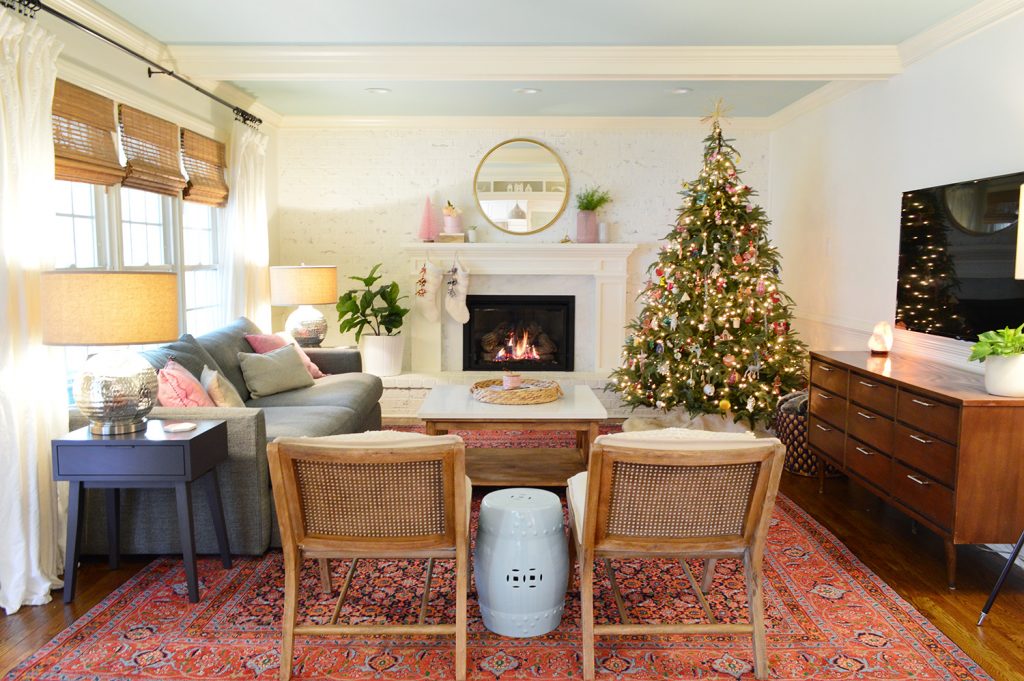 But anyway, back my over-a-year-long coffee table hunt. I know. That sounds very high maintenance. I'm learning that I am, in fact, extremely needy when it comes to coffee tables. I'm ok with this fact. I've been called worse ;)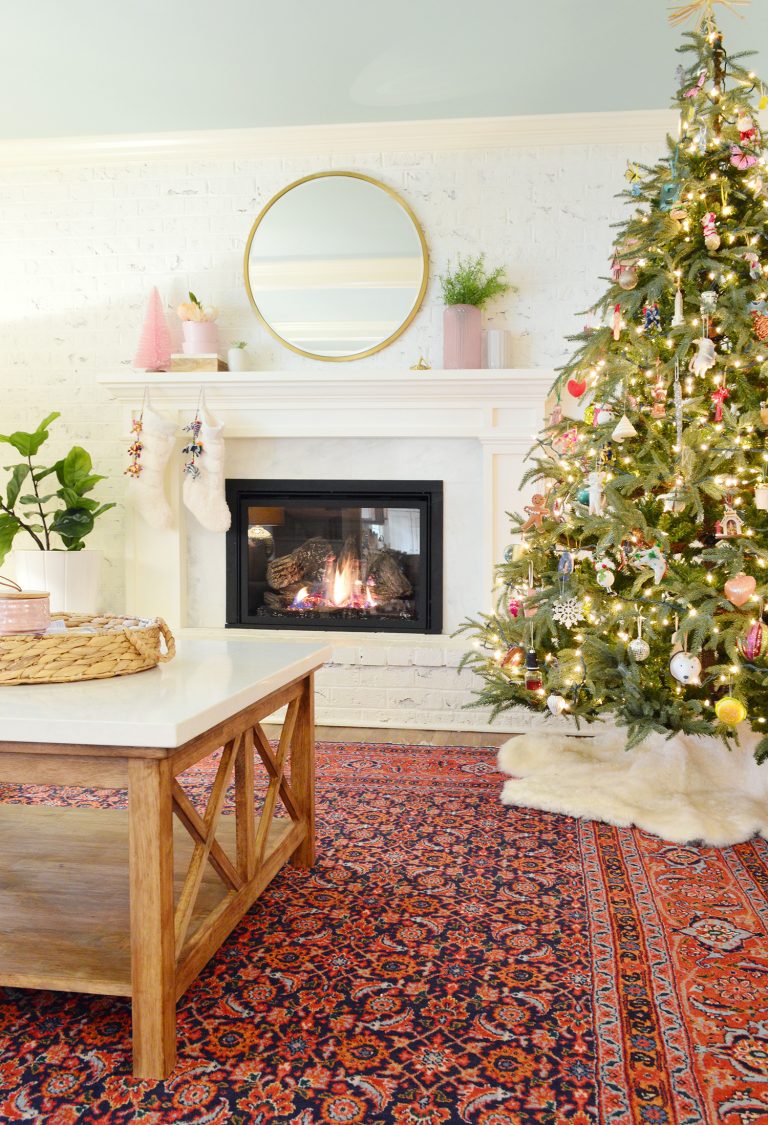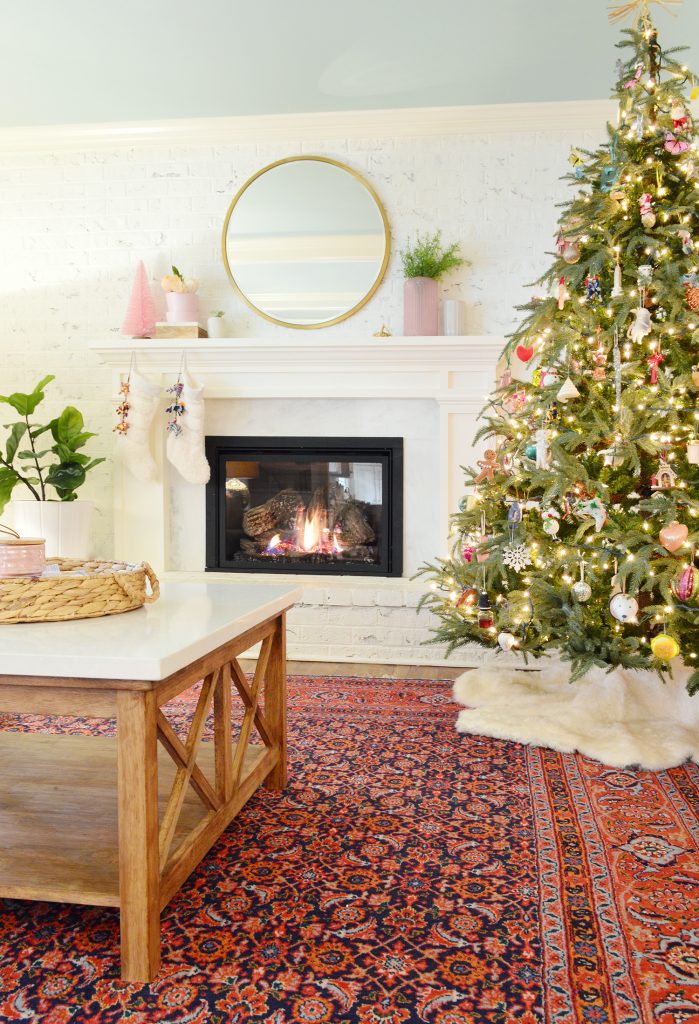 You might remember that last fall we bought a cheap secondhand coffee table for $35, just because the flaking ottoman NEEDED TO GO and I had been searching for a coffee table that I really loved for a while and couldn't find one. So I basically was like: we are being crazy by holding out for this perfect thing, when all we need is something that's cheap and fine in the meantime – so we can get that peeling beat up ottoman that literally drops "dandruff" all over our house outta here.
You know that saying: don't let perfect be the enemy of good? We were literally living with terrible (the flakes everywhere were as maddening as inexplicably finding glitter everywhere), and for the cost of one meal at Panera we got a secondhand table that made zero mess and worked fine. We never should have waited that long. It was a huge step up. It wasn't the perfect size or material that I wanted – but it was such a relief. No more shavings everywhere, plus it gave me a gift: the giant release of urgency to find that oddly elusive perfect coffee table.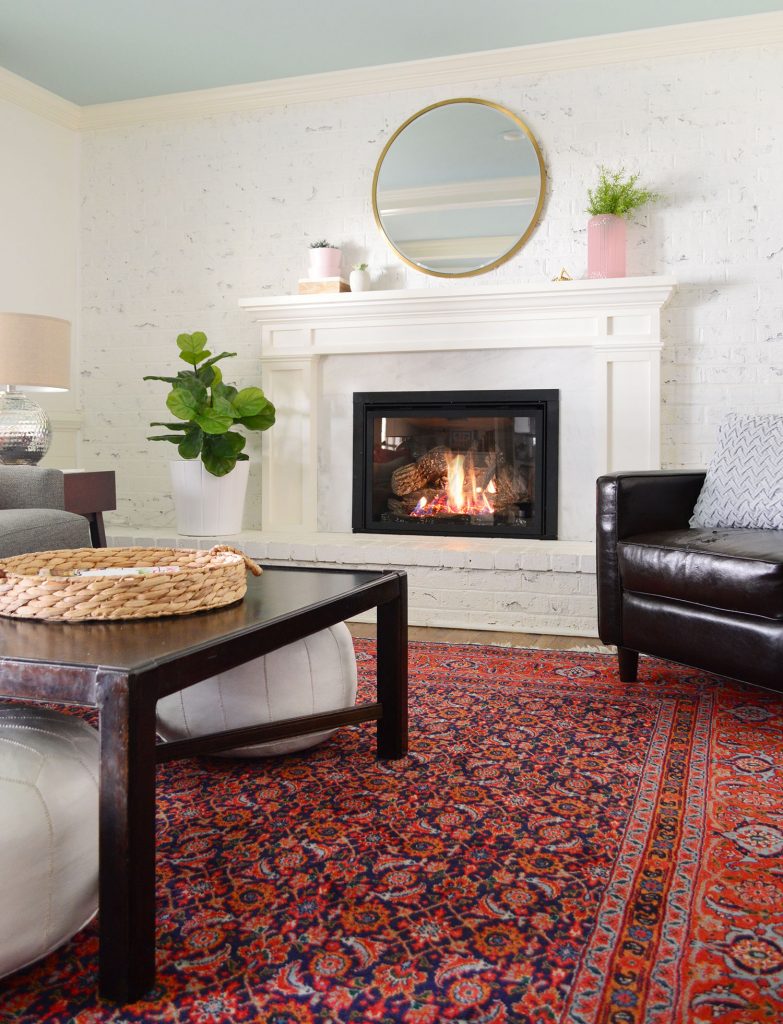 Well, we got that "just for now" coffee table last fall. As in, over a year ago. And ever since I've looked pretty much everywhere, but this room is sort of an odd layout, so a rectangular coffee table is just too narrow. Even a very large round one feels too small in the room because it doesn't connect the accent chairs as nicely as a larger square one does – which makes it feel like a legitimate connected conversation area. So after hours and hours of searching and scrolling… and even doing some in-person exercises, like trying a few different combos just to be sure (like a round coffee table + two white leather poufs, etc) I was 100% certain I wanted a large square one. Like around 3′ wide by 3′ long. Big and solid.
Easy to find right? Well, to make a short story long (my specialty! Ha!), it wasn't. Because I also wanted it to be a similar wood tone to the side chairs and the side table that we already had in there (the darker old "placeholder" table didn't tie into anything and I didn't love that – and I felt like metal legs would't be as warm looking as wood ones with our old secondhand rug).
I also wanted it to have an extremely durable, water-ring-safe top so the kids could draw with markers or play spirited board games without worrying about the finish. Which led me to the following thought… "that sounds a lot like our kitchen island – which is polished quartz."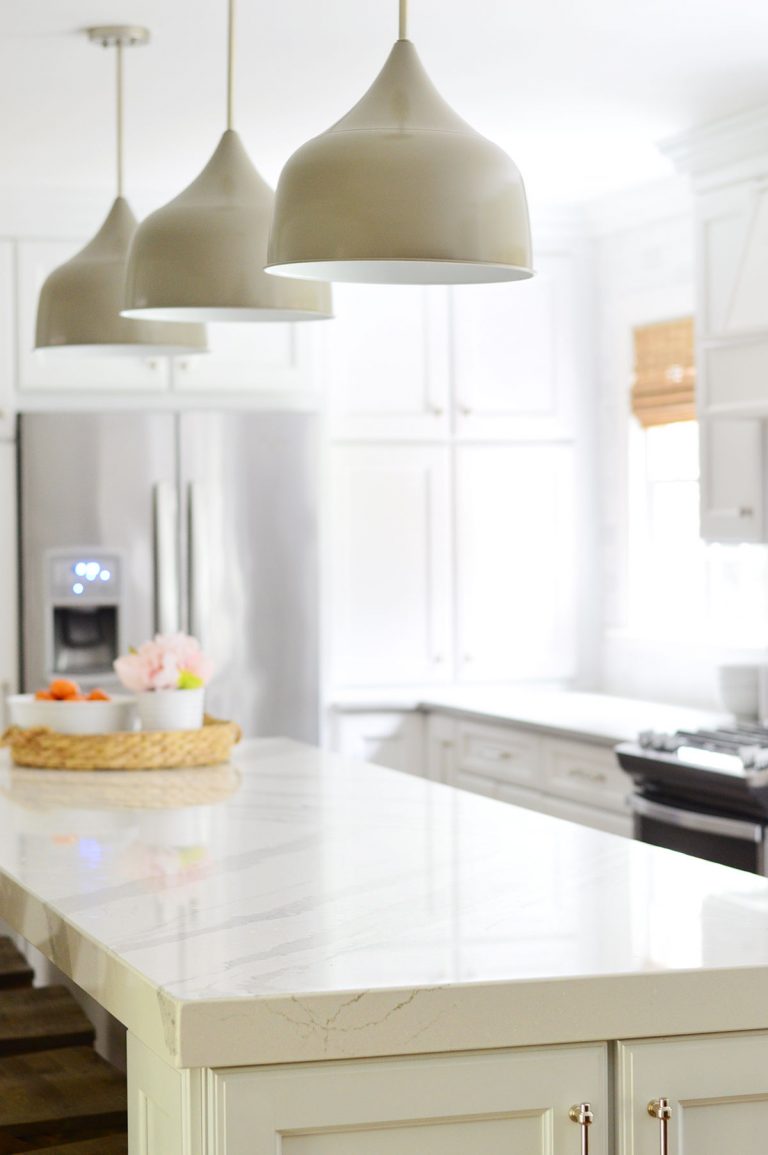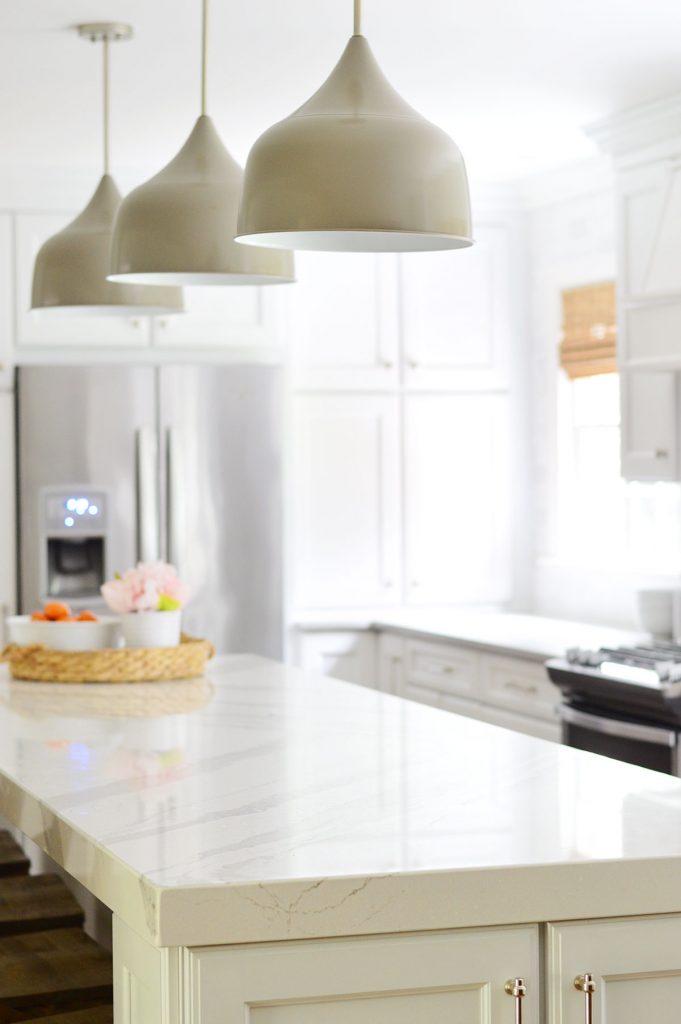 Polished quartz is super durable, the shiny finish always looks gleaming and lovely, and there's no worry about juice or wine stains like you have with marble. The kids do very messy art projects on the kitchen island, and everything wipes right off. It has just been wonderful for our family. But who the heck makes a giant square quartz coffee table with a wood base in the exact size that I wanted?
Nobody, that's who.
So I was like… what if I make one…? Not exactly make it from scratch, but I bet I can find a nice solid square wood coffee table that I love (not necessarily the right wood tone, but that can be changed) and then stain it the color I want. And then what if I just go to a stone yard and buy a cheap remnant piece of quartz (we made our living room fireplace surround with marble remnants and it was so much easier and more affordable than I expected). And you guys… this idea that felt kinda hair-brained at first. Well, it worked like a charm.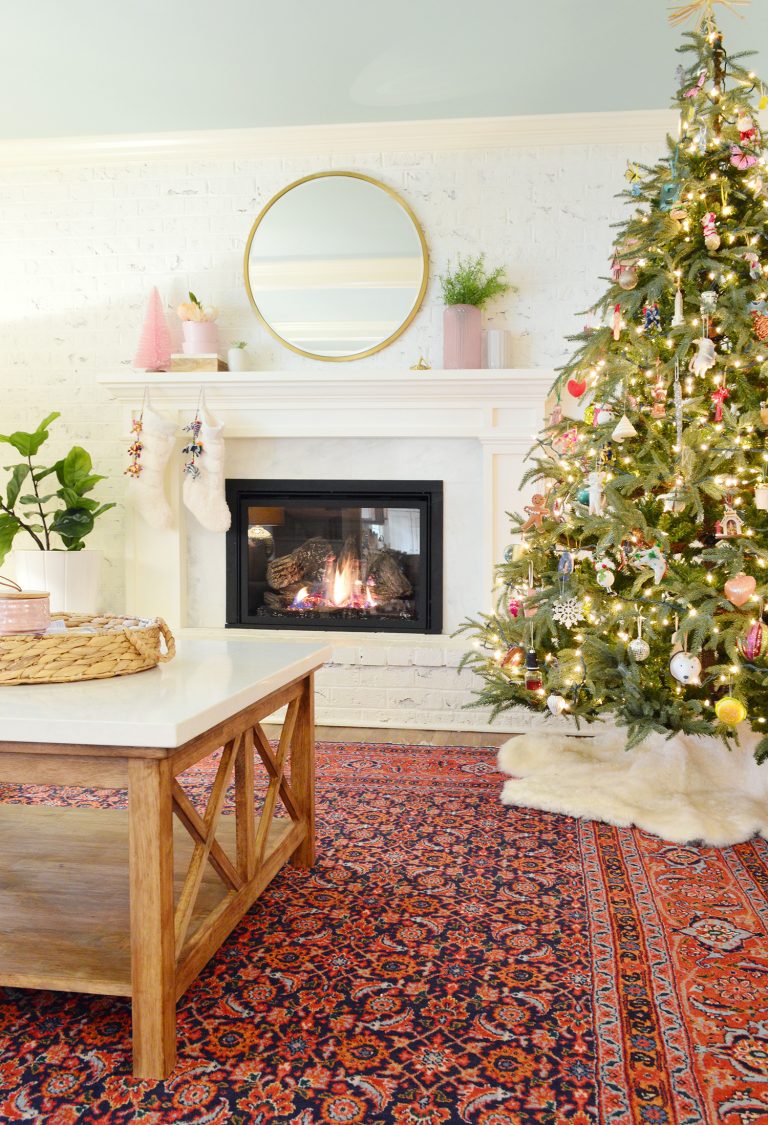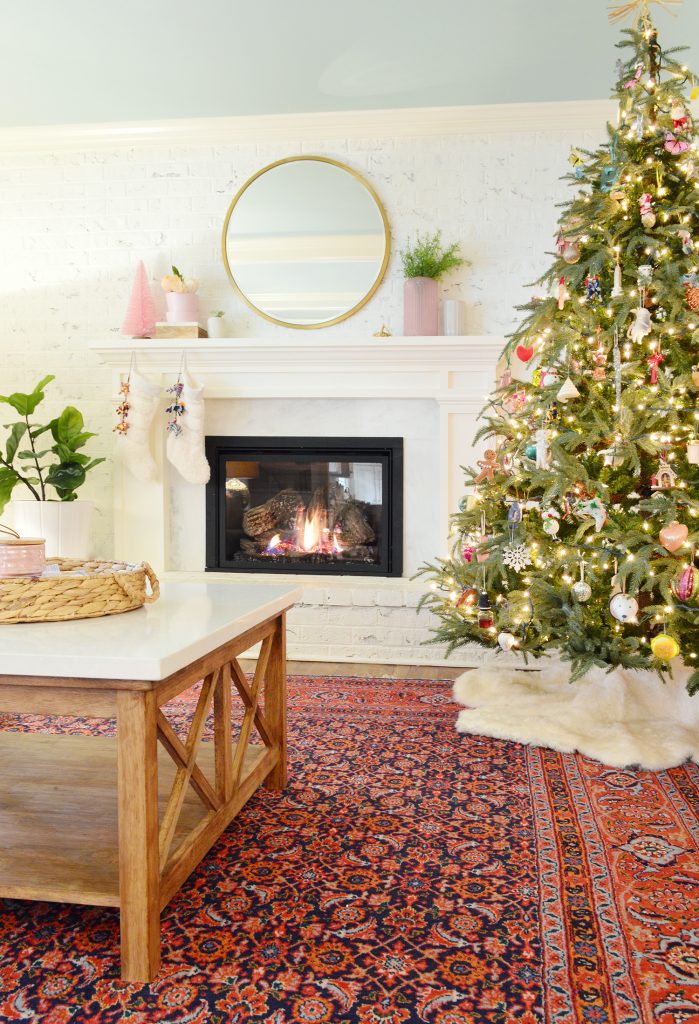 It really was as simple as ordering this unfinished wood coffee table (I loved the shape of it and the x-details on the side of it – plus the fact that it was unfinished meant I didn't have to do any stripping or sanding to get it back to a raw wood finish because it literally came that way). I ordered it on Amazon, it came within a few days, and I took it out of the box and assembled it.
After I wiped it down with a damp cloth to make sure no dust or weird dirt was on it, I stained it Provincial by Minwax (which is also what I stained our accent chairs a while back – it's a great wood tone). I applied two coats of that in the garage, where it could air out – followed by two clear coats of Polycrylic matte sealer – make sure you get the blue labeled one that's water based because the oil based one tends to get really yellowed over time).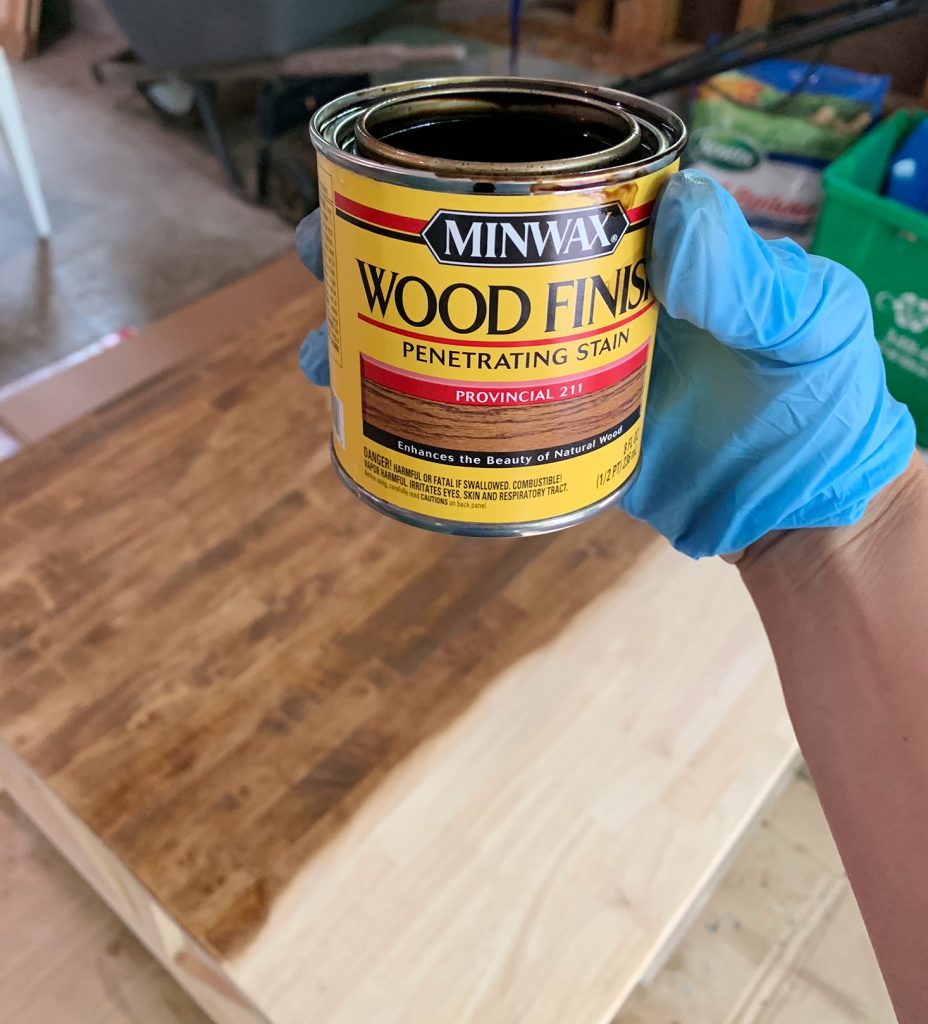 Then we took a trip to the stone yard and I basically was like "TAKE ME TO YOUR LEADER! AND BY LEADER I MEAN CHEAPEST REMNANT PIECES!"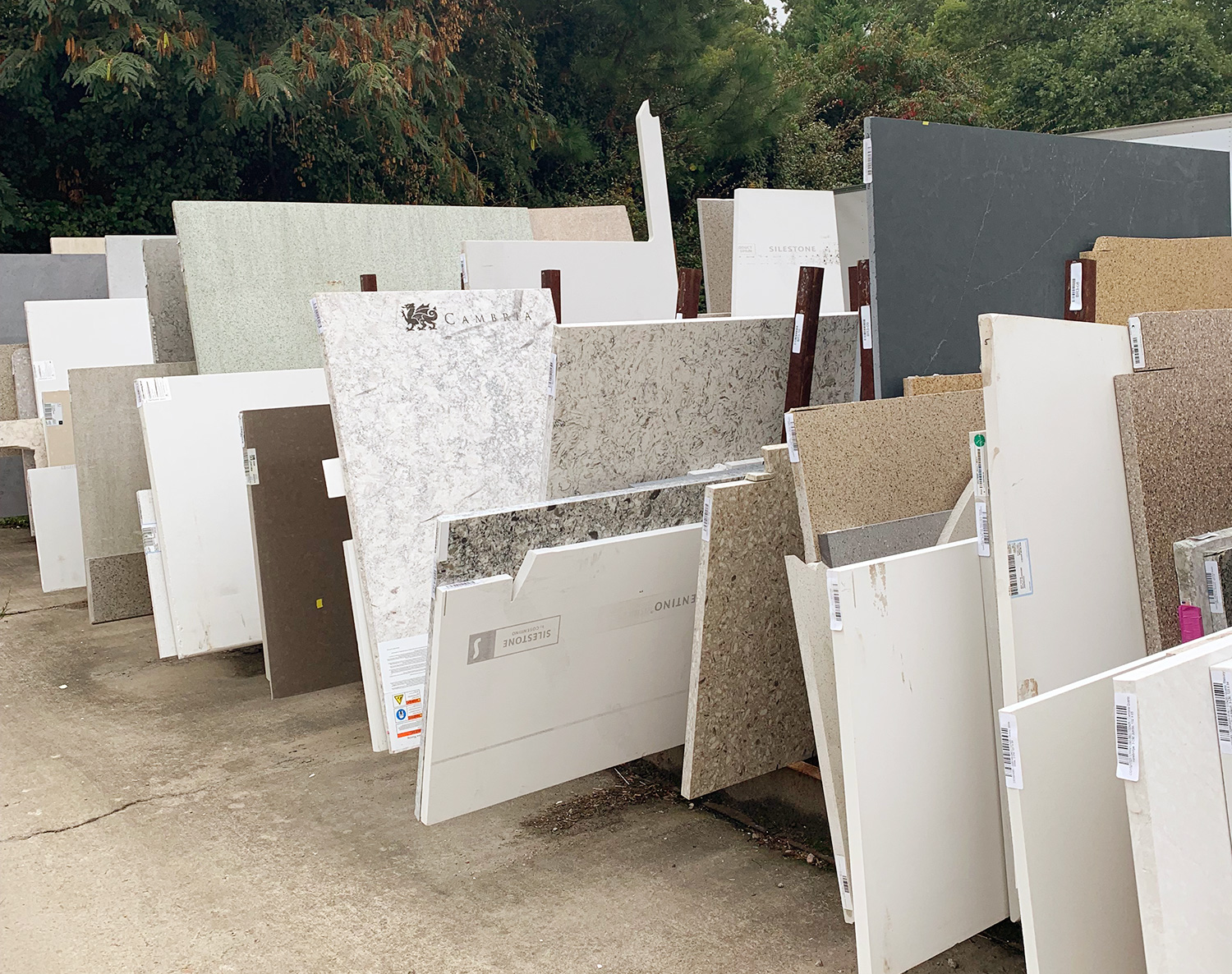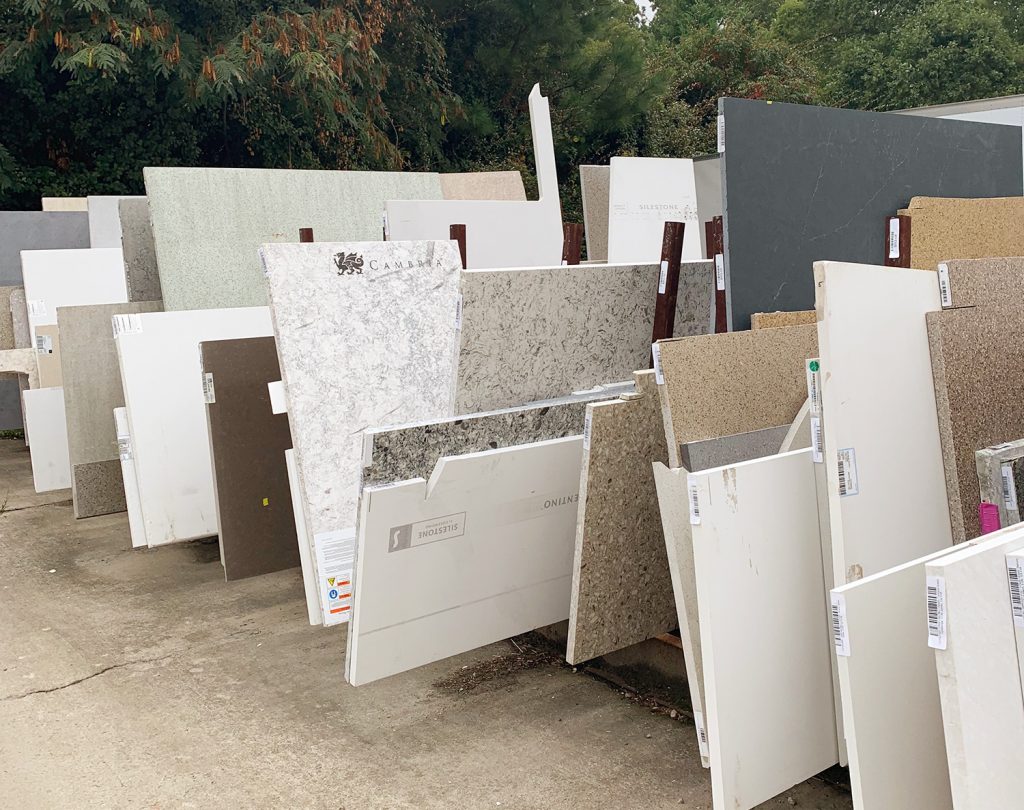 To anyone who doesn't know about local stone yards and their remnant pieces, they're basically the excess parts of the slabs that kitchen or bathroom clients don't use (the stone yard cuts the counters for them, and some extra pieces of the original large slab are leftover). Since they're smaller pieces for smaller jobs that typically wouldn't work for a big kitchen island or a long span of cabinets, they're traditionally marked at least half off. Our local place charges around $40 a square foot for quartz remnants, instead of the regular price which is usually around $90. For any locals wondering, we use Capitol Granite, who also made our kitchen island.
So for this huge block of quartz to top the table that is around 3′ wide by 3′ long, we paid around $370 ($40 x 9 square feet). Yes, that is NOT CHEAP. I had some second thoughts about if I was being extremely irrational and overthinking this far too much. So I did what any person who is teetering between "this is too much" and "but it's exactly what I want" does, and I looked around for similar options to see if I really was getting the best deal, or paying through the nose. This gut check can be hugely helpful and illuminating either way it ends up going. And suddenly I felt much much better, because similarly sized stone-topped tables were upwards of $800 and in many instances they were $1,000 plus!
Even the ready-made ones that I found in those higher price points didn't have all the features I was looking for (ex: wood legs, the right 3′ x 3′ dimension, good reviews, a quartz top that wouldn't stain like marble, etc). Take this $1249.00 one for example. Suddenly the cost for my own quartz remnant ($370) added to the cost of the base that I bought (it was $149 thanks to the markdown they were running that day) didn't sound that crazy. Especially for exactly what I wanted.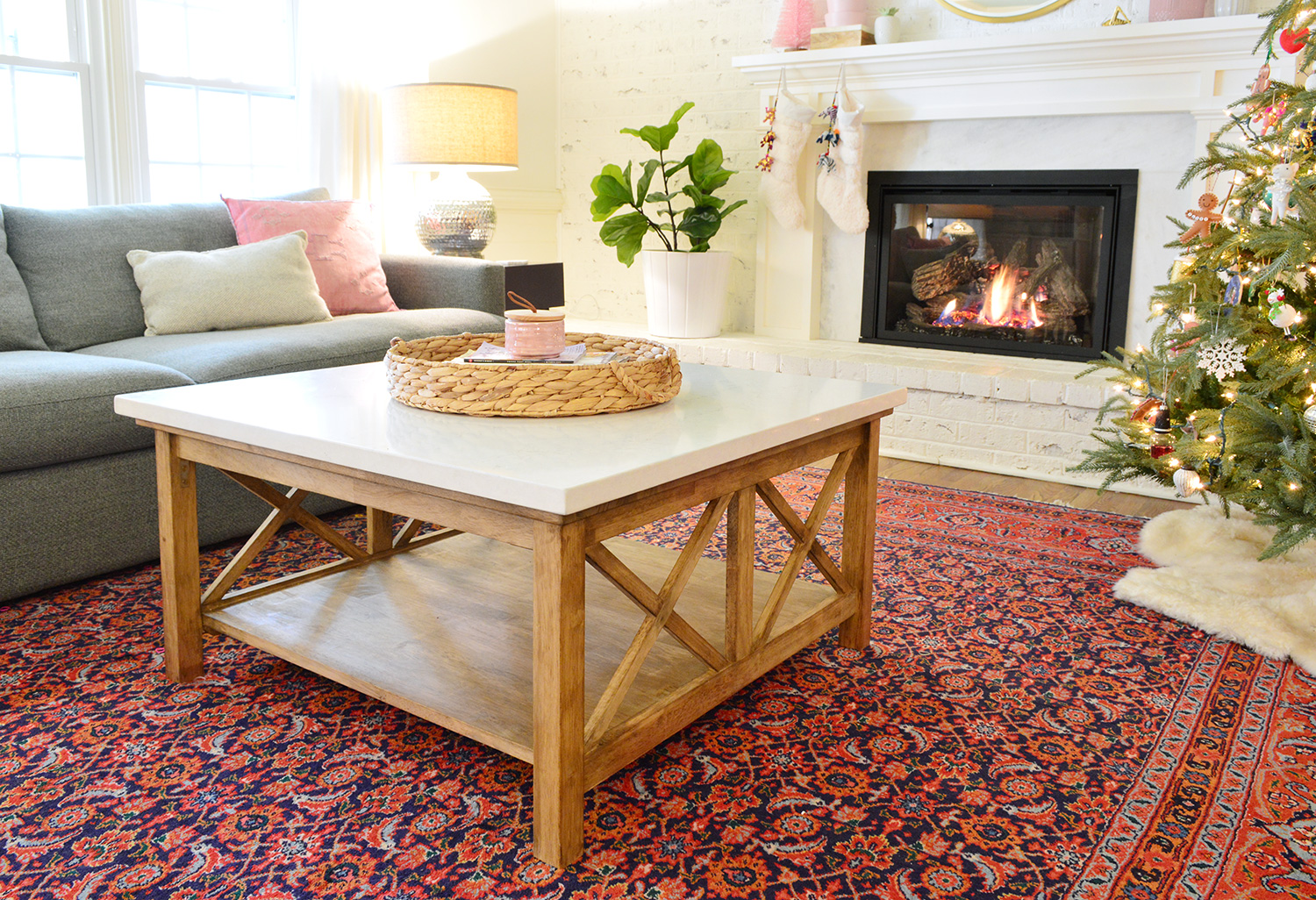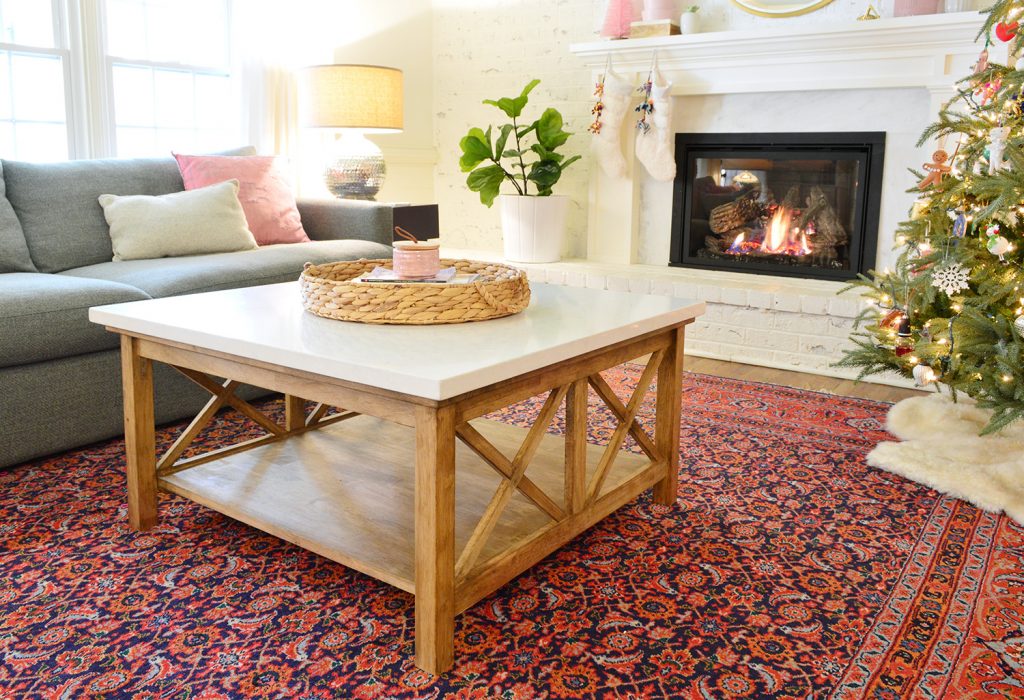 So yes, this coffee table was $519. Not the most expensive thing in our house, but definitely more than I thought I'd pay for a coffee table over a year ago when I started my search if I'm being honest. I don't know what I expected, maybe under $300? But I can tell you that it completely meets all of my hopes & dreams for a coffee table, which I have since learned is surprisingly hard to do, so I can't even be mad about that extra $219. Especially after the realization that I'd never end up with exactly what I wanted unless I made it myself. AND DANGIT THAT'S PRICELESS. Well, not priceless, but well worth the effort.
I love that it feels like something we'll have forever and I really like how it ties into the marble on the fireplace and looks great with the kitchen counters too. Seeing the gleaming coffee table top between the shiny kitchen island and the stone fireplace surround is just lovely. In fact our son very enthusiastically proclaimed that he liked that the top of the coffee table is a giant coaster so they don't have to use coasters on it. I laughed SO HARD (we have stone coasters in the same color/pattern – you can see one on the end table below). The table really is a giant coaster, so he's onto something.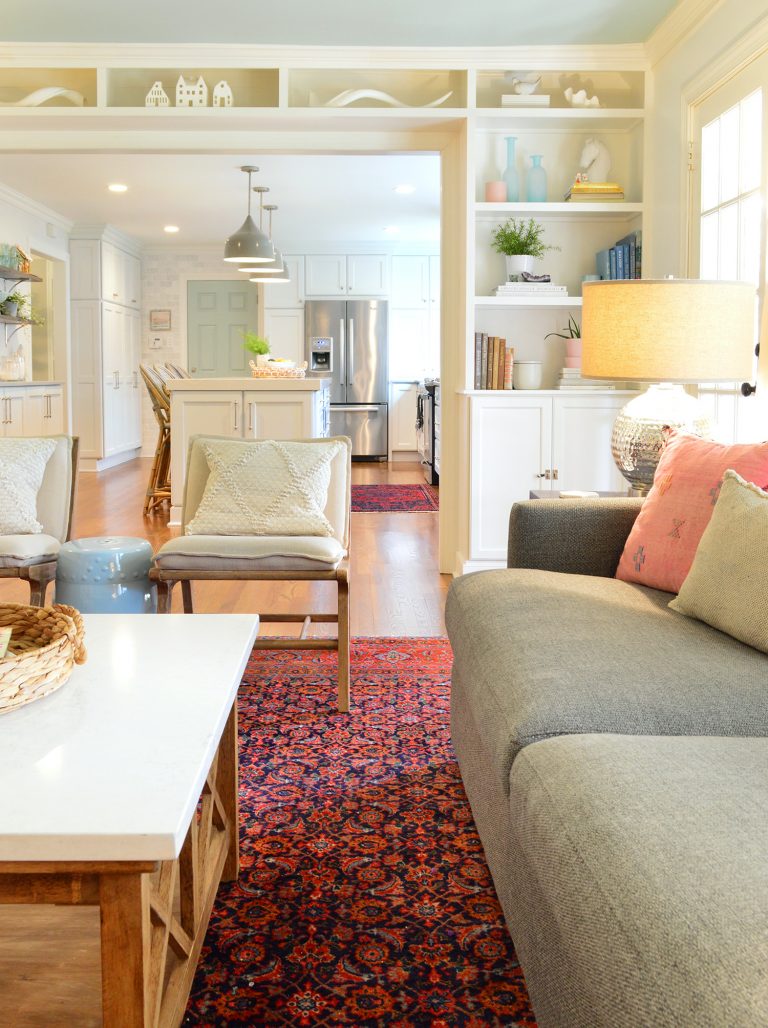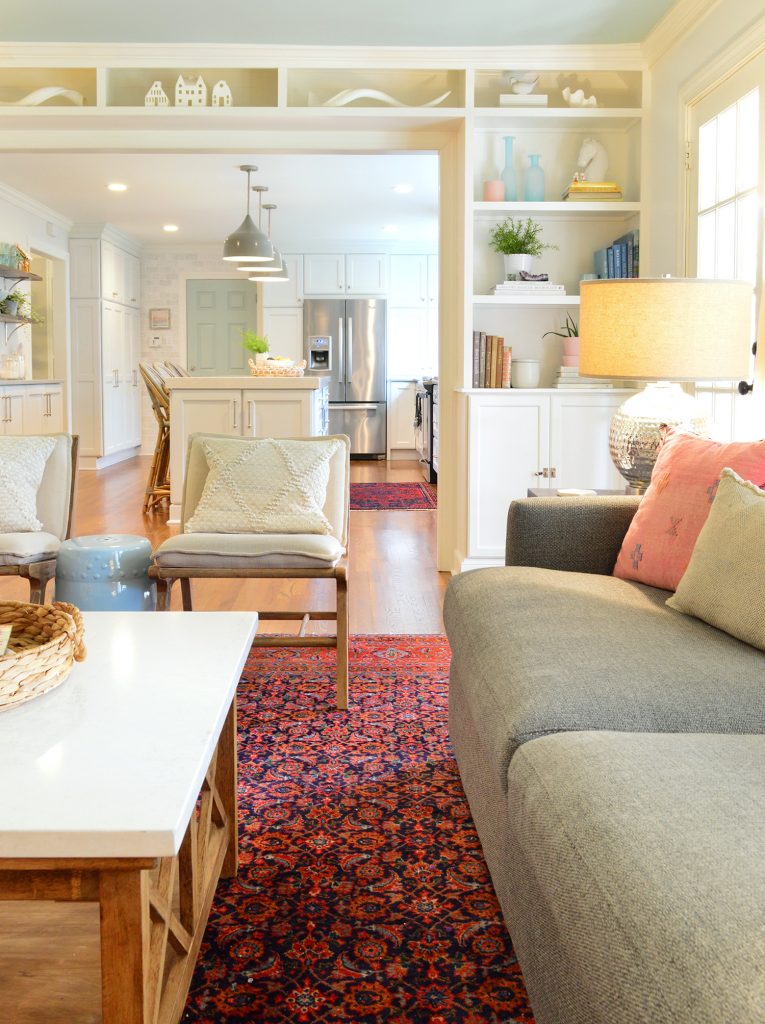 Oh and as for making a solid table even more solid, we added these satin brass corner brackets around the edges, because they blend in and stabilize it even more. See, when you put your feet up on a table over and over again, it can start to rock and not stay super square, and when it starts to rock back and forth, you have to worry about it loosening and continuing to rock more and more. And in an extreme situation it could eventually collapse. These hold it square. No rocking = no getting rickety or unsteady. Such an easy way to add even more strength and it only took a few minutes to screw them in (we predrilled small holes so they went in smoothly).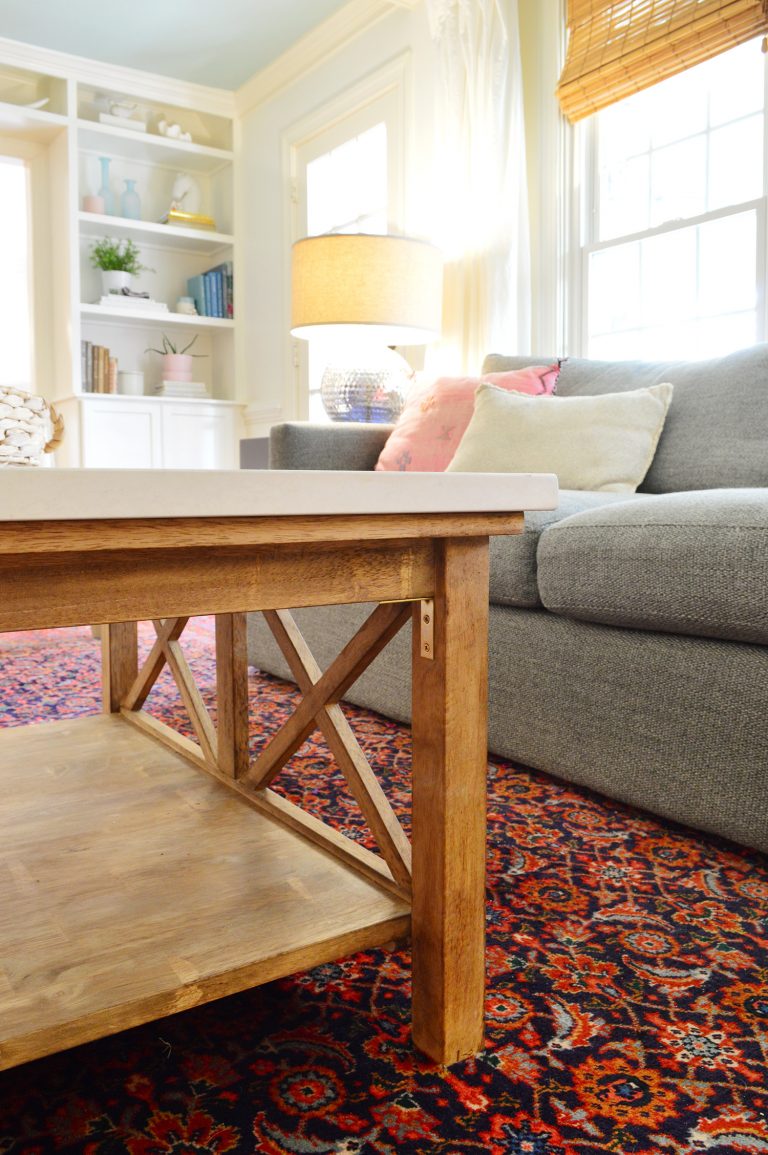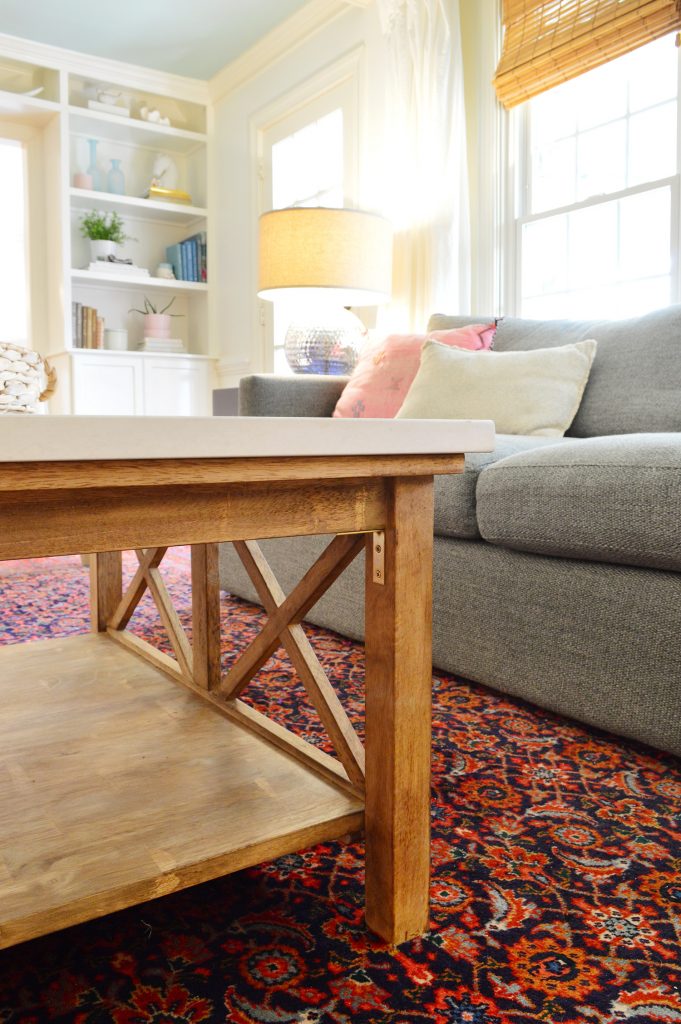 This thing is SOLID. As in, the kids can't move it. Not an inch. Which is kind of nice because they used to push the ottoman all over the place – and it would do that annoying thing to us where it slipped out from under our feet sometimes when we both had our feet up on it. This stays put. We also used a few dabs of adhesive to attach the quartz to the tabletop, just because we worried that it might shift somehow over time. Although once we got it home we were like… this is so heavy it probably won't ever move. But it's better to be safe than sorry.
Oh and one more tip: order the coffee table first & assemble it so you can measure the exact size of the top. Sometimes every single table varies slightly, and you want to get a remnant piece of quartz that's around 1.5″ wider and 1.5″ longer than your tabletop so it has a 3/4″ overhang on all sides, which looks really proportional and doesn't read like an afterthought.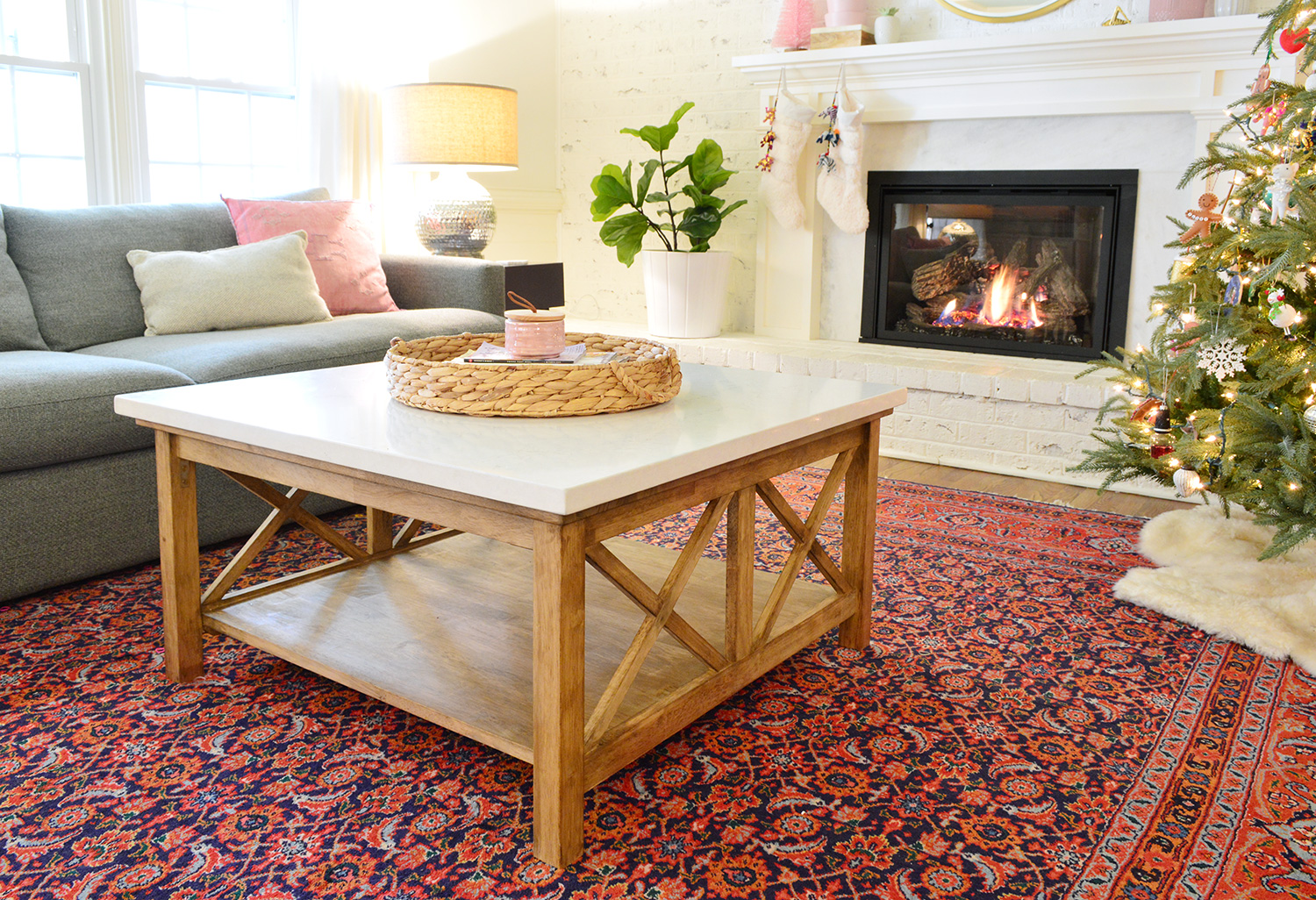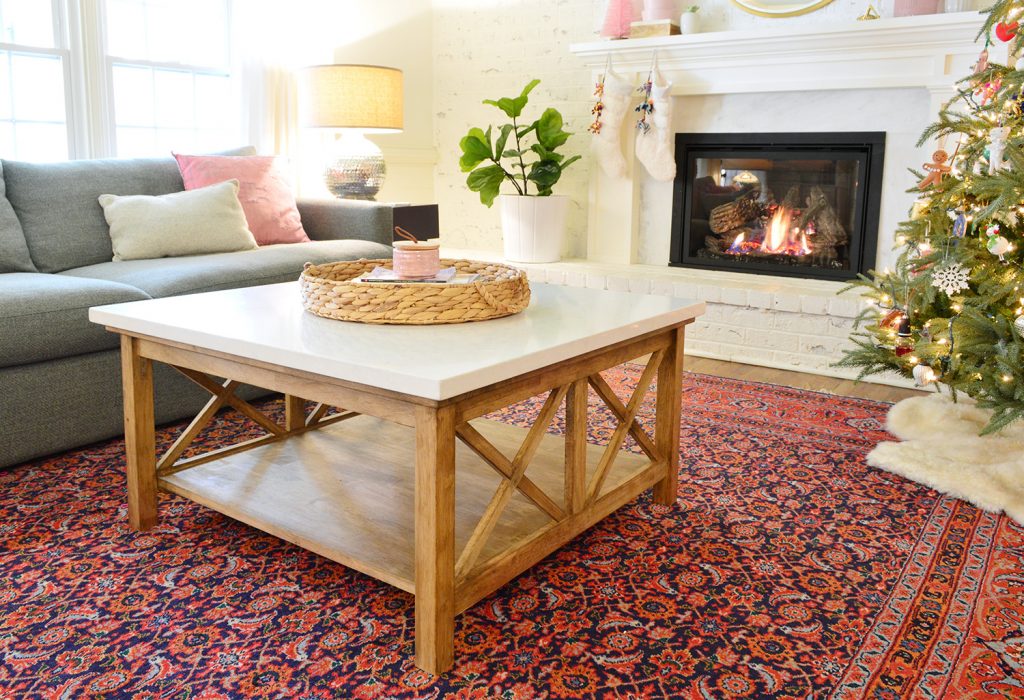 So that's it! The story of Frankenstein-ing a few things together to get exactly what I had been hoping to find. Life will not end if your coffee table doesn't do everything you want it to, or fit into the room as well as you'd like, or if it gets drink rings, or if you buy a $35 craigslist stand in and it stays there for a year or even ten years. But if you have a picture in your mind of something that you think would be amazing for your family, it's nice to consider that you don't only have what's available at a store to choose from – you can always try to hack or combo-move a few things to hopefully end up with something you love that'll last a nice long time.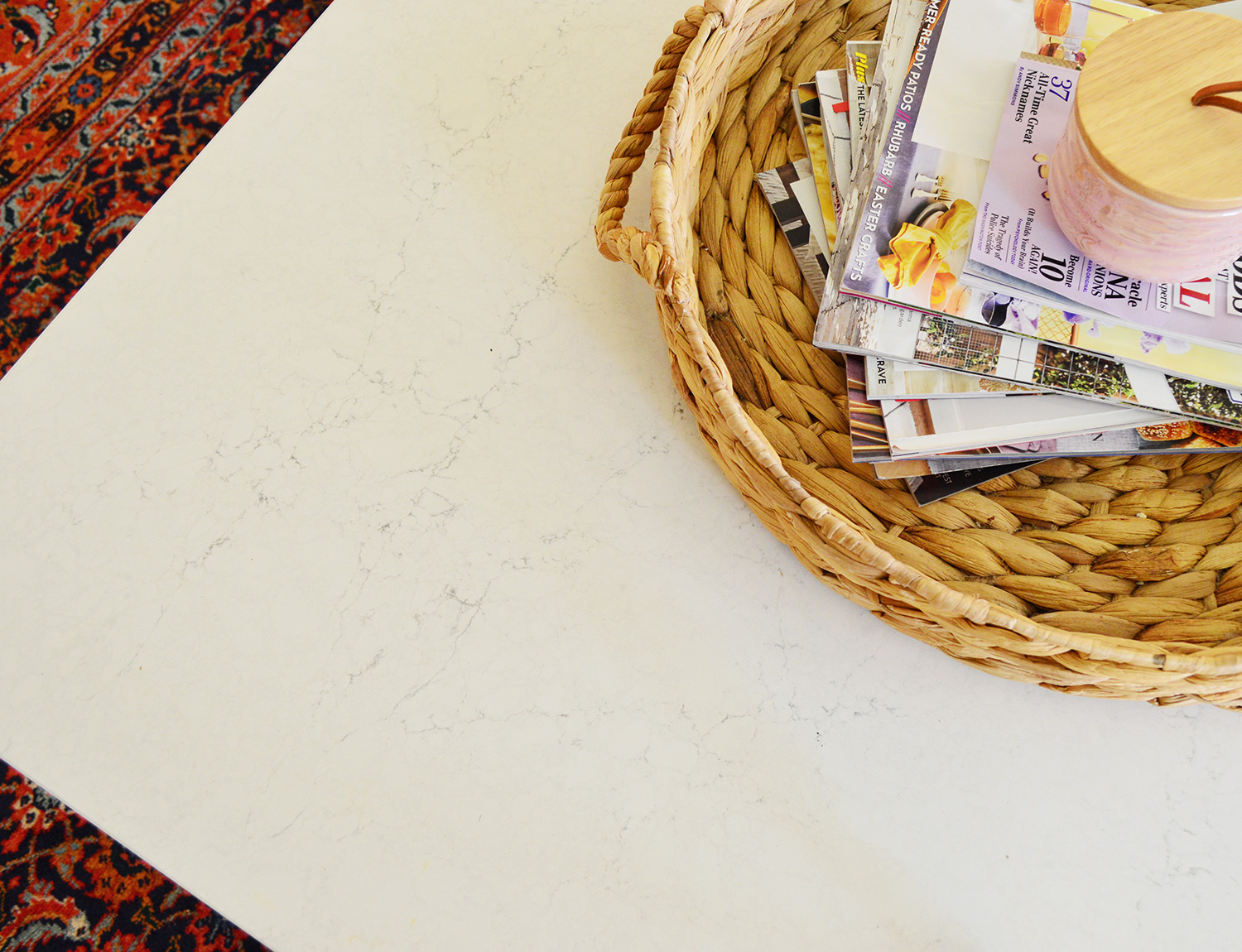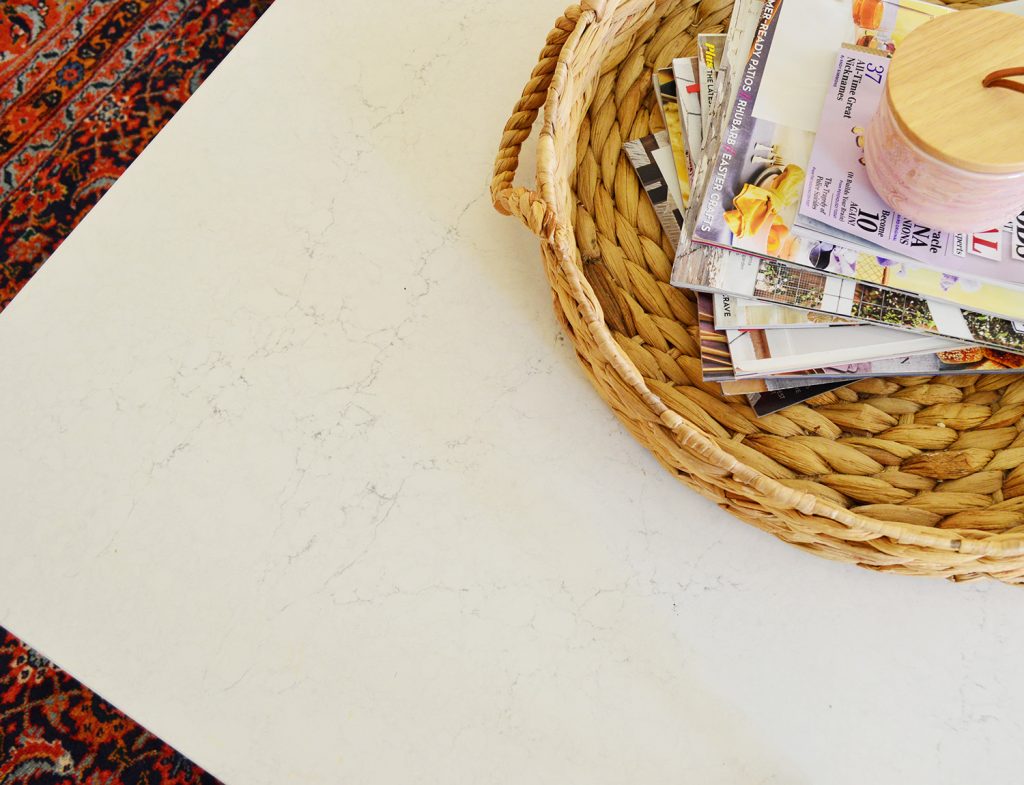 Speaking of the long haul, our $35 "placeholder" coffee table that used to be in our living room ended up being the perfect shape and size for the beach house living room! So it's happily living there now (and we have big plans to alter the top to work really nicely in that room – more on that here).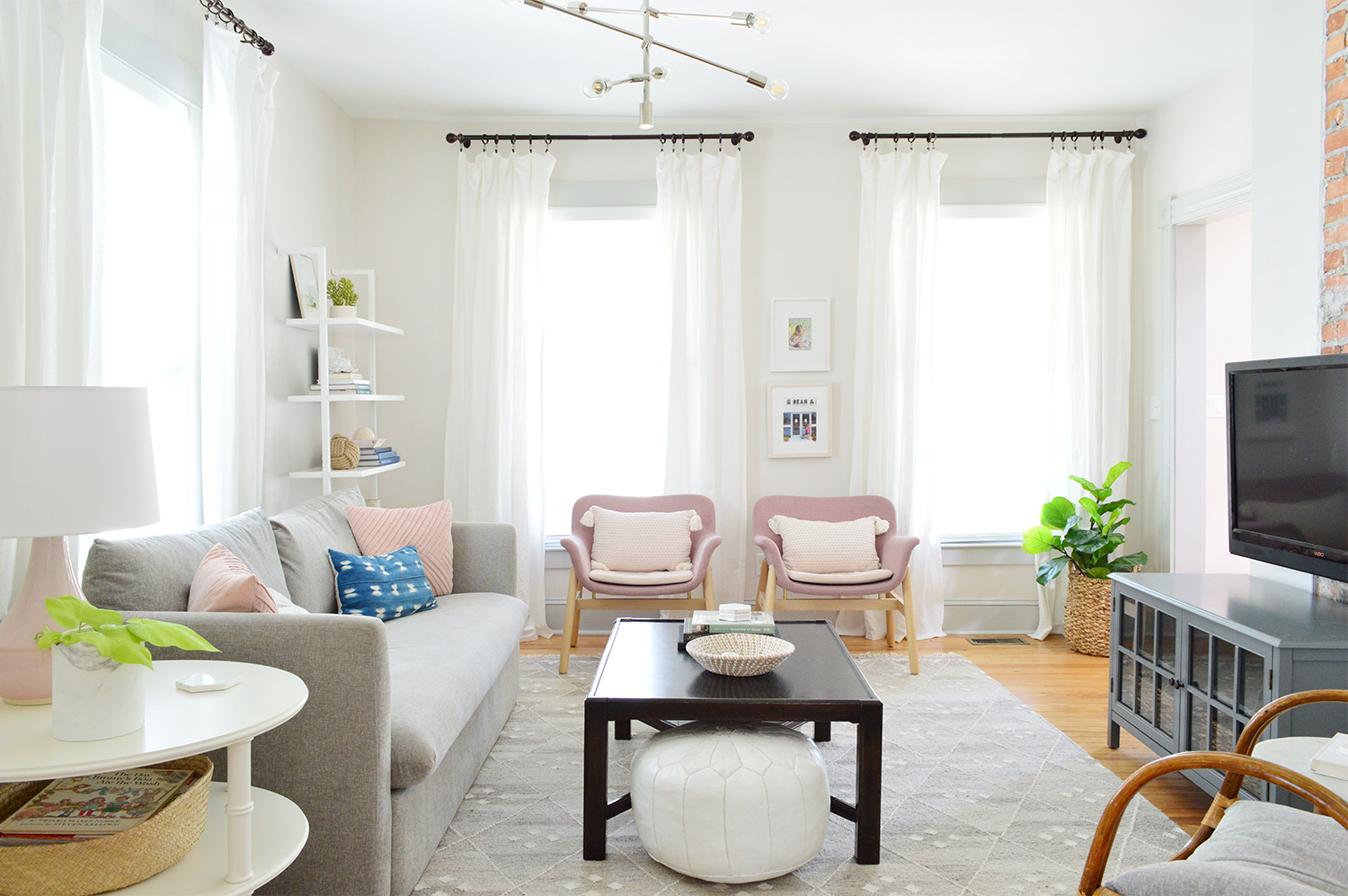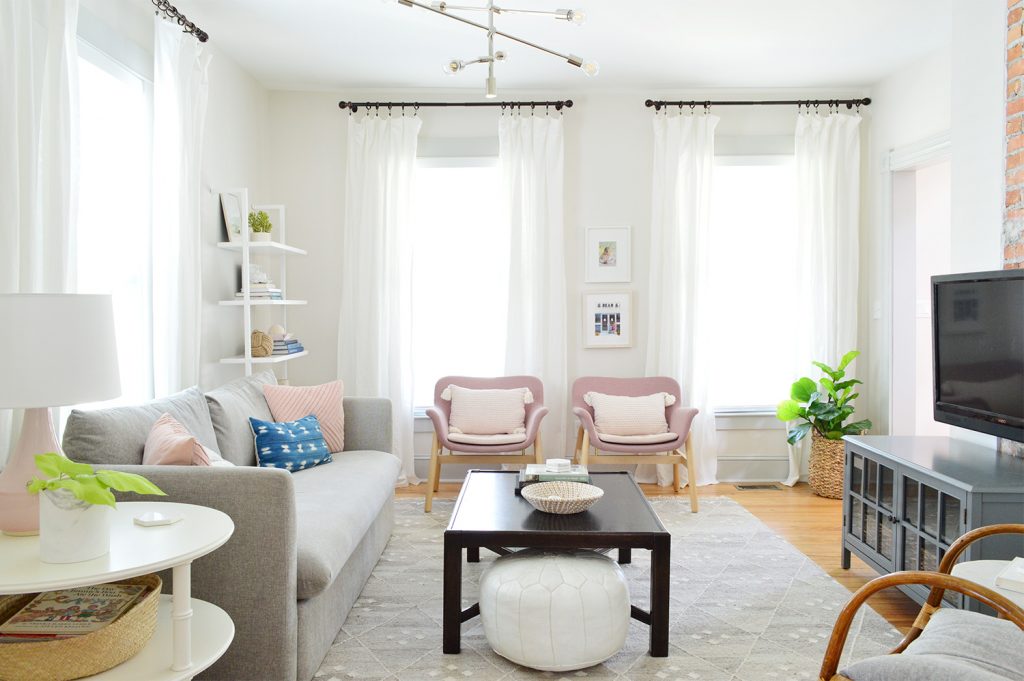 I love that our "just for now" secondhand find has worked out to be a long term solution for another space. And the coffee table that was in the beach house living room before is living it up in our son's room as an often used play table (picture it covered in Pokemon cards & blocks to his little heart's content). In summary: the sisterhood of the traveling coffee tables is real, and I'm gonna need Alexis Bledel and Blake Lively to take this to the big screen.
P.S. Want to read about other things we've built or hacked? We have a whole category of posts about furniture upgrades & building stuff.
*This post contains affiliate links, so we may earn a small commission when you make a purchase through links on our site at no additional cost to you.