Truth: Sherry was oddly into fan hunting and the idea of adding two new fans to keep our freshly-opened sunroom cool (and to create a nice mosquito-warding-off current while we're out there relaxing), but I was NOT excited about said fans.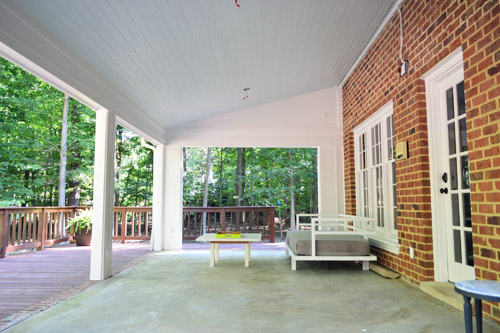 We actually have quite a bit of practice removing fans (I submit to you Exhibits A, B and C) – and just look at how happy it made me.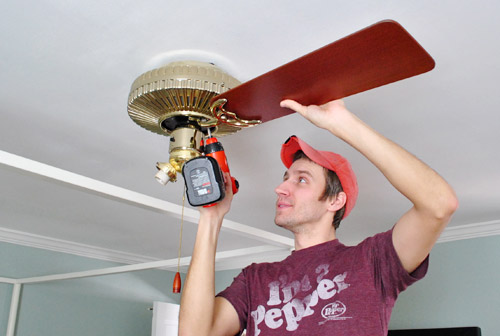 Generally we've had 7.5 to 8′ ceilings in most rooms with them, and being 6′ tall, I've always felt like they were low-hanging oversized pinwheels that were one inch shy of giving me a haircut – although we're suckers for function, so we've always kept a few around wherever they were especially useful (we kept them in the sunroom and den of our first house, and the sunroom and guest room of our second house). In other words, a few got to stick around, but we're not really in the practice of adding to our total-house-fan-number, if you know what I mean.
This is actually the first time we're increasing our count, by going from one out here to two thanks to this wiring that we had done after we ripped out the ceiling. We knew two fans would more efficiently cool the space (and make mosquitoes say "ain't nobody got time for that") and thanks to the freshly lofted ceilings we hoped the fans wouldn't feel too low-hanging or heavy. But the thought of installing new fans STILL wasn't something that my brain could get excited about. So it settled on assuming the task would be difficult and the results would be underwhelming. Awesome attitude, self.
After looking everywhere from craigslist and thrift stores (it was hard to find two of the same kind secondhand) to more obvious places like Lowe's and Home Depot, we settled on this model from Home Depot (which we found to have a better fan selection in general, by the way).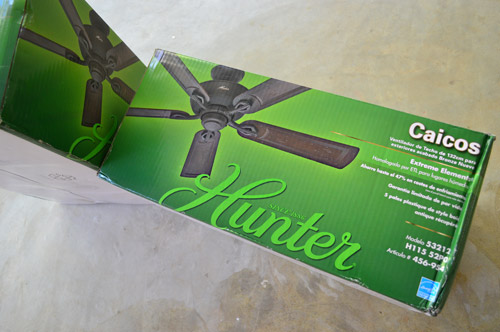 They were $119 each, plus a $10 downrod that we had to add to each of them since our ceiling is lofted. You may be surprised that we didn't buy white fans, but with so much lightness in the ceiling area already we thought something dark would add some nice contrast and play off the dark floors (once they're tiled).
Beyond just looks, we also had to be sure to buy something that was safe for use outdoors and that could be installed on an angled ceiling.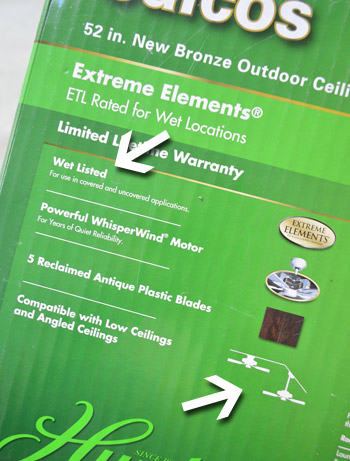 They're not shown here on the box, but we also checked with the store associate to make sure it was compatible with light kits (check) and remote controls (double check) in case we wanted to add either of those things down the line (we're currently planning to add sconces on the columns around the room for softer eye-level lighting instead).
Before diving into installing each one – a task I was certain would involve a few missteps and lots of upper body strain – we made sure the power was off, both at the breaker and the light switch. And then Sherry still insisted on triple-checking things with our little live current tester (sometimes outdoor wiring can be tricky – for example in our first house a few outdoor things got power from a shed way back in the woods).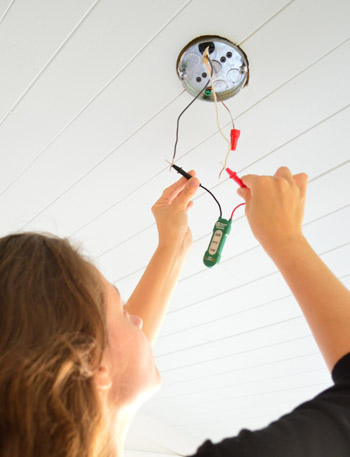 Before I go further, I should be clear that Hunter doesn't know us from Adam and certainly isn't in cahoots with us or this post. So the gushing I'm about to do about their instructions is purely because, having dealt with plenty of sub-par instruction books in my day, it makes me downright joyful when I encounter a manual that's well done and easy to follow (like the one for our Nest thermostats). For example, this manual included a section for double-checking that your ceilings aren't too angled for the fan to be compatible. They even marked the corner of the page so you could fold it down and hold it against your ceiling to check the angle and be sure. So simple. So smart. Maybe this install wouldn't be so bad after all?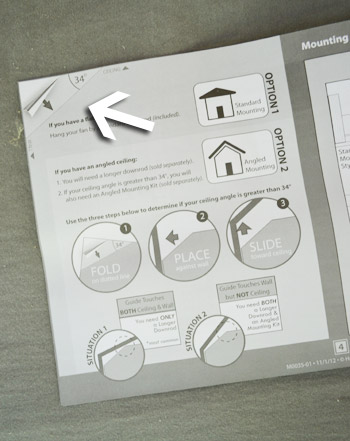 Another little ingenious touch: the hardware was separated into different bags and labeled by step with a unique symbol that the manual referenced whenever it was time for that particular batch of parts to be used.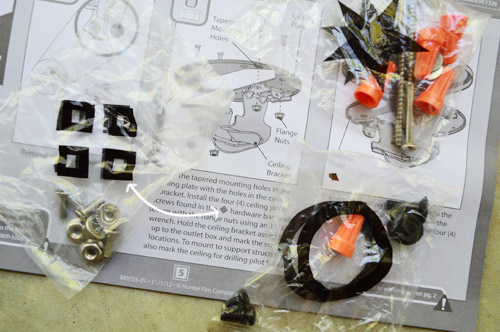 Obviously you'll want to consult the installation instructions for your fan since they can vary, but for anyone else who is tackling a fan installation, we wanted to cover the general process for you – especially since it was something we had never done before (and I was convinced would suck). Our first task was to assemble and install the mounting bracket to the fixture box. This is basically what secures the fan to the fixture box, which needs to be braced properly for the weight of a fan. The good news was that the electricians took care of that bracing step for us when they added the two fixture boxes, so we just needed to secure the top of the fan to our already braced box.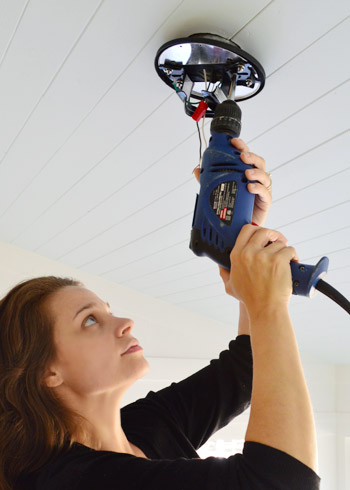 I also liked how the instructions gave you a thumbs up at the end of each step. Nothing like a big confidence boost from a little hand icon.
The next part was actually what I was most anxious about – adding the downrod. This was where we had to modify the parts included with the fan (i.e. sub out that nubby rod with the longer one) so that ours would drop down from the ceiling a bit. For some reason I assumed this would be the point I'd screw up.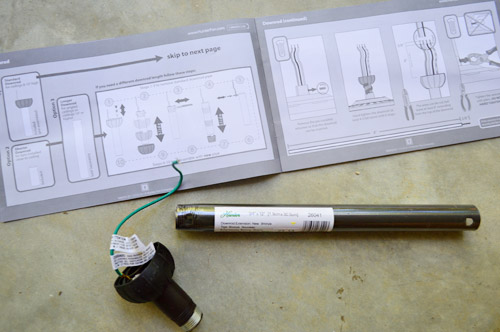 But once again, the instructions made it error proof. Basically we just removed a couple of screws and stuff from the rod they included…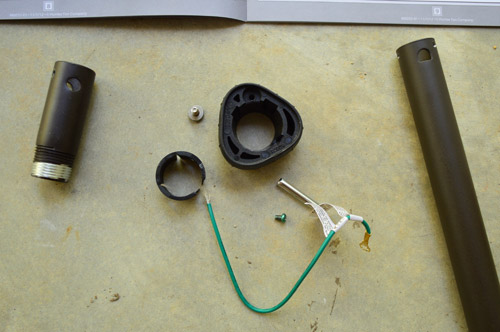 …and reattached them to our new one.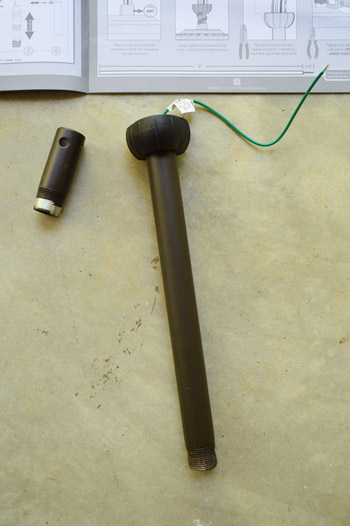 Oh, and if you're wondering how we knew what sized downrod to buy: Home Depot had a guide on display along with all of the differently sized rods. Our ceiling was a little over 9ft at that point, so we got the 12″ rod.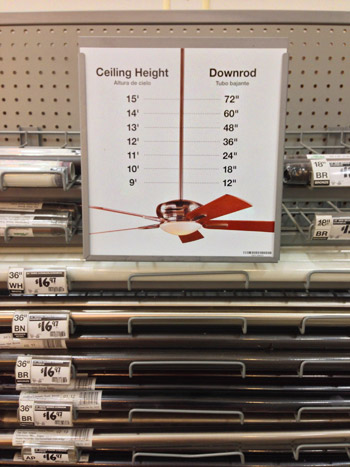 The fan had tons of extra wire, so it was just a matter of threading it up through the longer rod.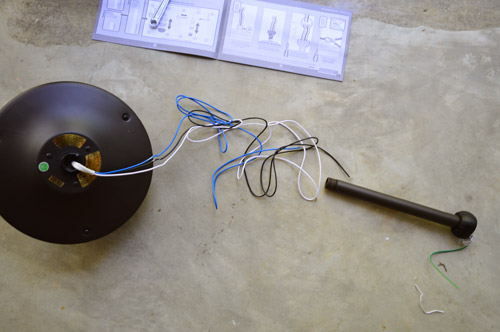 Then I attached the rod to the fan (it twisted in and got held in place by a screw) and I clipped most of the excess wire off.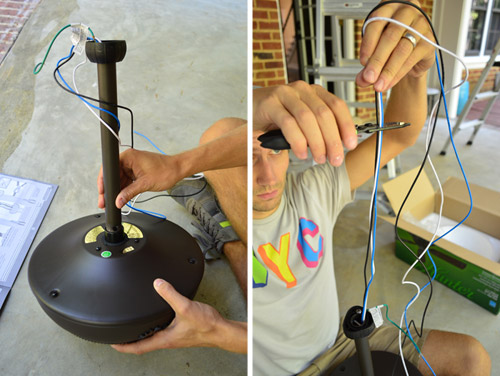 Even this part – where I expected to be exhausted by meager upper body strength while holding the heavy fan up for hours minutes to get it in place – was no big deal at all. The little ball at the top of the rod slid into the mounting bracket with virtually no effort and within seconds my arms were free. Seriously, it was a motion that took ten seconds tops. Well, except for the added time that was required to pose for this picture (it took me a few tries to nail the "focused, but not too strained" look that I'm sporting).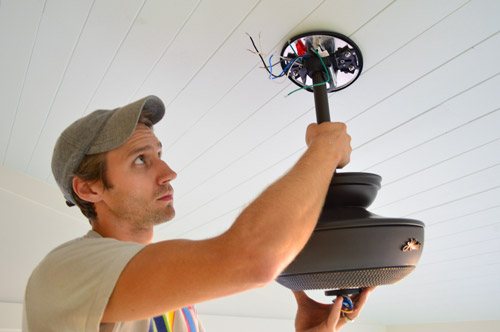 With the mounting bracket doing the work of holding the fan up, it didn't strain me at all to connect the wires (and the instructions were very clear about what color went where).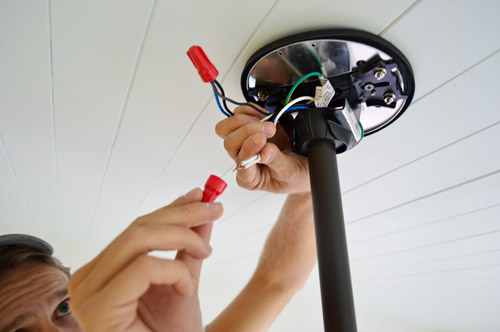 And then while I screwed the canopy in place…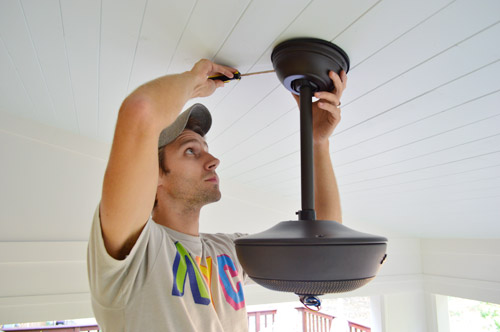 … Sherry got the fan blades prepped by adding rubber washers and screwing them into each of the five metal arms.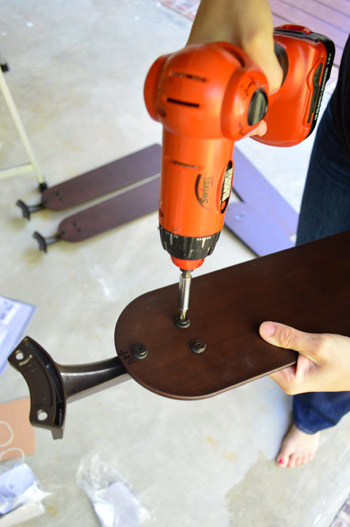 Then up those went, finally making this fan look like a fan.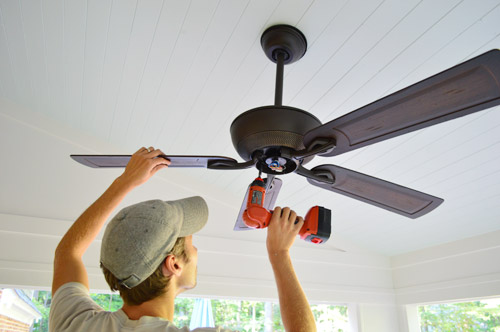 Last but not least was installing the cap at the base which is where a light kit could go eventually, if we ever decide we want one (hence all of the wires that get tucked away in there).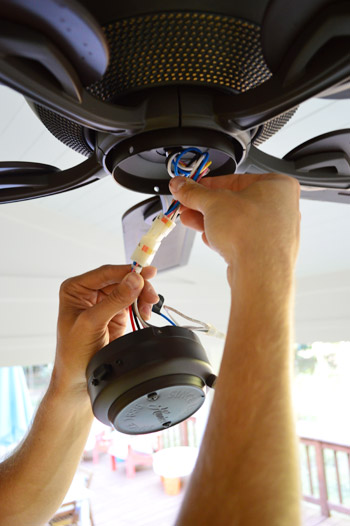 As much as we wanted to sit back and celebrate our first-fan-ever-installed victory, there was the minor detail of getting the second one up. The first one took us a bit longer because of instruction reading and photo taking, but I still think we got both fans up in about 90 minutes. Zero missteps. Minimal arm strain.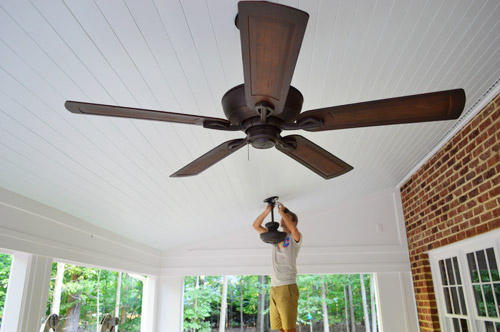 And, here comes the real shocker, we LOVE them. I didn't know my heart had such a great capacity for loving fans, but I couldn't stop smiling once they went up. Maybe it was knowing that it marked the end of working above my head for a while? Or maybe it was just how finished they made the room look (assuming you kinda held your hand over the lower half of this photo). But seriously, picture them with the dark slate-like floors that we're putting in. Not bad, eh?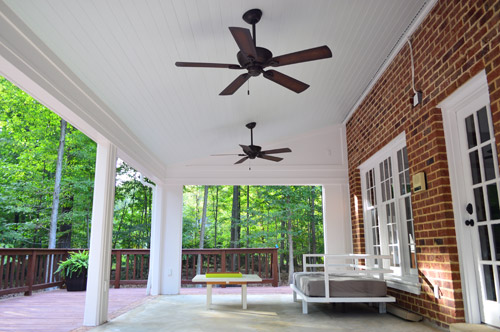 I think they're just one of those "moments" in DIY that really hit home how far a room has come. From this…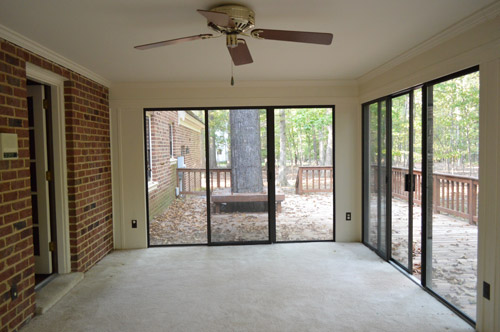 …to now this.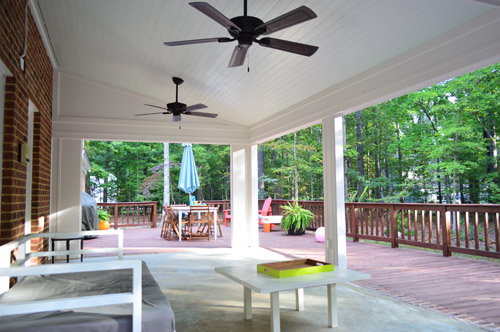 We're also relieved that our instinct to go dark with the fans was one that were really happy with. Sunny spaces like this can usually use some contrast, and these fans are finally giving the light blue ceiling and all of that white trim a little pow, if you know what I mean.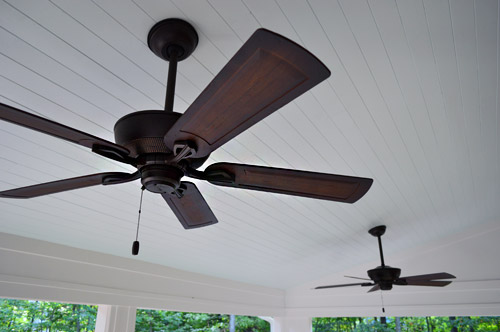 Now, if only we had finished this project about a month ago when their cooling action was actually still needed. Oh well, at least it gives us something to look forward to for next year.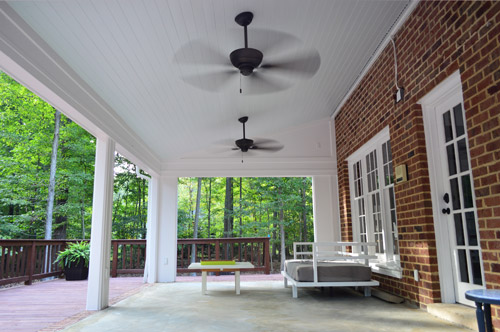 New truth: I'm crazy excited to have our fans installed in the sunroom.
Secondary truth: I have no idea why the ceiling looks so light/not-blue in these photos (see the first picture of this post for a more accurate color depiction). Or just ignore the ceiling and keep oogling the fans.