Yes, that's an electric slide reference. And I'd bet money that it's cracking my mom up while my brother is rolling his eyes and vowing never to read this blog again.
Let's talk about electrical updates, like hanging a new capiz chandelier in the bedroom, and putting our heads together to gain a few bonus outlets and cut down on drywall holes while running electrical wiring. After last week's post about our four new outdoor sconces, we mentioned we had some other wiring work done inside at the same time, so here's the rundown on everything we added, where it went, and how much it all cost.
We'll start with the prettiest result so far – the new light in our bedroom.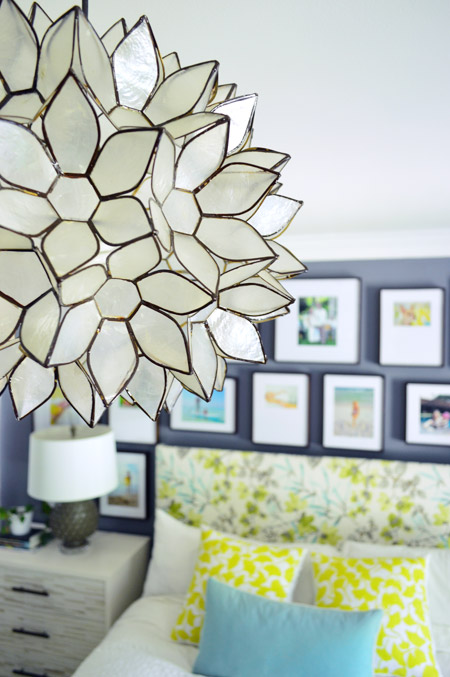 We had the electricians add ceiling fixtures to all four of the upstairs bedrooms, since we like the look and convenience of overhead lighting, but all the bedrooms were without it. Thankfully there was no drywall-disrupting work necessary other than the hole in the ceiling for the fixture box because they could takeover the existing switches, which used to just operate various wall outlets in each room. So not only did we not have to add additional light switches, we no longer accidentally turn off random things like the cable box or the sound machine as we leave those rooms.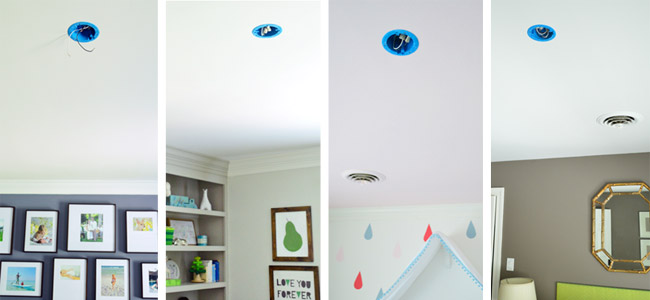 We don't have fixtures for the kids rooms or the guest room picked out yet, so we'll just add white metal covers to minimize the whole blue-circle-with-wires-in-it look until we find some. But we did have the master bedroom light ready and waiting. It's this Large Lotus Pendant that we ordered from World Market waaaaay back when we bought our hallway lights. It was going out of stock and we got the same 25% off deal on it as the other three lights, so it was $112 instead of $149 with free shipping.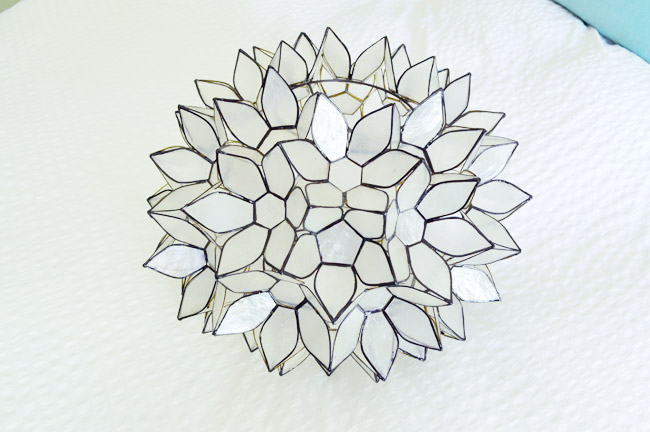 Our only gripe upon receiving it was that it didn't include a light kit (we somehow missed that bullet on their website). Then we noticed that World Market's light kits only come in black or silver, so we hunted down these two bronze options from Home Depot and Lowe's. They're the kind they make so you can pair them with their decorative glass shades (like the ones they show on the packaging) but we thought they could work for this application too (fingers crossed). We liked that they had a few finish options and came with all the other hanging hardware (and a ceiling canopy) that we'd need.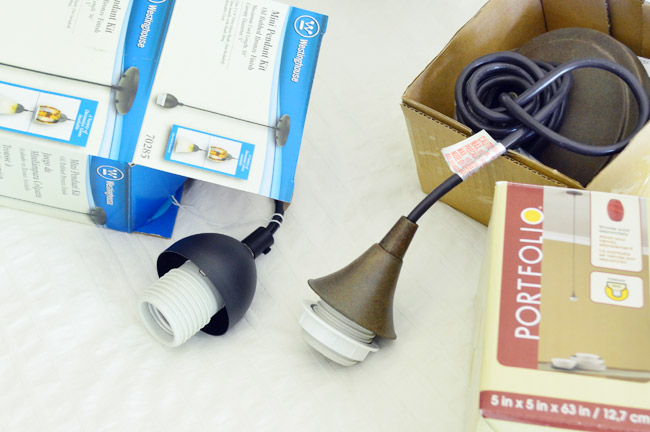 The "aged" finish of the Portfolio brand pendant from Lowe's (it was $18) was a better match to the fixture, which was lucky because it was the only one that ended up fitting. The ring on the capiz fixture was slightly too small to screw it on normally, so instead it rests on the flared part of the light kit like so: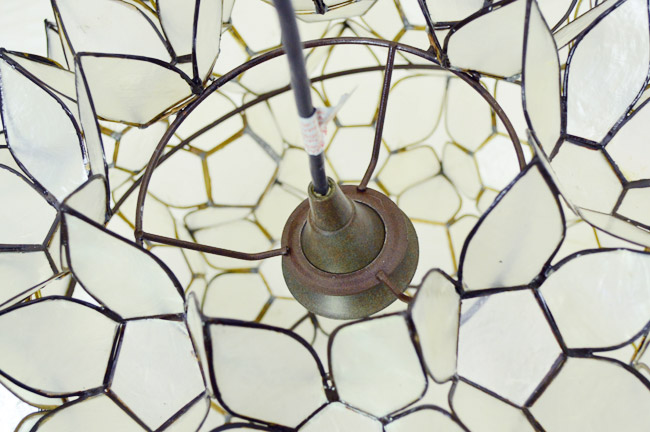 Once we realized that nesting the cord and shade that way would work, the installation process was pretty straight forward. In fact it might be the quickest light install we've done here so far, clocking in at under fifteen minutes yesterday morning. Bingo. Bango. And not once did John poke himself in the face with a metal flower petal. I was not so lucky.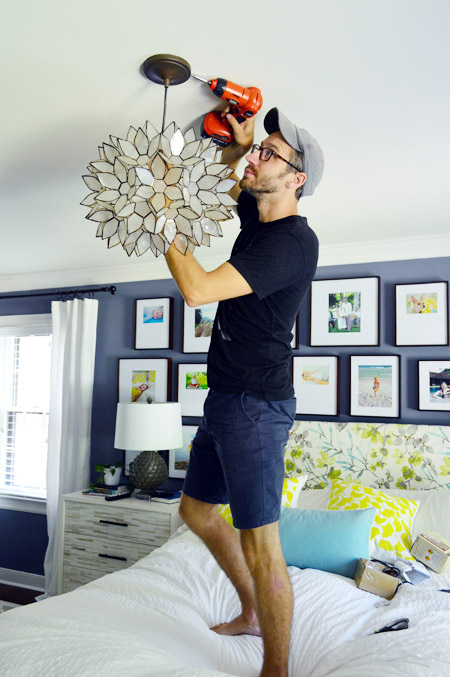 It takes one 60-watt bulb so it's nice bonus lighting on top of the two bedside lamps that we've been surviving with so far in this room (since we've lived with only those for over a year, we knew anything on the ceiling was just icing on the wattage cake for us). But can I just tell you how incredibly novel it feels to walk into a bedroom and flip the light on from the doorway. Seriously, it's almost akin to living without a dishwasher forever and then getting one. Suddenly you feel like royalty.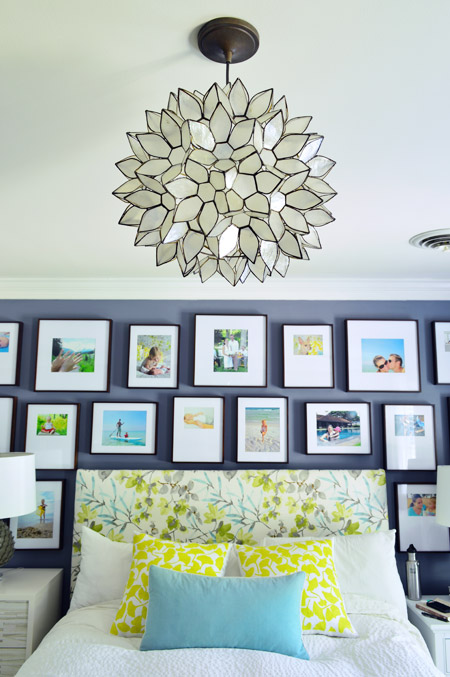 But let's switch gears to a quick overview of the whole electrical job. Here's everything that was accomplished in the three mornings they were here (it was too hot to be in the attic or crawl space later in the day, so they spread out their work across the cooler morning hours):
Added ceiling fixtures to four upstairs bedrooms via our attic
Converted light switches in said bedrooms to operate ceiling lights instead of wall outlets
Added four sconces out back in the veranda (operated by an existing switch in the living room)
Safely terminated some old radio/intercom wiring in veranda
Added a ceiling fixture in our downstairs office (and converted an existing light switch)
Added a floor outlet in the office beneath our floating desk
Added two additional wall outlets in the office (more on those in a second)
Update: You guys are asking for more office floor outlet details, so here they are: it was a really simple addition since they could come up from the crawl space. Didn't take them too long at all. They just wired it up from below and drilled a small hole in the floor from above and popped the outlet cover on. You can see the finished result below: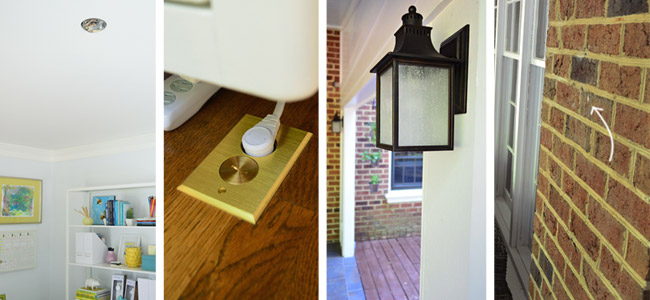 We got the bill this weekend, which totaled around $1,500. The breakdown was $270 for materials and the rest was labor/time. It was definitely one of the larger electrician bills we've received, but we paid around $900 for the lighting in our first kitchen, so getting nine fixtures across six rooms and three new outlets was a lot more work/time, and we were pleasantly surprised to realize that it calculates out to an average of about $100 per item, not including all of the switches they converted or the intercom they terminated. If we had electricians come out to tackle these rooms individually instead of bulking them all, it would likely have been a few hundred bucks per room each time (they'd be in and out of the attic a bunch of times instead of being able to do everything all at once). So efficiency = saved money, especially when you're paying by the hour.
Besides passing along the try-to-combine-lots-of-jobs-if-you-can tip, this was also a good reminder that it helps to be available if at all possible when this type of work is being done. In this case, it saved us from lots of unnecessary holes in our office ceiling. Thanks to being there, we were able to put our heads together to come up with an alternate wire route than the first one they proposed, which ended up causing a lot less drywall destruction: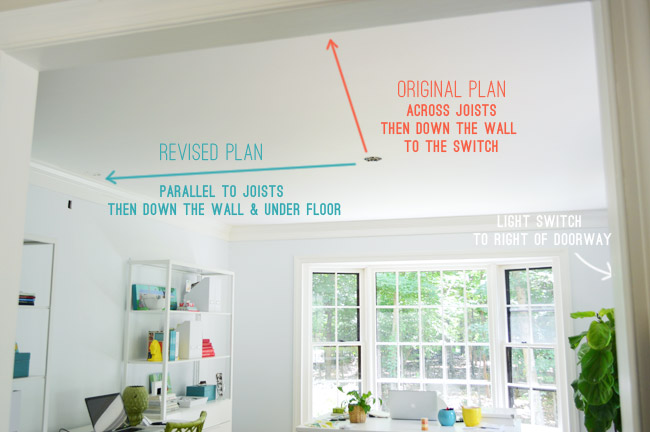 Instead of going through multiple joists and making tons of ceiling holes, we realized if the wires were run parallel to the fixture box joist, it could be snaked down that wall, and fed over to the wall switch via the crawl space instead of the ceiling (they'd be down there anyway adding that floor outlet). That option only required one small hole in the ceiling (near the tip of the blue arrow above) instead of nearly ten holes had we gone with the first method. It also meant there would be a few down the wall, but those would have been made near the light switch if we went with the other method anyway, and patching walls holes feels much less perilous to us than ceiling ones anyway (ceilings just tend to catch the light more and show every last imperfection, whereas wall ones are more forgiving).
Another little bonus that we came up with after putting our heads together was gaining this outlet right under the surface of John's desk: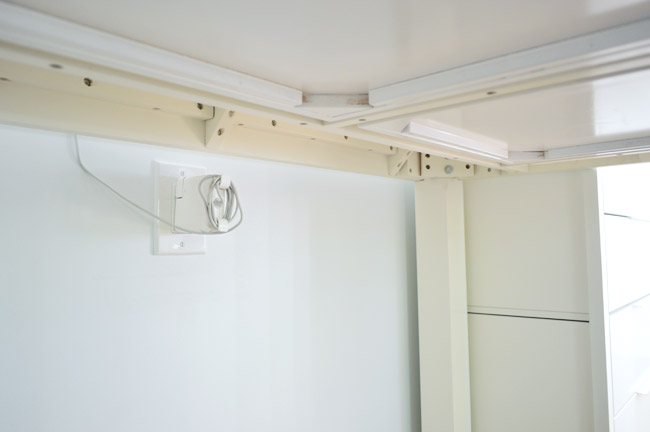 When the electrician told us a hole would end up around that area as he snaked the wire down, I asked if we could place that hole below the desk line and put an outlet there to fill the hole (instead of having to patch yet another area). He said no problem, and now John can keep his cords out of sight better (the original outlet he was using was behind one of the shelves that we anchored to the wall, so a big power strip had been resting on the floor beneath the desk).
We did the same thing on the wall under the light switch where he was going to have to make a hole anyway. That extra hole-filling outlet meant we could plug in our printer and that lamp without the cords having to snake out to the outlet under the window. So being home and talking through options might add up to more functional outlet/switch placement and less spackling & sanding.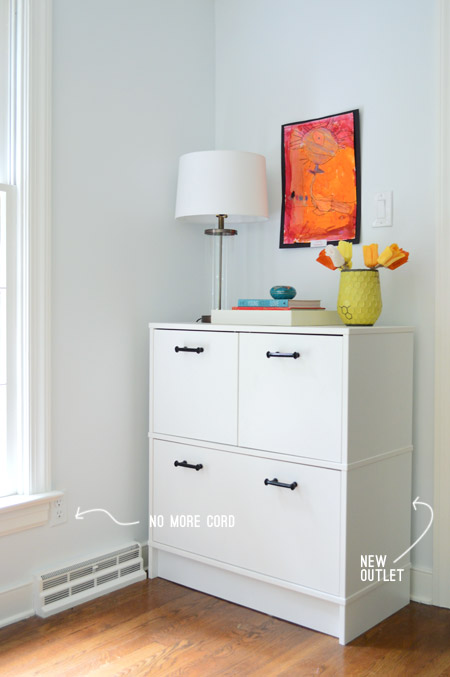 Oh, and that's a painting of a monster that Clara brought home from art camp last week. I think it's our new favorite creation of hers, so it might just get a permanent home there eventually. One that doesn't involve masking tape.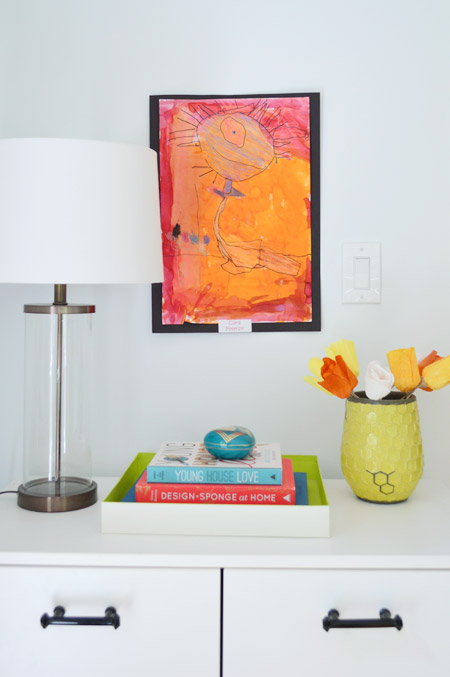 So obviously you'll be getting some light fixture updates for the office and the rest of those upstairs bedrooms sometime in near (ish?) future as we find fixtures for those spaces. Now if only we could punch our ceilings up a foot or two to give us more options. #8ftceilingproblems
*This post contains an affiliate link