In the words of Cher… "If I could tuuuuuuuuurn back tiiiiiiiime. If I could fiiiiiiiiiind a waaaaaaaay. I'd plant this pretty oak tree not on top of the house."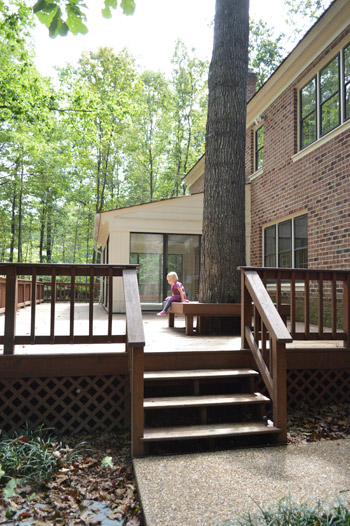 No doubt it started out a lot smaller, but it grew, and with it grew the danger of it messing with our house. So when the home inspector crawled out from having assessed the roots and their proximity to the foundation, we were sad (but not surprised) to hear him say "this tree has got to go."
Even if we could somehow do a root-growth-suppression-rain-dance to get them to avoid the house's foundation, we couldn't deny that about 50% of the tree's canopy was precariously suspended right over our house. So even if just one branch came down in a storm, it would most likely damage our new roof.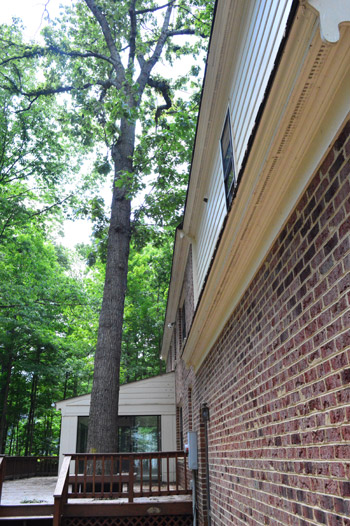 And it would be a lot worse than that if the whole thing came down. We've seen some pretty bad storms over the last couple of years here…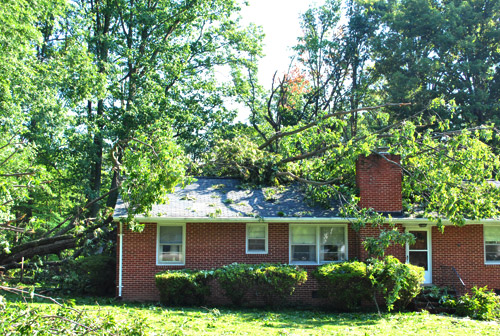 We even saw a tree come down on the house right behind ours in Hurricane Irene back in 2011.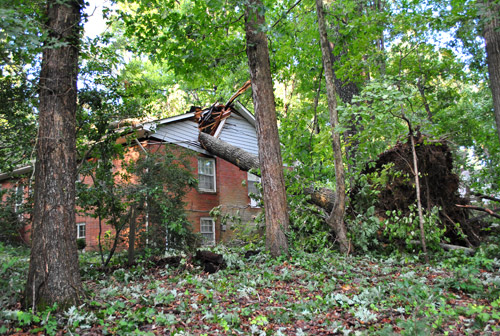 So once we knew we needed to remove the deck tree, we seized the opportunity to take a closer look at other trees on the property that we feared were dangerous/dying with the help of an arborist friend and some notes left by the inspector, which ended up identifying a few other troublesome trees, including three in the front and another one in the back near the deck. Those in particular were too close to the house (and too big) for comfort or had holes/rot in the base or were partially hollow (YIKES!) which meant they could come crashing down a lot more easily than healthy, solid trees could.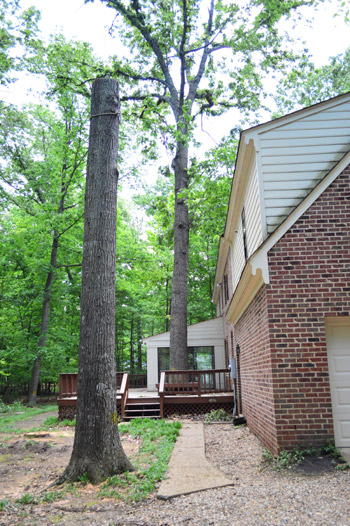 We had actually used this crew way back in 2007 at our first house, where we had a crazy giant split tree that was dead in the middle. They're called Shady Tree Service, and William is the head dude. He's a really nice guy and I feel like we've watched each other grow up or something. He wasn't married back then, and now he's married with two kids. Of course John and I have since tied and knot and had Clara (and Burger) so it was fun to catch up with him.
It's a pretty hardcore job if you ask me. Dude, there's a man up there – even higher than the house. You know, just swinging a chainsaw around.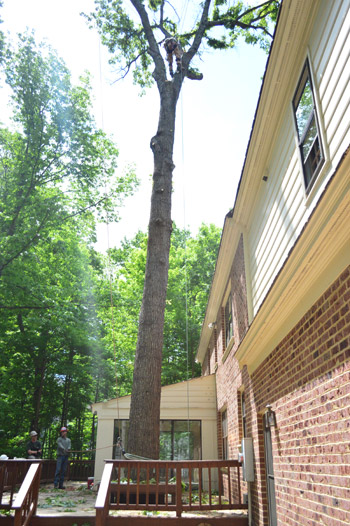 Here's William in the bucket, taming the lower portion of the deck tree. There's actually a whole lot of math going on in tree work (angles, momentum, trajectory, etc) – you know, just to make sure nothing swings INTO YOUR HOUSE, so it's pretty amazing to watch.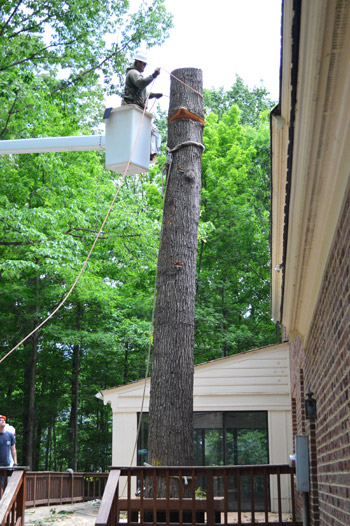 This was the view out of the guest room window. No zoom here, this is just how close the tree was (and how careful William had to be).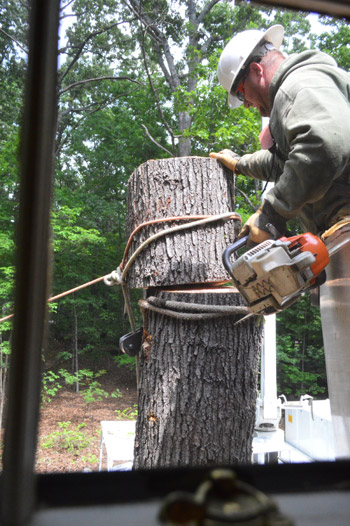 It was also crazy to see how hollow some of the trees were. This picture doesn't do this any justice (one Clara and approximately four Burgers could have fit into the hole).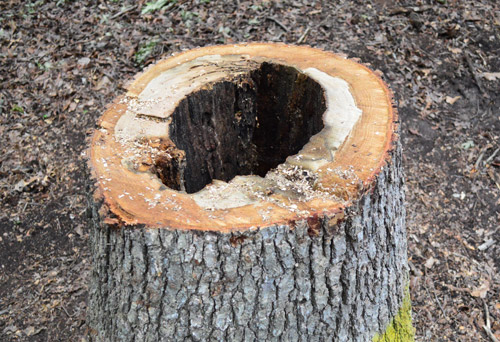 Here's an "after" of the back, now that those two trees are gone. Still leafy, but less tree-on-house action.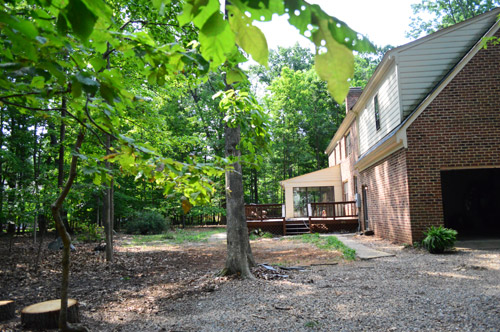 And here's a front view when we bought the house…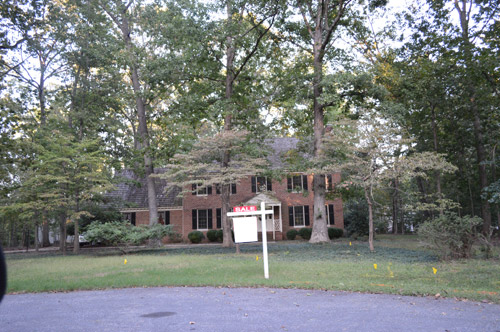 … and the front view now that those three are gone. It's a more dramatic difference than I think we were expecting (we were so hoping we could keep at least one of them) but we're glad they're taken care of and we don't have to stress every time we hear that a storm is coming. It has also let more light into the house, should help us grow more grass to fill in our patchy hair-plug-ish yard, and is going to help keep our new roof dryer (which lengthens its life) along with discouraging any more rot in our siding and trim (we already have some of that to deal with).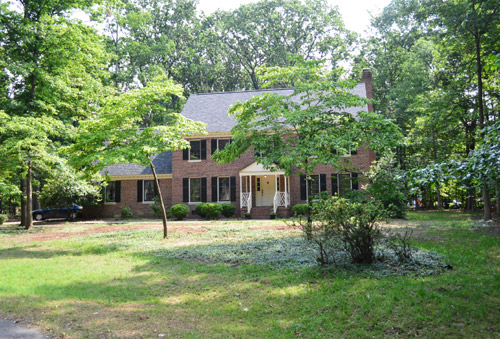 So a few thousand bucks later (ouch), those five trees are gone and we have some nice peace of mind. Tree removal costs definitely vary by the size of the tree, how hard it is to get to (will they need a crane, etc), and where you live. But a general range for getting a medium sized oak tree down that's near a house in our area might be between $1K-$2K. If you add others, each additional tree tends to be a lot less since a lot of the cost is just getting the crew and machinery out to your house. So you could get a $1K quote for one tree, but negotiate a $3K total to get five of them taken care of (especially if a few of them are smaller/easier to wrangle).
Oh and I have a few tree negotiating tips:
get a bunch of estimates if you don't already have a favorite tree guy (we didn't get others this time because William's the best and every friend we recommend him to confirms that his prices are always better than the rest)
make sure they're licensed and insured (seriously, I wouldn't mess around with this because it's such a dangerous job)
if you've used the company before, you can score a better price by reminding them you're a repeat customer
save competitor coupons (in our area some tree folks put out coupons and most of them will honor someone else's to get the job themselves)
in general whenever I negotiate (John hates that part, so it's all me) I like to smile after they toss out an initial number and say "is that your best price?" (then I just shut my mouth and listen, which usually results in some amount of money off, free stump grinding, or some other perk)
As far as projects go, this might have been Clara's favorite to watch. She loved gazing at the wood chipper, seeing the guys up in the trees, and standing on the stumps. This one's the big deck tree, which she loved most of all. We thought about leaving some of the stump on the deck to create a table base, but the location would put the table a bit too close to the house for it to be functional.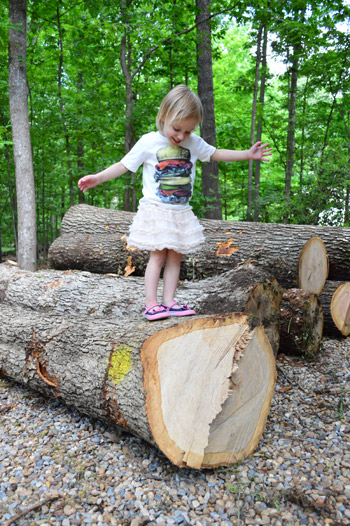 So instead, we decided to "keep" the tree in the form of a few fun little stepping stones that I asked the guys to cut before hauling the rest off to be chipped/recycled as mulch.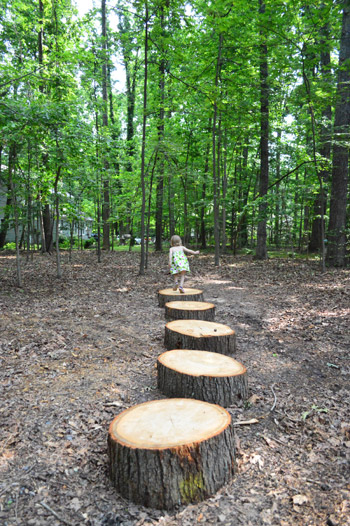 Those might look like you could lift them up and place them in that clean little line, but they each weighed a ton and could only be moved with the tractor that the guys had for hauling stuff, so it was fun to watch them shove them all into place with heavy machinery.
And how about this for an epilogue? Remember when John mentioned that we have some deer friends at the new house? Well, apparently they like us, because they love to sneak up on us. Take this shot for example. I was taking after photos of the trees gone and John saw this one hanging out right behind me. I didn't even notice.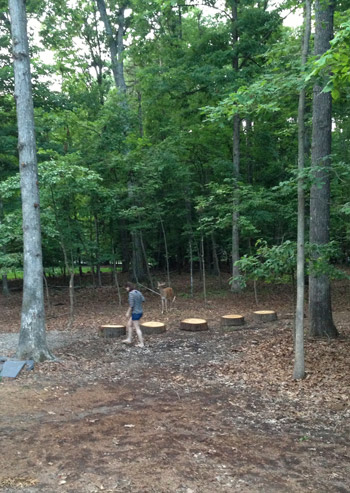 And then I did, and I took this picture. Sherry Petersik, wildlife photographer.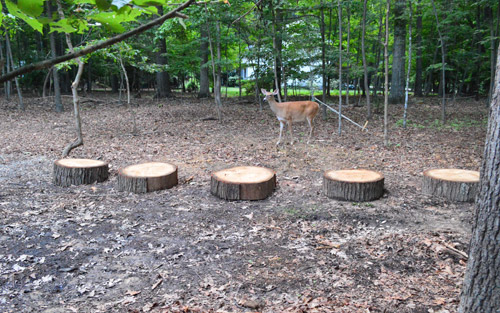 Then Burger barked and off it ran. So evidently we live in Fairy Tale Forest. Thank goodness we still have a bunch of leafy trees around to maintain the title…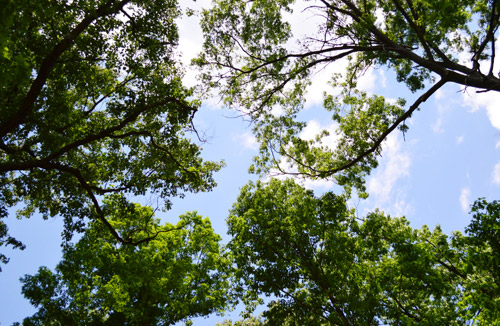 Anyone else getting trees limbed up, trimmed, or removed? Couldn't you watch a 24/7 show of people doing it? If HGTV's wondering what programming to add, I'd totally watch an hour of guys taking giant trees down. Their lever-systems and crazy swinging contraptions are no joke.