We're nearly a week away from December, which makes rewinding all the way back to the beginning of October a little strange, but since a few book tour stops threw our productivity for a loop this month, our usual wrap-up of the previous month (in yearbook-style superlatives) is coming to you a bit late (ok, way late) in the middle of Thanksgiving break. As always you can read back through January of 2011 right here in just 21 posts instead of 700. Oh yeah, and we've also snuck in a clue about Monday's giveaway at the bottom. Hope you guys are having a great Thanksgiving weekend with the fam!
Most Adventurous: Sherry, for braving our overgrown butterfly bush to get this picture before we started cutting away at it. I know what you're thinking. What's so brave about going into a bush for butterflies? Well, we found a snake in it later…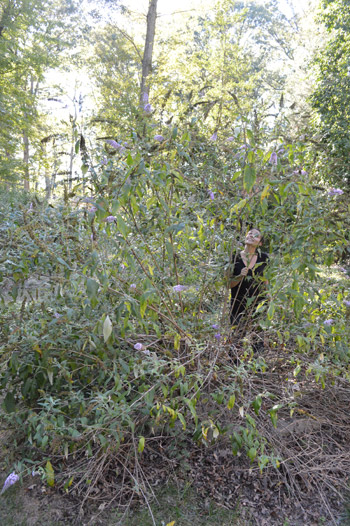 Simplest: This quick little key art project that Sherry whipped up, which represents the four Petersiks from left to right: me, Sherry, Clara and Burger (since he doesn't stand upright like the rest of us).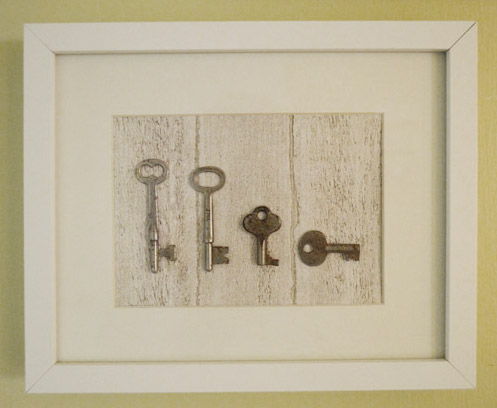 Biggest Eyesore: The trash-filled Bagster that sat at the end of our driveway for a couple of days before it was hauled off. But the temporarily ugliness was all in the name of creating some long-lasting pretty-ness in our basement. #worthit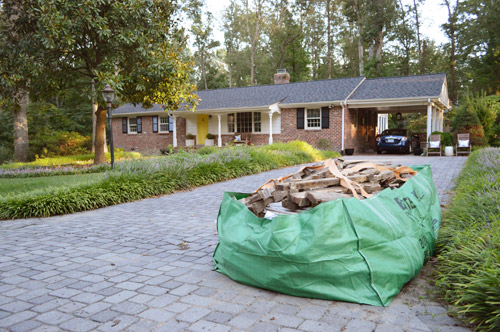 Hottest: According to this mood board Sherry whipped up, School Nostalgia gets this award (which is perhaps a subliminal reason why we do these yearbook-style superlatives?). It was our first shot at a round-up mood board like this, but there will be more down the road since you guys seemed to like it.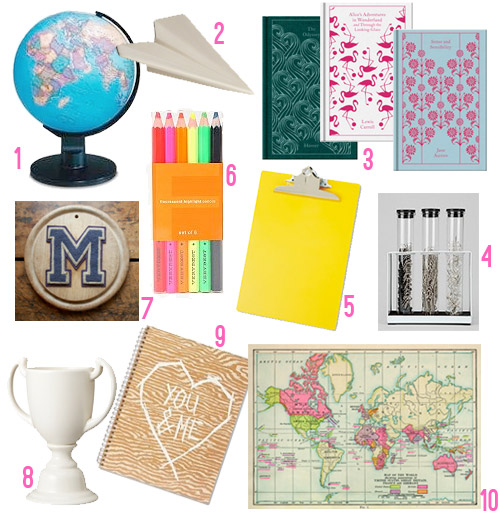 The Hand-Me-Down / Hang-Me-Up Award: Our old bedroom sconces. They never quite found a spot here in the new house, so we gave them to our cousins and even hung them up on a recent trip to their home outside of Washington DC.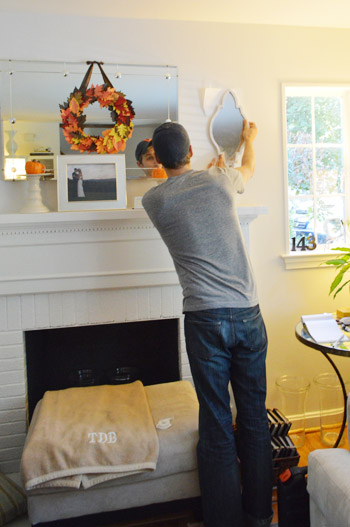 Most Asked: "How do you know when to DIY something versus when to hire it out?" Since that was such a popular question, we finally dedicated a post to answering it using our french door non-DIY as an example.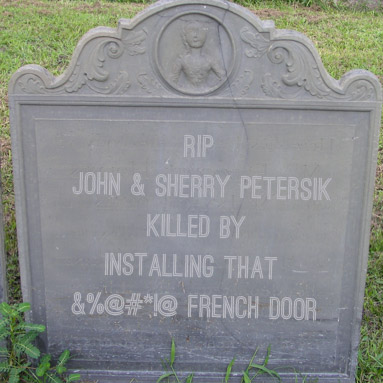 Most Coveted: Some of the items spotted on a run through Target last month for one of our occasional Window Shopping posts. Arrowhead notebook, anyone?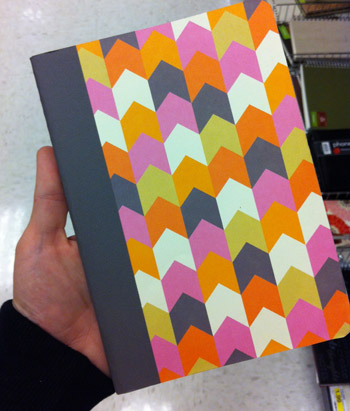 Most Open: The oh-so-wide access to our deck, as demonstrated by this "after" photo from our french door installation.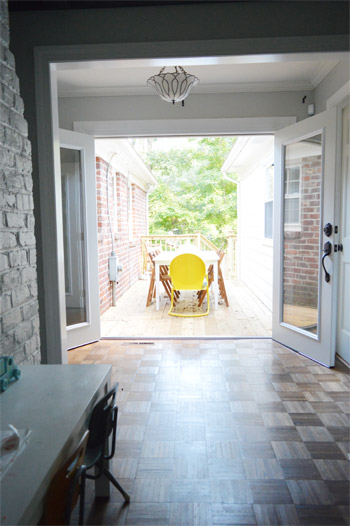 Fastest: Sherry's fall mantle decorating, thanks to the little time lapse effect that we applied to the process. Because who wants to watch her futz around for 30 minutes?
Most Satisfying: Finally, finally, finally hosting a yard sale to get rid of some of the "overflow" items that we've been accumulating around here – including things from the last house that after nearly two years have yet to find a home (and some things for my sister so we could put "multi-family" on the signs).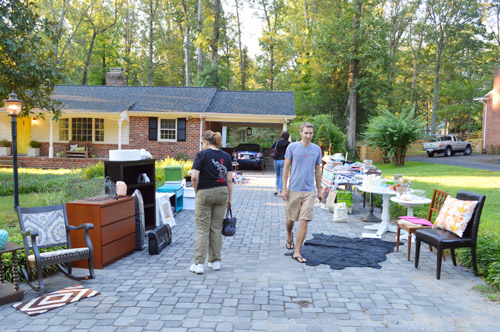 Most Satisfying (Runner-Up): Finally, finally, finally getting rid of some of the insane amount of liriope in our backyard… and discovering that our brick pathways are wider and more charming than we originally thought!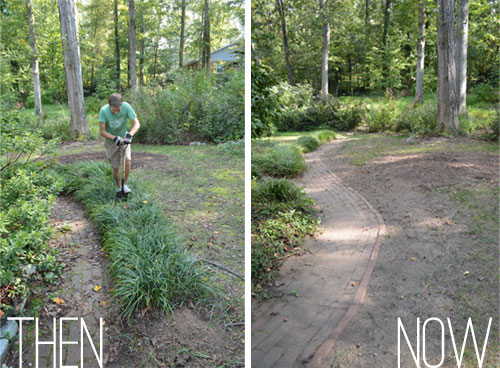 Oddest: This moose lamp found at a moving sale in West Virginia. But once it was sprayed white (and reimagined with a colorful shade thanks to Photoshop since we couldn't reveal the real secret-book-project one) it went from odd to oddly awesome. At least for nature geeks like us.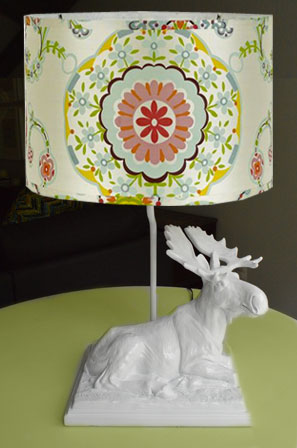 Most Nerve-Wracking: Our book finally coming out. Sherry laid out all of our fears and anxieties about it finally being born in this post, with Burger capturing our sometimes-want-to-hide-under-the-covers feeling pretty perfectly.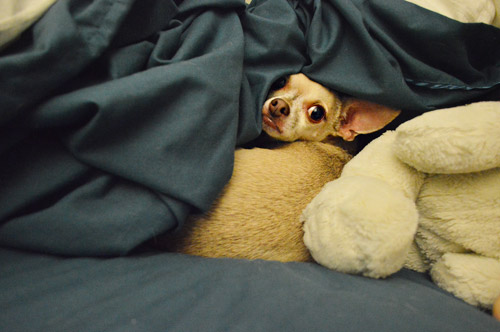 Cuddliest: This baby squirrel? Admittedly we didn't attempt to cuddle it, but Sherry really really wanted to. Thankfully it ran off and we could get back to more bushwhacking in the backyard.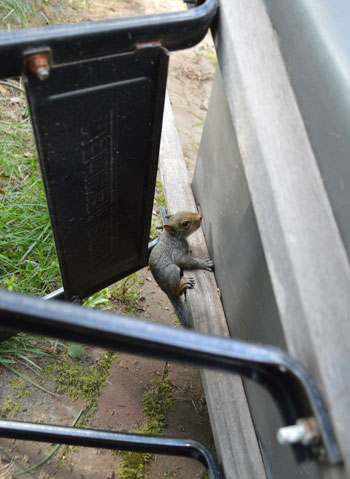 Most Boring: I say this in the sense that it's the project that required that I bore lots of holes… in pumpkins. There was something sickeningly awesome about drilling into a pumpkin and having all of its orange guts spill out (all so that Sherry could later weave fake snakes through them).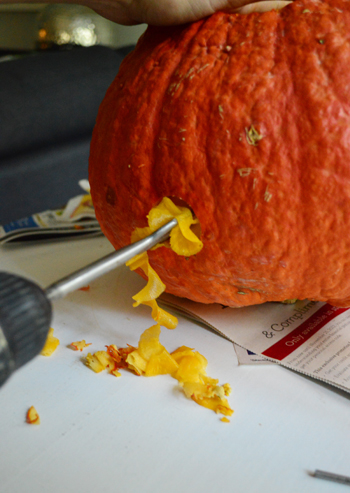 Manliest: Well, maybe "manliest" is a stretch – but this rundown on guy-friendly fabrics (at least, in my humble opinion) even included tips for honing in on a few not-insanely-girly florals…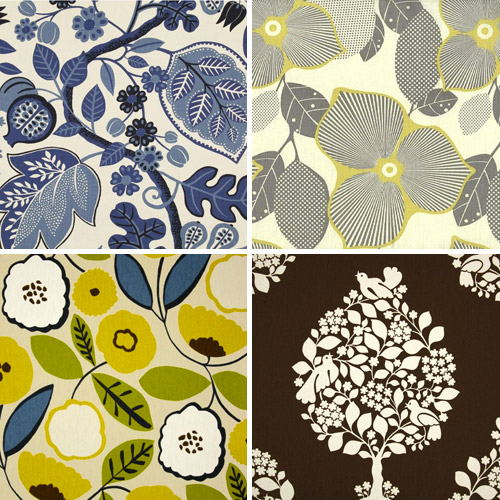 Most Historic: Some of the items uncovered while cleaning up my basement workshop. My favorite is the fire extinguisher that was last inspected when we were about Clara's age.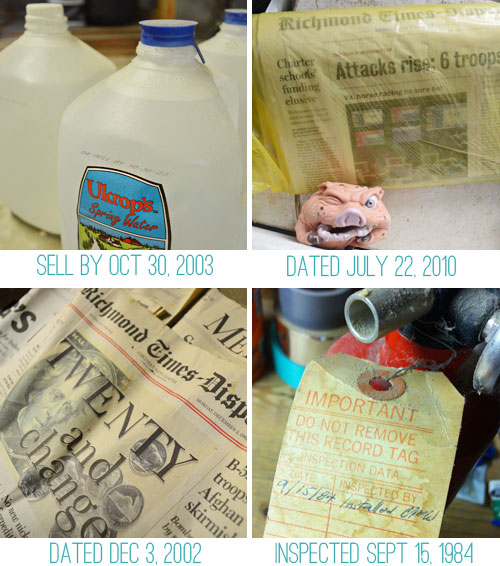 Creepiest: Sherry, in this Halloween photo from 1994 that she used to announce this season's Pinterest Challenge. For the record, she was supposed to be a ??????.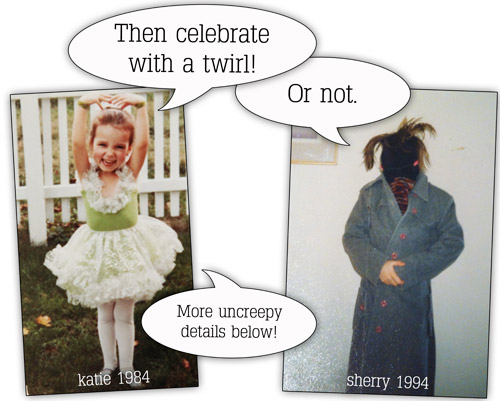 Most Polarizing: This fast and free duck makeover that was a big hit with some of you and not quite as lovely to other folks. It was admittedly a bit quirky, but it only has to live in our house so… no harm, no fowl? #duckpunforthewin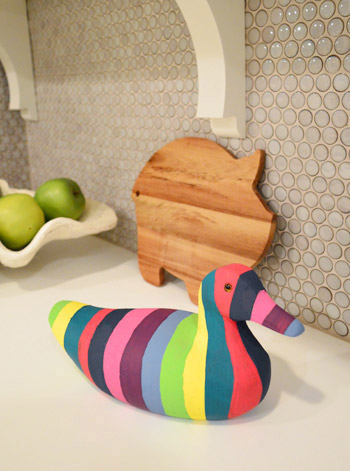 Nerdiest: Both of us – well, especially Sherry – during our first book tour stop in Cincinnati last month. Among embarrassing photos like geeking out over seeing stacks of our book for the first time, overdramatic cooing for babies, stuffing chili into our chili-holes, and this photobomb near Cortney Novogratz, we had a grand ol' time in the O.H.I.O.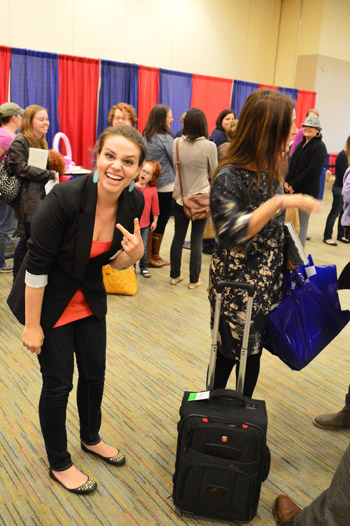 Most Improved: I'm giving this award to our backyard, which is looking worlds better after finally getting those overgrown bushes out of the way and making room for some grassy open areas. We can't believe it's the same place and it only took a few phases of digging, leveling, and seeding.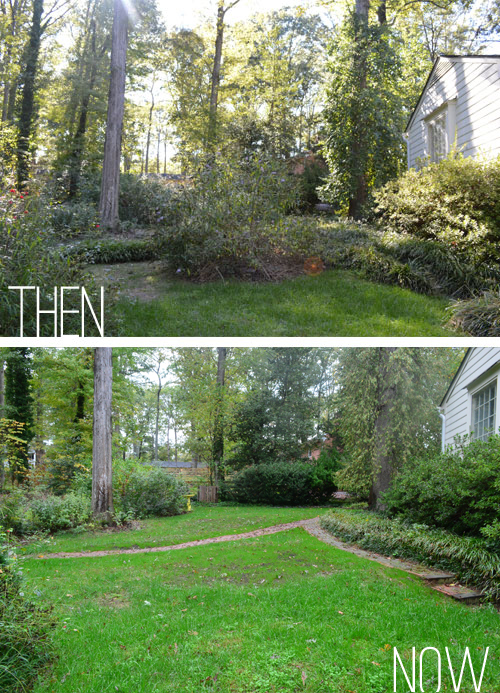 Most Obsessed: Sherry, particularly when it comes to Nate Berkus. Which is why we drove to four Targets before finding some new stuff from his collection to bring home.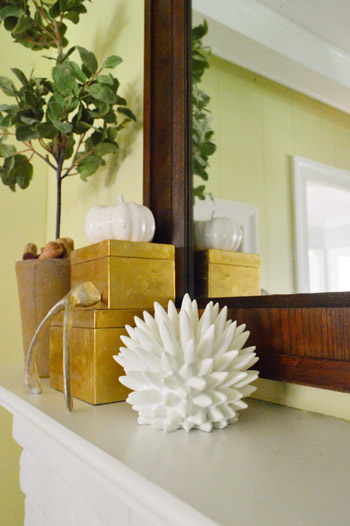 Spottiest: This kid-friendly pumpkin project that we tackled with Clara this year (since she's not yet old enough to get her carve on). The tissue paper polka dots were right up our little sticker-lover's alley.
Biggest Flirt: Me, at least when I'm in the presence of my basement pegboard. Seeing my tools all organized neatly gets me so hot under the collar that I'm like this Kristen Wiig character named Shana around it. Side note: this post's title ("Classic Peg") was one of two SNL Justin Timberlake references of the month.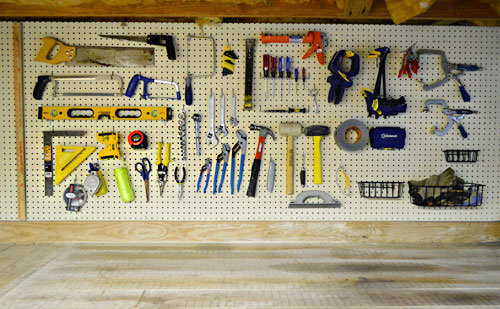 Most Pinteresting: Our project for this fall's Pinterest Challenge. A scrap piece of plywood + some cheap framing lumber + stain + chalkboard paint = this rustic, oversized chalkboard for our living room. Plus we added some already-owned magnet paint to make it magnetic too.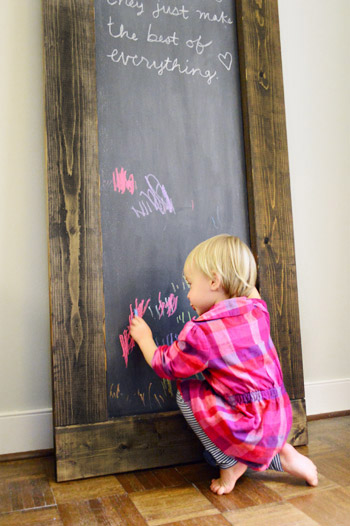 Most Pencil-tastic: What? Your high school didn't have this superlative? If it did, it would probably go to something like this shadowbox which we made to commemorate meaningful items from our book writing process – like the many pencils that we ground down while going through rounds and rounds of editing.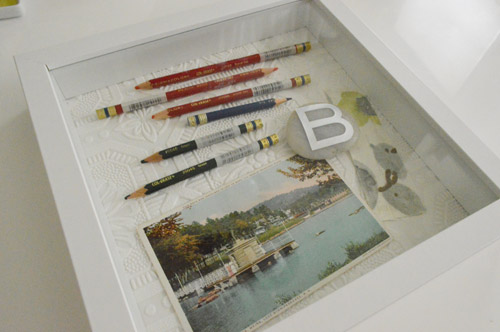 Most Adorable: We gotta give that award to Clara, er, Jessie for her homemade, Toy Story-inspired Halloween costume that Sherry whipped up. Oh yeah, and Burger's Slinky Dog costume should get the "Most Likely To Require An Explanation" award.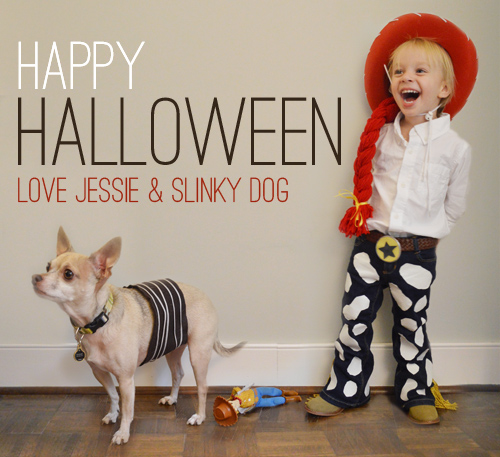 Most Likely To Give You $200: Monday's giveaway, which is coming from one of our favorite stores. And to make you work a bit to figure it out, just test yourself with this anagram below (i.e. rearrange the letters to form the answer). Hint: the answer doesn't follow the same letter-per-word count.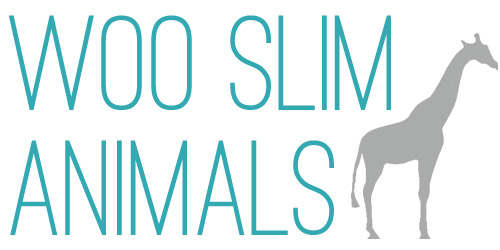 So how was your October? Did you get anything major or minor checked off? Can you even think back that far now that it's almost December?