Dude, I did it! I semi-DIYed my very first Halloween costumes, and I lived to tell the tale. It actually wasn't too hard (do you believe that I didn't sew a single thing?). Holla!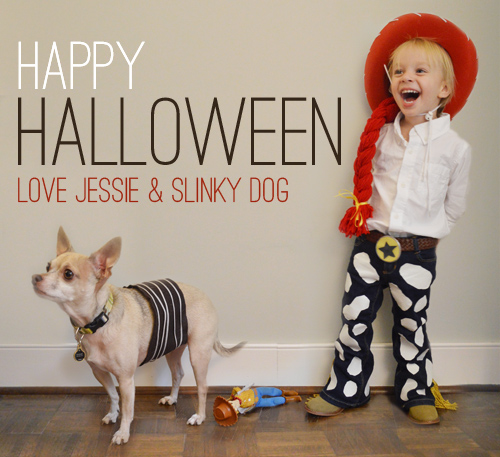 In case it's not super obvious, Clara asked to go as Jessie (the cowgirl from Toy Story) and Burger gets to be Slinky Dog (also from Toy Story). Here were most of my supplies for Clara's costume:
a "cowgirl hat" from a local pop-up Halloween store
red yarn and white duct tape from AC Moore
flared jeans from Old Navy (you know I used a coupon and bought them on discount Tuesdays)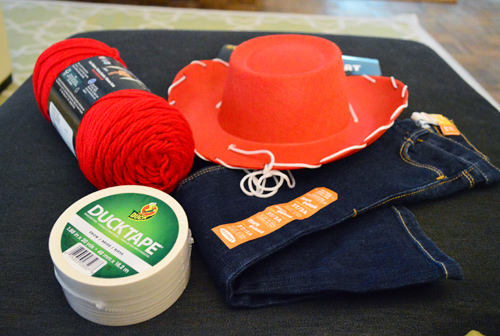 The first thing I tackled was making a long Jessie-ish braid from the yarn and used the white duct tape to connect it to the hat. Looks pretty bad from the inside, but thankfully it's all covered up when Clara puts it on, and it doesn't seem to bother her (she loves her Jessie hair, and it actually seems to help make the slightly-too-big hat fit her a bit better – even though it still slides around a little).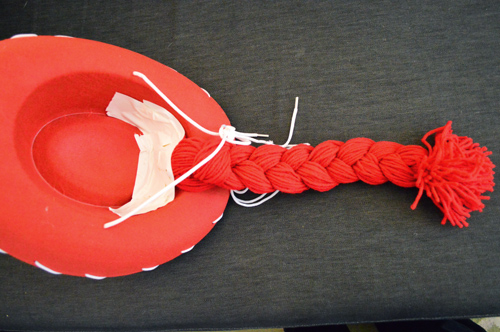 Oh and she needed winter shoes/boots, so I found these cowgirl-ish boots at Old Navy on sale, so they'll not only serve as shoes for the costume but she'll hopefully get lots of wear out of them this winter. I also picked up an on-sale white button down (in the boy's section) that she can wear well beyond this costume. And speaking of wearing-beyond-the-costume, see the jeans? I cow-patterned them up with white duct tape that I cut into different cow-spot-ish shapes. So it's 100% removable so the jeans, the shirt, and the boots can just be worn normally after Halloween until Clara outgrows them.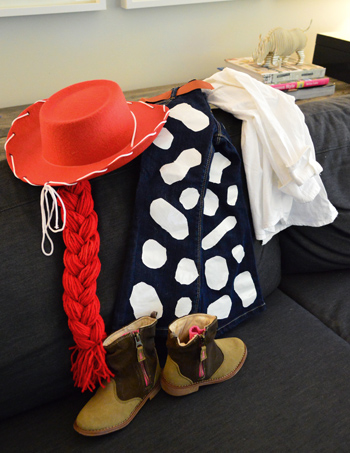 As for slinky dog's costume, I just got a quarter yard of brown felt from JoAnn (on sale for 50 cents), cut it into a small strip that wraps around Burger's tummy, and used velcro at each side of the strip to secure it under his ribcage. Then for the "slinky" we just got two yards of silver trim (from the aisle with all the fringe and beaded trim that you buy by the yard at JoAnn). I didn't even sew the slinky trim onto the felt since I secured it with safety pins on the outside of the costume under his belly (so they're not against Burger's skin, they're on the outside of the felt sleeve). I intended to stitch it after pinning it just to see how it looked, but it seems to work as-is. Burger doesn't exactly love Halloween costumes – he wiggles out of them in about 5.5 seconds – so I figured it wasn't worth breaking out a needle.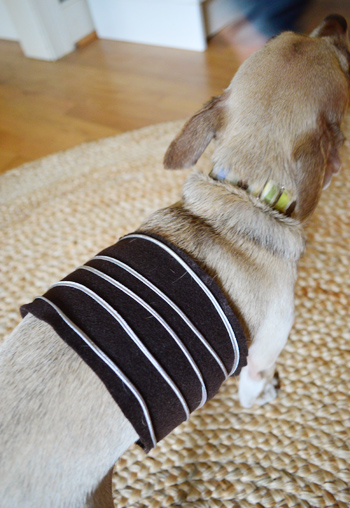 Oh man, and my favorite detail is the gold fringe that I added to the bottom of Clara's flared jeans. She LOVES it ("look how they shake mommy!") and I'm so excited that it was only $1 worth of trim from JoAnn which I safety pinned in place (so once again, it can be removed and Clara can wear these jeans for the rest of the year). Although she loves them so much, we might de-cow-spot them and leave the fringe on for a little while… just because she gets such a kick out of it.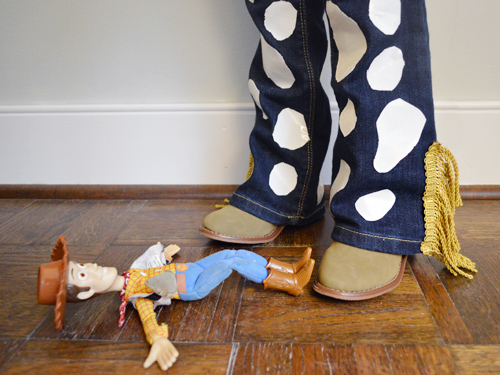 Here's Clara's Jessie hair from the back. Isn't that long braid adorable? Oh man, I think my brain will explode when she actually has hair I can braid. Squuuueeeee!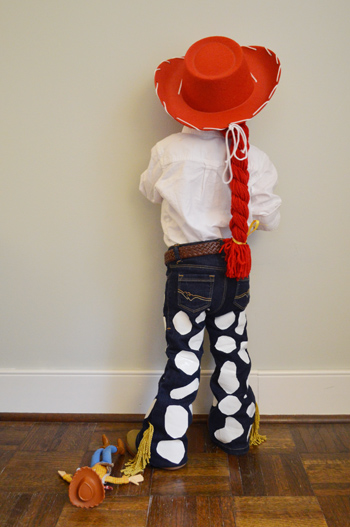 Oh and the belt! I made that with another trim thing I found at JoAnn (it was woven leather-looking trim that was the perfect width for her pants). I secured it with a round plastic pin/button (you know, the ones people wear on their lapel that say "vote for me for student council") but it was a clear fillable plastic button, so I opened it and put yellow construction paper in it with a star in front of it that I cut from leftover brown slinky dog felt. Since it has a safety pin on the back of it, it holds the woven trim together like a belt, so for around $4 I made her that little cowgirl accessory.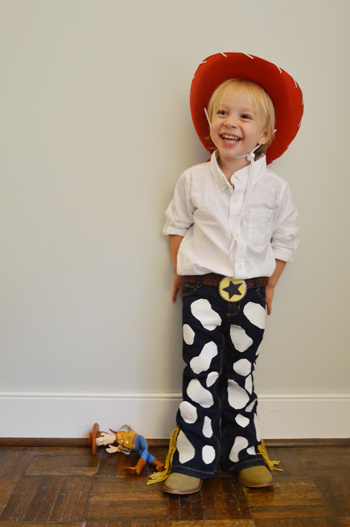 Weirdly enough, Clara's favorite Jessie activity so far has been sliding her legs out on the floor like this in her boots (and occasionally hurting Woody, if he's nearby). She's got the moves like Jagger.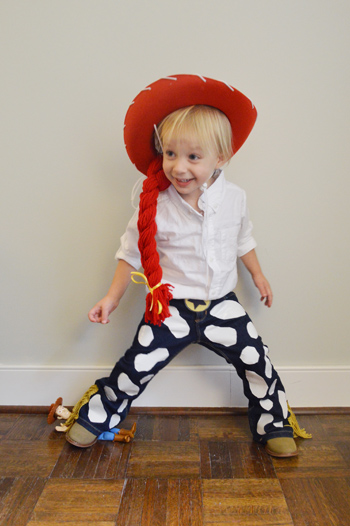 What sort of costumes are you guys DIYing this year? Anyone else using odd things like white duct tape when it comes to your costume? Or are you happy to buy something cute off the rack if it grabs you? I gotta admit we did that last year…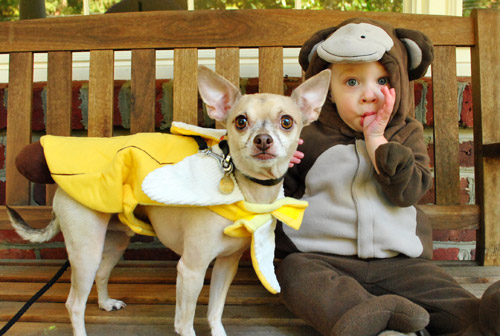 … and the year before…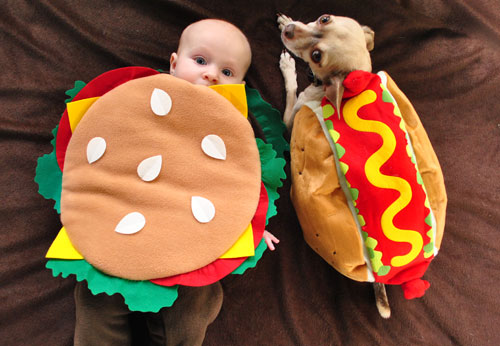 … and it was tons of fun too. Hope you guys all have a safe and happy Halloween!!! And I'd love to hear (and see!) what your kiddos are going to be this year. And any grown ups in costume = awesomeville. Links, links, y'all!