Ok, so this random Friday post is 25% about a quick little project, 25% about some house crashing-ish shots, 25% about general Clara cuteness, and 25% about Jewel. Yes, the singer. Who's ready?
It all began with a weekend trip to DC to visit my BFF Cat (who John and I set up with John's cousin Travis and then they got married and had two kiddos- so yes I'm now related to my BFF). She, Travis, and their cute kiddos Elsa and Edison live in Arlington, Virginia and took us into the city to check out the National Aquarium in DC (John's sister Katie along with her two sons John and Ben and her hubby Martin came too). The aquarium was definitely a hit with the kiddos. The baby alligators might have been the highlight…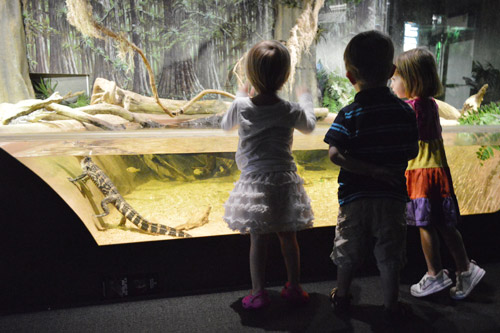 No wait, it was the exhibit with a Nemo and a Dory fish (they looked just like them). Clara and Elsa were especially enamored.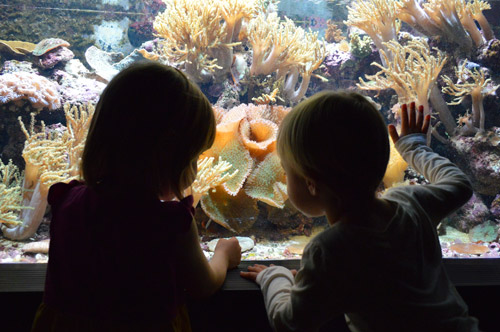 Bam! Then we saw Jewel. She was doing this book signing thing a block or two away from the aquarium, so we were just walking by and we're all "wait, isn't that Jewel?" and then I had to use everything in me not to start singing "Whooooo willll saaaayyyaaayyaayyyyve your soul?" – but I successfully resisted. Whew. I just snapped this picture and we kept moving. But it was pretty funny and random. She looked sweet, btw.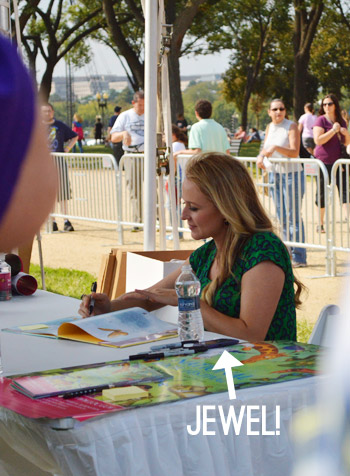 Then we went to Gravely Point, which is this awesome spot where giant planes fly right. over. you (they land within eyeshot at the airport, so they're really low and loud). Yes, the kids went wild for it.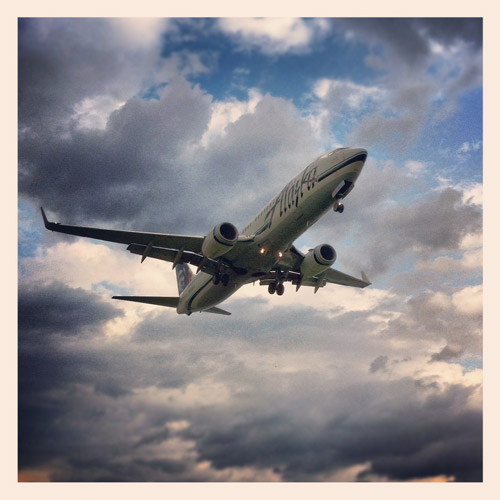 As in – all out crazy every time. It was adorable. There was fist pumping.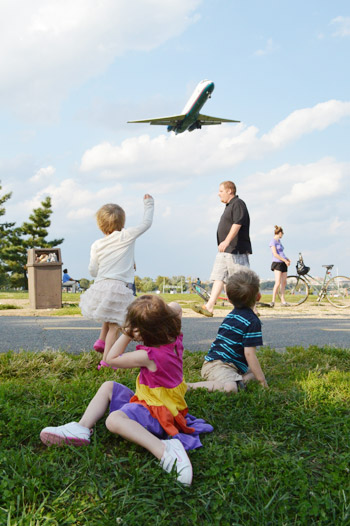 Elsa and Clara are BFFs. Which completely melts my heart. I mean, my kid is going to marry my other BFF's son (yes, we're talking about Will Bower here) and she has a for-life bestie in Elsa. Life is good. And completely unpredictable. Who woulda thought we'd successfully set up John's cousin with my best friend and then I'd meet another real-deal-holyfield friend through blogging. Random, I tell ya. In the best possible way.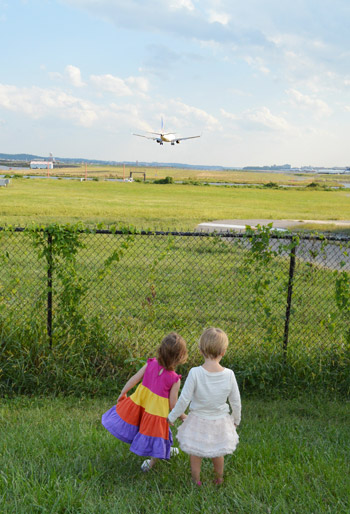 And then there's the fact that Clara is here on this earth (miracle!) and that John and I randomly met in NYC at a job I loved and John loathed (he had actually applied to go back to school – so I'm forever grateful that he didn't leave NYC forever before I got my mitts on him).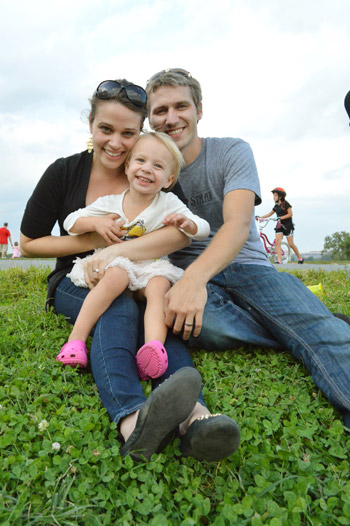 Sorry, this post is especially meandering today. Like a long dirt road in the country. And I might have some dirt in my eye. Sniffle. Anyway, back to the house related stuff. Tangent over.
Check out this awesome chalkboard wall that Cat has in their playroom. She added magnetic paint before the chalkboard paint, so magnets also work on the wall. Clara was in animal-magnet heaven.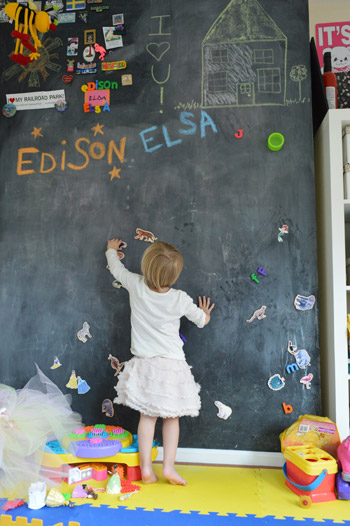 And this was a cute Craigslist find that Cat picked up for Edison's room. One of those expensive Pottery Barn book racks, except it was cheap-o thanks to being scored secondhand through sir Craig and his list. All hail craig and his list.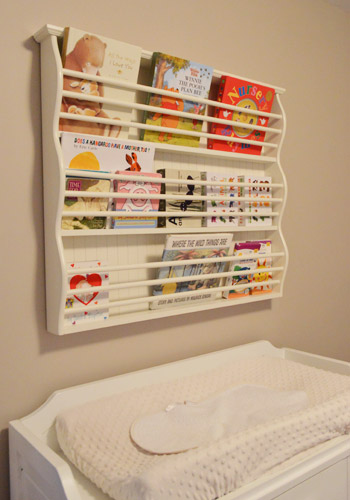 Is this post getting weirder? Wait, don't answer that.
Look at this pretty original chandelier that they inherited in their dining room. The best part? Cat's not that into it. So once they buy a new chandelier I get it. Picture me rubbing my hands together maniacally. So excited about that…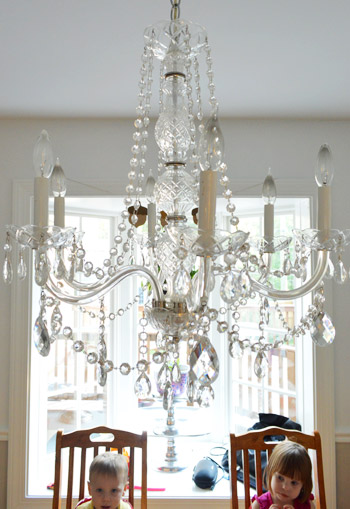 You can see more sneak peeks of her house here from this older BFF-visiting post. We really need to properly House Crash her, but there are always a million kids running around (oops they're ours). Haha. Someday!
And in organizing news… look at Cat's photo albums. Doesn't that make you green with envy slash "want-to-go-to-there"-ness? I want my family albums to be that organized. Cat said all it took was grabbing a bunch of the same type of album and pulling out all of her pics from mismatched piles, boxes, and old tattered albums and loading them in with some idea of chronology (but not being too anal, which is key so this doesn't take five million years). Update: due to a bunch of folks asking, Cat clued me in on where she gets her albums: Target!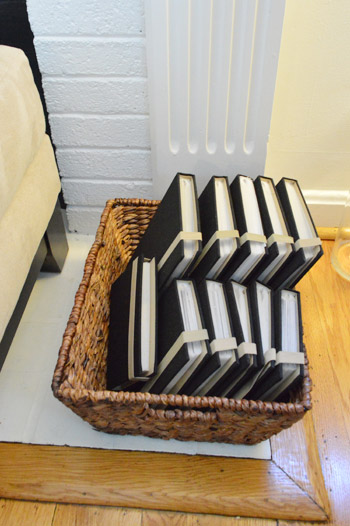 Ok, now here's the mini-project portion of this post. See this fireplace in Cat's living room? Cat called me up a few weeks ago and said "Darn you Petersik!" Seriously, I answered the phone and that was her first sentence. Turns out she was staring up at the wall, realized she wanted some candle sconces to beef up the mirror over the mantel and to fill that blank space on either side of it, and then did some googling and found the exact sconces she wanted. Only problem? They were on our site and were now sold out. Haha. Seriously, her google search took her to this image in this old post of ours.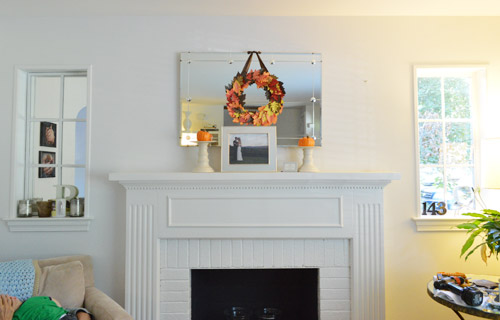 So she was calling to lament the sconces that got away. But then I revealed that we never found a spot for them in our new house and they were just sitting in our piles-o-stuff playroom and I insisted that we bring them up to her house and hang them for her during the aquarium-trip weekend. Of course she refused my birthday sconces a few times, but $herdog is a stubborn girl. She always wins…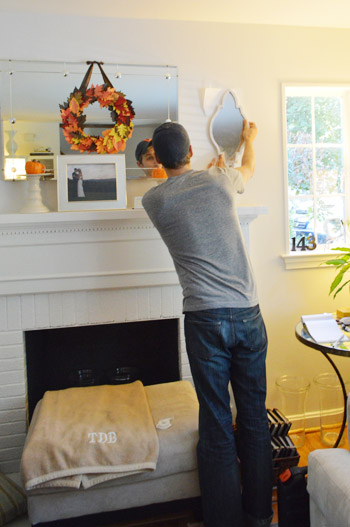 We even packed anchors and screws and our drill with the sconces in the car. Haha. No excuses for not getting those on the wall while we were there. Only thing I didn't pack? Two matching candles. Oops. Pretend there's not a shorter one on the left and a taller one on the right.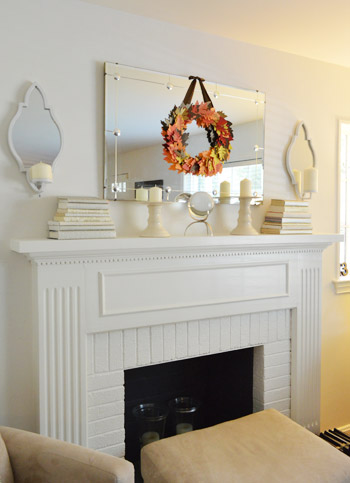 Oh and isn't that little leaf wreath cute? Cat's a crafty gal. She DIYed that baby. She told me where she got the kit but I forget. Maybe she'll stop in with the info. I did a homemade leaf thing for our cousin's bridal shower last fall though, so this post might help anyone who wants to make a whole mess o' paper leaves. And speaking of DIY, Cat had some pretty leftover wrapping paper and decided to use it to cover those stacks of books on the mantel. I was in love. The paper was so soft and glow-ey. Just imagine that candle sconce all lit and flickering. Pretty, right?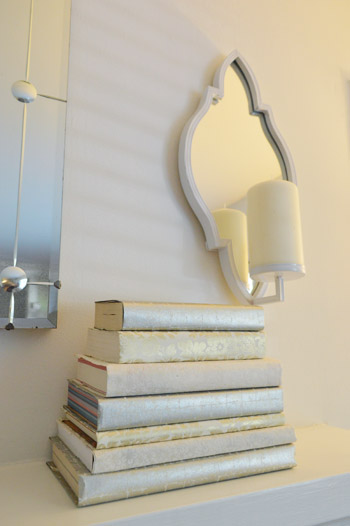 Then after a marathon fun-fest weekend full of fish-watching and Jewel-watching and plane-watching and sconce-hanging we loaded ourselves into the car and drove back to Richmond. The kiddos were sufficiently exhausted.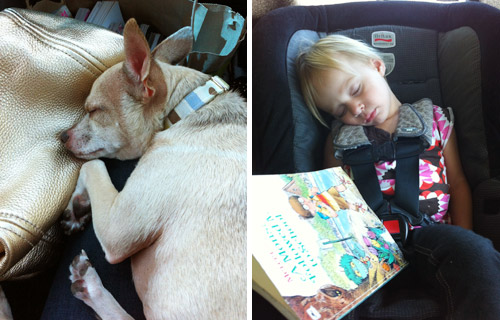 So there you have one of those random Friday posts full of smorgasbord and stream of consciousness. Hope it was as good for you as it was for me. Do you guys have any road trips planned? Have you ever seen a famous singer while out on a walk and said "wait a minute isn't that ____?" and then wanted to sing their song to them? Have you ever packed things like screws and a drill into the car in the hopes of hanging something in someone else's house? Isn't it weird to drill into someone else's wall? It's kind of like driving someone else's car or wearing someone else's clothes. It's thrilling but a little scary since you don't want to ruin anything. Haha.