We get the whole "to DIY or not to DIY, that is the question" question a lot, so we thought this might be a great way to crack open our brains in a nice rambling and meaty post that hopefully makes sense of our thought process to you guys. And who better to demonstrate than our purty new french doors that lead out to the deck? Surprise! I'll pause while you burst out into enthusiastic applause.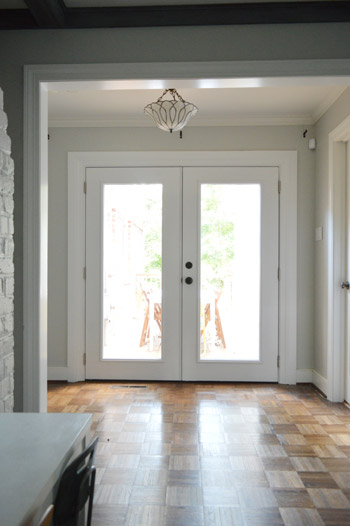 We'll be back tomorrow with more before & after photos and details on why we went for a french door, what the screen situation is now, and how they look open/closed/from the outside as soon as we're done painting them (most doors just come primed and not painted) – but here are the rest of the details on how they came to be. We knew from our home inspection when we bought our house that the sliders that led out to the balcony to nowhere (which we later converted to a deck) would need to be completely replaced.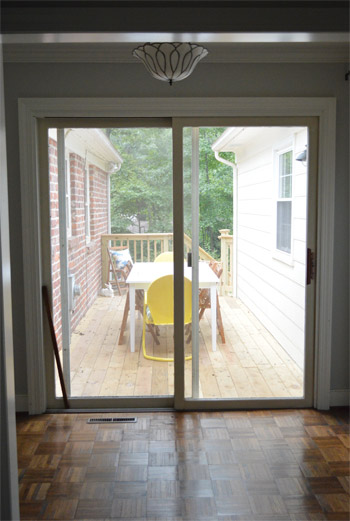 Not only did they get stuck and have a screen that no longer worked, they didn't even have a lock (we used one of those bars on the floor along with installing one of our alarm sensors right on the door so it was always armed).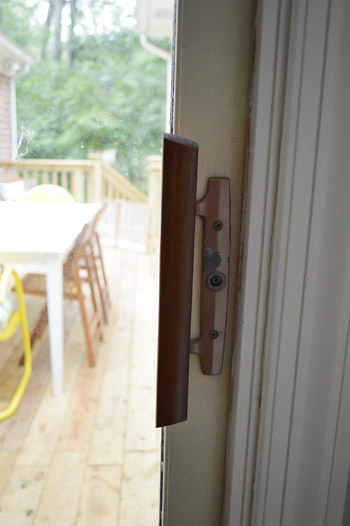 They were also super rotten and waaay past their prime. Ick.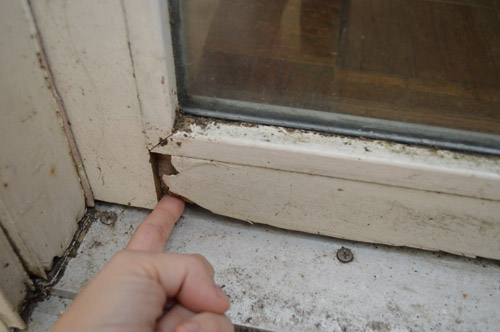 So the good news is that when we put an offer on our house, we accounted for replacement doors being something that we'd have to purchase (and assumed they'd be around 1-2K, just in case there was any rot around the framing or they were a non-standard size that we'd have to special order). And now that the deck is all built and furnished…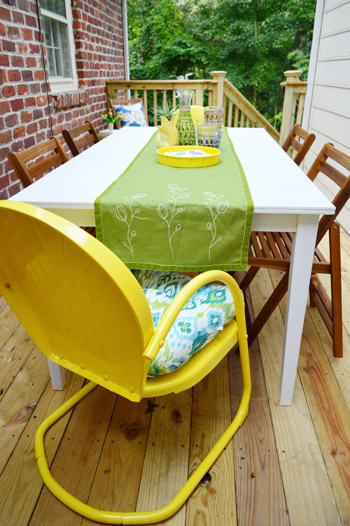 … we decided it was the right time to replace them (since we're actually going in and out of those swear-inducing broken doors all the time). But with so much extra behind the scenes book stuff going on (early promotion, scheduling chats, planning presentations and talks for the road, etc) along with doubling up on extra projects to share while we're away (and the usual Clara & Burger chaos), it just came down to pricing things out and deciding whether it was smarter for our family to hire it out or DIY it.
First we hit up a bunch of secondhand/thrift/architectural salvage places like the Habitat or Humanity ReStore and a local spot called Caravati's to see if we could find a secondhand french door that would fit our opening. The only issue is that we didn't want it to have any mullions, so it would look like the laundry room door that leads to our carport to keep things consistent (although we do have plans to ORB the old brass handle on that guy, we love the clean lines and that giant pane of glass).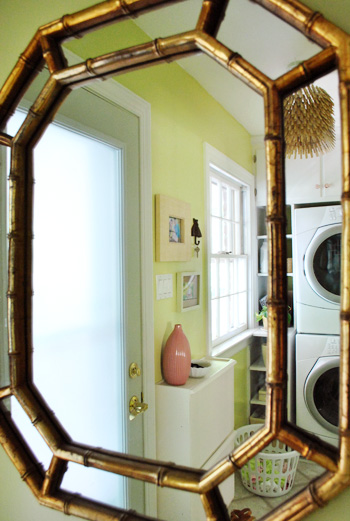 But alas, we came up empty since it was such a specific size and style. So next we got three quotes from a few different vendors (they all included both the door and the installation) which came in at:
$1200 total (from a large window & door chain)
$3200 total (from a local door & window specialist)
$730 total (from Home Depot)
$830 total (from Lowe's – but they didn't have the exact door style that we wanted)
Those were all for a pretty comparable door except for the much pricier one (that was sort of the Cadillac of door companies, which doesn't make sense for our house/neighborhood). Oh and of course each company takes jabs at their competition during their little pitch, but the remaining three companies all had extremely similar ratings, eco benefits (like low-e glass), manufacturing standards, hardware options, consumer feedback, etc – so it was a pretty straight-forward comparison.
And out of those four places, if we wanted to install them ourselves it would have cost:
This vendor didn't allow anyone to DIY it for their warranty to work
This vendor didn't allow anyone to DIY it for their warranty to work
It would be around $350 without installation (so we'd save $380)
It would be around $450 without installation (so we'd save $380, but not have the door style we wanted)
Do you guys see where we're going? As we learned more about each option, Home Depot slowly inched ahead as the best fit for us. Why?
The total cost (with delivery and installation) was the most affordable for an extremely comparable product – and actually was a lot lower than we initially estimated that it would cost to remedy the door situation when we bought our house
The door was exactly the same style (and maker, actually!) as the door that we already have in our laundry room. So we know that we like it and after almost two years of living with that one we don't have any complaints.
Next we had to decide whether we'd rather save $380 and haul it/install it ourselves or leave it to a pro would could bang it out while we worked away on all the other things on our fat little to-do list (basement stuff, hall bathroom stuff, sunroom stuff, playroom stuff, guest bathroom stuff, carport stuff, etc). It wasn't an easy decision, but in the end we realized that with all of the extra things on our plates right now, it would probably mean a few days without the door being completely installed/secure if we tried to do it ourselves (since we'd only have a few hours a day in the late evening to work on it). So we concluded that it was just best to use a bit of the budget that we had already counted on spending towards fixing this issue when we bought the house and have it installed.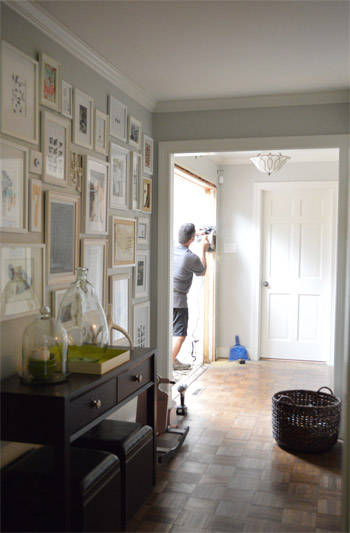 After lots of jobs that we've taken on ourselves, it might sound weird to have someone install a french door (ex: we've built our own a deck along with a patio, renovated our entire kitchen, added a built-in desk to our office, rebuilt our entire first house's bathroom from the studs, etc), but the best way I can explain it is that:
… you just know in your gut what you want to tackle and what's worth it to you. And that answer is different for everyone.
One person might hire out an entire bathroom reno and it's completely the right choice for their family, while someone else might literally build their own house (seriously, we know people who have even poured the foundation themselves). In the end, I think our general percentage is that we prefer to DIY around 90% of the home projects that we tackle, but we still love hiring a pro for things like knocking out load bearing walls, major electrical or plumbing upgrades, and even smaller things like installing an exterior slider if:
it's a planned expense that we've already built into the budget or saved up for
it's something we have zero interest/excitement about tackling ourselves (which is usually pretty rare)
life is just too crazy for us to take it on ourselves, even if we wanted to give it a go
And if we're being honest it probably comes down to that middle bullet. If we're psyched to tackle it ourselves we usually do (saving our pennies until we can, and making time for it if we're psyched about it). And if there are a million other ways we'd rather spend our time and the money is sitting there at the ready since it's a long-planned expense, we might just hire a pro to get 'er done. Sort of like how we were happy to hire someone to re-roof our first house, especially after hearing from a bunch of our buddies who told horror stories and said they would never re-roof a house again for as long as they lived.
In the end it took the door installation guy, who originally said it would be "two hours tops" a total of five hours and a trip back and forth to the hardware store thanks to some unforeseen complications once he got in there and saw what he was working with. Thank goodness for the flat installation fee!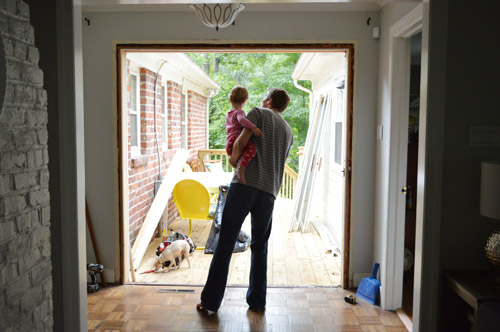 And thank goodness it wasn't us trying to make things work, because we're pretty sure if the big strong guy who installs about twenty doors a week has a bunch of hiccups and it ends up taking more than twice as long as he thought, it might have just been the job that killed us. And then our headstone would look like this: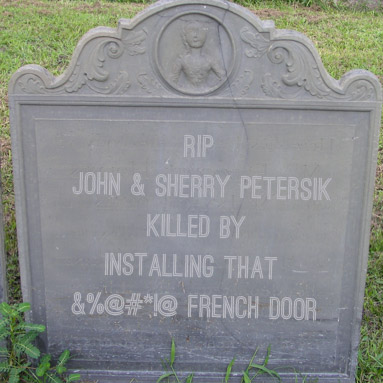 In the end… the new doors are 100% worth it and we're so happy they're here.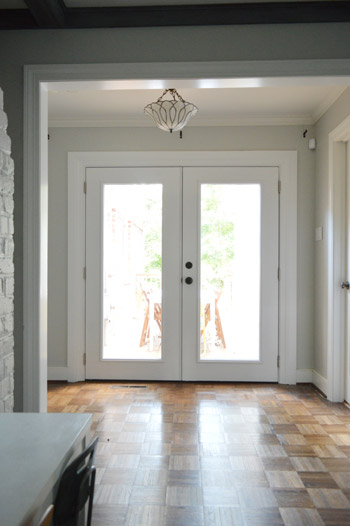 Update: Due to a few folks asking how the whole Home Depot door ordering process worked, here's a little rundown: you do a rough measurement, go to the store with that and look at options, then you pay $35 for them to come out and measure again and make sure what you want will work, and that $35 goes towards the installation fee (so it's not extra). They called a few days after coming out to measure things to install, so it was all pretty simple.
What about you guys? What percentage of things do you like to DIY? Is there anything you just won't do yourself? We know super savvy contractors who still refuse certain jobs (one hates mudding and sanding drywall since it's so messy, so he's happy to hire that out while another hates all things electrical and always pays someone else to do it). It's so funny what certain people love and loathe…