We're excited to share our Cincy adventures (we laughed! I cried! we got something confiscated at the airport!) and we've already started our Pinterest challenge project along with having a pretty cool before & after that's almost done (just have to take pics and write that post for ya) so there's lots going on in our casa – both duck related and beyond! I say duck related because, well… I snagged this odd little wooden duck for $4 at a thrift store here in Richmond (Diversity Thrift). The date? Oh, about a year ago. Yes dudes, I'm about to get on something after twelve solid months of the "thinking about getting on that" stage (you can read more about my weird little Dude, Get On That Already challenges here). So you can file this under fast and *almost* free (thanks to relying entirely on materials that we already had). Or you can just call it fly. Get it? I quack myself up. Ok, I'm stopping now.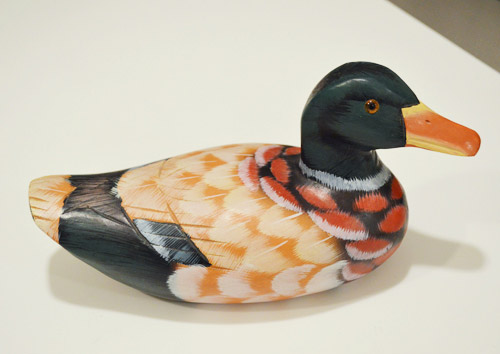 It's hard to tell the duck's scale in the pic above, but it's about 8″ long. Here it is with a whole bunch of craft paint that I had on hand from previous projects like this and this. And see how I used masking tape to make stripes on Mallory (she's a mallard, right? I hope she is, since I picked her name based on that not-substantiated fact). Anyway, those masking tape stripes were because as soon as I saw her in the thrift store I thought it would be fun to stripe her with a bunch of crazy colors. I know that sounds nutty, but to me it felt sort of Jonathan Adler-ish and happy-go-lucky. I mean if you can't have fun with your wooden duck decor, where can you have fun?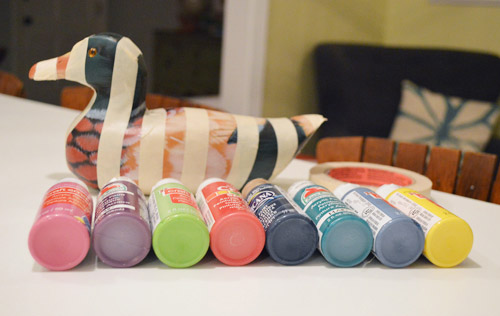 It's hard to picture, but I loved the idea of a stripes like this dachshund pillow from here (<– please click that link just to see the name of that site, which made me snort water out of my nose). And this awesome post about actual painted ducks from here definitely fueled the "paint it, paint it, paint it" chant in my head.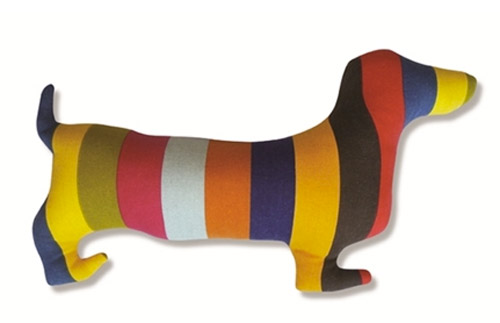 I'm not gonna lie. About ten minutes into my project I was staring at this hot mess. And I thought this might be one of those "you know we share the good, the bad, and the ugly… and boy do we have an ugly one for you!" posts. The first coat definitely didn't have great coverage, so it actually took a few of them for it to look not horrendous (hindsight = 20/20, I totally should have spray primed this guy before taping off the stripes).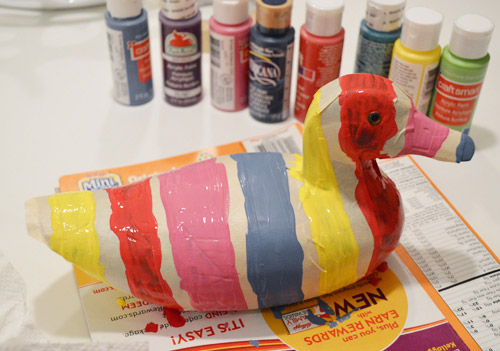 But in the end, after I removed the tape and free-handed the unpainted areas with differently colored stripes, I was left with this dapper little duck-friend. She's adorable and perfect for a nursery/kids room/playroom, but I wanted to photograph her in the kitchen so you could see that she actually can live in adult spaces too. You know, like how this happy rainbow Jonathan Adler pillow could totally look awesome in not-just-a-kids room. At least for color-lovahs like me. But if it's too much for you, you could just spray paint your own wooden duck a solid hue like glossy white or lime or navy for a fresh spin. You know, because every house needs at least one wooden duck.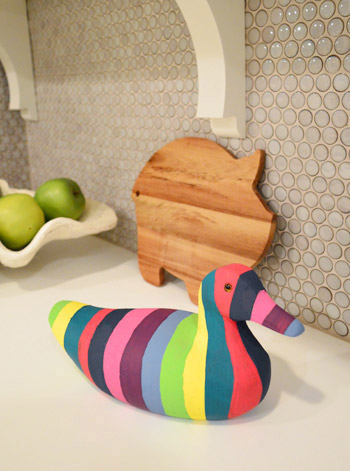 I actually like the added flair of the stripes. I think she's cute with the spiky yellow vase and colorful art on the top shelf. And of course the fact that she's neck in neck with a pig cutting board in a race towards the stove cracks me up. Who knows where she'll end up though. Little items like this tend to move all around the house, so she might be on the kitchen mantel next and then end up on the console in the living room.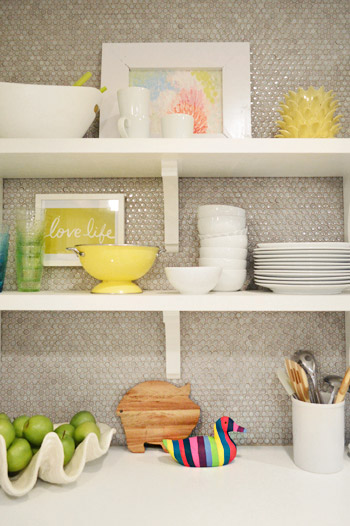 Goose, there it is.
Ok, I know that one's a stretch because it's clearly a duck, but I just had to try. What have you guys been getting on lately? As a side note, I don't actually suggest getting on a duck. One bit my mom's hand when we were young so I don't think they like to be ridden (just to be clear, my mom wasn't attempting to ride it when the incident occurred).