A bunch of you have been asking what I got from Tar-jay for Nate's big weekend debut, and since I'm a die-hard fan (remember when our hands almost touched here?) of course I was the first girl at the store on Sunday morning right as they opened. Yup, even though we just got back from Cincinnati the night before, I'm a Noupie (Nate Groupie) so you can bet my buns were there, and they were excited. Then I went in. Womp-womp, no Nate stuff out. And when I asked where it was, the two sweet Target girls were all "Nate who?"
Instead of extolling the virtues of Nate, which I totally would have done if time weren't of the essence (I was picturing mobs of people at other Targets a la Missoni) I ran out to the car and said "other Target, go!" breathlessly to John. Second Target: nada. Then I started to get nervous. It wasn't that they'd sold out, nothing had been put out yet. So I started to worry it was only available in exclusive cities. We had a family par-tay to get to on the other side of town, so my hunt was put on hold until we were on our way home and passed another Target. But… they only had an unlabeled end-cap with a few towels by Nate. So I just resolved myself to the fact that maybe it wouldn't come to Richmond or it was a week late or something. And then John surprised me by stopping at yet another Target on the way home, "just to be sure." Yes, there about a ten Targets in our city, apparently. And when I walked in, I saw this: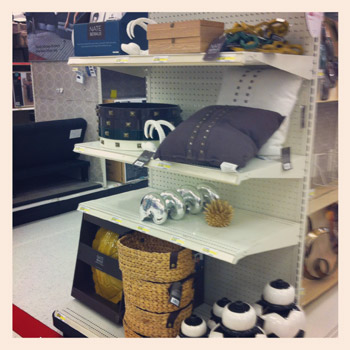 And the clouds parted and I heard angels singing. Stylish accessory-loving angels. Of course I instagrammed that shot immediately, so some of you might recognize it. And I had actually taken that picture after I snatched up the two things I wanted and stood next to them protectively (I was still waiting for a stampede of people to come through and grab every last item). So here's my "mine" shot: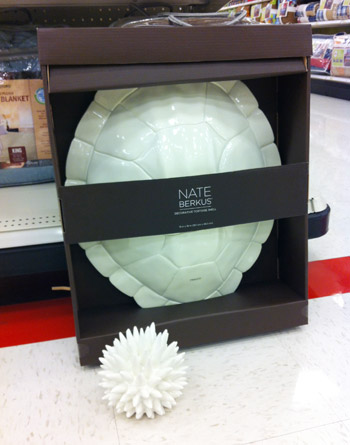 I'd been ogling the white tortoise shell ever since I saw it in a preview video of his collection, and the little spiky urchin was so quirky and porcupine-esque that I couldn't resist. When I got back to the car I was holding up my scores and smiling so maniacally that John (who had stayed in the car with Clara) actually started laughing at me. I was that grinny.
And perhaps the funniest thing was that within 24 hours Katie instagrammed her scores, and lookie what she grabbed: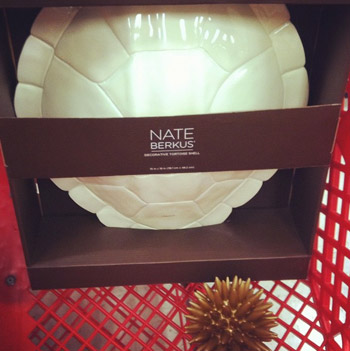 Does it confirm best-friend-ness when you buy the same things without knowing it? I think it should. I called her the second it posted and we both cracked up. Good times.
As for where things ended up, this corner always felt a little heavy on the left side…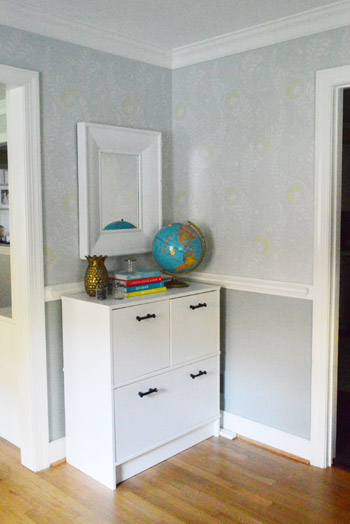 … so hanging the tortoise shell seems to balance things out a little more. It's so glossy and ceramic-animal-esque. LURVE.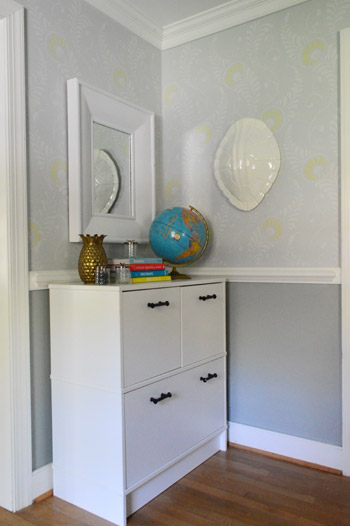 Bam. Close up. Isn't it cute on our stenciled wall?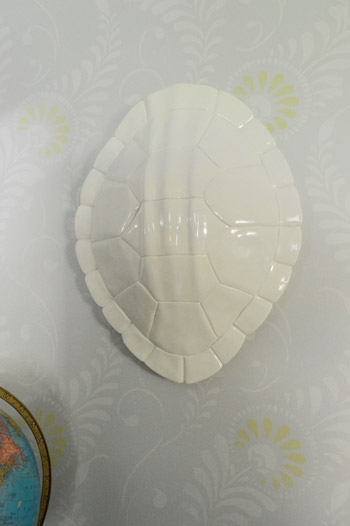 And here's where the urchin ended up – on my little fall mantel. Since I already had a bronze spiky orb thing on the other side (you can check it out here), the new guy seems right at home.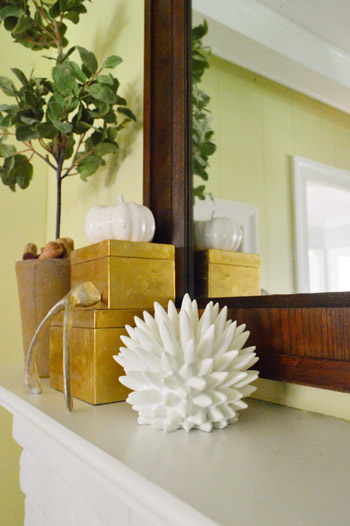 So there it is, my date with Nate. What did you guys get? Did you have trouble finding things? Did anyone get any of the bedding or towels? What about those cool chains in those bold colors. I loved the yellow one, I just didn't really have an idea of where I'd put it, so I passed (it could be a fun DIY project with an old heavy chain and some spray paint though).