Since Clara's still a few years off from knife-wielding age, we still scratch our heads each year for a toddler-friendly way for her to be involved in the pumpkin decorating process. When she was 5 months old we borrowed the outline of her hand to inspire a lady-like Jack-o-Lantern (a Jill-o-Lantern perhaps?)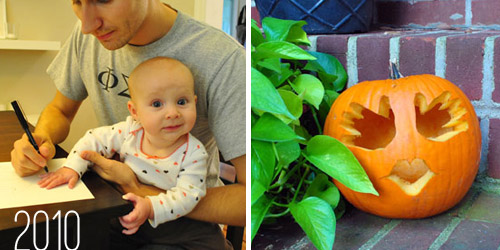 Last year we took advantage of her new-found dexterity and let her finger paint some pumpkins that we had strategically taped off ahead of time to later reveal some designs.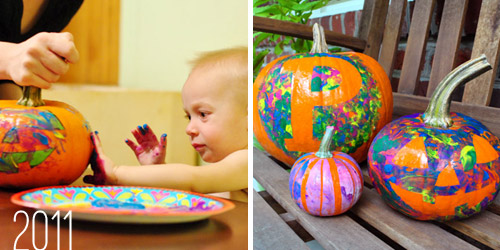 And since she had so much fun last year (and we loved how they turned out) we did a slight twist on that idea by making tissue paper "sticker" pumpkins this year.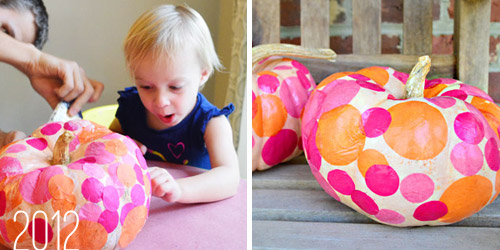 Anyone who follows us on instagram knows that Clara is obsessed with stickers. And although a pumpkin covered in her usual fare of Snoopys and Barneys would have been fun, we thought it might be even more exciting to try our hand at something we could customize. So we decided to make our own "stickers" with the help of some colorful tissue paper and good ol' Mod Podge that we already had on hand.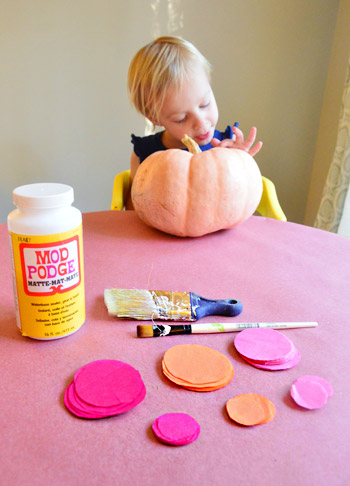 Sherry used some leftover tissue paper from Clara's pink-and-orange birthday party and cut a bunch of large and small circles using, of all things, a roll of electrical tape as her guide (tracing the outside made the big ones, and tracing the inside made the small ones). Use what you got, right?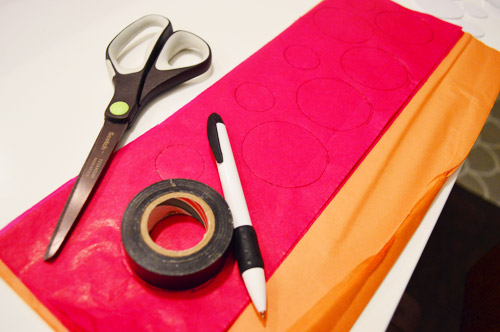 Then I basically just used a big paintbrush to coat the pumpkin with a thin layer of Mod Podge as Clara placed the tissue dots wherever she pleased. It was really that simple.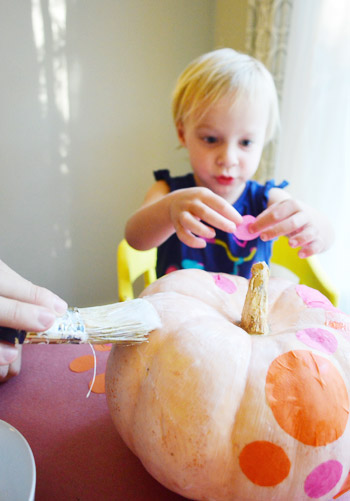 We spotted (pun!) these pumpkins at Kroger, and knew they would be awesome (we thought a lighter colored pumpkin would help all of the colors show up since sheer orange and pink dots on an orange pumpkin might be harder to see). Although they might look like typical white pumpkins, they actually have a hint of orangey-pink to them, so it's a fun twist. Plus a portion of proceeds went to breast cancer research, so that was pretty great too.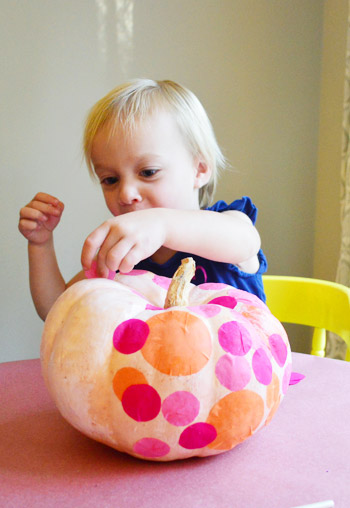 You can see that the tissue did crinkle a bit as it went down. Bumpy pumpkin surface + toddler fingers = nothing perfectly smooth. But we didn't mind, we were just happy she was having fun. I did occasionally dab some extra Mod Podge over top to help them stay down, which seemed to help.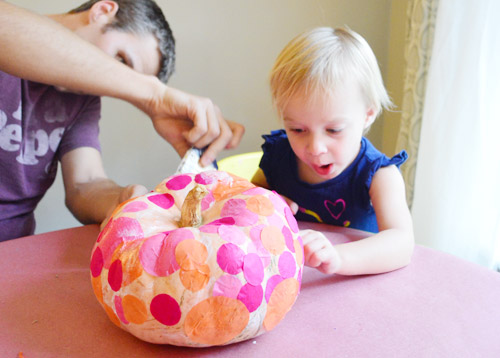 The best part was that Clara was IN LOVE with the project. I realize she doesn't look particularly gleeful in these photos, but it's because she was so focused on it. She asked several times that night if we could do it again. Plus, we appreciated that it wasn't nearly as messy as we had anticipated (note the table covered in craft paper). I probably ended up with more Mod Podge on me than she did (I did accidentally stick my forearm in it once) but since it's basically Elmer's Glue, it washed off easily with plain water.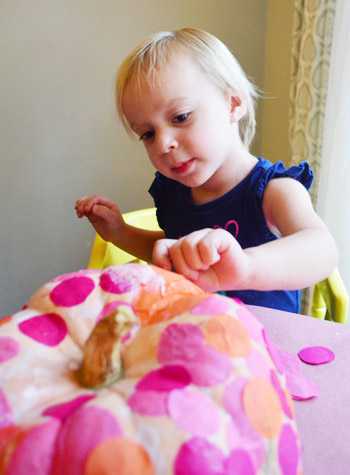 We did two pumpkins in total, but the fun didn't stop there. There were so many extra tissue dots that Clara kept on playing (sorting them, lining them up, singing to them, putting them on her head…).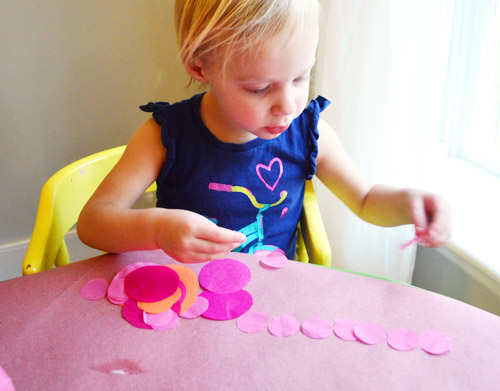 After she went to bed that night Sherry did a full coat of Mod Podge over the pumpkins just to ensure that all of the edges got adhered. The bonus was that it also gave the whole thing a nice smooth and glossy feel.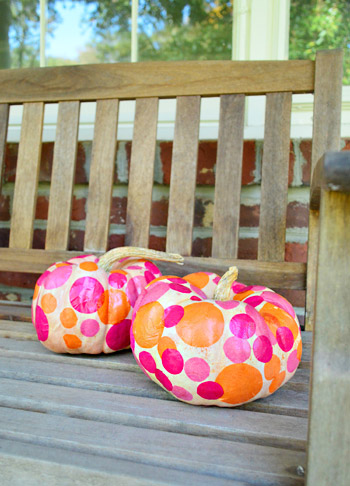 We think they're really fun- especially since we just used what we had around the house and came up with something sticker-ish for our sticker-obsessed girl. So if you have any toddlers who are into stickers, this could be a fun weekend project (and tissue paper is only around 99 cents, so it's pretty cheap too).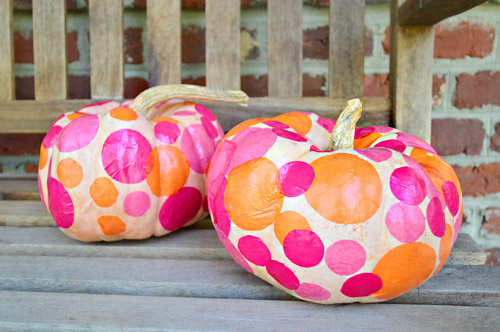 I attempted to get a cute picture of Clara sitting next to her pumpkin creations, but there was little interest in being still. And yes, she's wearing the same shirt from the day before. We had dressed her in it as the "it's ok to get messy" shirt for the project, but since it survived so well it became the next day's outfit when paired with the skirt of her choosing.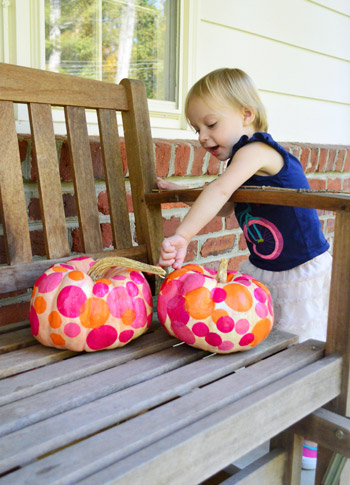 The most interaction I could get out of Clara was her singing "Rock-A-Bye, Baby" to them while swinging the glider-bench back and forth.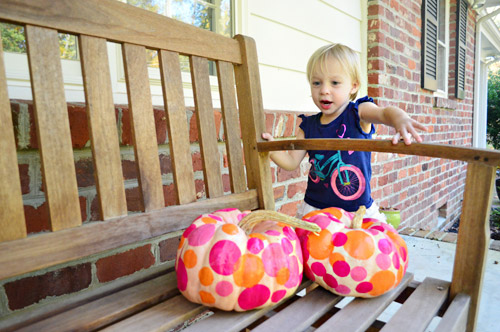 Then she discovered a broom nearby and it was like the pumpkins never existed. When a girl's gotta sweep, a girl's gotta sweep!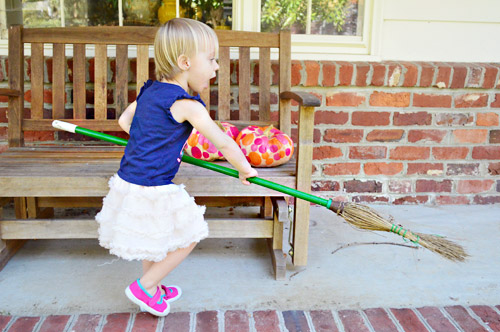 And if you're looking for some easy pumpkin paper crafts, our friends at Childhood Magic have a free pumpkin printable that you could use in a variety of ways and give kids of all skill levels an easy way to help you decorate for fall.
Psst – Sherry wants me to mention that for the first time ever she's attempting to DIY certain aspects of Clara & Burger's costumes this year, so we'll keep you posted and share some pics as soon as they're done (most likely right on Halloween if I know my wife…).