Nope, not a crisp fall chill. Not falling leaves. Not the smell of apple pie and pumpkin spice. Ok, so maybe those are in the air too, but you know what else is floating around? A certain challenge, that's what.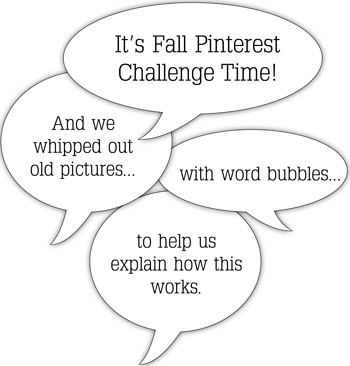 So who's with us? Here's how to play along. Just pin some inspiration and do your own spin.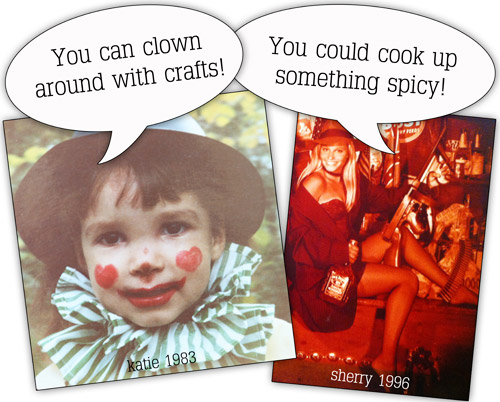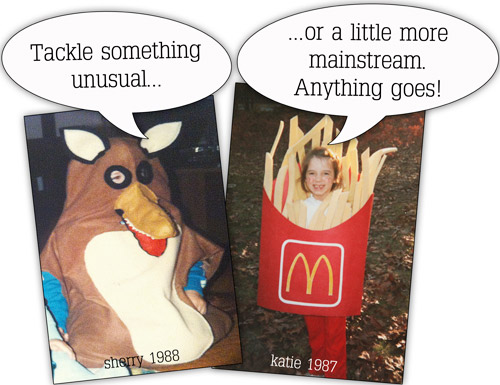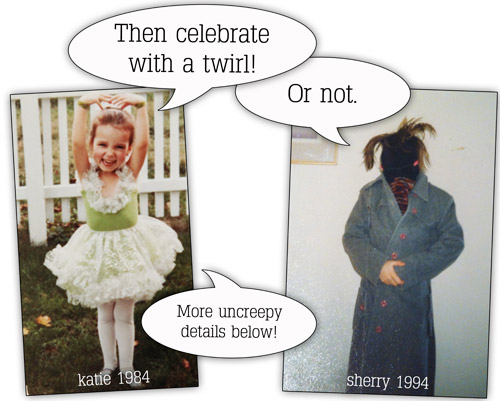 Yup, this highly embarrassing collection of our old Halloween photos can only mean one thing: we were into odd things as children it's high time for a fall Pinterest Challenge (not sponsored by Pinterest or anyone else, just dreamed up by Katie Bower to make us stop pinning and start doing). I'm laughing the most at my wolf costume. Is that schnoz doing it for you, or what? Also, I'm going to totally own that Jersey Shore pic of myself as a "lady gangster" from 1996 (I'm not kidding, it was actually taken in one of those dress-up boardwalk booths at Seaside Heights).
The whole Pinterest Challenge thing started over a year ago when Katie called me to say that she thought we should challenge ourselves to make one thing each season that's inspired by all the gorgeous stuff that we've pinned (and call it… wait for it… The Pinterest Challenge). It's a welcome slap of stop-pinning-and-start-doing. And we ended up having such a great time with our first Pinterest Challenge last summer, our second one last fall, our third one last winter, and our fourth one this summer (oops, spring got away from us). So slip into your Snuggie, heat up some hot cocoa and fire up those glue guns! It's time to get this DIY party started.

The only rule is to do your own personal take on something inspirational that you've pinned (and link back to the original creator of the project that inspired you, be it a company like Anthropologie or a personal blog that got your wheels a turning). We especially love to pin things from sites that have "Pin It" buttons at the bottom of their posts since it indicates that they enjoy popping up on Pinterest. The project can be anything: big or small; decor or sewing or cooking related – or beyond! The first time around John and I made a clothespin light fixture for the laundry room, the next time I tackled 38 homemade holiday ornaments, then I faced my sewing demons head-on and somehow made a beanbag-ish pouf for Clara's reading nook in her closet, and last time I tried my hand at some homemade art.
This time John and I laid in bed brainstorming things that might be fun to tackle. We're not 100% sure where we'll end up yet (it'll probably evolve a bit over the course of the week) but we think it'll be big (measurements-wise), and something that we can build (but it won't be too involved, so you guys can build it too – without any fancy tools or saws), 100% moveable (as opposed to fixed on a wall or built-in), and it'll involve some chalkboard paint (since it's probably the most Pinterest-tastic material out there, haha). But that's all I'm sure about yet. And since I like a good link-fest, here are a few projects that are inspiring us:
This big arse chalkboard from here
This leaning easel board found here from this awesome blog
This door-chalkboard from here
Oh and you're probably wondering who else is playing along with me and K-Bo. Well, we thought it would be fun to ask different folks to "guest host" with us each time (both of whom have done something fun in the previous challenge), so we're thrilled to have:

So here's the part where I extend my arm with a dorky grin and a little bit of pumpkin muffin in my teeth and humbly invite you to join in on the fun by doing your own spin on something you pin! We figured we'd give everyone (and ourselves) the weekend to work on stuff and reconvene next Tuesday morning (the 30th) to share our projects. We're hoping this'll turn into the same über fun share-fest that we soaked up for the last few seasons (check out all the amazing linked-up projects here, here, here, and here). So just drop in next Tuesday to see what we've done – and to submit links to stuff that you've completed so we can all check it out. Maybe we'll even pin a few things. And so the vicious cycle continues. In the meantime, do you have any ideas what you'll tackle this time around? Is it food, craft, sewing, painting, or furniture related? Perhaps a wolf costume is on the agenda?
Psst- One more time, for the people in the back: regardless of the fact that I say Pinterest about thirty times, this wasn't paid or perked by them or anyone else. We're just eye-candy obsessed gals who are sick of coveting things and downright ready to do them. Well at least one of them…