We're doing our best to keep our word to those who have requested more window shopping posts, so we decided we'd keep the fun going by trying to hit up some awesome boutiques and shops when we're traveling for our book tour in November. But lo and behold, before we have even left, we noticed that Target has some pretty awesome stuff out right now, so we thought we'd snoop around (and take you with us). For those who remember these things, we just stroll around a store and take photos of all of the things we love. Not for compensation or anything – these sprees are just for fun. So let's all go skipping through Tar-jay together and see what's new, shall we?
Numero uno were these super cool green glass vases. I loved the rustic look of them and the old embossed letters. And I thought with Christmas coming up in a few months, they'd be pretty gorgeous modern-meets-industrial accents for the holidays on a mantel or tabletop too.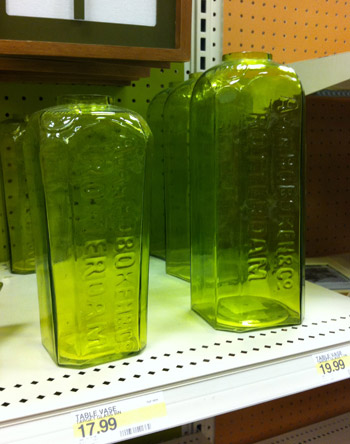 Target went Jersey. Just like mah shiiiny gold bag (more on that here), they have embraced the gilded loveliness, with gold mirrors, vases, cups, and trays. I think they're awesome – especially for Thanksgiving/Christmas/New Years.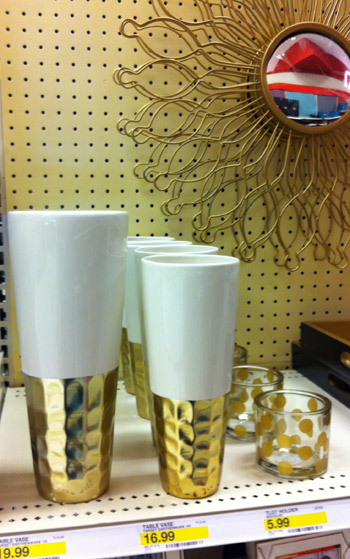 This frame made me laugh so I had to toss it in there. So true. It's just begging for a photo of Burger in there.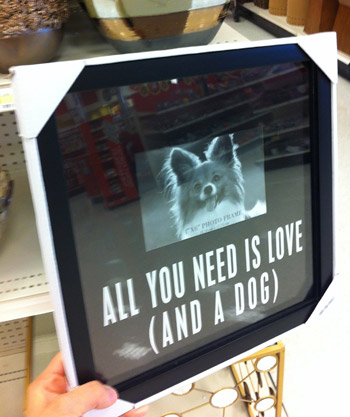 This $24.99 pillow is one of those special end-cap collections (The Shops At Target) and I thought that the combo of wood grain and glitzy gold was pretty "Domino" looking to me. Picture them on a big charcoal gray sofa upholstered in velvet. Me-ow.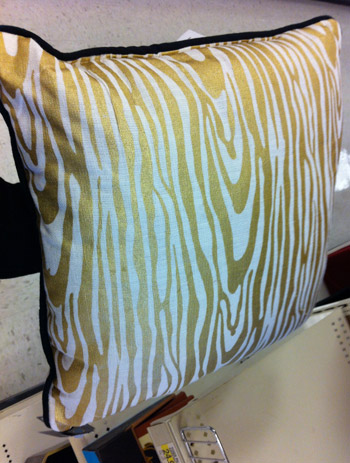 These $44 lamps continued the gold theme, and I love that they're sculptural and 3-D looking. They'd definitely add some interest on a side table or console (and they could be spray painted any color if you're looking for a pop of yellow or navy in a nursery for example…).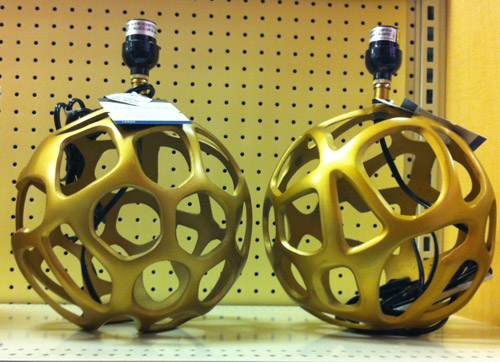 Lamp love. I wanted these babies. Once again with the holidays coming up I was totally tempted to buy these along with the pretty green glass vases I showed you guys first, but I don't really have a spot for either of them (although I'm sure I could always make room…). Long story short, I took a picture so I could share them with you guys so someone else could take them home and enjoy them instead.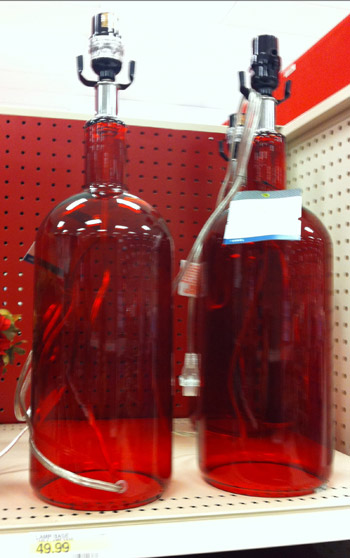 And then there was this sign with a very $herdog-esque ceramic dog. I mean is he meant to be mine, or what? Sadly he was sold out. Womp-womp. Maybe next time…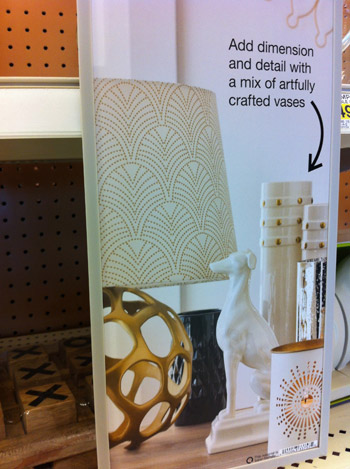 Here's another one of those Shops At Target collections from an end cap. And we actually bought something from this collection on an earlier trip a few weeks back. Can you guess what it was?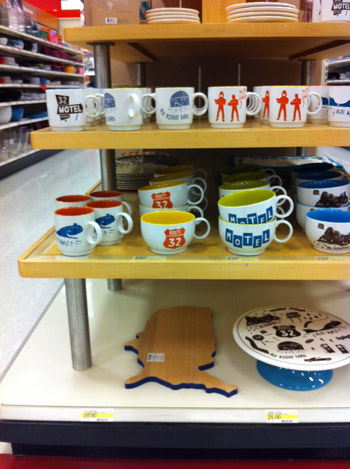 Yup, John was all over the United States of America cutting board- so we snagged it. Although we're not planning to use it as a cutting board. We'll keep you posted when we actually get our little project banged out.
Here's a $49 full/queen-sized duvet that I thought was cute. Kinda summery, but I bet it could even work all year round with a few white fur pillows and a big chocolate or charcoal throw at the foot of the bed.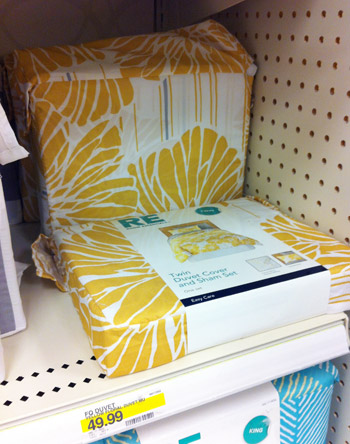 How weird is it that a pot holder made my little list? But I thought this charming extra-chunky knitted pot holder was pretty darn cute. Might make a cute hostess gift with a yummy treat or a few other kitchen goodies.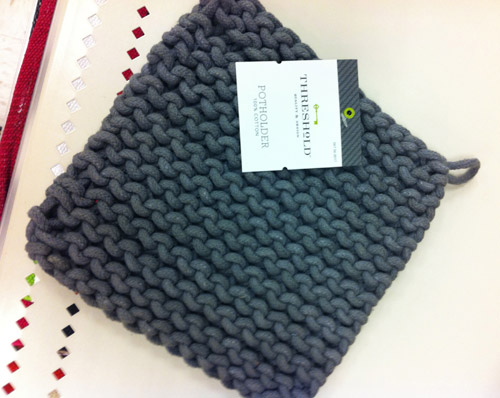 Here's yet another Shops By Target end cap sporting bedding by Patch NYC. I thought it was moody and graphic and fun. I especially liked the stripey sheet set on the bottom right.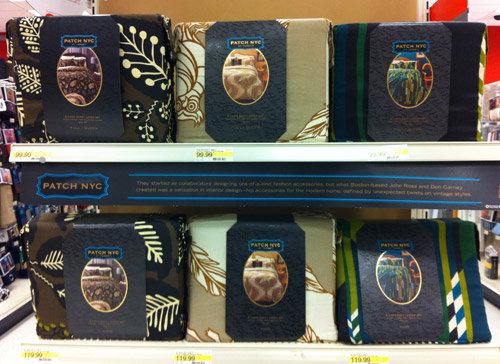 Clearance alert. These $5 baskets were a good time. I can picture a bunch of them in a mud room or bathroom closet. Heck, they'd even be sweet in the pantry holding boxes of pasta or cans of soup.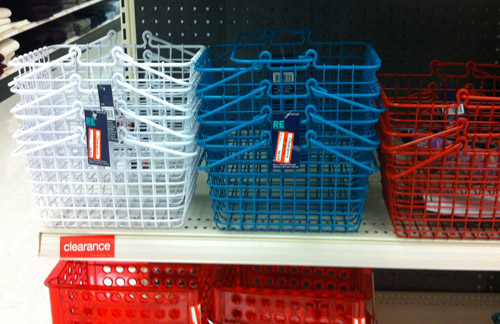 Cute notebook, right? I think arrows like this could be the new chevron. What do ya think?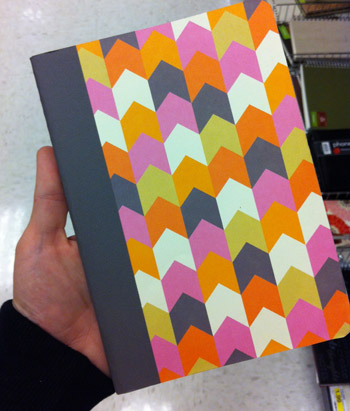 These rugs might have been the most exciting thing I saw. For $129 in pretty large sizes they were cool, and I thought the modern/aztec-ish designs were really neat. I know they might feel kinda weird to you, but I think in the right room they could be awesome. Sort of like this aztec-ish yellow Ikea rug that shows up in a bunch of gorgeous rooms.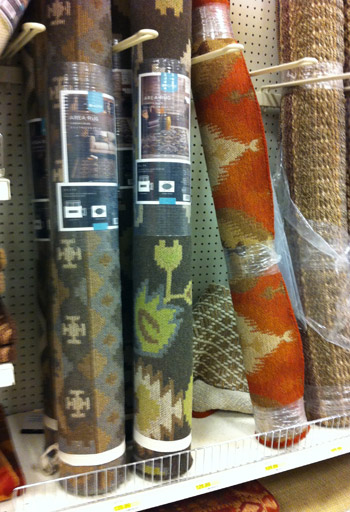 They also had some great nubby neutrals (some all tan, some tan & brown & gray, and some all a deep charcoal, which seemed softer and tufted, sort of like those more expensive West Elm and Crate & Barrel versions).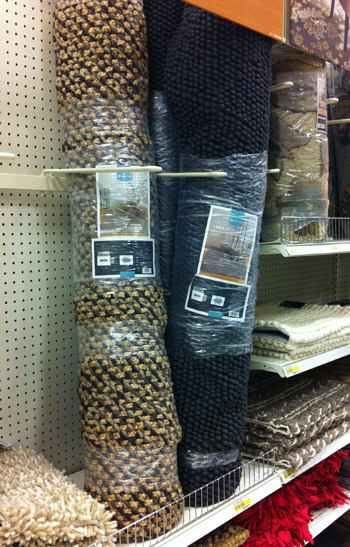 Then I saw this and laughed for a good 60 seconds. Who wants to be a "vampiress" for Halloween? Any takers? All it'll apparently take is this little character kit complete with a choker, some red glasses, and a tiny hat. Hilarious. Now I think someone should go as this character kit for Halloween. Just wear a giant piece of white cardboard with these things painted or glued onto it.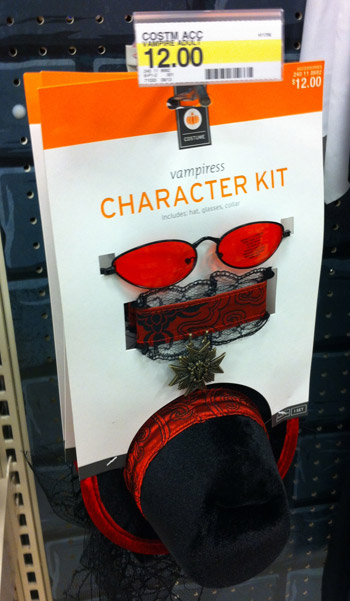 Method's always the cutest soap, and the Orla Kiely designs are charming. I know it sounds weird, but this soap is so cute it could make for a cute gift or stocking stuffer for someone you love. Heck, I'd totally fight to end up with one at one of those at-work holiday gift exchanges.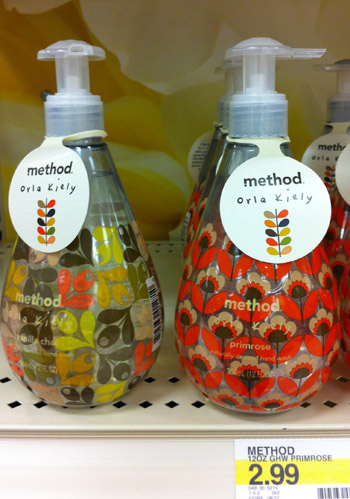 These colorful shirts in the boys section (I've been known to snag things like this for Clara to pair with her favorite tulle skirt) had me smiling- even though the yellow one seems summery, I loved seeing them all together like this with their sleeves rolled up.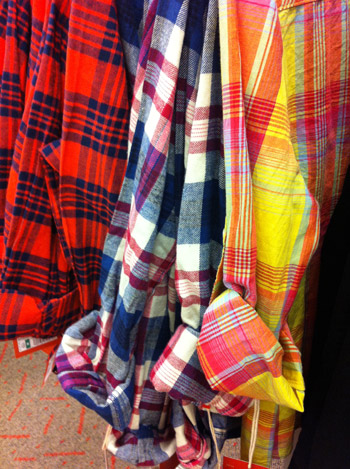 So that's what I found on our latest whirlwind Target trip-a-roonie (yes, I just typed out the word trip-a-roonie… it's official, I have become my dad). Have you guys been window-shopping lately? What caught your eye? Any favorites from the items we shared above?
Psst- Once again for the people in the back, we weren't paid or perked for this post, I just like taking you guys shopping with me.