Quick note: We'll be in Cincinnati tomorrow at the Books By The Banks festival at the Duke Energy Convention Center where we'll be giving a talk at 11am and then signing books (advanced copies will be available for sale there!) and most likely being fantastically awkward (more details here). Hope to see some of you there!
And now for a fabric-fest. I know not all husbands enjoy being as involved in decorating decisions as I do, but I'd be willing to guess that many guys are more interested than you'd expect. We're opinionated creatures. Heck, even I fall into that I'm-pretending-not-to-care-about-that-lampshade-as-much-as-I-really-do trap sometimes (and then later I end up disputing its purchase to a shocked you-never-said-anything wife), so I thought that it might be enlightening to peek into the male brain – well, at least this particular male's brain – on a topic that we fellas may pretend not to care about.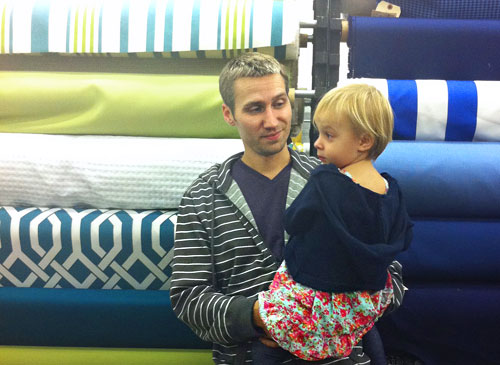 The word "fabric" itself sounds like it's a subject that guys shouldn't care much about (like it should fall somewhere on the list between mascara and handbags), but men actually choose which ties and shirts they like (while saying things like "I'd never wear that" about others) so they must have at least a few thoughts on the subject. And since fabrics are such a big player in how your house looks (pillows, curtains, bedding, upholstery, etc) it ends up making a huge difference. So I, for one, think it's worth sticking my manly nose in when fabric decisions are being made – so I feel just as home in our house as Sherry does. And in case any of you have trouble getting an opinion out of your man – or if as a dude who's reading, you're hesitant to give one – here's this guy's take (*points to self with thumbs*).
THE SAFE ZONE:
It should come as no shock that sticking with a stereotypical "male" color palette is usually a pretty safe bet. Blues, green, browns, grays (nothing too bright or neon, but more deep and muted) usually will make me say "this one's not hurting my eyes." Along with that, another safe approach can be sticking with masculine patterns: stripes, checks, plaids or even a plain old solid color. Just think of things you might see on a shirt in the men's department. There's something about subtle patterns that are smal-ish in scale that usually make me feel more comfortable than something really bold. And generally anything with sharp corners and crisp lines rubs me the right way. So if you stick within both of these zones, there's probably a good chance that it's dude-friendly.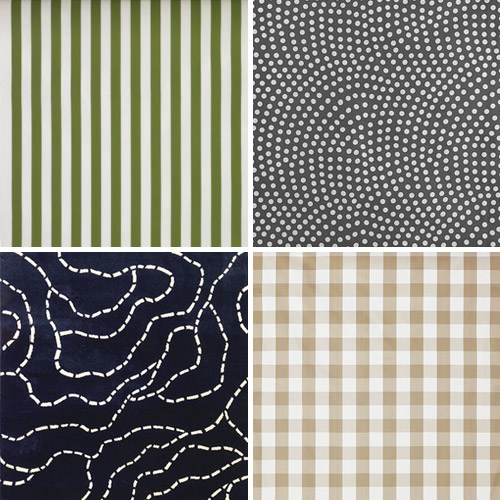 BRANCHING OUT:
But if you stick with both a masculine color and a masculine pattern you could, well, end up with a very masculine fabric and – if it's not balanced by distinctly feminine items in the same space – you could end up with a very masculine room. Which is cool, but if that's not the look you're going for, the next option is to go masculine in either color OR pattern, but not both. I think Sherry and I do this a lot. We have ornate gray & white patterned curtains in the living room (ornate = Sherry's jam, gray and white = my jam). Same thing for the green (my thing) and ikat (Sherry's thing) curtains in the dining room. Take these fabrics for example. The top two are man-friendly patterns (as least to my eye) with a bit of feminine color worked in for balance. And the bottom two are manly colors with subtly feminine curves or shapes, so they seem to even out in my head as well.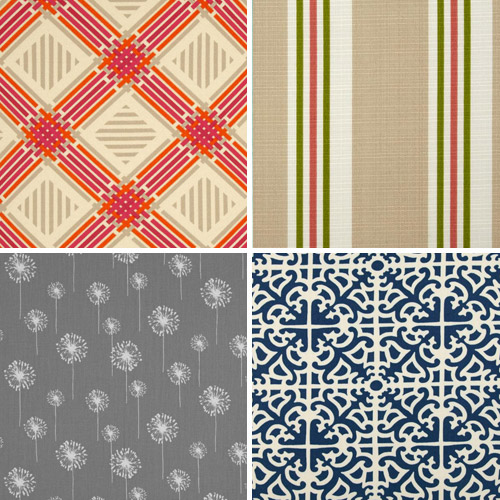 A NOTE ABOUT FLORALS:
Sometimes people (myself included) are quick to write off flowery fabrics as distinctly non-man-friendly. But when I think about it more, I don't actually think it's true. I love our headboard fabric. It's leafy and graphic and nature-ish and the colors are really us… but guess what, it could be described as a floral. Shocker, I know. But when it's balanced with the moody gray walls, a rustic wood dresser, and graphic blue rug it doesn't make the room feel too girly for me.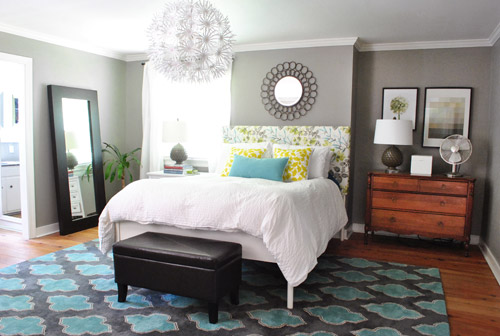 So maybe instead of ruling out florals completely, just try to think of them as "organic" patterns (since the word "floral" can evoke some pastel lace monstrosity). Sure, they might still have flowers on them, but they also include leafy patterns with vines, branches, and, um, leaves. And at that point you're like two degrees away from natural items like wood, tree bark, and rocks. And I, for one, love rocks. So maybe we should stop thinking that patterns with flowers are off-limits to guys. I think these four are pretty cool, actually. Especially the one on the top right. Come to papa.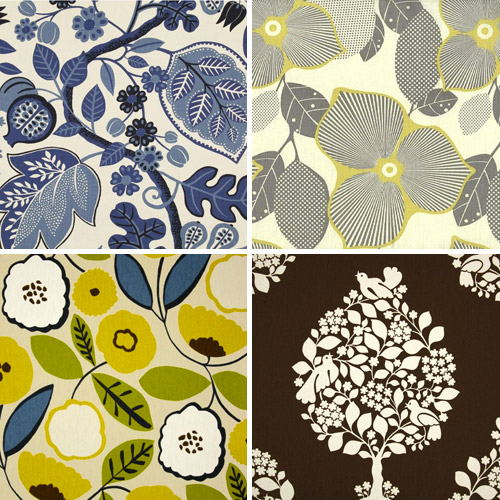 SCALING UP:
I said earlier that I tend to lean towards small scale patterns since they remind me of men's shirts. I think it's mostly because the smaller the scale, the less crazy-pattern-y it looks. But I've learned there's any easy way to go bolder with pattern without scaring myself off: keeping it to two or three colors (even better if one of those colors is white). Large patterns are less scary to me if they're graphic and crisp. And if they're geometric enough, I'm usually even willing to step out of my color comfort zone. I think all four of these are pretty darn snappy.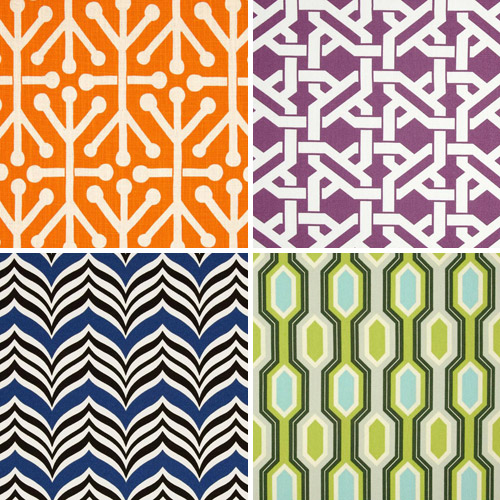 So that's one man's dork-tastic fabric analysis (I like grids, what can I say?). Just like with anything else, there are definitely exceptions and we're not all the same (we're not just pieces of man-meat and eye-candy you know) so what one guy may like might be deemed "completely terrible" by another. For example, in certain applications I kinda really like toile. Shhh. Don't tell anyone. Maybe it's the history nerd in me, but the little detailed scenes are very amusing to me in a weird way. Some guys may love damask, or leopard print, or the floweriest pastel pink floral the world has ever seen. You never know. That's why the best bet is always just to ask (or to speak up if you're a quiet-but-secretly-rooting-for-something lad). I'm 99.9% sure the world won't spontaneously combust if guys get on the fabric train a little too.
Psst- All fabrics except for the first one, which is from Ikea, are from fabric.com (and that first shot of me and the bean is from an awesome local store called U-Fab).