We spent yesterday painting the outside of the new doors (along with caulking and painting some peeling siding, because I'm kind of a maniac once I get going) but I thought it would be fun to go from sharing something kinda big that happened around the house (Jean-Luc the french door) to something smaller and totally free. Sometimes it's the little things – and you guys have been asking for some fall-decor-related posts for a while now. So remember our old kinda minimalist mantel in the kitchen? Well, I decided to slap some fall into it and spend zero bucks. Call it a Use Whatcha Got Challenge if you will.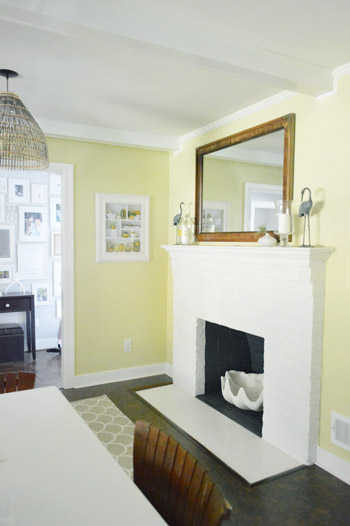 And why not do it on video, just for kicks? Nothing about this video is set up (I didn't have the arrangement figured out before I hit record or anything) – I just put a bunch of potentially fall-ish items on the counter and moved things around until I liked them. So I thought it might be fun for folks to see the magic. And by magic I mean "me walking back and forth fifty times with different things and stepping back to see what stuck. Really, that's my method.
Oh but the video cuts off a little bit at the end (the camera goes to sleep after 20 minutes of filming, and it took about 22 to finish) so it missed the last-minute addition of a bunch of corks to the tops of those topiary pots, which I thought were cute and fall-ish. So random, right? I swear the put-things-everywhere-and-see-what-you-like method can lead to the weirdest things, like corks on faux topiaries (aka fauxpiaries) but I wouldn't have it any other way. Warning: the music in this video might make you want to dance.
You'll see from the video that after starting out by putting a bunch of stuff on the mantel I stepped back and realized it was all really cluttered and small scale (aka: ugly without an alibi) so I just course corrected as I went and brought in some larger scale items (like the topiaries) to help with the balance. So it's nice to just piddle and switch things up and see where you end up.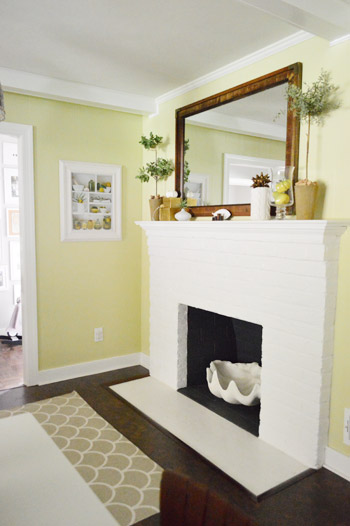 And now for some detail shots. Along with the corks in the fauxpiaries, I also liked the little fake pumpkins and gourds in a hurricane (found in my Halloween tupperware bin in the attic from last year) and the sweater vase that always hangs out on our dining room built-ins along with a bronze paperweight to top it off (both of those guys are from HomeGoods a while back).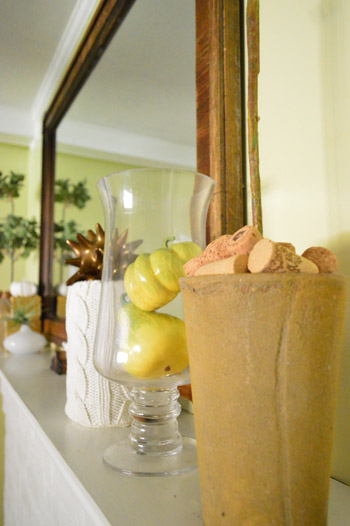 In the middle I added my 50 cent (not the rapper) thrift store leaf plate that I mentioned here along with some super old printing block letters from this flea market adventure back in 2008.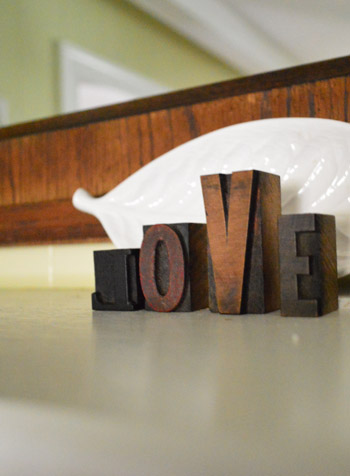 The other side has more subtly fall-ish items like gold boxes, a Thanksgiving-ish wishbone (from Marshall's last year), a white painted pumkin that I DIYed back here, and more corks in the topiary for that cozy fall texture.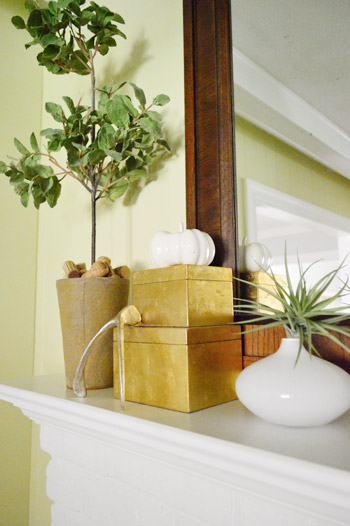 In the end I love that I used things we had and only spent around twenty minutes on it, but I get to enjoy it for a good month or two as the temps cool and it starts to actually feel like fall around here. Three cheers for sweater weather.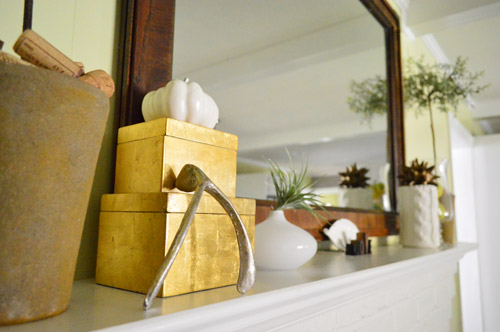 What has happened for the past day since I did it is that I forget that I did it and every time I walk into the kitchen I smile a little when I see it. Like the fireplace is saying "Surprise! It's fall!" and I'm all "What? It is?! Sweet. I like the tableau." Yes, sometimes I use fancy words like tableau when I'm fake-talking to my mantel.
And just because I was still in the fall mood, I decided to turn my attention to the nearby console table in the hall and continue my makeshift "Use Whatcha Got Challenge" over there. So here's what it looked like before I got my fall-hyper mitts on it.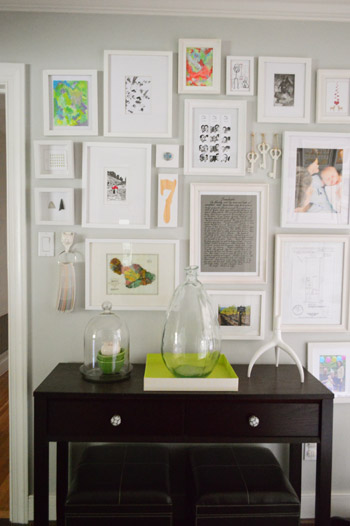 And here it is now: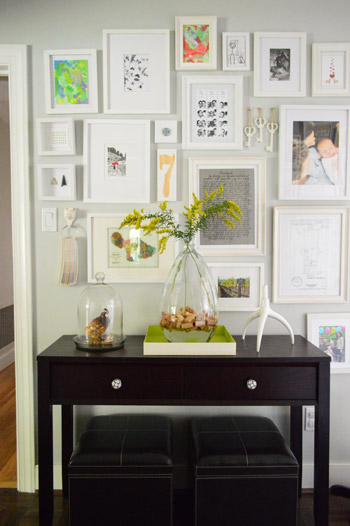 Nothing too crazy, but it definitely feels more fall-ish to me. Here were my ingredients:
some weeds from our side yard (I envisioned some orange and red leafy branches but none of our trees have turned yet, so yellow weeds growing in the wild side area of our house worked)
a bunch of corks that I added to the vase before I added the water and the weeds
a funny little thrift store bird that I got for 10 cents almost a year ago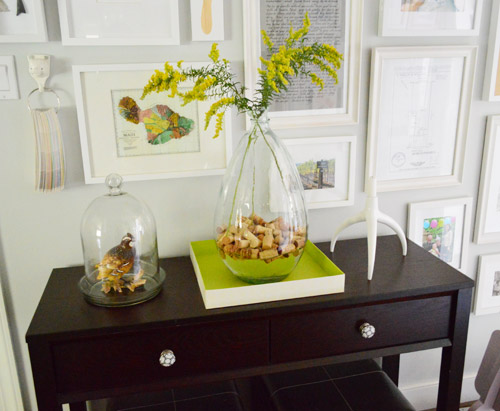 I actually bought him to use in some book styling shots that we took back in Jan/Feb, so you'll see his cute face in the book too (feel free to play a little game of Where's Waldo – yes, I have just named the bird Waldo so that makes sense).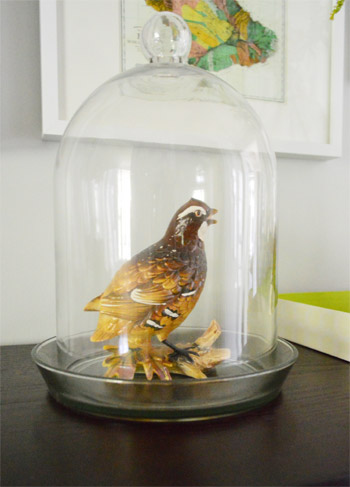 The new fall console + the new french doors = happy momma. And happy Waldo. And happy Clara (she loves looking at Waldo – and so far there is no desire to Hulk-smash him, which is awesome).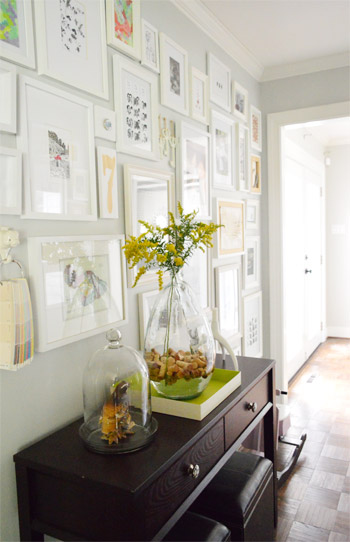 What have you guys been up to in the vein of seasonal switcheroos? Anyone else trying to use what you already have around (both in terms of weeds from outside and items you've collected over time like corks and ceramic birds?). Do tell.