It's Tuesday afternoon, which means it's high time for some over-sharing (aw yeah, let's talk about feelings, shall we?). The very first hot-off-the-presses copy of our book arrived via Fed Ex yesterday and it kind of melted my brain a little, I think.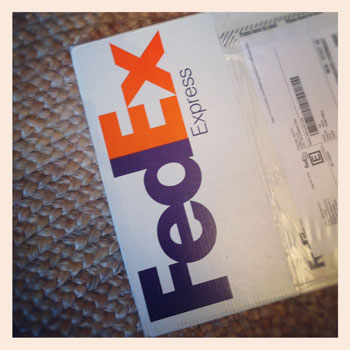 We couldn't stop beaming at it and saying things like "It's real! It has pages! It has a cover! It has our names on it!" – but I'd be lying if I said that "crazy-pants excited" was my only response to seeing it there on the floor looking all real and book-like.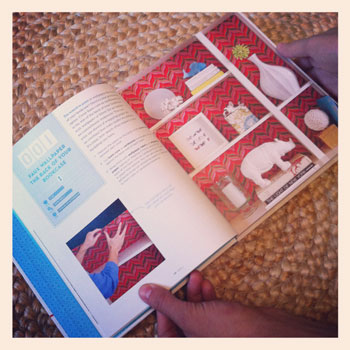 I'm also skeered. Really scared actually.
And since I've spilled my guts about 14 months of breast feeding, owned up to a bunch of my unglamorous $herdog quirks, and even a copped to a beyond embarrassing teenage moment caught on video with a certain platinum-haired rapper, I'm cool with dropping this whole "jittery sweaty-palmed fear is actively happening" truth bomb. I mean I think I can be described as a lot of things, but I wouldn't call myself especially brave. I have normal insecurities and self-doubts and all that. The book is a really big thing, so it feels especially scary. And for some reason I thought that pouring my heart out in a little online ditty could be the emotional equivalent to owning it (and perhaps others who've struggled with similar things might chime in and make me feel less weird). So here it goes.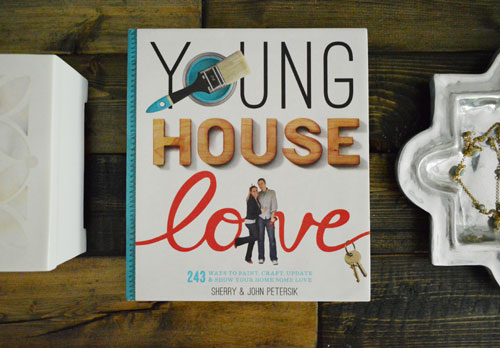 I think it's one thing to keep an online DIY diary for the world to read for free, but somehow putting out a book that then exists in the universe forever feels a lot more intimidating. Sure it's hardly a high-profile thriller or much anticipated non-fiction, but there's something crazy about not just being able to toss up an update if there's a sentence that's unclear or a typo that sneaks through like we do on the blog. The words that we wrote in that manuscript back in 2011 are printed and soon they'll be on a shelf. Lots of shelves. And it just feels a lot more weighty and permanent.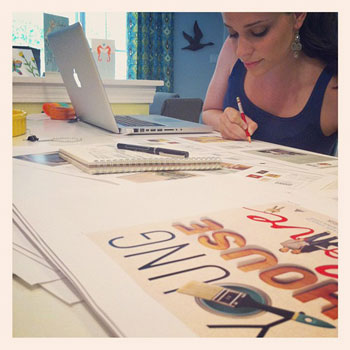 Plus people have to pay for it. We worked darn hard to keep the price down, and even though books are returnable or re-sellable (and we got on our publisher's last nerve to keep that price down) it still feels a lot… bigger. More complicated than a blog post by about 500 percent. I mean it's 336 pages long with 243 suggestions/tips/projects, so it's sort of like secretly writing 243 different posts and then publishing them all at once for a fee and then not getting to update or edit them if anything about any of them calls for a little note. Wait, it's not sort of like that, it's exactly like that. Maybe that's why it feels a lot scarier.
It was also pretty intimidating to plan the entire book over three years. Finalizing the outline a year and a half in advance (that's when we pinned down every last project) and shooting all the projects nearly a year ago (in an epic three week marathon at our house where neither of us remember eating or sleeping) was definitely like nothing we've ever done.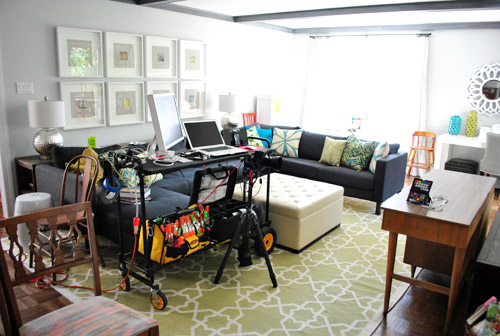 It was nerve-wracking in that "what if we regret these color or fabric choices later?" kind of way.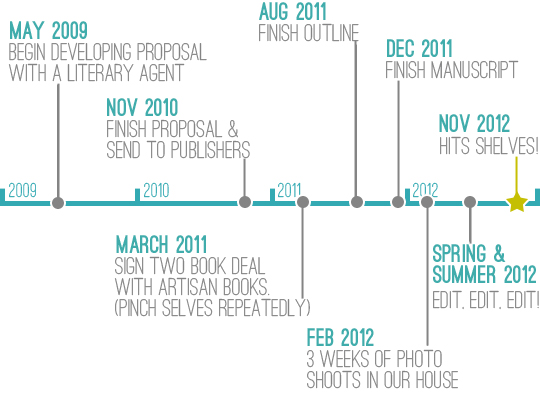 I've even had nightmares that there were typos on every page, chunks of blank pages, and even a particularly vivid one about some fictitious magazine that somehow recreated every last one of our projects identically (same exact fabrics and colors!) and scooped us by publishing them before our book came out. Oh yeah, my brain can go a little nuts whirring away while I'm laying in bed thinking of all the ways this endeavor could make me want to crawl under the covers a la Burger: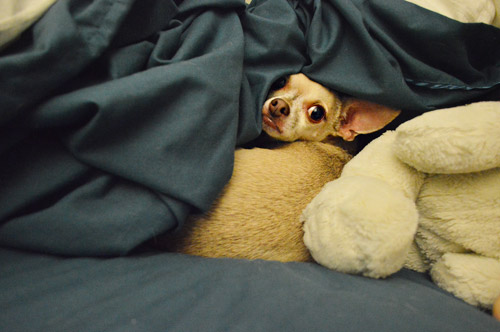 But this little freak-out fest does have a silver lining. The thing that I feel the most – even stronger that the jitters and self-doubt – is actually gratitude and pride. Not "I'm an author, look at me" pride, just "wow we actually did this" pride. Sometimes I can't believe that I somehow convinced myself (and John) to put ourselves out there and write a book. Knowing that just like our blog not everyone will love it, and that's ok. Blogging has taught is that we can't please all of the people all of the time, so we want to focus on the positive and amazing aspects of this experience. Whenever I'm feeling especially clammy I just remind myself that there hasn't been a single book on the planet that was beloved by everyone who ever read it (some of my faves have 5-star reviews as well as 1-star ones) so that helps me let go of that "be perfect or you suck!" voice in the back of my mind. Imperfect = real life. Like this crazy seconds-from-a-paw-yank family photo from last week: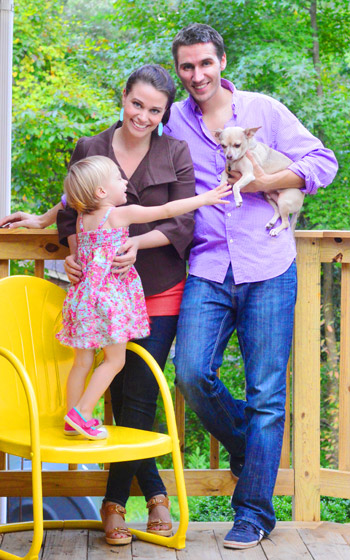 So you can find me hiding under the covers with Burger when I get that guts-in-knots feeling, but don't get me started about how excited I am for the tour. I know meeting you guys will be awesome and I'm literally giddy with excitement to thank you guys in person for the love you've shown us. And speaking of the tour, they added four more signings! Woot.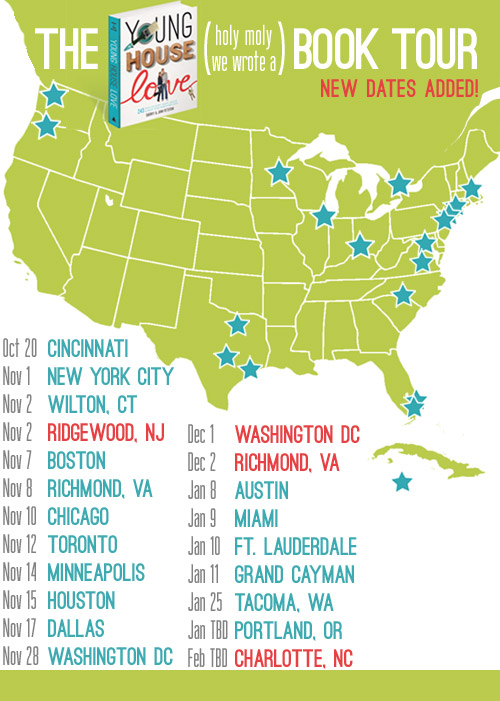 You can see more general tour info on our book page (just click the tour dates button), but here's the news that we have so far on the new dates:
RIDGEWOOD, NJ: Friday, November 2, 7pm – Bookends, 211 Ridgewood Ave, book signing. More info here.
WASHINGTON, DC: Saturday, December 1st, Time TBD – Living Social, 918 F Street, Talk, holiday crafting, and book signing. More details to be released here.
RICHMOND, VA: Sunday, December 2nd, 1pm – Mongrel, 2924 W. Cary Street, book signing. Store information here.
CHARLOTTE, NC: Early February. Other details TBD
*There's also serious talk about an Atlanta stop while we're nearby in Charlotte, so we'll keep you posted! And of course other places like Philly & Cali are still being chatted about. We wish we had more control over what cities we're hitting! It really is all about who invites us where (so it has nothing to do with how big a city is, it's all about if a certain vendor or bookstore works with the dates/times/etc).
Anyway, thanks to you guys for being so excited and supportive about this whole crazy book journey! It's kind of a big deal in our little lives, and you're just the best readers ever. So in return we're burning the midnight oil to churn out a bunch of projects for ya (even when we're slipping through 20 cities we'll be doing our best to blog at our regular pace, with lots of secretly stockpiled makeovers & projects of ours along with house crashing & window shopping adventures a plenty). Not to mention that we have another before-and-after-fest in the hopper for you tomorrow.
Not sure how to end this ramble-fest, so… word to your motha. $herdog out.