Sorry to take so long writing this post for you guys! We know lots of you were asking about it ever since we got back this weekend, but in true Petersik fashion we took way too many pics and had to figure out which ones to use and then felt like over-sharing about the whole thing… and thus this giant full-o-pics-and-words post was born. Anyway, the first tour stop for our book in Cincinnati this weekend was, well, kind of nuts. But the good kind of nuts. The kind where it's like a whirlwind of awesome and can't-believe-this-is-happening experiences all jammed packed into about 36 hours.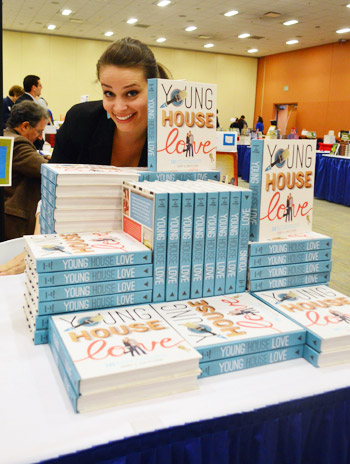 We promise we won't pour over the details of every single tour stop over the next few months, but we thought checking in every week or two with an update would be a good balance along with all of the usual DIY fare (we've always loved sharing travel happenings). And because this was our first stop it was just too novel and exciting to keep our mouths shut… unlike this Instagram photo below from our flight on Friday (where both of our mouths are firmly shut).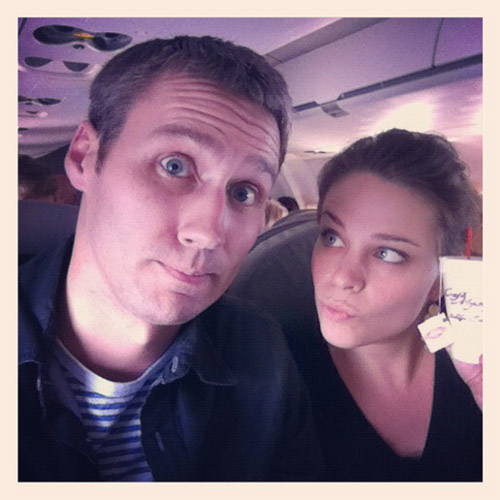 We left Richmond behind around noon on Friday and headed to the "Nasty 'Nati" (as one reader told us it was called – although there's nothing nasty about it) by way of Philadephia. Clara and Burger stayed back at our house with my parents for the short trip, so it was our first night ever spent away from Clara. It was definitely an adjustment, but it wasn't as bad as we feared. Most 2.5-year-olds that we know have already had sleepovers with their grandparents or other family members for at least one night, so we figured it was high time that we ripped that band-aid off anyway. And she did great!
Our flight got us in about 90 minutes late. It wouldn't have been a huge deal had we not arranged to House Crash someone that afternoon (the flight delay meant they had to wait patiently at our hotel for over an hour – eeks!). But they were great sports about the whole thing and their house was gorgeous despite the fact that we lost all natural light by the time we arrived. Thankfully we still got a bunch of awesome shots! You'll get the full photo tour in a week or two (we're juggling a few other House Crashings that we've secretly done and still have to write up for ya) but here's a pretty little snippet.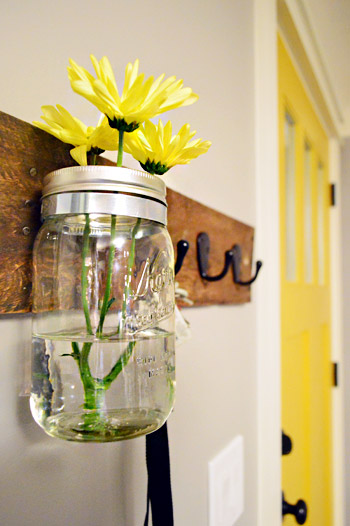 Note: To all of the amazing folks who invited us to house crash, we wish we could've visited you all!
Despite the delays of the day, we still made time for some Cincinnati staples on Friday night: Skyline Chili and Graeter's ice cream. Locals warned us that Skyline might be an acquired taste, but I thoroughly enjoyed my "three way" (chili + spaghetti + cheese mountain) and Sherry's chili on a potato was equally good (for anyone wondering, she dumped a gallon of hot sauce on it and said she was in love). At Graeter's (which is famous for their massive chunks of soft chocolate chips) Sherry downed a giant scoop of the popular black raspberry chip and I got cookie dough chip on a cone. It was great, even though it was about 45 degrees outside.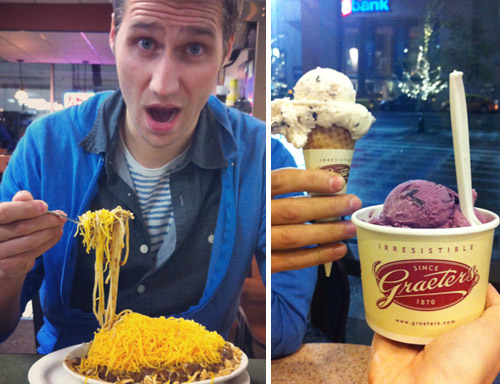 But the real fun started on Saturday at The Books By The Banks Festival. We can't even begin to articulate how mind-blowing it was to see stacks of a book that we actually wrote for the first time ever (before this event, we had only seen one of them – and there were a lot more boxes of books under that table). So there might've even been some tingling sensations. Sherry claimed that her nose went numb. Which might be the only excuse for the series of dork-tastic photos that we took. Like the Home Alone inspired pic that we shared here and the Where's Waldo one below: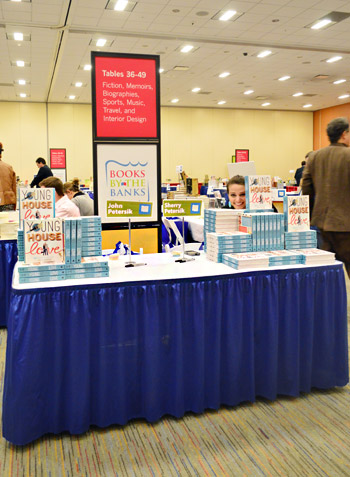 The festival doors opened at 10am so we were able to get our book signing hands warmed up for about 45 minutes before we got whisked away for our 11 o'clock presentation. We had only written our presentation about three days prior and practiced it maybe three times (we both don't like to over-practice something since it sounds stiff and scripted) and it was a bit intimidating to suddenly find ourselves in front of all of these people. This was just half of the room – my pic of the other half came out too blurry thanks to my jittery hands.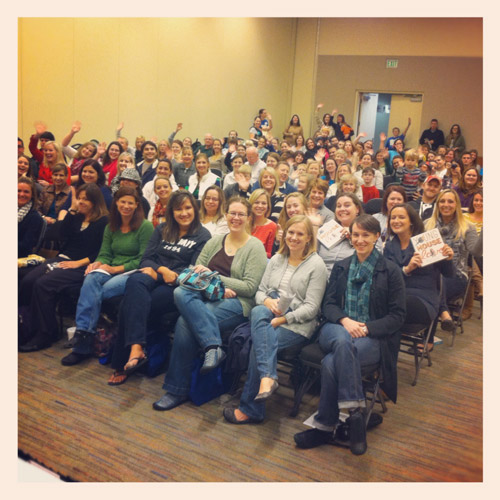 We had some technical difficulties with the slide remote not working (nothing like a rocky start to boost your confidence!) but word on the street is that we weren't terrible. Phew. A big thanks to Emily for snapping this Instagram picture that makes us looks like we know what we're doing. Keeping it real fact: we were both nervously bouncing our knees under the table the entire time. #tablecloththankfulness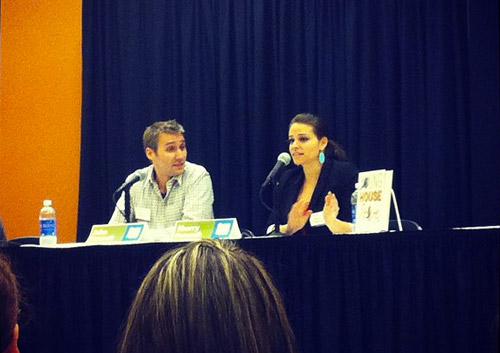 Speaking of other people's pictures, we had so much fun snapping photos with those of you who stopped by once we were back at our book signin' table. So please know that you don't need to be shy about asking for a photo. In fact, we're cool if you just hold up your camera and say "Snap snap, yo." (Thanks Laura for the one below).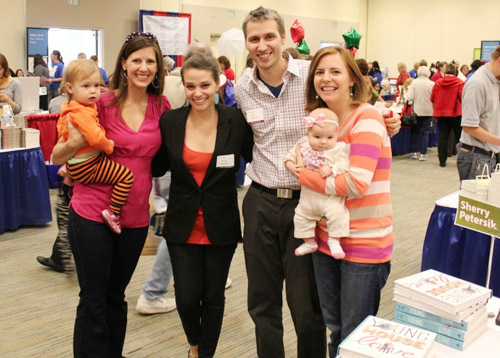 And feel free to take advantage of our weirdness by making requests for how we should pose. Annie suggested we do the see no / speak no / hear no evil thing (not sure why I did coy geisha hands) and Natasha requested her favorite: the "what's going on?" hands pose.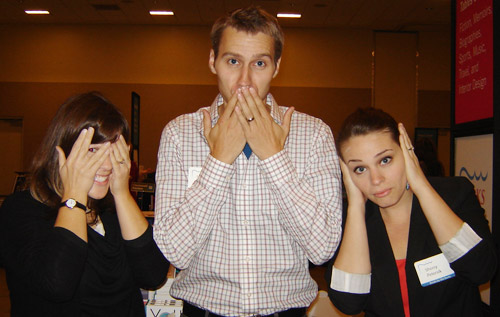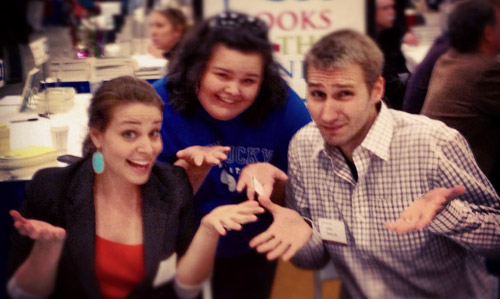 Another heads up to anyone coming to a future tour stop. If you bring your child, Sherry will go into full time fawning mode. The younger the kid, the more intense it will be. Especially on stops like this where Clara isn't with us. Ok? You've been warned.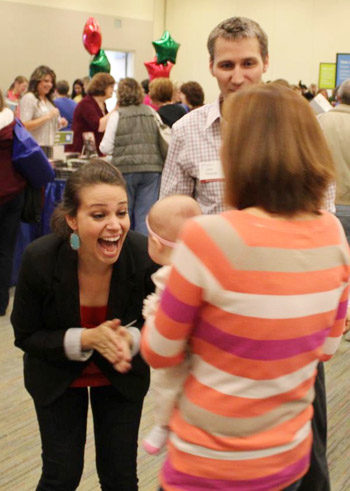 We also finally got the chance to meet the awesome Dana Miller from HouseTweaking (spoiler alert: she's actually one of ten guest bloggers that pop up in our book!). This picture was especially entertaining after Katie Bower asked where my other hand was. Oddly enough, I think it was on Dana's husband's back (I have quite the wingspan). Oh and if you're looking for a breakdown of Dana's experience, she wrote about it here <–complete with who to bring, when to get there, what to wear, and tips for making friends in line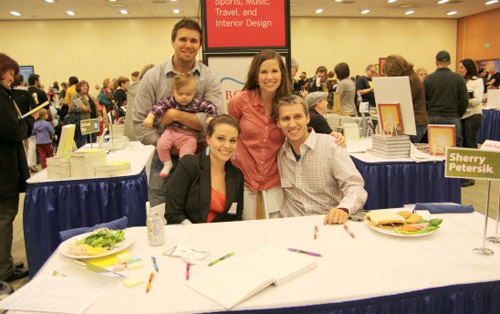 And thanks to the many suggestions from you guys to use the blank dummy copy of our book as a tour "yearbook" (it has blank pages inside), we asked everyone to sign it. We got signatures, some sweet notes, and even some awesome kid drawings. Heck, a few adults even drew us pictures, mostly because Sherry egged people on. Allison drew a portrait of Burger, Bill drew us a castle (at Sherry's suggestion), and then Mike tried to top everyone with a technicolor unicorn (another Sherry suggestion).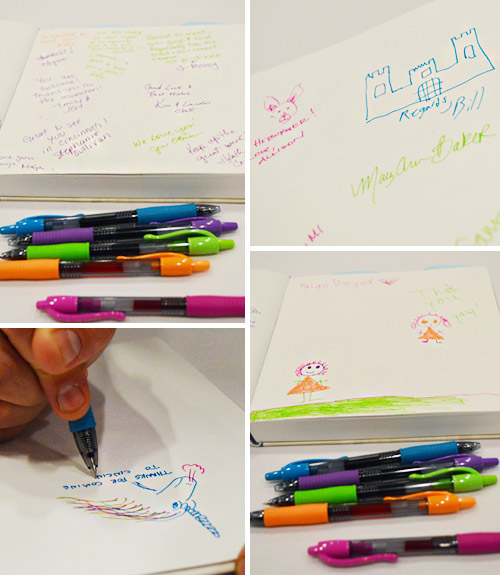 Perhaps the most shrill Sherry-moment of the day was when someone brought a ceramic animal that they wanted her to sign. How awesome is that? I think that was on $herdog's life list.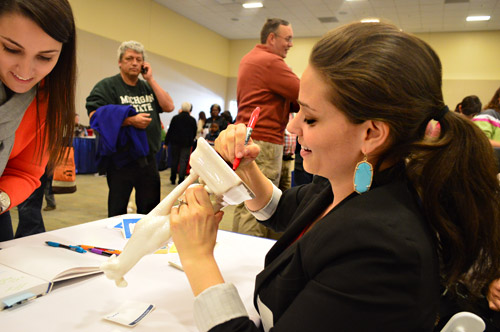 If you can't tell yet – it was a fun day filled with lots of fun people. We could not get over how nice everyone was. Seriously. Everybody was just so kind and happy – even after driving long distances, waiting in line, and even after finding out that we had sold out of books (our publisher only a had a finite amount ready since it was an extra early event, so we signed book plates and took photos with the people who didn't get one). Some sweet folks even brought gifts. GIFTS people. Who are we to deserve this niceness? Or is this just how midwesterners roll? Thanks for the sweet glass bird, the print for Clara, and the Kentucky horseshoe & grass seed, guys!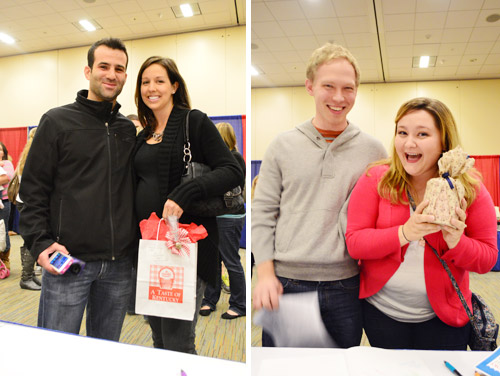 One thing's for sure: Cincy has set the bar really (really really) high, so we can only hope that everyone at our other stops are as understanding, kind, and gosh-darn adorable. That's right. I'm a dude and I just said gosh-darn adorable. You guys were so amazing to make the drive, survive the wait, and completely understand when the book bounty ran dry. Of course no one wants these things to go more smoothly than the hosts, our publisher, and Sherry & I (we'd have 1,000 books at each event with no line if humanly possible!) but it's so nice when folks are all laughing and having fun in line together. #giddy&grateful
Laura even thoughtfully gave me a bottle of their favorite local soda – Kentucky's Ale 8 One ginger ale. But since it's Aquatober (my month of only drinking water) I just tucked it in my bag to be enjoyed on November 1st. Sadly the TSA official at the airport thwarted my plan. Drat! Forgive me for not having the chance to enjoy your present, Laura! #confiscated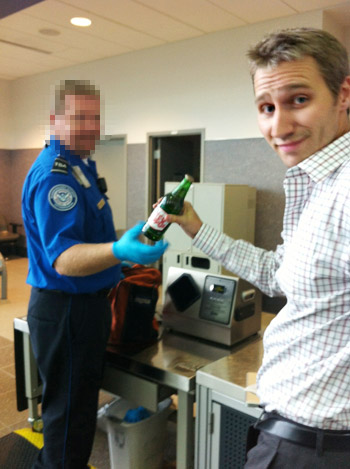 The sweetest moment of the day goes to Riley, the little girl who saw this Charley Harper book at another author's table and thought "Clara would like this" and gave it to us to bring home to her. Sherry totally cried. As in, she was actively wiping tears from her eyes when the next folks in line came up to us (she's mortified, but I told her it was cute). And Clara totally loves the book from "her friend Riley."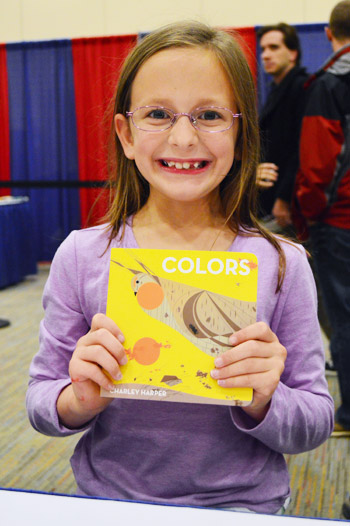 Things slowed down for us around late afternoon (we were only supposed to be there until 1, but since the earliest flight home wasn't until 6 we stayed around to continue meeting people and signing bookplates until right before the festival ended at 4). And on our way out we snuck in some time to enjoy the tail-end of the festival ourselves. For instance, we snagged this pic with Clara's favorite bear couple to show her when we got home. Berenstain Bears for the win!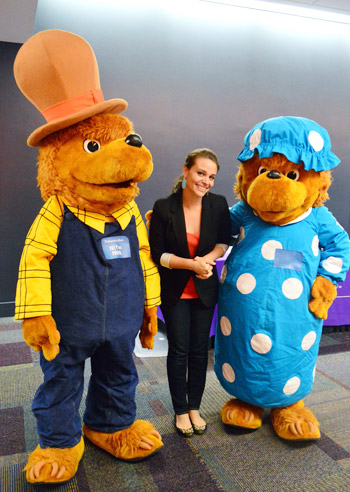 And speaking of meeting celebs, we had a chance to meet Bob and Cortney Novogratz since they were at a nearby table signing their new book, Home by Novogratz. We were all so preoccupied with our presentations that our interaction was sadly just a rushed exchanging of signed books before they had to catch a flight home to their seven kids. Though we did sneak in a quick picture too – which started off like this (Sherry likes to say that her default setting is "creepy")…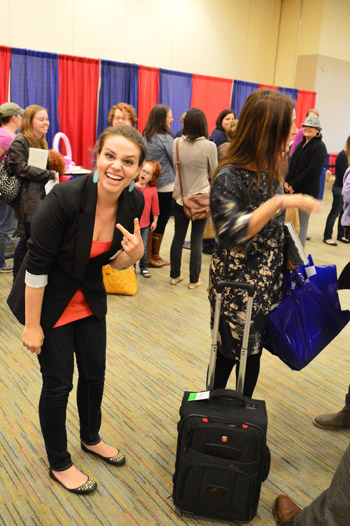 … and ended like this: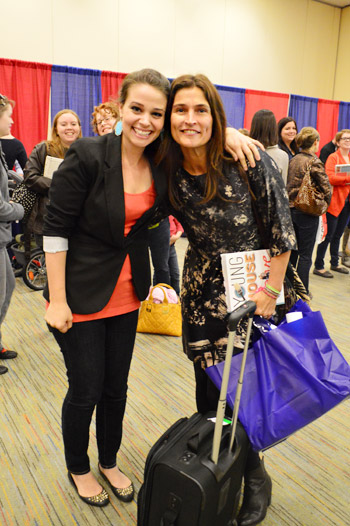 Both Bob and Cortney were super nice and their book is great. We're especially loving all the budget breakdowns in there (it correlates with their show, so it's fun to see how much certain items and projects really cost). And how crazy is it to see an HGTV star holding our book? BANANAS.
In addition to getting a signed copy of the Novogratz book, we also got signatures from Gillian Flynn (author of Gone Girl) and Tad Hills (creator of some of Clara's favorite books). It was one of those crazy whirlwind days that you almost don't believe actually happened until you look back at the pictures.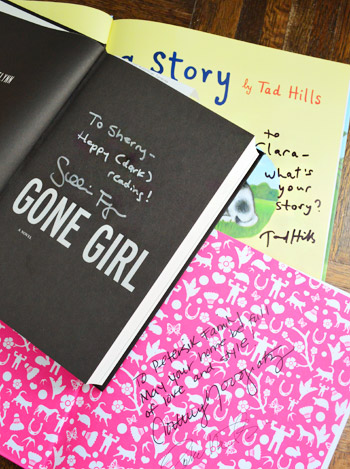 But before we could even begin to absorb all the wacky and wonderful things we had just experienced, it was time to hit the airport for our flights home. Speaking of wacky… I guess a long day of meeting awesome people and skipping lunch to keep up with signing = hyperactive airport hijinks.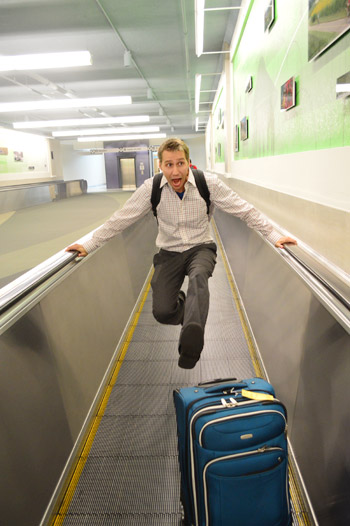 As much as we expected to just be dead tired, we were still so energized by all of the love in that room. We even had some fun in the kids' play area before we had to board our real (and notably less giant) plane home.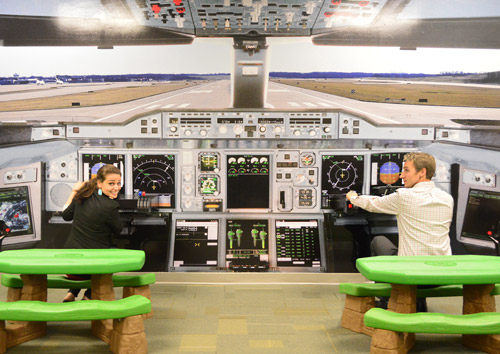 We landed in Richmond shortly after 10pm, just over 36 hours since leaving the morning before. We were still riding on that Ohio-induced high, but definitely eager to get home, snuggle Burger, and catch a few winks before waking up Clara with some major hugs the next morning (she was already happily snoozing when we got in).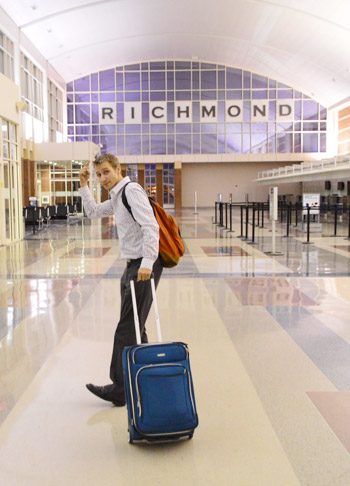 Thanks again to everyone who took time out of their Saturday to come on down. It made us so excited for our next leg (Manhattan, Wilton CT, and Ridgewood NJ on Nov 1st & 2nd) and everything else beyond that too. But most of all, we're psyched (and still a bit anxious) that this book is finally in the hands of people besides ourselves and our publisher. That's probably the craziest part of this whole thing. Two hundred of our babies are out there in circulation. Getting read, and hopefully being enjoyed. Thanks so much to all of you guys for making this possible. #whowouldathought