Moose.
Moose Who?
Moose Lamp!!!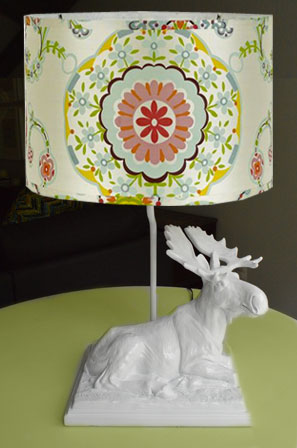 Wait, but some of that pic is photoshopped. I can explain.
It all started when I saw a moose lamp at an moving sale back in West Virginia when we were there to makeover Granny's bathroom…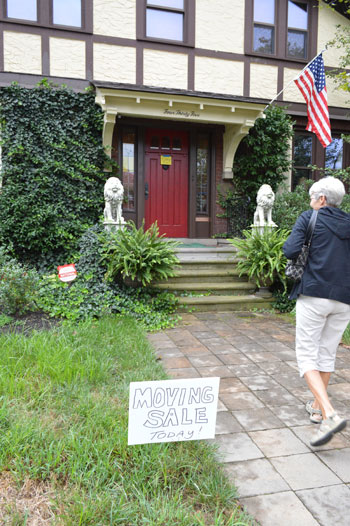 I couldn't resist grabbing him for ten bucks.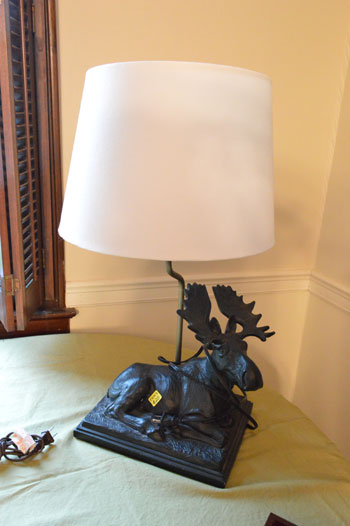 His shade was an odd too-small shape and his paint was flaking off in a few places…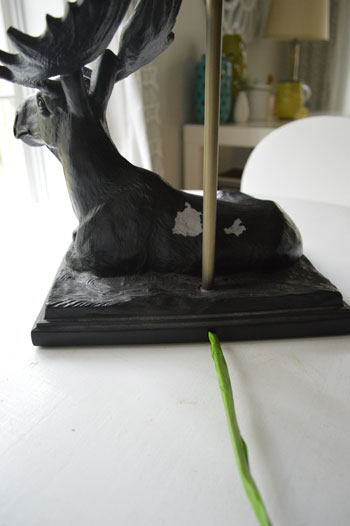 … but I knew I could take him from log-cabin to log-cabin-chic with a little spray paint and a new shade. So guess what? Dude, I got on that (see how these odd, usually-animal-related "Dude Get On That Already" challenges started here). I got on that moose like a cowboy. That's totally a thing right? Moose-riding cowboys?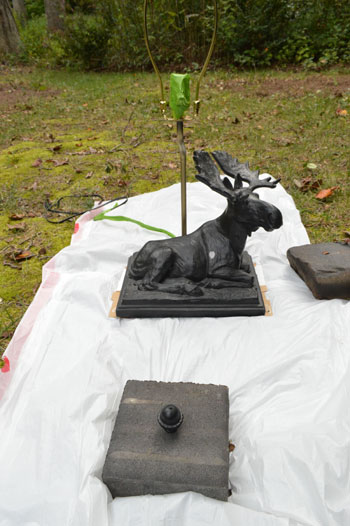 As for a color, I knew I could go a bunch of ways with him (blue moose? yeah, buddy!) but after some serious moose-related thought I went with white. Why? Duh, because he looks like a ceramic animal first of all. And second of all, because that frees me up to do something crazy fun with his shade. We're talking patterned fabric. Oh yeah. I'm a wild woman. I even have the exact shade in mind, but it's a secret book project so I can't share it until the 6th when the book is officially out – but I'm totally planning to pair that DIYed fabric shade with Malcolm (what? that's my moose lamp's name) and hook up Clara's big girl room with a super fun dose of color and ceramic moose power.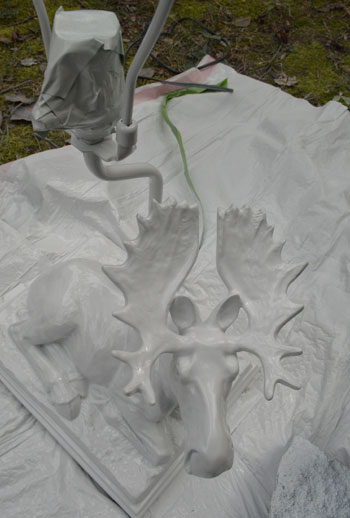 The best part? When I had the lamp out on the table before I got around to spray priming and painting it (I just used Rustoleum Universal since it has a built in primer in it) I said "What's that?" to Clara and pointed at the lamp and she said "I don't know what it is" and I said "It's a lamp with a moose on it!" and she said "I want a moose with a moose on it!" and I said "well I don't have a moose with a moose on it, but it's a lamp with a moose on it!" and Clara looked me in the eye and totally deadpanned: "moose… with… a… moose… on it." Like she was spelling it out nice and slow so I'd understand. That chick is hilarious.
Thankfully after I sprayed him white and paired him up with the secret fabric shade that's waiting in our crazy cluttered playroom (can't believe it fits perfectly! it's actually the original shade from the glass based lamps that a certain mischievous painting broke – we'd replaced the shades with whiter versions and had old ones around for secret book projects last December) Clara was 100% down with Malcolm…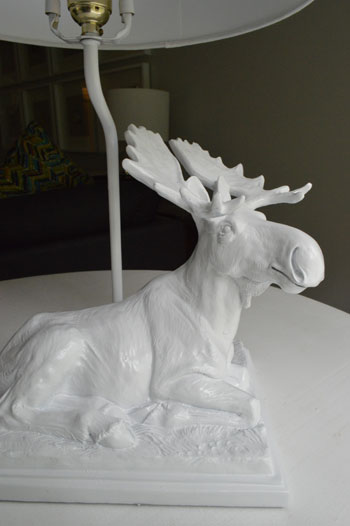 … as in, she can't wait for him to live with her in her big girl room. And she says goodnight and good morning to him every day (and even offers him snacks sometimes). The moral of the story? When in doubt, introduce a moose lamp to encourage manners and sharing.
And as for the photoshopping that I said I'd explain, I just faked a patterned shade (by grabbing this one from here and photoshopping it on). And while I was at it, I showed how a white moose on a white table might be blah, but could be amazing on something painted – like a soft celery green table (or even a rustic wood dresser).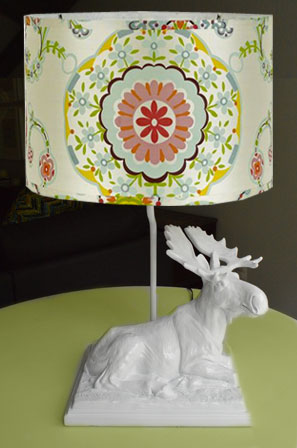 Moose, there it is.
What have you guy been getting on lately? Anyone else doing any other ceremonial spraying of animals? Or ceremonial spaying of animals?