You probably know of our little Thanksgiving tradition of filling up our homemade "Thanks Jar" with gratitude notes throughout November. We wanted to keep the tradition going this year, but our book tour kept us away most of the month and it got away from us. So this weekend we decided to sneak this tradition in right at the buzzer… while putting a new spin on it thanks to our new chalkboard.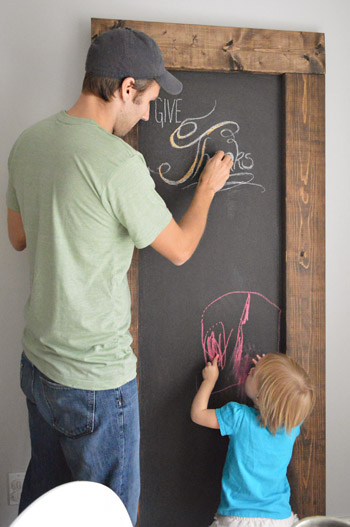 The word art at the top of the board was a joint effort. Sherry searched something like "pretty script" on Pinterest and tried her best to imitate what she saw for the word "thanks." A curlicue here. A flourish there. Then I got in there with some different colors to shade things in and add "Give" and "2012" in my "man font" as she called it. I think we were moderately successful.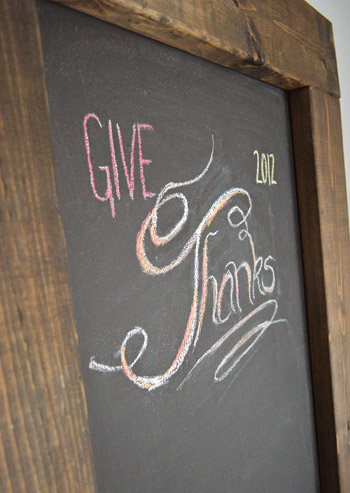 I actually like doodling different letters and fonts a lot (type geek, represent) but this task nearly got the best of me. Using chalk myself actually gives me the heebie-jeebies BIG TIME. Something about the sound of it. The feel of it grinding against the board. The potential screechiness of it. It doesn't happen when Sherry or Clara are scribbling away, so maybe it's the feel of it in my own hand? Yah – it's weird. But this project was like therapy for my chalk-phobia. What doesn't kill you makes you stronger, right? I can now check "chalk use" off my list of things that I'd prefer never to do in this lifetime. It's not THAT bad.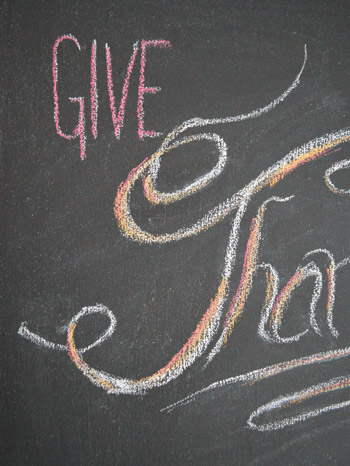 Shortly after getting our little piece of art done we got down to showing some gratitude. With the help of about $10 in Target magnets and some spare, cut-up cardstock our little "Thanks Board" was looking more like this by the end of the day: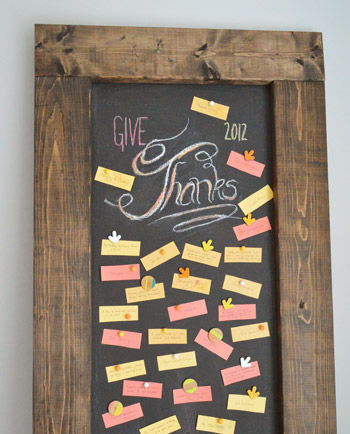 Oh and see those few magnets made from round disks of wood with stripes of paint on them? Those were actually handmade by Megan who gave them to us at one of our signings. She just used small wood disks and some tape + paint + magnets glued to the back. Aren't they awesome? We love them the most.
We opted to write things that we're thankful for on paper cards because (a) we could later store them in our thanks jar along with our 2010 and 2011 collection and (b) I could avoid having to write directly on the chalkboard any more than necessary. Baby steps, people. Baby steps.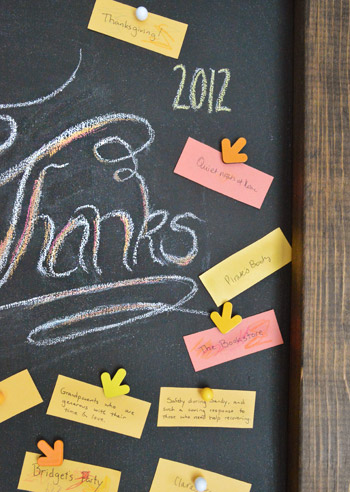 We even got Clara in on the action for the first time ever. It was a bit of a struggle to explain concepts like gratitude and feeling thankful to a 2.5 year old ("Think of things or people that make you happy or glad!") but she did spit out a few gems. Our hearts melted when she said "Mommy and Daddy make me happy!" A few others were: a balloon, the bookstore, and Bridget's party (she's the gal next door who rents a moon bounce (#bestneighborsever).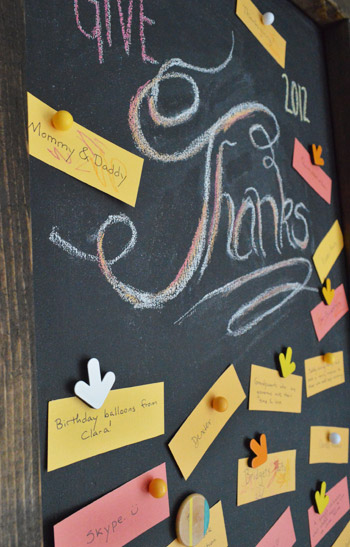 Here's a smattering of some of the cards that we each drew up. Since I wrote Clara's we tried to help distinguish hers from mine by letting her color on her own with crayons. For example, I'm thankful for Skype (especially last week!) and Clara was thankful for Bridget's aforementioned party (see those festive scribbles?).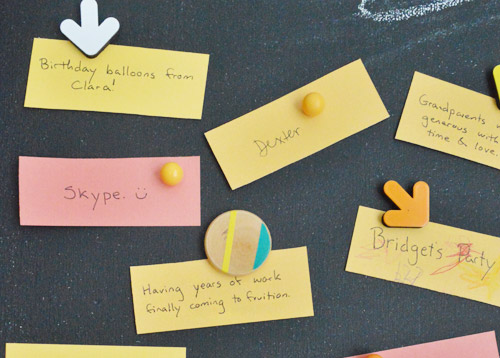 Clara got distracted before we finished, though. So, for the record, I'm not the one who's thankful for her Play-Doh cookie cutters. That's all her.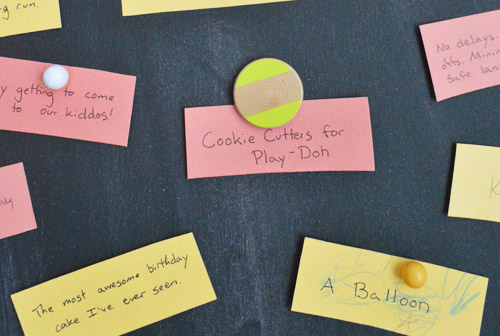 Oh, and warning: kids + magnets can be very dangerous. We had a very firm talk with Clara about the magnets not being toys or food. She's past the phase of putting anything in her mouth, but we didn't want her to think the magnets looked like candy or anything. We overheard her later telling Burger that he could "look but not touch them because they're not yummy and they're not food and ice cream is yummy and that is food" and had a nice laugh. And in the end (after we shot all these photos) we moved all the smaller round ones up on the board to be completely out of her reach and used the larger not-swallowable ones for the lower area – just to be on the safe side.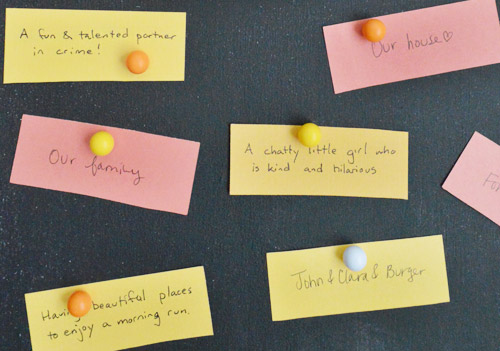 We're really glad we took the time to squeeze this little tradition in again this year because it's a really satisfying process to write out what we're thankful to have in our lives… even if they're just simple things like a good TV show to escape to once a week. Yup, Dexter made the board.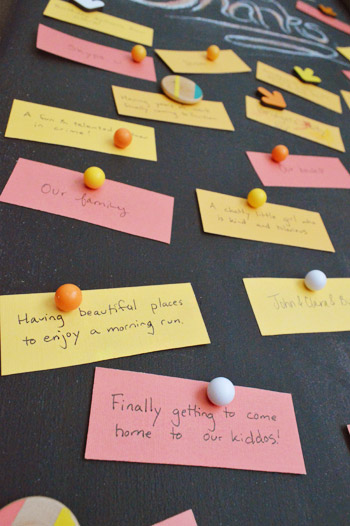 And while I'm sure we could've easily filled the entire board with things, people, and events that we appreciate, we were sure to leave a good chunk at the bottom open for Ms. Chalks-A-Lot.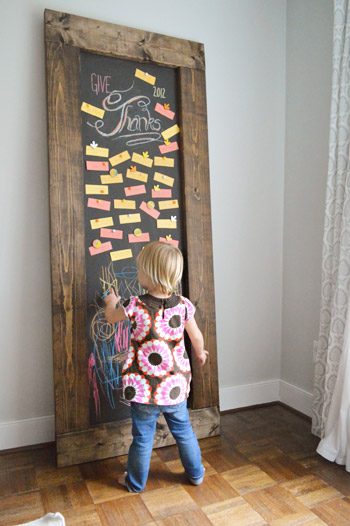 She clearly didn't inherit her father's aversion to the stuff.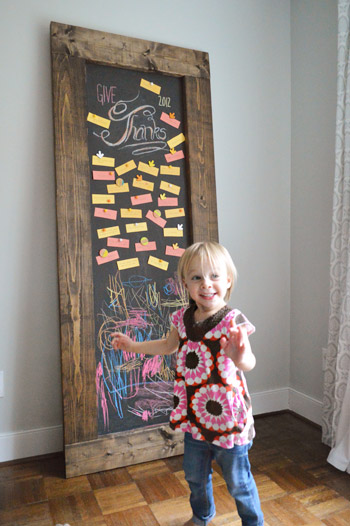 We hope everyone celebrating Thanksgiving this week has some wonderful food, safe travels, loving company, and lots to be grateful for. Heck, here's wishing the same thing even to those who aren't celebrating any official holiday. And with that, I can't help but share our Thanksgiving greeting from last year.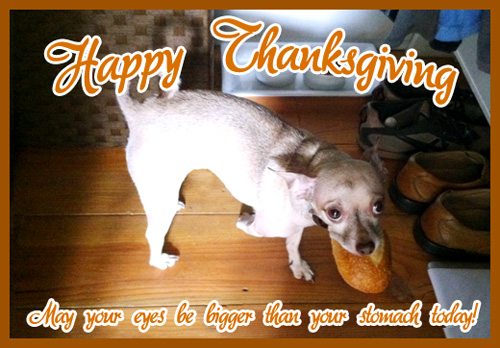 Oh Burger, you slay me. Happy face-stuffing to one and all!
Looking for more Thanksgiving traditions? Check out these posts: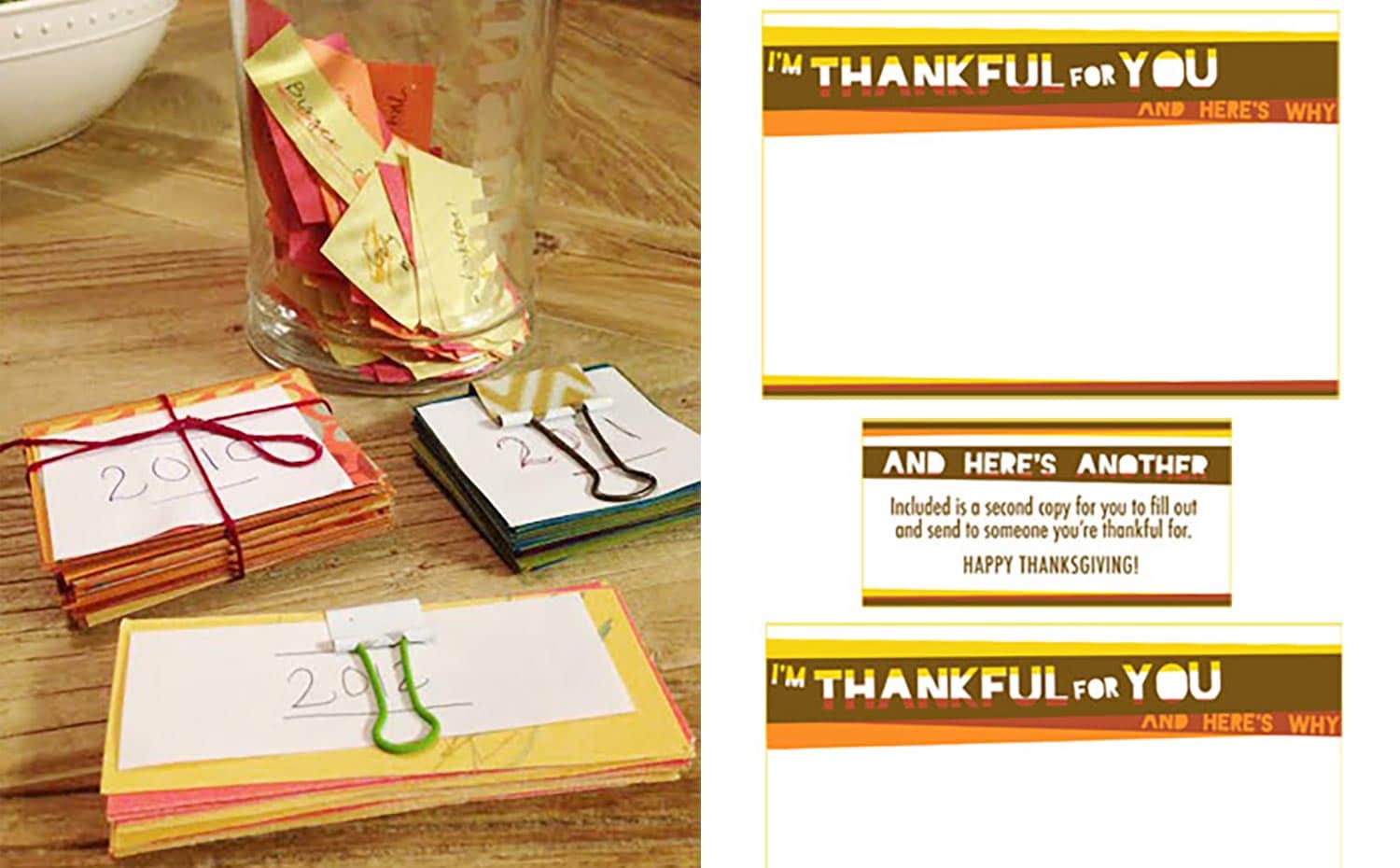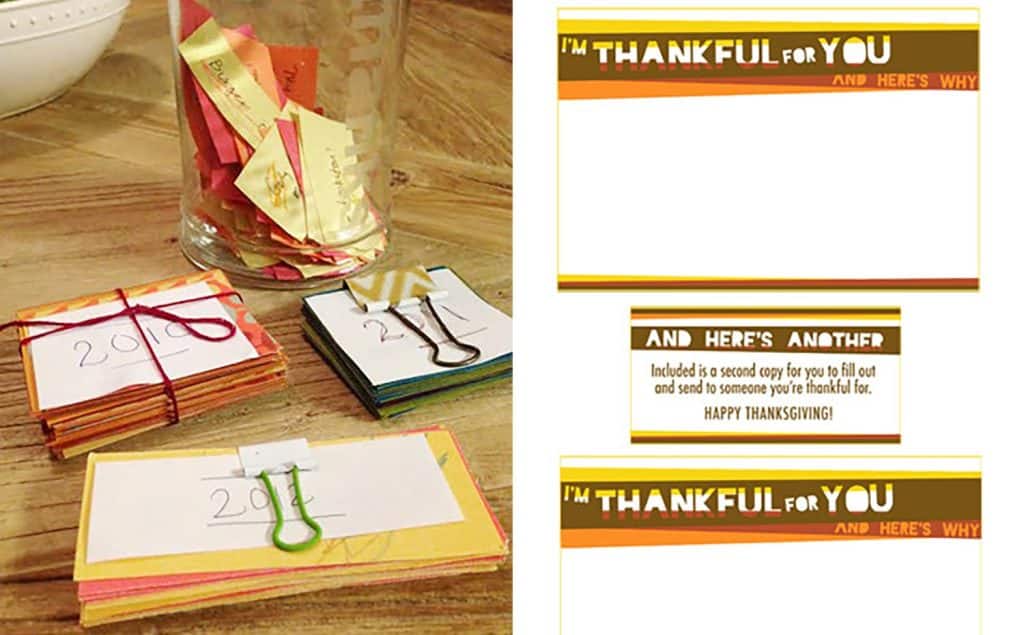 Update: You can check out all of our favorite holiday decor finds here – many of which are under $15!