For our first blogiversary we announced a few of our goals going into year two and we're back to see how we did and set some new ones as we move towards year three.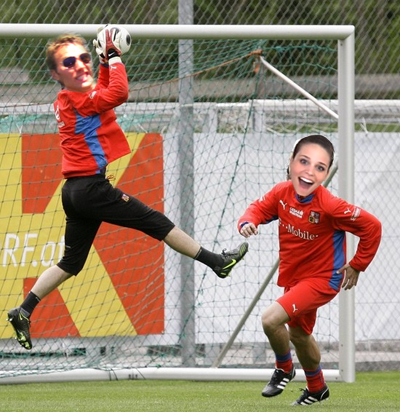 Check out my calves. Anyway, last year we decided to publicly declare our goals because while writing them down in a notepad could work, we figured publishing them for all to see would really light a fire under our rumps (what can we say, we work best under pressure). Miraculously, we did pretty well….
Last Year's Goal: Get Your Read – We wanna write more fun and interactive posts like this (which resulted in this). How We Did: Not bad. We realized how fun it was to ask for your opinions and ideas, so from ending almost every post in a question to starting interactive "Let's Tackle It Together" projects and reoccurring Burning Question posts, we regularly ask for your thoughts. It's just more fun to blog when it feels like a conversation (what fun is talking if nobody talks back?) so thanks for taking the time to weight in!
Last Year's Goal: Change The Scenery- I'll take over John's role as "video guy" so he can grace you with his presence in one of our upcoming video tours (as opposed to my overexposed mug). How We Did: Pretty good. John has selflessly decided to grace us with his presence in an abundance of videos, so from garage cleaning and rhino assembling to road tripping and stripe painting, he's not just the man behind the camera anymore.
Last Year's Goal: Listen Up- We're hearing that you guys would love regular features like $0 room makeovers and a deal of the week write-up so stay tuned for more of what you want in the next 12 months. How We Did: From writing about our favorite steals and deals (like this paint brush, this soap dispenser, and this vacuum) to whipping up the zero dollar same-day room makeover below (and sharing tons of super affordable Reader Redesigns) we're feeling pretty good. And we have even more affordable ideas in the pipeline for year three.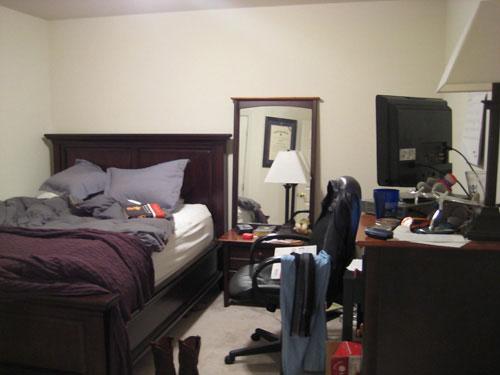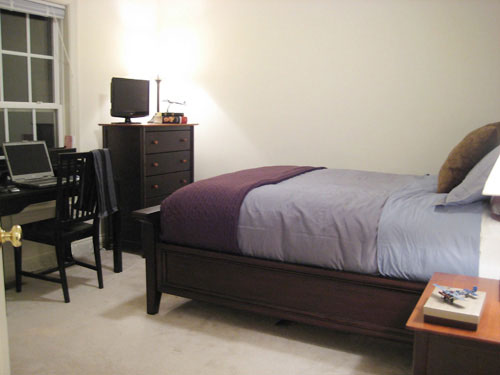 Last Year's Goal: Seriously Detox- We vow to further embrace eco-friendly products and practices- and solicit lots of help along the way (we're loving all the comments you guys left us here). How We Did: Not too shabby. We're psyched to have greened up our home with everything from a homemade backyard compost container and an edible garden to a DIY rain barrel. And we even shared how we upgraded to eco friendly pans and an organic mattress. We also learned about natural ways to do everything from getting rid of ants to dying Easter eggs… and teaming up with Envirosax to offer up a slew of chic little reusable shopping bags was one of our favorite fab freebies to date.
Last Year's Goal: Kid Around- We're dying to do a quickie same-day children's room makeover (like we did to Carrie's Philly apartment except for a delightful & deserving kid) so stick around for that in the coming months. How We Did: Well, we haven't done a same-day kids room makeover (although we did do another affordable same-day makeover for Carrie, pictured below) but we're super excited to not only have shared some pretty great reader submitted kids' rooms, but also to have helped John's older sister transform an extra bedroom into a nursery over the course of a few weeks (and on a serious budget). Stay tuned for the final nursery reveal coming soon… along with the baby!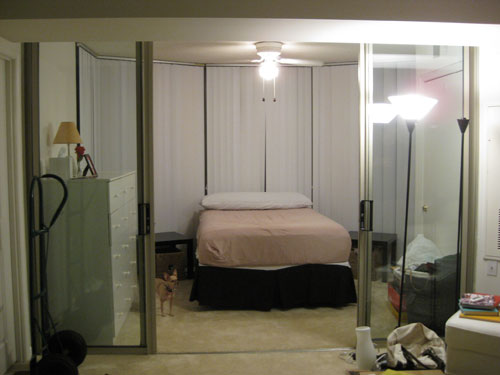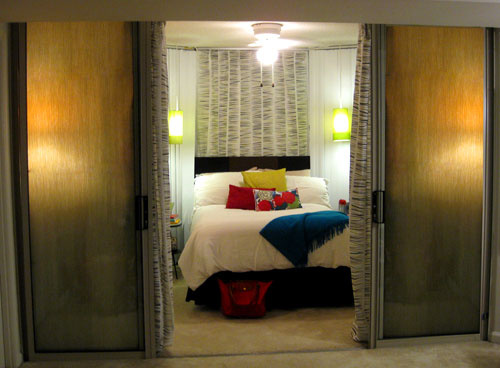 Last Year's Goal: Get The Goods- We'd love to expand our shop offerings beyond prints and portraits and hope to someday supply home accessories and accents to swankify the world one room at a time. How We Did: Here's where we fell short. We did look into offering up some pretty amazing decor stuff, but with blogging our little hearts out and all the other makeover projects that we take on we just haven't found the time to research buying in bulk and shipping those objects safely enough to jump in with both feet. Yet. But we're suuuuper excited to introduce YHL tees as a wearable addition to our shop, and we're overjoyed at the warm reception you guys have given them (we already had to have more made to keep up with your orders!).
Last Year's Goal: Tech Things Up- Young House Love in 3-D? Smell-o-vision? Ok maybe not, but we'd love to become more technologically savvy so nothing stands in our way when it comes to bringing you fresh and fabulous content in the coming year. How We Did: We feel pretty good on this front. We've shared weekly videos for the past few months and have even started a video page to keep everything in one spot (you know we're suckers for a little organization).
Last Year's Goal: Be More Social- We'd love to make better use of Twitter, Facebook, and all that other fun social media that we're already using (but not as well as we could). How We Did: Done and done. We have been actively using Twitter and Facebook to share breaking news and tell everyone what we're up to (from mundane daily life tidbits to major makeover-related sneak peeks). We've even used them to share some video outtakes and bloopers and leak exclusive clues leading up to this big reveal in December (and no, I wasn't pregnant).
Last Year's Goal: Get Around- We'd really like to house crash more homes outside the bounds of our delightful hometown. So cross your fingers that we wiggle our way into abodes far and wide for the inside scoop on how people live from coast to coast. How We Did: Oh happy day. We were fortunate enough to house crash people beyond state lines, like the two amazing homes seen below (here's one, here's the other). We also shared our insane 40 hour road trip, crashed a wedding in Texas, and have even more travel-related content planned for this year.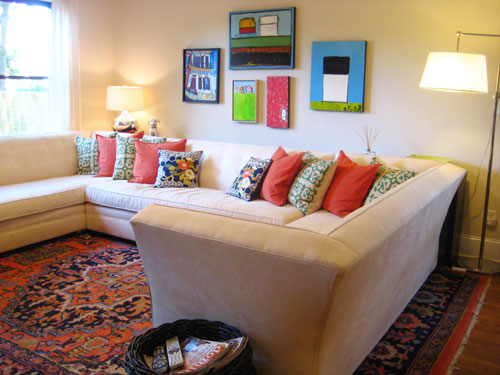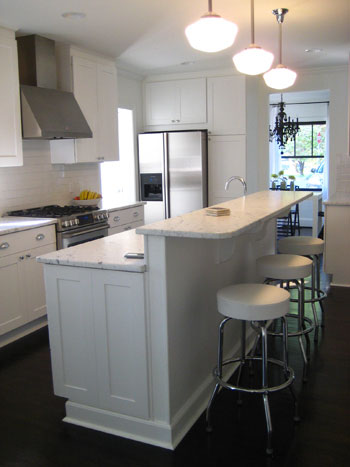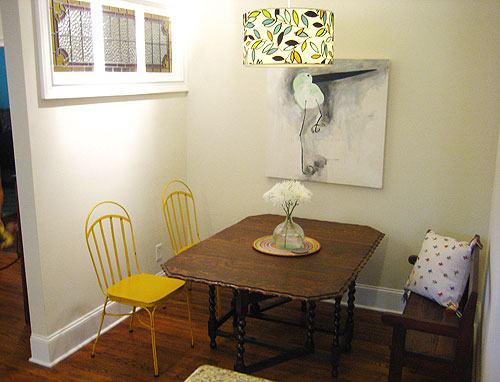 Last Year's Goal: Enjoy The Ride- Sure blogging is a lot of typing, uploading, editing, and photoshopping, but we love every minute of it (well, almost every minute). So when we're having one of those days when our server is taunting us or our latest post somehow deleted itself, we want to remember how lucky we are to do what we love every single day. How We Did: We survived! While running Young House Love is definitely not the easiest job we've ever had, it's truly our passion and we love what we do. Sure we're still working nights, weekends and even vacations, but we're still quick to remind ourselves that the best things in life don't just fall into your lap but are things that you work hard to accomplish.
************************************************************************************************
So that's the rundown of last year's goals. Here's hoping we do as well this year with these:
Hit The Road- We'd love to travel more and house crash even more amazing homes around the country (and beyond?).
Get Cracking At Home- We've slowly been saving our pennies and planning our attack when it comes to finishing our basement and completely gutting our bathroom. And we're psyched to announce that we're pretty close to picking up our sledgehammers and paint brushes. This year's definitely the year for both of these projects and then some…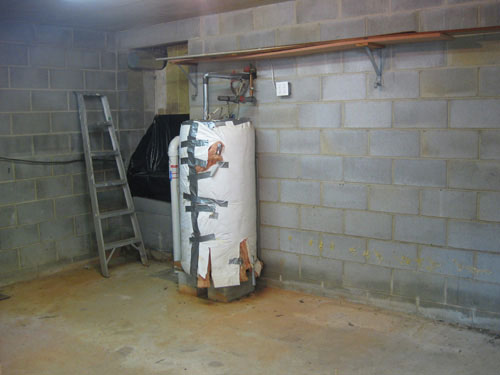 Share The Process- Many people have requested info far beyond the step by step process of painting a brick fireplace or making bedside built-ins. They want the pre-planning breakdown and all the dirty details about why we choose what we choose (from colors to materials and even room layouts and beyond). So when it comes to our impending basement and bathroom projects, we won't only share the before and afters, but we'll detail the planning process to better demonstrate how we evaluate a space and determine which functions and materials are a priority to us- and why.
Do More With Less Moolah- From totally free easy upgrades to super cheap ways to spiff up a room, we're obsessed with sharing more tips for living large on less.
Put Faces To Screen Names- We want to get out in the community (and even motor around the country) to meet you guys in the flesh. We'd love to arrange anything from a casual local gathering to on-the-road meet ups, so stay tuned. And how much fun would it be to shop together? Anyone up for meeting at Targets, Ikeas and TJ Maxx stores around the country? Sounds like a good time to us.
Sling The Swag- We'd love to keep giving you guys cool stuff every single week, and even up the ante with bigger and better prizes whenever possible. Last year we vowed to do our best to sniff out some great freebies (after countless requests from you guys on last year's survey) and 365 days later we're thrilled that we've kept that ball rolling and hosted over 40 super fun giveaways to date (where we doled out over $6000 worth of stuff!).
Expand The Clan?- This coming year just miiiight be the year of the baby. We're definitely not making any promises, but we'll see how things go and may actually end up with a nursery makeover at the end of year three (or the beginning of year four- kids do take a while to bake…).
So that's what we have in mind for the future of Young House Love. And of course we're still tabulating your feedback from Tuesday's reader questionnaire so we'll see if any other ideas float to the surface. In the meantime, what about you guys? Any goals for the next 365 days that you wanna share with the world? It really does seem to help get 'er done when you declare them on the internet for all to see. So do tell.
Slightly altered image found here.