John and I love food. A lot. In fact we both took a "how-compatible-are-you" test back when we started dating and we both listed eating as one of our favorite hobbies. So it's no surprise that we finally got around to converting a formerly bushy bed in our backyard into an herb, vegetable & fruit garden for chowing down on fresh and organic produce all summer and into fall.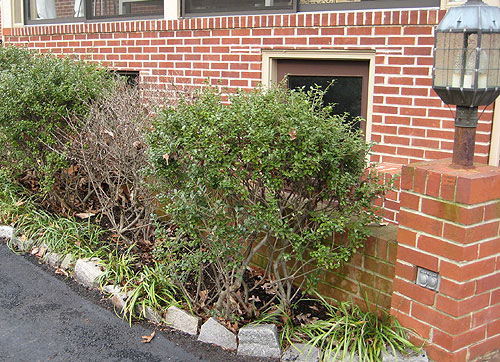 We cleared the bushes out (although we kept a little rose bush in the corner) and planted some organic lettuce seeds (along with a $9 raspberry bush from Lowe's) back in March. And then a little peony plant surprised us by popping up in the back of the garden out of nowhere. Bonus! The next step was hitting up our local farmer's market (South Of The James Farmer's Market here in Richmond) for some delicious veggies and herbs. The vendors are always amazing, as are their wares. Check out these cheerful buckets of blooms…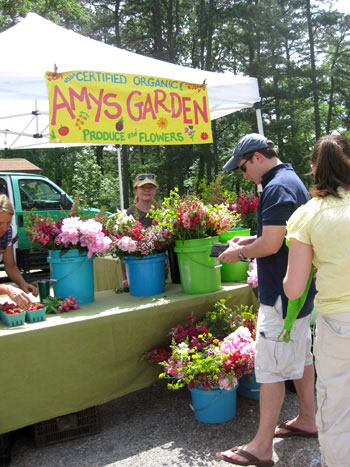 … and these gorgeous radishes all purple and plentiful…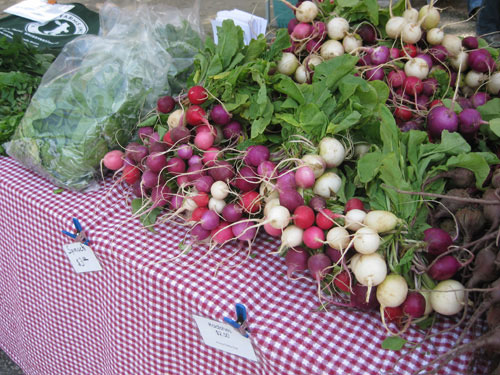 In fact the fruit and veggies were so enticing that we couldn't return home without snagging a big box of fresh strawberries and a bag of arugula. But we also came home with eight new plants for our garden. For just $10 (!!!) we grabbed: one cherry tomato plant, one golden tomato plant, two basil plants, one zinnia, one parsley plant, one swiss chard and one oregano plant. Along with our existing rose bush, our new raspberry bush, our surprise peony and our newly sprouting lettuce, we knew those eight additions would be a great start to growing our own fresh eats out back.
But we also knew that we needed to add some lush and lovely evergreens to keep the space from looking sad and bare in the winter months once the herbs and veggies disappear. We swung through Lowe's and picked up two Winter Gem Boxwoods (for $14.98 each) and one Cypress King's Gold (for $14.98) to add color, structure and year-round interest. Then we returned home and laid everything out to come up with a loose idea of our layout.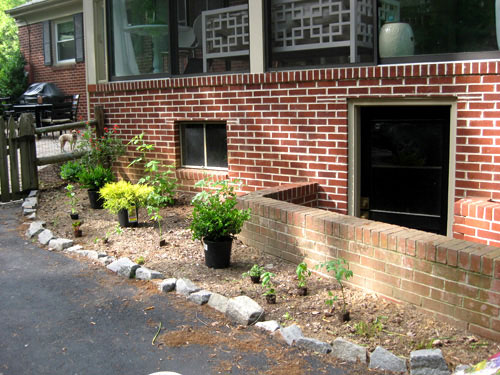 With a rough idea of the plant placement under our belts, it was time for some quick soil amending. Although you can do this extremely thoroughly with a rototiller (they can be rented from Lowe's and Home Depot), since it was such a small area we decided to rough up the soil with a shovel. Yeah it took a bit of elbow grease but we were able to dig about 8″ into the soil and get it ready for some pretty delicious organic nutrients (free courtesy of our backyard compost bin).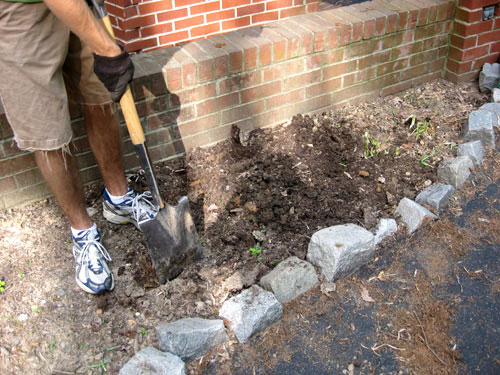 Not only did we add a good amount of compost to our roughed up dirt, we also threw down some nutrient rich topsoil just to be sure that our little sprouts would continue to, well, sprout. Then we raked everything together and turned the soil for a while until it looked blended and ready for planting.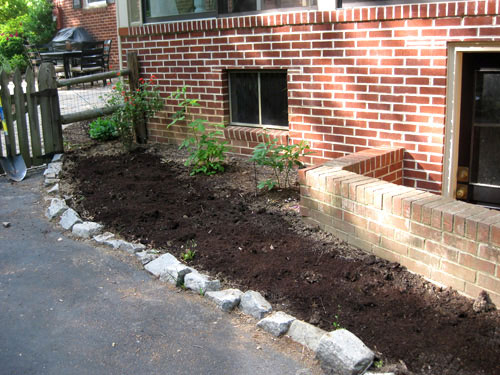 There are many different formulas when it comes to amending soil (depending on whether you have sandy or clay conditions to start with, etc), but we have found that compost is really the magic touch to any garden- you just can't go wrong adding some organic, nutrient-rich compost.
Then it was time to plant everything (we tossed a bit more compost into each hole), and afterwords we mulched the whole garden to keep weeds at bay and help everything stay moist. Here's Burger stealing our new garden's thunder. He's such a camera hog. As you can see, the three evergreens provide structure and fullness that will last throughout the year while our rose bush (back left), raspberry bush (back middle) and peony (back right) will add eye candy and mouth candy too.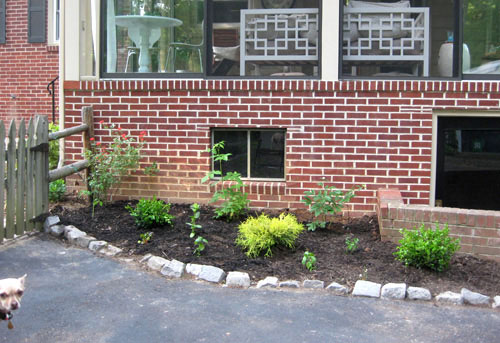 We also have a cherry tomato plant (in front of the rose bush), some swiss chard (in front of our boxwood) a zinnia (between the boxwood and the cypress), two basil plants (on either side of the cypress), and some parsley (to the right of the cypress). And of course there's another tomato plant, some lettuce that we planted in March sprouting up and some oregano on the other side of the boxwood on the right (not pictured).
Here's a close-up of the gorgeously colorful swiss chard and our surprise peony that's ready to pop.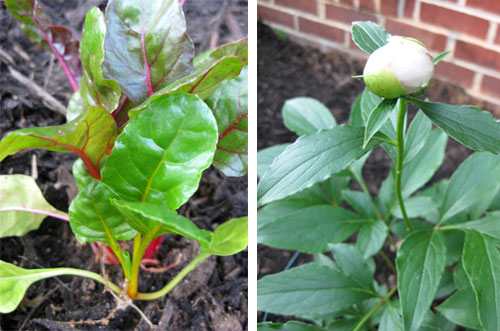 We love our little garden and we already have big plans to spruce things up even more (adding some pretty trellises for our raspberry and tomatoes to climb, power washing the brick, bringing in more herbs and veggies if we're successful with our first attempts, etc).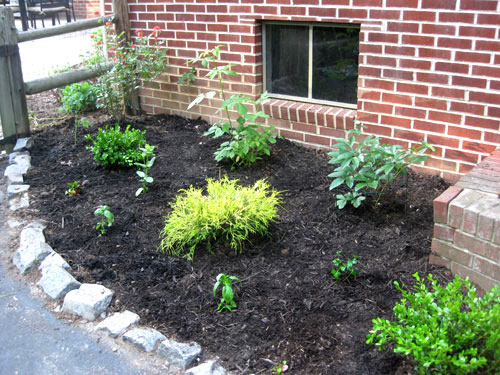 But for now we're taking pleasure in the simple things. Fresh basil…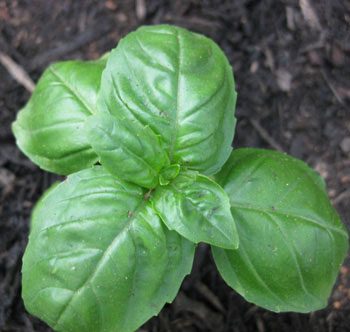 … pretty red blooms…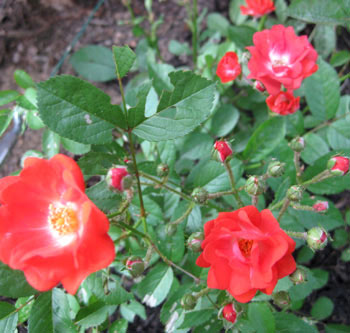 … and raspberries that should be appearing soon.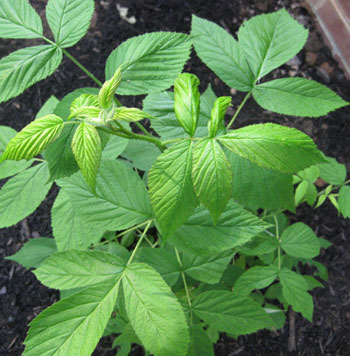 We also love that we can actually see the garden from our sunroom. Now there's no excuse not to eat our yeilds! Here's a shot from above (I was standing on the daybed) just for one more vantage point.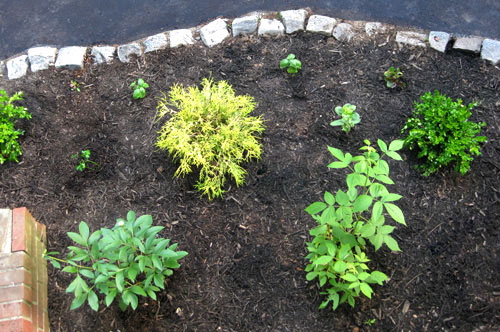 And now for the budget breakdown. Eight herbs/veggies ($10) + three evergreens ($44.94) + mulch/top soil ($5) = $59.94. Not too shabby, right?
So what about you guys? Do you grow anything edible? Any plans for a container garden or even some windowsill herbs in your future? Tell us all about your planting to-do list.