We asked. You voted. We listened.
I'm talking about the ballot we put out a couple of weeks ago to elect a new color for our blah bookcase.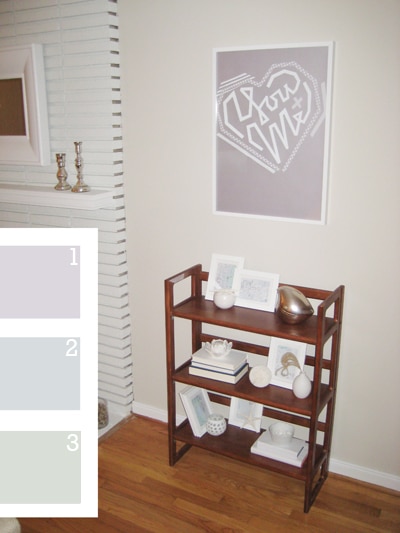 While there was support for all three subtle color options, as well as a few new hues thrown into the mix, we let majority rule. Here's the resulting GREEN bookcase: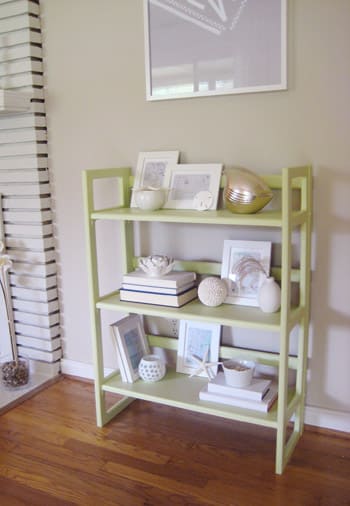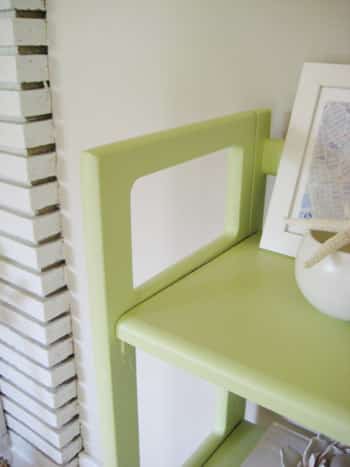 It's not as subtle and grey as the green we originally considered in option #3, but after falling for the kitchen that inspired us in Kristy's Design Dilemma (and growing some color cajones) we decided to go a little brighter and bolder. That's how we landed on Glidden's "Zen Mist." A purer green, with a hint of lime-y yellow. All it took was a coat of primer and two semi-gloss coats of our new favorite color and presto.
We love it. And we owe you all a big "thanks" for your suggestions as we stepped outside of our white-washed comfort zone. We think its a huge improvement over the reddish wood color that didn't match anything else in that room. And now it totally compliments all the green accents on the dining room wall (as many of you pointed out) while still allowing all the white objects on the shelves to pop.
But what do you guys think? Happy with the vote? Demand a recount? Do tell.
PS: Looking for a next-level furniture painting project? Check out this DIY herringbone pattern we created on a thrift store desk.