That's right, it's an ants in my pans scenario. Not in my pants. The situation wasn't that dire. But about a week ago I awoke to find ants marching all over my kitchen counters and some of them even had the gall to traipse right across our lovely eco-friendly skillet that we had left on the stove to dry. Oh and speaking of our teflon-free/petroleum-free nonstick cookware set that we got this Christmas (a set of Greenware from Cuisinart cookware that we got from Bed Bath & Beyond), here's the update that many people have been clamoring for: we've been using them regularly and can't get over how awesome they are. Seriously, we love them and highly recommend them to anyone who's looking to green up their kitchen.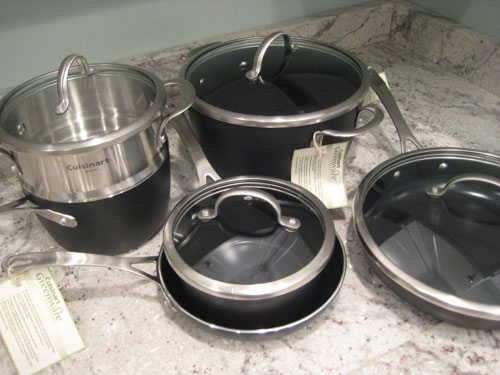 But enough about our pots and pans. Back to the ant problem. Can you believe the nerve of those little buggers invading our kitchen as if they were the ones who spent 113 days without a functioning sink or stove during the renovation? Being truly reluctant to bring any toxins or poisons into our home (and especially into our kitchen) we resisted the urge to snatch up a bunch of ant baits, and instead we made like ants and let our fingers do the walking, er, marching. We just googled "natural ant remedies" and learned that there were a slew of non-toxic everyday items that we could use instead. Here are a few of the all-natural anti ant solutions that we found here.
Sprinkle cinnamon where you see ants congregating to get them to back off speedily.
Fill a squirt bottle with plain white vinegar or 50% apple cider vinegar and 50% water and spray down surfaces where you see ants a few times a day.
Sprinkle black pepper wherever the ants are marching, taking care to find their entry/exit point and sprinkle pepper in that crack as well.
Shaklee's Basic H (a nontoxic soap made of soybeans) can be watered down and sprayed where ants are entering/exiting to keep them at bay (this formula may bubble paint so it's best to use it on counters and other soap & water friendly surfaces).
Placing bay leaves in corners and cracks where ants emerge can immediately run them off (and they can be left behind canisters and in corners for long-term ant repelling).
Substituting garlic cloves for bay leaves is also said to work.
So which options from the delightful non-toxic menu above did we choose?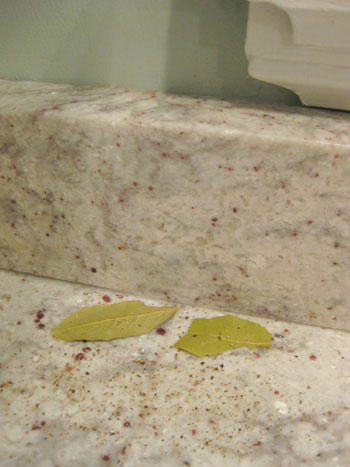 We went with a tasty black pepper and bay leaf recipe. We just sprinkled some black pepper around the counters and into the crack behind the counter where we clearly saw the ants emerging and then shoved a bit of bay leaf down the crack along with laying a few of them out on the counter. We loved that both of these dry ingredients wouldn't threaten to stain our granite counters or compromise the safety of our cooking surfaces in any way. And the best part? It worked like a charm. No more ants in my pans.
Do you guys have any all-natural remedies to share with the group? How do you avoid bringing chemicals and poisons into your home while keeping it pest free? We live for this stuff so spill the (green) beans.