When John's younger sister Carrie asked us to transform her new apartment in Philly on a strict budget we were happy to oblige. It's amazing what a little rearranging and accessorizing can do for a big white box that's bursting with potential. Here's our fast and fabulous four hour $200 makeover.
Carrie's big white room serves as the living area, dining area, and also houses the kitchen along one wall, so it really needed to be flexible and functional. And Carrie's a stylish 22 year old with a penchant for a little punch of color, so we brought in some pattern, texture, and color to create a space that feels open and interesting to boot. One of the biggest challenges was finding the perfect furniture arrangement. When we arrived, the sofa was angled for easy tv viewing (even though it meant that you were greeted by the back of the couch upon entering the room):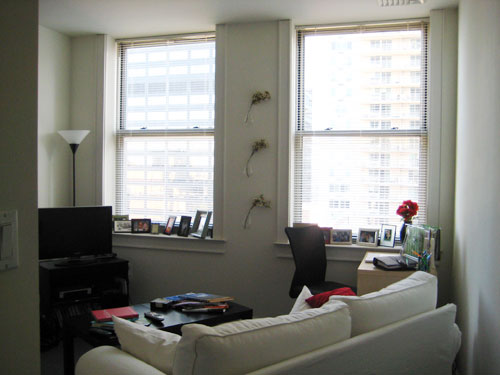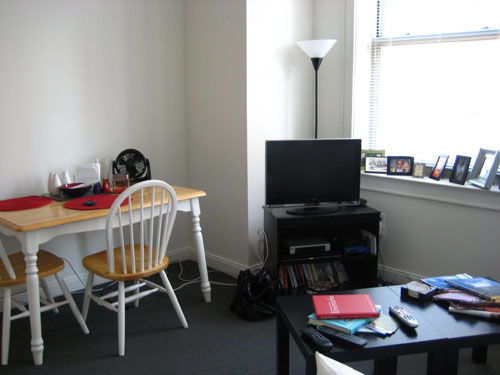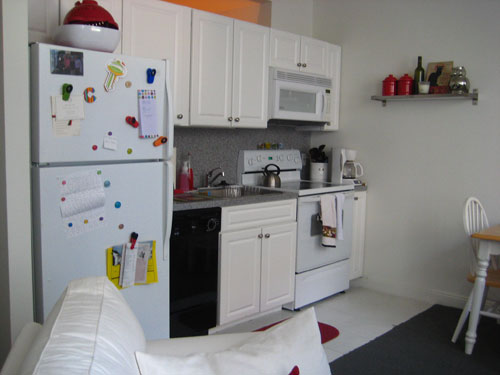 But after a bit of brainstorming (and John's electrical assistance to extend the cable hookup across the room with a $6 cable extension cord) we were able to rearrange the living area with the couch centered under Carrie's fabulous picture windows. Now when you enter the space you're no longer greeted by the back of the sofa. Instead, you're invited inside thanks to a more open and balanced arrangement: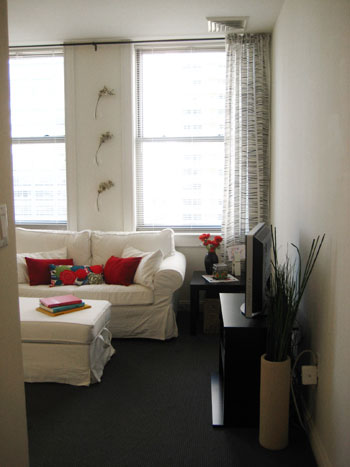 After we rearranged the room, we took inventory of a few accessories that would finish off the space (curtains, a few baskets, a new ottoman, and some wall art) and headed to Ikea with our 200 dollars burning a hole in our pocket. We returned a few hours later with everything on our list (and even a few pennies to spare). But there was no time for a victory dance. Instead, we got right to work hanging our $15 Ikea curtains (to frame the gorgeous city view and keep things airy and balanced). With tiny stripes in green and black, they bring in some color and texture (and even match the flowers that Carrie already had hanging in those cute teardrop vases on the wall between them).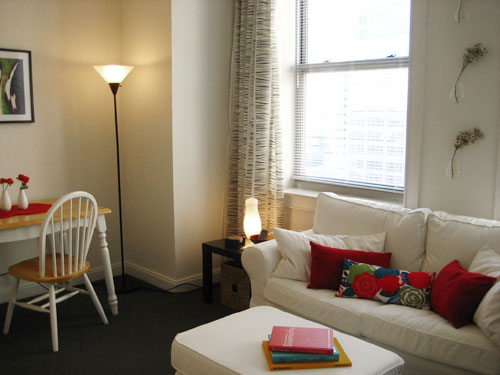 The dining area was a snap- just the addition of a $10 cow print from Ikea (in the same colors as the curtains) and some simple decluttering left the dining space looking as tasty as a Philly cheesesteak. We also did a little organizing and paring down in the kitchen for a cleaner look (and more counter space to boot).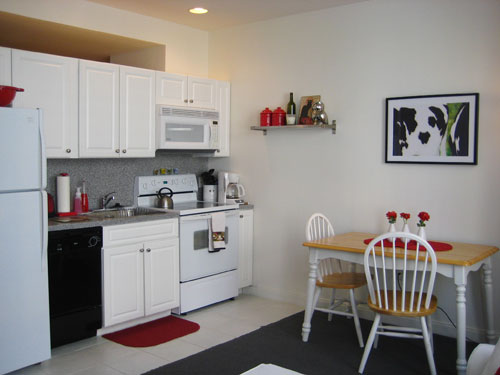 And of course we made sure that everything from the M&Ms to the reading material worked with our playful color palette. We were also conscious to provide a bevy of subtle storage options for Carrie (from the wicker baskets tucked under the side tables to the ottoman with a secret storage compartment under the lid):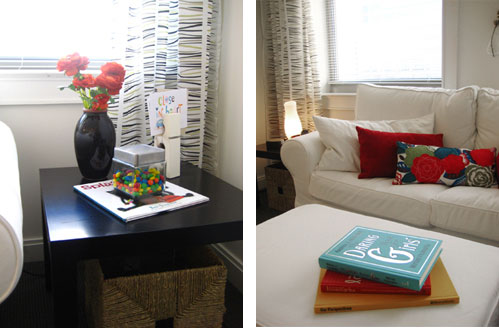 As you can see, just rearranging and accessorizing can really change the look and feel of a room. And it only took us about four hours to successfully swankify Carrie's space before hitting the pavement to explore Philly with the fam. Just for kicks, here's our handy dandy cost breakdown for anyone who thinks we pulled a fast one and went over budget. We're thrifty and proud of it.
Carrie's Cost Breakdown:
-25 foot cable extension cord (which enabled us to move the tv across the room): $6
-Ikea cow print for the dining area: $10
-Black Ikea Ribba frame for the cow print: $23
-Patterned floor length curtain panels: $14.99 (for two)
-Black Ikea curtain rod: $9.99
-White Ektorp Bromma ottoman (with hidden storage): $100
-2 rattan baskets to slide under Carrie's side tables for even more storage: $34 (for two)
-M&M's (for a dash of color- and because decorating makes ya hungry): $1.29
GRAND TOTAL: $199.27
So what do you guys think? Isn't Carrie's new Philly nest cozy and cute? Do you have any simple and affordable decorating tricks up your sleeves for transforming a room on a dime? Share and share alike.