True to our blogiversary resolution, we took our house crashing show on the road and drove four hours south to Charlotte, North Carolina where we dropped in on Matt & Kristin. Oh and here's the cute couple now (with their dogs Sage and Simon). Aren't they adorable?
And as cute as they are, their bungalow in NoDa (one of Charlotte's up and coming areas) is just as easy on the eyes. Take their living room for example. Utterly welcoming with colorful pillows and art paired with one of the sweetest sectionals we've ever seen, it's a room that feels cozy yet stunningly stylish.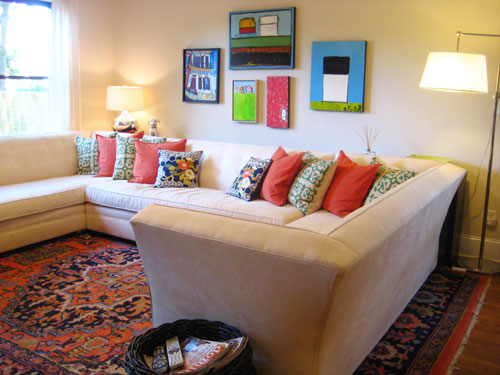 And their formal dining room continues the amazing eclecticism. From a traditional buffet, table and chandelier, to some Asian influenced pieces (like the vase and the upholstered arm chairs) to the modern parsons chairs and the clean lined accessories- this room does mix & match juuuuuust right.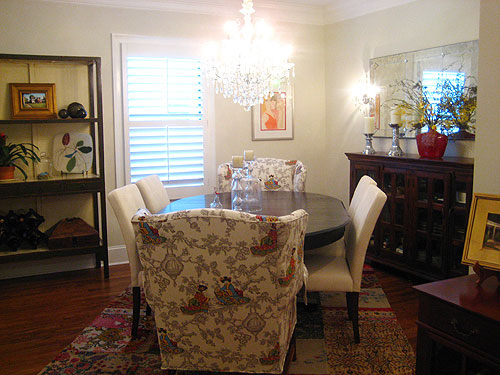 Their kitchen is just as bewitching. With three pendant lights illuminating a handy peninsula for everything from breakfast to a buffet-style dinner, this kitchen was made for entertaining. It opens up to the plush living room (pictured above) and is fully functional with a double oven, a double drawer dishwasher and a whole lotta counterspace for spreading out and serving up something spectacular.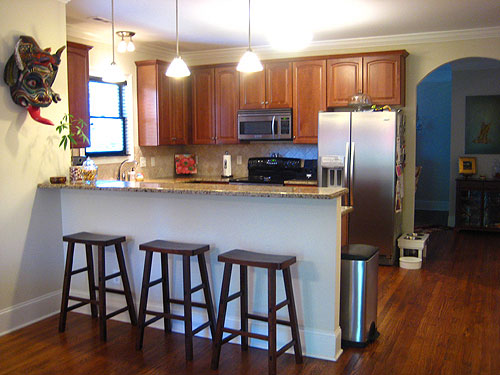 And not only does the kitchen have the island for eating, it also has an adorable nook that's perfect for chowing down by the light of that fabulous fabric pendant. You also may notice the intricate stained glass window on the left side of the eat-in nook. It's an interior window that the builder worked into the floor plan for some serious decorative detail. Amazing! Matt and Kristin are also big art collectors (they try to grab a new piece every time they go on vacay) and this bird was snagged in Richmond back when they called it home.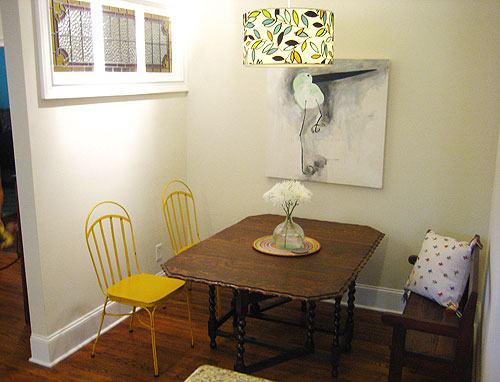 Their bedroom is truly a showstopper, complete with a big black frame from Ikea setting the stage above the bed. Kristin even painted the coffered ceiling in a pale blue tone while Matt was at work (surprise!) and they both really like how it turned out. We love how it highlights the extra tall ceiling and must look oh-so-dreamy from bed every morning.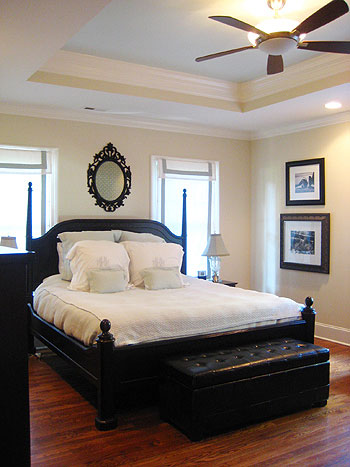 Kristin and Matt's house is not only filled with a range of brilliant colors and playful styles, it's also chock full of customized and personalized touches. Like this fabric cornice board shower surround that they had built for their guest bathroom (which matches the turquoise sink) and these state-specific pillows in their guest bedroom (from CatStudio) to represent each of the states that they've lived in (North Carolina, Texas, North Dakota and Virginia).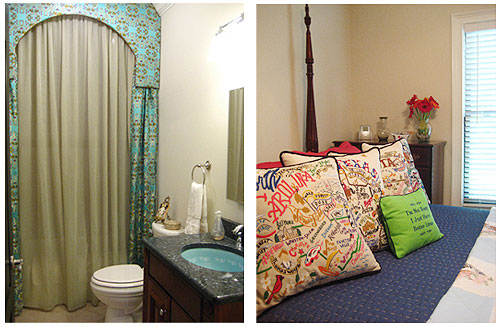 One of the perks of having four fabulous bedrooms is all the function that you can cram into your home. Check out this swoonworthy craft room with a complete wrapping paper station (the drawers are full of every type of ribbon under the sun!) and anything else you need to whip up a well wrapped masterpiece. This fun and playful room also pops thanks to some affordable bookcases from Ikea that flank the window (dressed in curtains also from Ikea) and an old Dr. Pepper machine paired with an antique Coca Cola clock for a dose of refreshing vintage charm.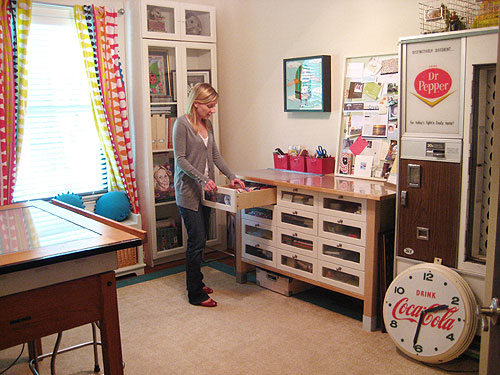 But Matt and Kristin's home has a serious side too, as exhibited in their handsome home office complete with sophisticated black french doors that can be closed for privacy (and major swoon-factor too). And isn't Simon the perfect little office accessory?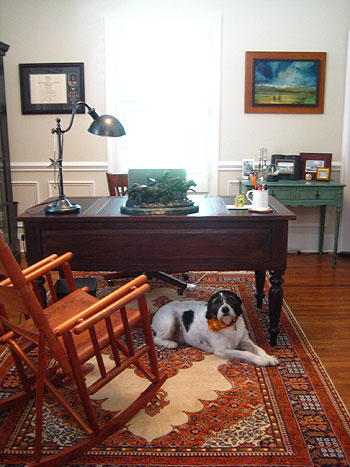 So there you have it. Matt and Kristin's amazing bungalow. To get their look try mixing antique and traditional items with some modern pieces, bringing in every color of the rainbow, and adding some stately black window sashes and solid black doors for some sophistication and a serious dose of craftsmanship to boot.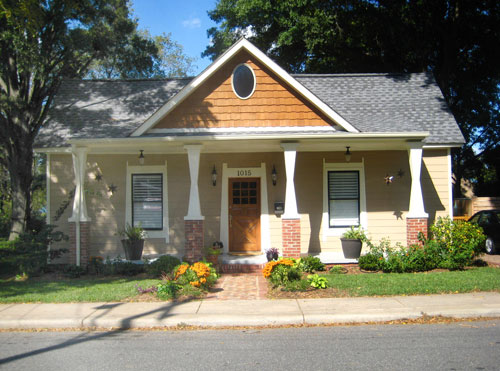 We hope you enjoyed the tour as much as we did. Thanks so much for Matt & Kristin for making our long distance house crashing extraviganza so fabulously fun! You never know where we'll pop up next…
UPDATE: We dropped in on Matt & Kristin's house again to take more photos and share even more amazing details. Check those out right here.