John and I often ask ourselves this question. How did we go from blogging-about-our-impending-kitchen-remodel-to-our-friends-and-family-as-a-hobby to writing-to-thousands-of-people-about-interior-design-and-home-improvement-every-day-as-a-bona-fide-job? And since this same question seems to be popping up in our inbox more and more lately (and even in Tuesday's reader survey) we wanted to take a stab at answering it. So for all of you aspiring professional bloggers or curious readers out there, here goes nothin'…
In a nutshell: we attribute our blog's growth to a combination of lots of good old fashioned hard work and a series of lucky breaks (of which we're eternally grateful). We didn't start the blog with hopes of creating a business, we just wanted to share our kitchen renovation with our friends and family without constantly filling their inboxes with photos and stories. We figured a blog was a nice way to allow them to drop in on us whenever they liked, and because we're never ones to do anything half-heartedly we excitedly jumped into telling our story and breaking things down into tips and tutorials for our friends and family from the start (even though we were learning as we went). Soon our family-&-friends-only readership turned into friends-of-friends and then (surprisingly) strangers-welcome. And with each encouraging comment, inquiring email or complimentary mention on another blog we got a little boost to keep going. Even if they were few and far between at that point.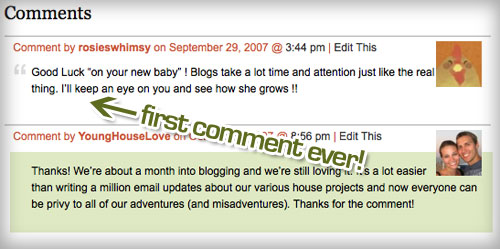 Our first mega-boost came in December 2007. John had entered us into a home improvement blogging contest on a whim in the hopes that we'd make some new blog friends and gain two or three more readers along the way. So when we got a call congratulating us on winning the grand prize (to the tune of $5K, no less) we looked at each other and realized that maybe we had a knack for this blogging thing… and maybe someday it could be more than just a hobby! Consider us insanely flattered and immensely inspired at that still-surreal (and heavily photoshopped- yes, we added the crowns and the flowers and the sashes) moment.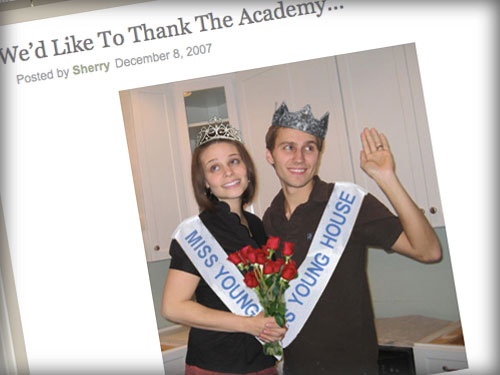 We think blogging as a couple has been a huge help to us a well. Not only because John stands out as one of the few husbands in the home blog world, but because it means we can blog as a team. We're able to divvy up the tasks of writing (in the beginning we alternated writing a post each night). We're also able to support and motivate each other. When writer's block hits or projects seem endless, at least we each have a built-in cheerleader of sorts (although John would want me to clarify that he doesn't actually jump around with pom-poms). And because it's a shared hobby, spending hour upon hour blogging together seems to strengthen our relationship instead of neglecting it (which may have been the case if only one of us was involved and the other had twiddled their thumbs and waited to be included).
By the time we reached the end of our blog's first major home improvement project in January 2008 (the big kitchen reno), we started noticing some pretty steady growth in our readership. So we decided to keep writing. And as our post topics expanded – design dilemmas, reader redesigns, house crashing – we saw our names pop up in some pretty amazing and unexpected places. The Washington Post included us in their "blog watch" feature, big time blogs like Real Simple and Apartment Therapy began to mention us and local glossies like Richmond Magazine and national ones like Do It Yourself Magazine started calling us to author our very own columns with them! We even lived to see our mugs on the cover of a national mag this spring! We never solicited these mentions or paid for advertising; people just heard about us through the grapevine of friends, blogs, Google and who knows where else. And it seems as though they truly enjoyed our blog and our writing, which still has us blushing to this day. All of it still feels quite miraculous, meaning we still pinch ourselves quite frequently.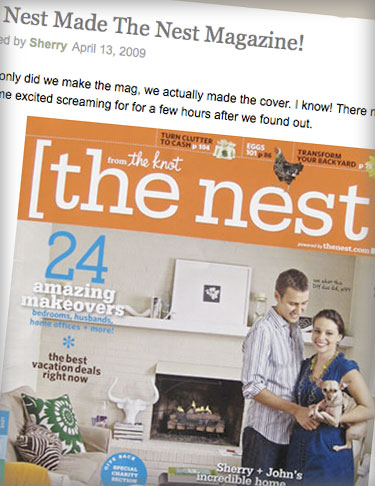 Why did these writers and reporters care to talk about us? You guys are probably better suited to answer that than we are. All we know is that we've never plotted a business plan or hunted for a blog niche to fill – we just write about what we care about: our home, our relationship and, okay, our eight pound chihuahua. That's not to say that we don't put lots of time into figuring out how to keep things fun and interesting around here, but when you're writing about things that you're crazy interested in, it's not hard to do and it tends to come naturally. Heck, we can't even go on walks or long car rides without ending up brainstorming projects to do or topics to blog about. It's a sickness. We just feel so blessed that what interests us also interests so many of you, and that you keep dropping in to see what we're up to.
We'd like to believe that some of what keeps you coming back has to do with our writing style. We're both writers (I used to be an advertising copywriter and John did lots of creative writing in college) which means we both enjoy finding the words to narrate the regularly occurring adventures (and misadventures) here at Casa Petersik. And since writing is half of the fun for us, we have no trouble churning out over ten posts a week. Plus, we've been lucky that our inherent love of creative and unexpected projects that are doable for cheapskates like us (ex: using cheap Ikea tables to make a headboard or wardrobes to create bedside built-ins) seem to line up well with these times when being budget conscious is all the rage (and being a cheapskate is actually something to be proud of!).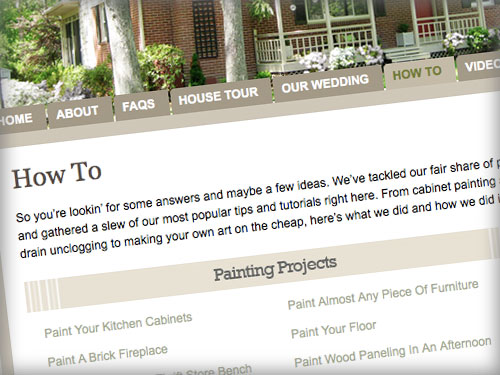 We also realized pretty early on that good content and photos are important, but if people can't find things easily then you're doing yourself a disservice. So we're constantly trying to make it simple for you guys to hunt down your favorite posts. From the How To tab full of tutorials to our House Tour page so everyone can easily see our home's transformation in one fell swoop, we trying not to let things collect dust in our archives. Hopefully you find these features helpful, and hopefully we'll stumble upon more ways to make our site user friendly and easy to navigate.
We also try to learn as much as we can about the technical side of blogging. John designed our entire site (which is nothing that he learned how to do in school) so that meant lots of library research, googling when things went haywire, and general nail-biting while we waited for things to load (we've been known to chant: "please make it centered, please make it centered, please make it centered" from time to time). John also whipped up our Young House Love logo in about two hours (he wouldn't let me look over his shoulder while he worked, so when he finally said "ready" and revealed his little sideways heart thing, I squealed with excitement) and is also in charge of video editing and a lot of other technical things that keep YHL humming. Needless to say it's great to have a self-trained IT guy as 50% of the staff.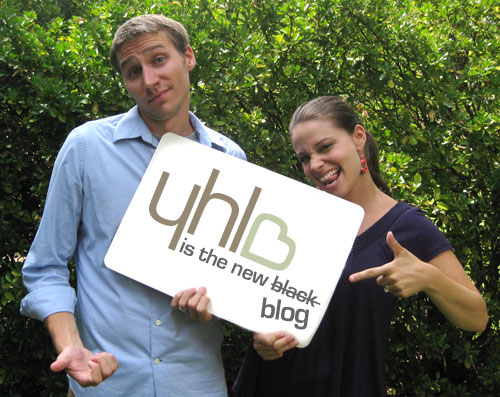 We're not gonna lie- it's the hardest job we've ever had. The biggest misconception is that our blog is a part time thing that we spend a few hours a day on. When friends and relatives picture me out on the patio with a magazine and a cocktail I snort with laughter. It's hard to put into words how we manage to spend every waking moment working on the blog, but we're essentially writing over 45 posts a month AND taking and uploading photos AND running an online shop AND offering design services AND coordinating giveaways AND answering up to 100 email and comment questions a day AND making & editing videos. Not to mention actually doing the projects on our home that we then photograph and write about. It's pretty much a never ending to do list! In all honesty, I'm a million times busier than I ever was in my old New York City 60+ hour a week job. We work nights, weekends and on vacation (after all, the internet is 24/7!) so sometimes it can all be very exhausting. And I don't make as much as I used to. I actually took a pretty hefty pay cut to see this full-time blogging thing through.
But I wouldn't have it any other way. I feel nothing but thrilled and honored to get to do what I love every day – and to do it with John right by my side (at least when he's not as his 9 – 5) is truly a dream come true. This little old blog really is our passion and we feel so fortunate to be able to turn a hobby into a bona fide career- and we're so thankful for the support and enthusiasm that you guys provide every single day.
So our advice to anyone who's looking to grow their blog or turn it into a career is to: 1) work hard, 2) do it because you love it and 3) be patient. It probably won't happen overnight (if it does, please share your secret!). You may feel like you're talking to no one for ages (we had about zero point zero zero comments after our first few months of posting). But if you're dedicated to it (long-term, not looking to get rich quick) and passionate about the subjects you cover, you're bound to slowly but surely attract people who can sense your enthusiasm and get excited right along with you… and they'll love what you're putting out there enough to pass it on. Then after about a year or so (which is when we really started to see a lot more growth) you'll hopefully have an expanding readership and lots of lovely people stopping in more and more frequently.
And speaking of lovely people, we can't possibly talk about how our blog has grown without recognizing how amazing our readers are. You guys have helped spread the word about us and have encouraged us to keep at it from day one! Many of you are the reason YHL has grown since you've personally told your friends and family about us and even emailed us with kind words to keep us going after a long night (or a soul crushing how-did-those-posts-erase-themselves? moment). So thank you, thank you, thank you for dropping by and making our day for the last 730 of 'em. Here's hoping we have many more years to share the goings-on of our crazy house with each and every one of you!
Update: Big announcement! Check out how our blog baby grew even more nearly a year later right here.