You'd be hardpressed to find a more dramatic home makeover than Christi & Barrett's fantastic whole house overhaul. While we were poking around Kristen and Matt's home in Charlotte, NC they mentioned that their friends just completed a major home renovation so we decided to house crash them as well. When in Rome- er, Charlotte…
Anyway, here's the adorable couple (with their newborn baby!) on their front porch. Gotta love that these two strangers were totally cool with us snooping around with our camera in tow. It helps that Christi is a pretty enthusiastic Young House Love reader, so they were happy to let us snap some pics: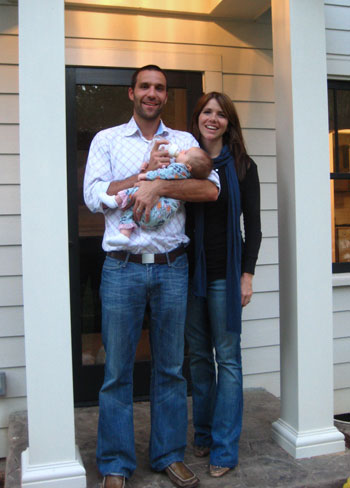 But their front porch didn't always look like this, here's the house before their major renovation:
And after: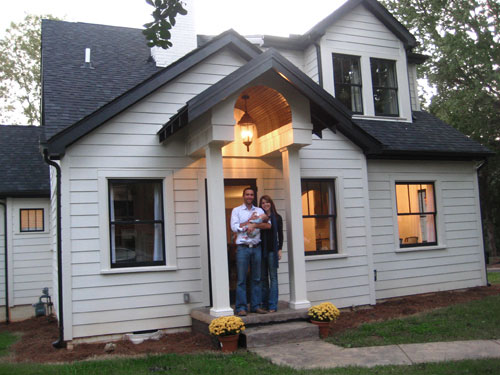 Don't mind the fact that they still have some landscaping to do. I bet it'll look even more amazing once it's bordered with shrubs and flowers. Can't wait for the after after pics! What an amazing change, right? And now we'll take you inside their stylish home (where they added an entire second floor which houses a guest bedroom, their new nursery, and a third full bathroom). Take off your shoes and stay a while…
Here's the entryway complete with an welcoming fireplace that greets you at the door. We loved their built-in bookcase with a green accent wall behind it. And we also adored that gorgeous white mantle, chic slate fireplace surround, and the handsome ebony hardwood. Again please excuse their empty bottom shelf- they just moved back into their home and had a baby two days later. They've been pretty busy these days!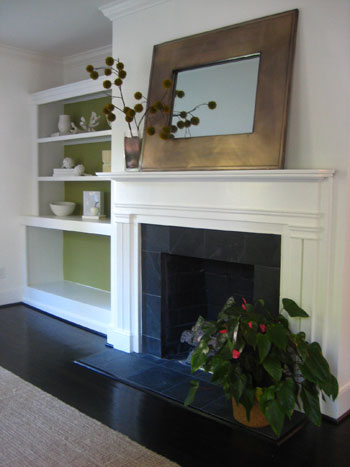 Here's the lovely dining room with a gorgeous black chandelier that absolutely steals the show. They were storing many of their items for the renovation at a storage facility which ended up getting burglarized, but thankfully no one made off with the chandelier. Whew. As for the table, this one is just a place holder while a larger one is on order. But aren't those black chairs and long white curtains great with the stunning black chandelier? Me-ow.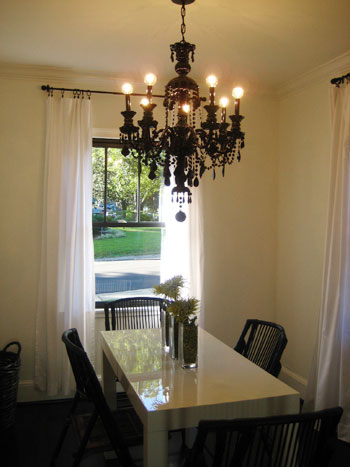 And speaking of me-ow, their new kitchen rocks our socks. We were head over heels in love with everything about it: the gorgeous vintage inspired pendant lights over the island, the glossy marble counters, the chic little white stools, the stainless hood…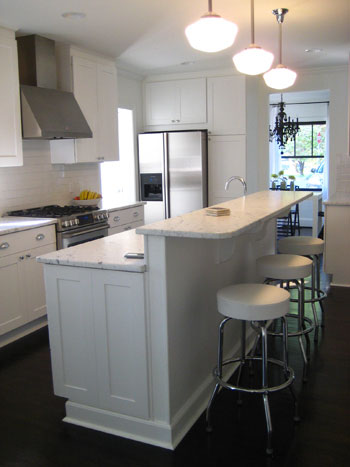 … and this amazing pull down faucet (one of Barrett's contributions to the decor).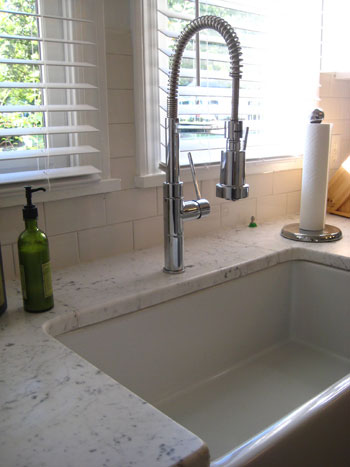 Here's their restful and dreamy living room which opens right up to their spacious kitchen. From the dramatic oversized pendant lamp and the large armoire (which they freshened with a coat of white paint) to the plush overstuffed seating and the french doors that lead to a cozy little balcony, we couldn't have loved Christi & Barrett's aesthetic more.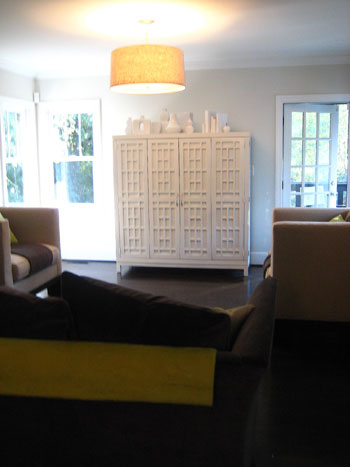 And just off the kitchen and the living area was this sweet little mudroom, complete with a decal on the frosted door and a washer and dryer hidden behind some seriously fantastic storage doors (with even more room to stash things in the cabinets above).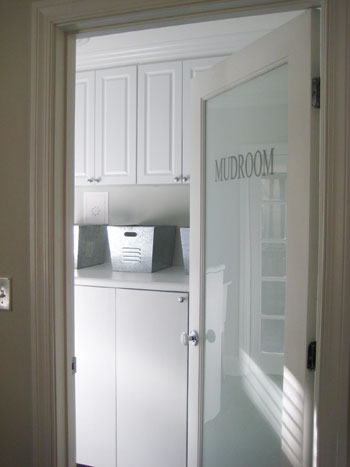 The bedroom is also on the first floor, and again there are gorgeous billowy curtains and lots of natural light that floods the room. One of the coolest details in this room is the fact that their headboard is the top of their old dining table, which they mounted on the wall after hiring an artist to draw black stripes (with a Sharpie!) on the deep chocolate wood tabletop for a sophisticated zebra-wood effect that gleams in the sun.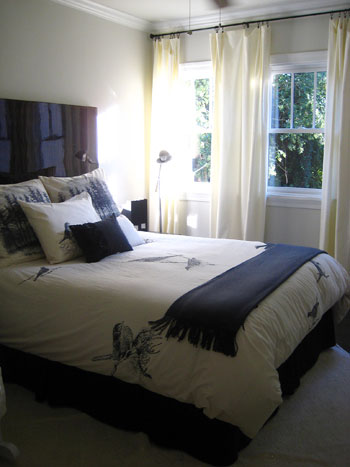 And of course their bathroom is luxurious and grand. With a marble topped double sink…
… and a chandelier capped soaking tub, the room is as close to heaven as they come.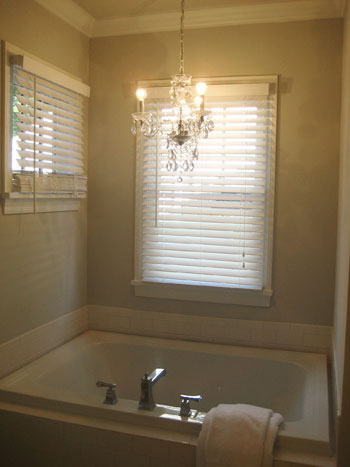 And we can't forget the second floor nursery, created before they knew whether their baby was a boy or a girl (s'prise, it was a girl!). We love the green and yellow scheme and adore the chevron patterned fabric that Christi selected for the valance, the floor pillows stacked in the corner…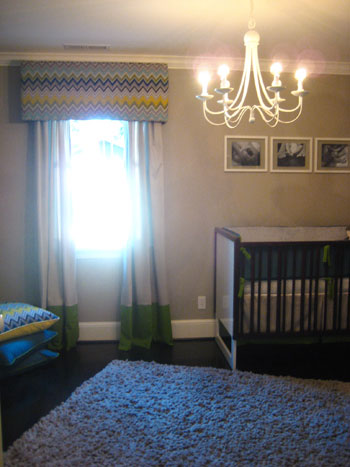 … and the leftover scraps that she framed for some festive nursery art work! We also love that she purchased the chandelier at a big box store (originally in wrought iron) and spray painted it white for a sweet and soft effect. Adorable.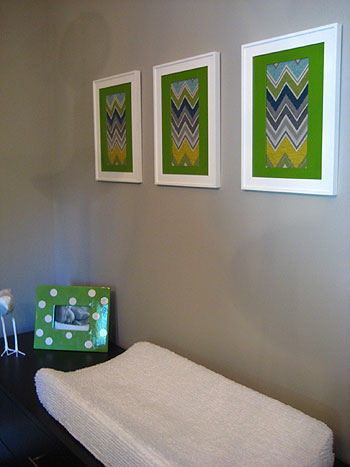 So there it is. Christi & Barrett's amazing home makeover. Thanks so much for letting us poke around your fabulous home C & B! And we hope everyone enjoyed the virtual tour. We can't wait to share our next long distance house crashing adventure, so stay tuned…