We've mentioned the wedding that we drove all the way to Texas to attend a few times and promised more delectable details along the way. Well, the time has come to spill the wedding beans. We were instantly smitten with John's cousin Casey's wedding because it was full of personalized touches (many of which can be adapted for a party that you may be hosting at home) so without further ado, the goods. But first meet Casey and Kevin…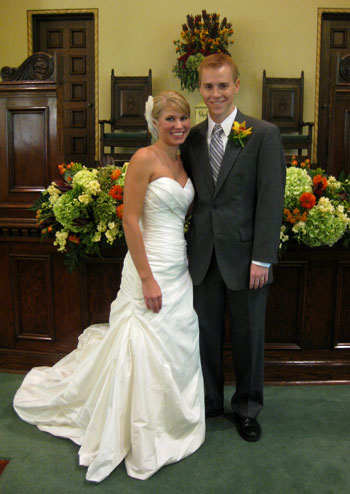 Aren't they cute? They tied the knot at the lovely Third Church of Christ Scientist in Dallas surrounded by their friends and family.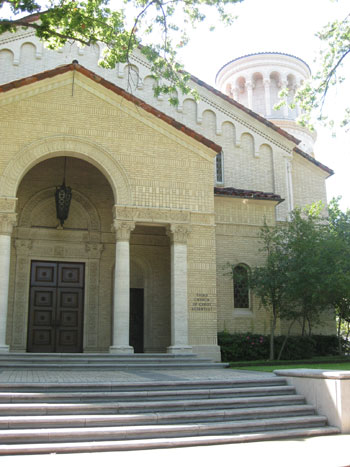 And speaking of their friends, the bridesmaids were adorable in their rich aubergine J. Crew dresses (which were meant to be ordered in a deeper eggplant color but arrived a bit more vibrant than expected- we think it was a gorgeous accident!).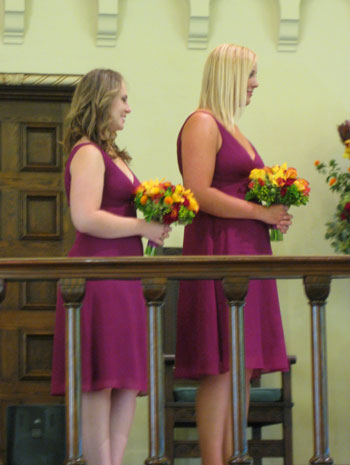 The other colors of the day were sunset hues: brilliant amber, wheaty gold and dusty scarlet. Delish. And even the boutonnieres had us at hello.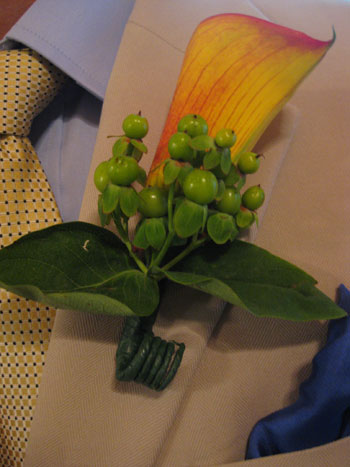 And speaking of gorgeous, never have I been more enamored with bridal hair. Check out Casey's amazing loose almost-braided bun complete with a flirty feathered clip for asymmetry and playful texture (you know we're crazy about soft and subtle texture!).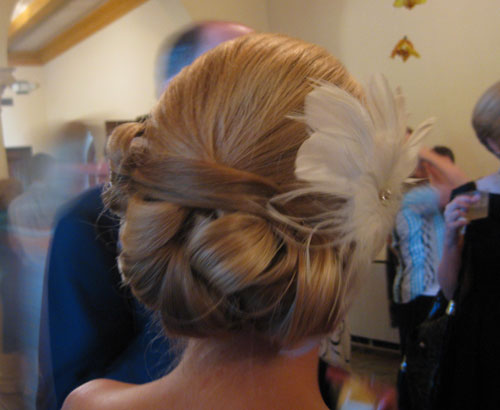 After the sweet church ceremony, there was a lovely gathering in the gorgeous entry hall full of charming monogrammed punch cups…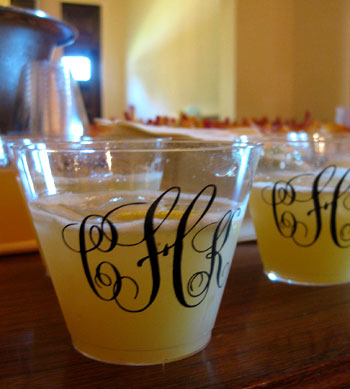 … an amazing square tiered cake accompanied by delicious chocolate and vanilla cupcakes (topped with orchids)…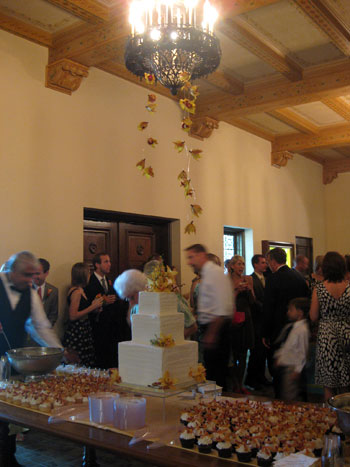 … and more fresh orchids dangling gracefully from the chandeliers.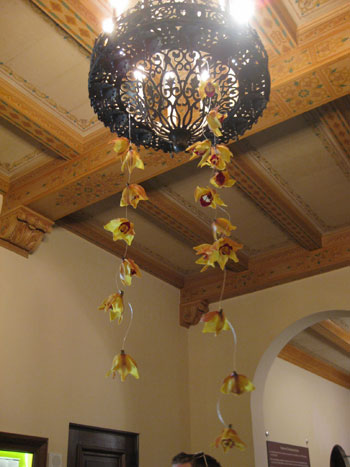 It was so nice for the bride and groom to make their way around the crowd and greet everyone while the guests enjoyed refreshments, cupcakes and even a slice of cake (after the bride and groom fed it to each other of course).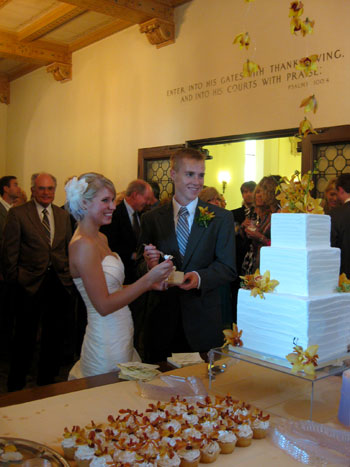 Then Casey and Kevin exited the church as a flurry of flower petals were flung in their general direction (and we all cheered as they sped off in a sports car).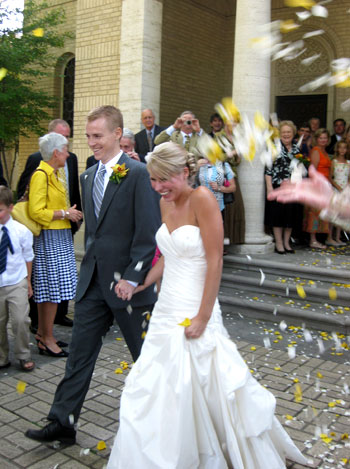 But just because we had our cake (and ate it too) the celebration was far from over. We then headed over to Winfrey Point beside the scenic White Rock Lake to enjoy a fiesta of delicious Mexican fare and spirited dancing, singing, and even a conga line (that we started no less!). Here's the gorgeous reception room dressed in brightly colored tablecloths with an almost tropical feeling (maybe that explains what possessed us to begin conga-ing?).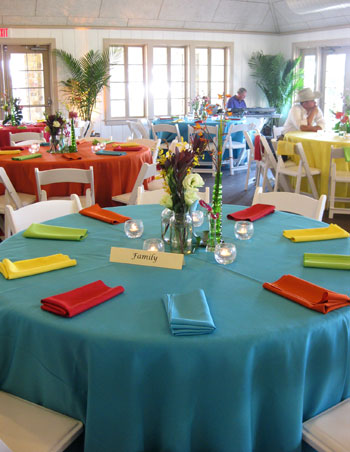 We loved the unique collection of mismatched bottles full of blooms at the center of every table. They were so inviting and memorable, and no two were the same!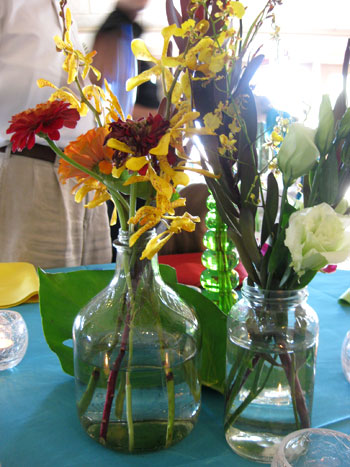 All the guests obsessed over the amazing catered food (make-your-own fajitas with beef, chicken and veggies) along with mounds of mouthwatering guacamole, chips, and other Mexican delights.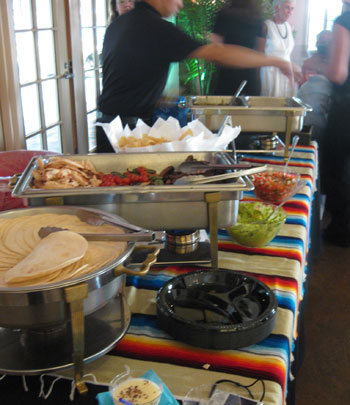 Kevin even got to surprise his bride (and the rest of us) by hopping on stage with the live band and belting out a heartfelt (and very professional sounding) rendition of Pretty Woman. He had everyone in the room grinning like a fool.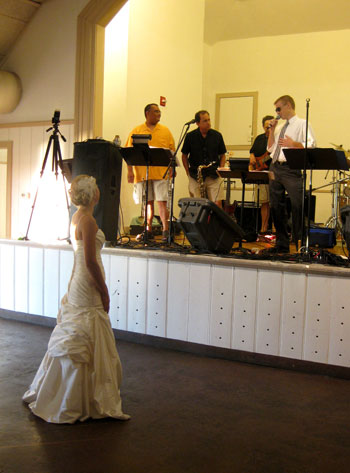 There was also a wedding piñata that the bride and groom tore into while blindfolded (we were cheering & laughing too hard to get a decent shot of it, but trust us that it was another memorable and super fun wedding moment). And as the party raged on into the night, John and I even got a chance to slip outside and enjoy the view as the sun set over the glittering lake overlooking downtown Dallas.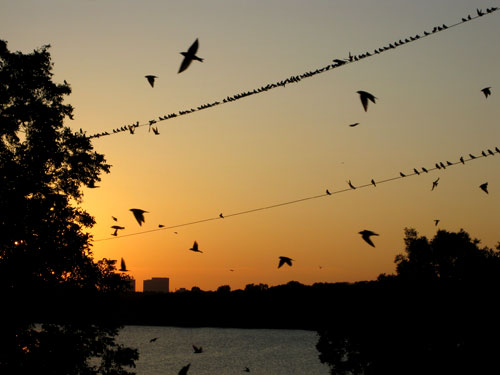 Oh and we can't forget the gelato. No, that would be crazy. Since cupcakes and cake were already served at the church, four delectable flavors of gelato were offered after dinner, and you could even request a sampling of more than one flavor crammed into your cup (you know I did).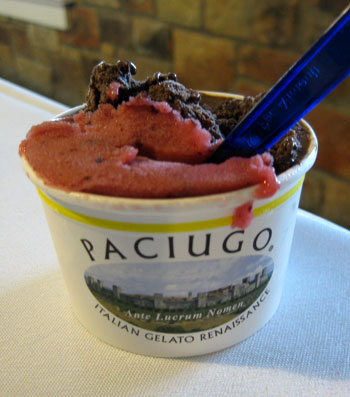 In short, it was the perfect wedding for the perfect couple who rode off into the night after an evening packed with spirited celebrating. So what do you guys think? Wasn't it a gorgeous day totally worth 40 hours of driving? What was your favorite part? I can't decide between the monogrammed punch cups or the orchids hanging from those chandeliers. And the gelato. Seriously that knocked my socks off. Thanks so much to Casey and Kevin for letting us crash their amazing event so you guys could all virtually attend. Three cheers for love, marriage and fajitas!