You guys all know that we've slowly been making over John's sister Emily's nursery on a major budget and the good news is that we're back with yet another update. We already shared how we painted some modern vertical stripes, added large mirrors to open things up, whipped up a super easy no-sew bed skirt, made some free art and even hung some hooks to add function and fun. But what about the lighting sitch in there?
Other than a clean-lined overhead fixture, there was nary a light source to be found. So we decided that we needed to bring in at least a couple more to keep things feeling bright and functional (Emily mentioned that the ability to illuminate one corner while the overhead light is off is a nice perk in a nursery). But after some discussion about purchasing a sleek floor lamp or a small clean-lined table lamp for the corner with Emily's plush reading/nursing chair (a $40 thrift store score from years past), we realized a better use of the space would be to hang a swing arm lamp from the wall- thereby freeing up valuable floor and side table space for a less cramped result. Here's that corner before the big swing arm score…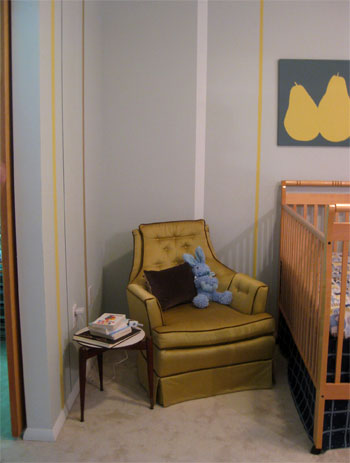 … and here it is about twenty minutes later (after John worked his swing-arm-mounting magic while we supervised/complemented his manliness):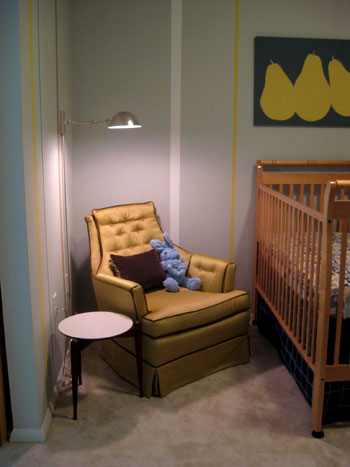 And in good budget news, we snagged it for just $39 (on sale from $159 at The Decorating Outlet here in Richmond). Oh happy day. It instantly feels airier than a floor lamp or a table lamp would (since it appears to float serenely above the chair). And it's also super functional thanks to the dimming option that's built right in (there's a soft setting and a brighter one, which always comes in handy depending on if the baby's in rest-mode or wide-awake-and-ready-to-go mode).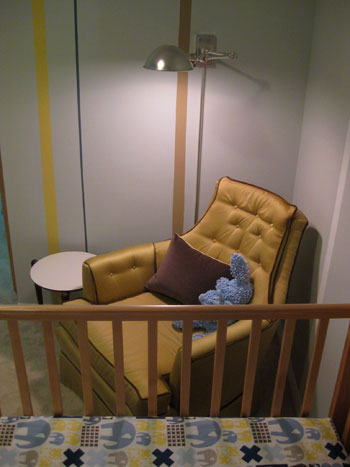 We were sure to hang it so it wouldn't get in the way when someone sat down or stood up, and also used the metal cord covers to neatly run the cord down the wall for a clean and polished look (which is also more child-friendly than a dangling one).
So with one corner of the room's lighting problemo solved, we moved on to the light that we'd be placing on top of the small armoire on the opposite side of the room. But we didn't just want to just purchase a table lamp to plop down on the freshly painted armoire (which Emily purchased for her daughter's old room years ago). Instead, we opted to repurpose an existing lamp that Emily already had and we seized the opportunity to give the basic white fabric shade a whole new look with some fun yellow fabric that we picked up for less than eight dollars. Here's the illuminating finished product: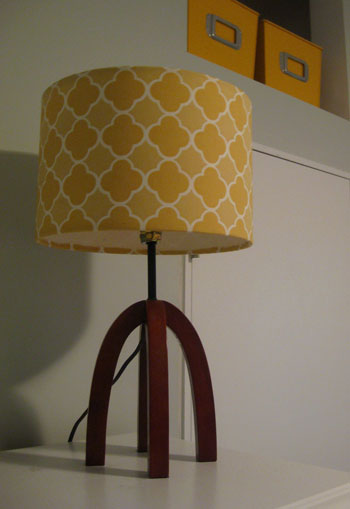 And the good news is that anyone can freshen up a lamp shade with some fresh fabric and a glue gun (note: this project works best with fabric shades and not paper shades, which can overheat and melt the glue). You also may want to use high-temp glue sticks with your glue gun for even more no-melt security (although we used regular glue sticks without incident). Completing our custom shade from start to finish only took about a half hour. First we grabbed a half of a yard of graphic yellow fabric from our favorite local fabric store (William's & Sherrill) which we knew would be enough to easily cover the lamp's existing white shade. Oh and we went with moderately thin yellow fabric so the lamp would still cast a lot of light into the space (dark thick fabric wouldn't allow for nearly as much of a glow). Then we laid out the fabric and measured the circumference of the shade and the height of the shade (and added two inches to each before cutting our swatch of fabric to that size).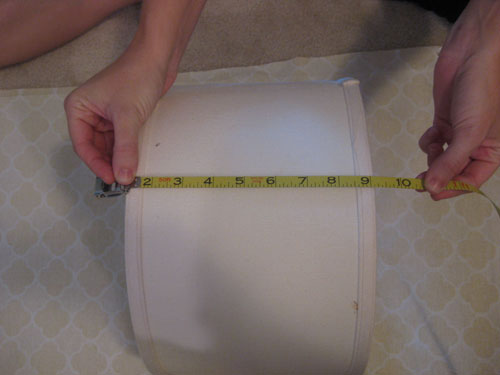 Since our fabric has a pattern on it, we were careful to follow the lines of the pattern while we cut (so we weren't left with a crooked-looking swatch to cover the lamp). After trimming it down to two inches longer and wider than the circumference and width of the shade, we had one long panel of fabric that could be wrapped around the shade with a bit leftover on all ends (which we would use to secure things in place).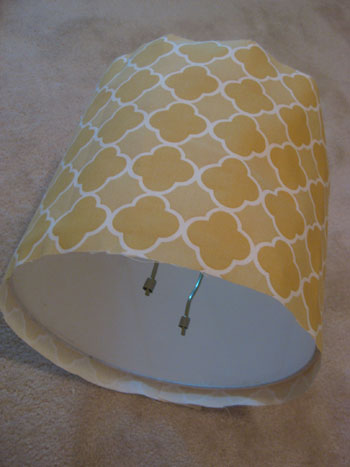 Oh and our shade had a bit of banding around the top and the bottom that was just glued on, so we carefully pried both strips off to create a perfectly flat shade to serve as the foundation for our new fabric.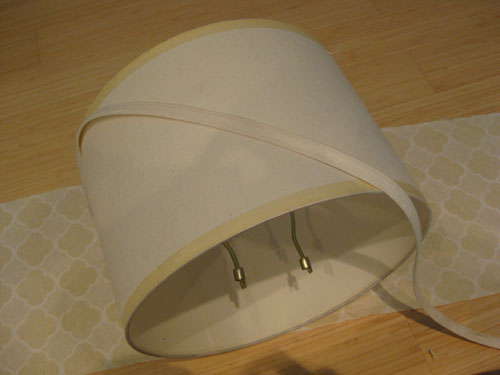 Then we used one of Emily's had-them-forever glue guns to carefully adhere one end of the fabric in place on the shade. We learned pretty quickly that we had to work fast (nothing stuck to the line of glue if it had too much time to dry, so we just peeled off our first too-slow attempt and picked up the pace for a much better result).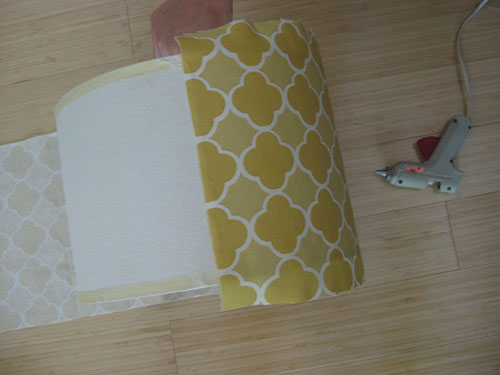 Next we made a nice finished looking edge on the other side of the fabric by folding about a half inch of it over itself and gluing the hem in place (not shown). Next we applied another bead of glue on top of the other side of the fabric…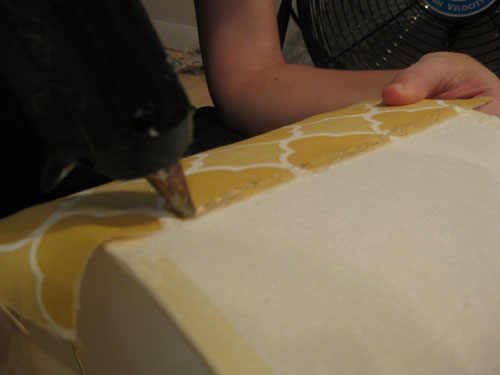 …so we could tightly wrap the entire panel of fabric around the shade and stick one end on top of the other to create a nice clean-looking seam. Tight is the key word so be sure to have someone hold the shade while you pull the fabric around and secure it for a sleek and professional look (baggy just won't look nearly as good as fitted fabric).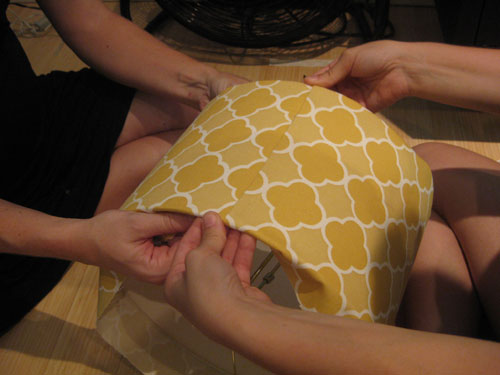 Of course your pattern might not match up perfectly when you glue the ends together to create the seam, but ensuring that everything is straight and even on the rest of the shade (top to bottom, so nothing looks like it's slowly slipping up or down) makes for a nice polished look. And of course after you're done you can simply turn the seam to face the wall so the perfect looking front of the shade is on display.
You can see from the photo above that after we attached the fabric panel securely around the lamp shade at the seam, we still had extra fabric around the top and the bottom of the shade. We trimmed a bit of the excess off and then got to work using our trusty glue gun to adhere the sliver of fabric that we had leftover around the inside rim along the top and bottom of the shade for a nice finished look. It was easy to run the glue gun against the inside lip of the shade and glue down three to four inch sections at a time (anything much longer was hard to get to before the glue dried).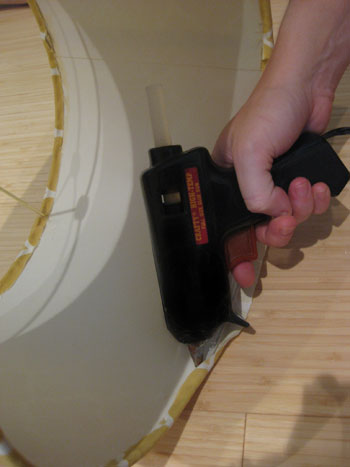 We also realized that to get a nice tight edge we needed to carefully snip the fabric around the metal rods that hold the shade to the light bulb, so we made some tiny snips and just glued them on either side to hold the flaps in place around the rods for a seamless look (see photo above for one a finished one).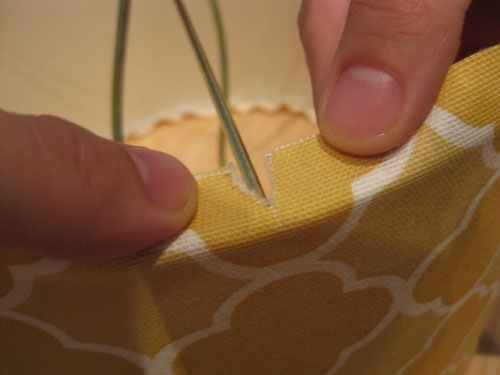 So that's it. All you need is a half yard of fabric, a scissors, a glue gun, a tape measure, and a helping hand (this project is definitely easier with two people). And for less than eight dollars you can totally spruce up an old table lamp (or even a floor lamp or a giant ceiling pendant!).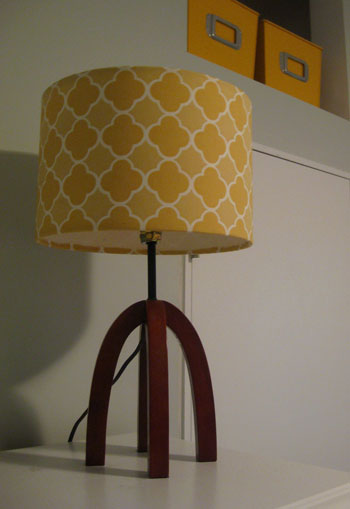 Here's a delectable detail shot. We got so lucky with our fun fabric find!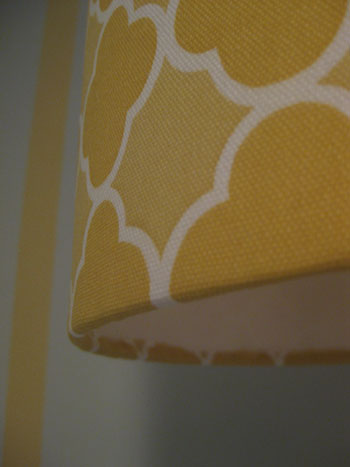 And here's our baby all lit up and glowing. And speaking of babies, isn't Emily's little guy going to be one lucky man? With this fun little lamp shade to gaze at we think he's destined for greatness.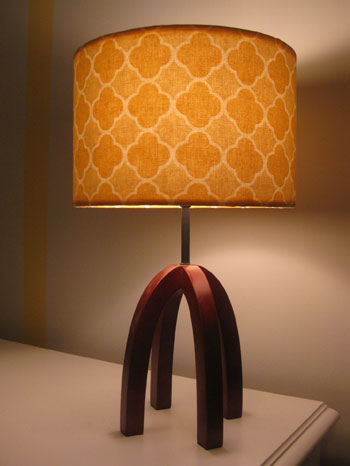 So that's how, for just $47, we installed a swing arm lamp and made a custom lamp shade to cast more than enough light around the room. Next on the agenda are just a few finishing touches and stimulating accessories, which is pretty good news considering the baby's October due date is just around the corner.
What do you guys think? Anyone out there who might take on the lamp shade recovering project? Any swing arm seekers who might add one to free up some table or floor space in their home? Anyone else doing a fun nursery or kids room project? Any newly pregnant ladies out there? So many of our friends and family members are telling us they have a bun in the oven that we wonder if there's something in the water…
Psst- Lighting projects should always be handled with caution. Remember to leave a lamp's original fabric shade in place and in good condition to ensure that your exterior layer of fabric is an ample distance away from the bulb so it's not a fire hazard. Oh and using CFL bulbs (which are much cooler to the touch) will further reduce the risk of anything overheating. And of course remember to turn off the power to the entire house if you're hardwiring a fixture like a swing arm lamp. Safety first!