After mucho requests for a fireplace tutorial, we're here to deliver the goods.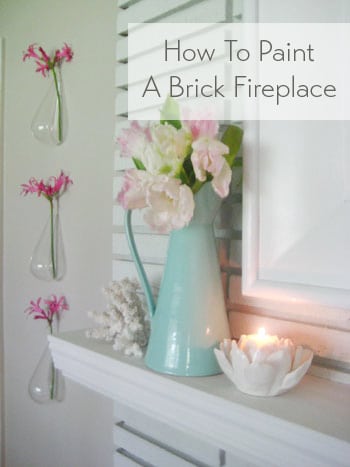 As you can see, we're no strangers to a painted brick fireplace…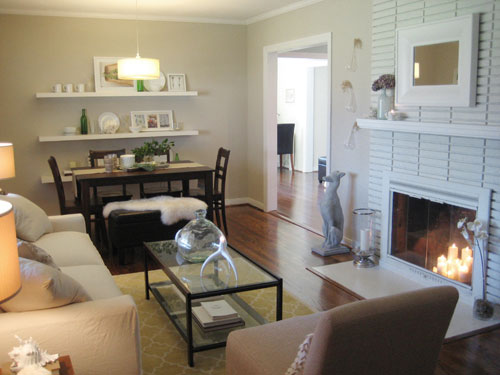 …or two.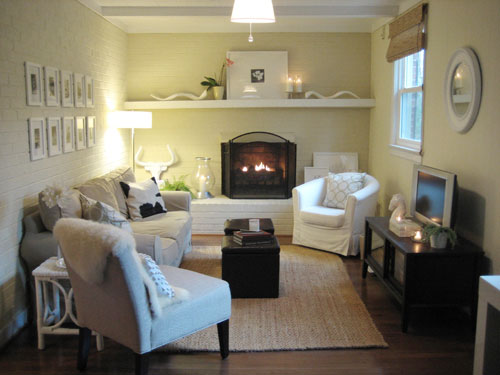 In fact, painting the fireplace in the living room and the den was one of the first things we did when we moved in. Dingy brick can really suck the life out of a room if you're not careful. Especially the ugly dark red kind that we had when we moved in- and especially when paired with lighter furnishings and wall colors (which just happen to be things that we adore).
Natural brick certainly has a place in many homes (and also in our hearts, it just didn't work for our light and airy aesthetic- and our brick was especially maroon). So here's what we did to bring some soft beauty to both of our brick fireplaces in a flash and on the cheap. Gotta love a makeover you can accomplish in an afternoon (no power tools required).
Step 1- Wipe down your bricks with a moist (not sopping wet!) rag to remove any cobwebs or soot.
Step 2- If your bricks are especially soot stained, you'll want to prime them with oil based primer to ensure that no soot stains bleed through your paint job. Neither of our fireplaces had this problem so we skipped right to step three.
Step 3- Use a nappy roller meant for textured surfaces to apply two to three coats of flat or semi-gloss latex paint (the finish is up to you). You also may need to rely on a paint brush to get into those deep grout crevices. Brick is an especially porous material (which explains why your fireplace may call for three coats) so be sure to have more paint on hand than you'd usually rely on for such a small surface area (our den fireplace took over a gallon of paint, and the one in our living room took nearly half a gallon).
Step 4- Do the happy dance cause you're done. Easy, right? If you can paint a wall you can definitely paint a brick fireplace.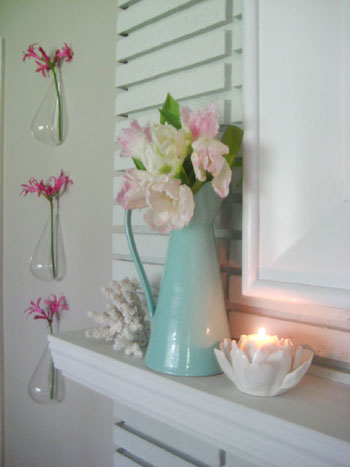 Good luck with your big fireplace transformation! Oh and why not take before and after pictures for us while you're at it? Don't be surprised if your newly painted fireplace inspires you to continue the makeover with new art above the mantel or a few fresh accessories. Homes are never really finished anyway, are they?
Looking for more ways to spruce up your fireplace? A woven basket full of firewood (we love birch for its crisp look) will add even more inviting ambaince.