If you have marble or granite in your kitchen (and even if you don't) keeping oil rings from seeping into your counters is definitely an important war to wage when it comes time to cook. But we're too lazy for all that obsessive wiping and worrying, so we devised this super easy "system" to keep any oil that drips down the bottle well away from our counters once and for all: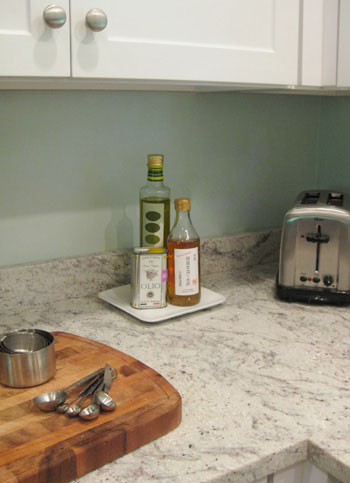 Yes, it's just a simple white square dish placed under our bottles, so even if we don't thoroughly wipe them before setting them down, they're sure never to drip on our beloved granite counters again. We like to keep things that we use so often right out on the counter at arm's reach, so it's really a nice solution to not only keep oil rings at bay, but also to help three disparate bottles look tied together and polished. Gotta love how one dish-turned-oil-bottle-tray = instant organization.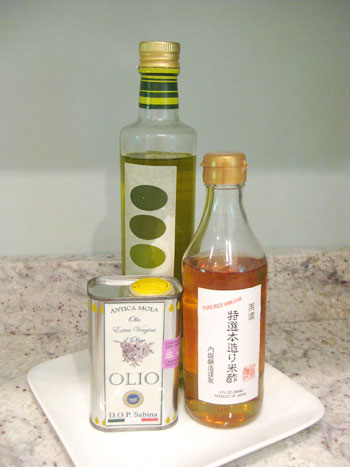 The best part is that it's a dish we already had laying around so the cost of this easy upgrade was zero dollars and zero cents. So that's our intro to a totally new category that we're calling "Easy Upgrades." Do you guys like the idea of fast and affordable ideas that you can implement in a snap? We're all about DIYing something fabulous, but sometimes switching something out or slapping something down is all it takes to add function and beauty to your home. Do you have any of your own easy upgrades up your sleeves? We'd love to hear what types of quick fixes make your home a better place!